I have known Candace since she was about 8 years old. When she wasn't riding horses, she would "gallop" around with my oldest daughter, Kimberly, pretending to be horses! That was many years ago – and my have they grown up! The years have flown by way too fast and I can't believe Candace is now married!
Candace and Anthony were married back in December at The Secret Bed and Breakfast Lodge in Leesburg, Alabama. This B&B is a sweet little getaway on top of Lookout Mountain with a gorgeous view!

Candace and her bridesmaids had fun getting ready in The Nautical cottage.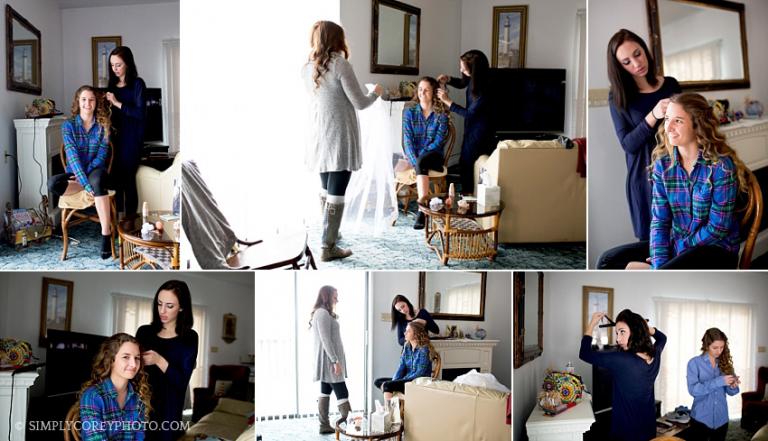 I love that my daughter was able to do her childhood friend's hair and make-up for her big day. ♥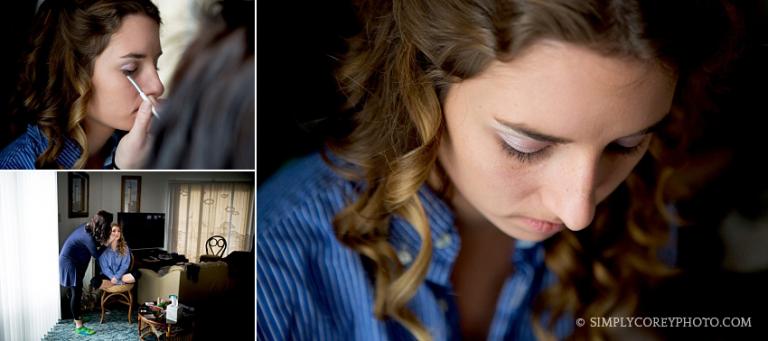 Candace decorated some classic Chuck Taylor's (my favorite!) for her wedding shoes!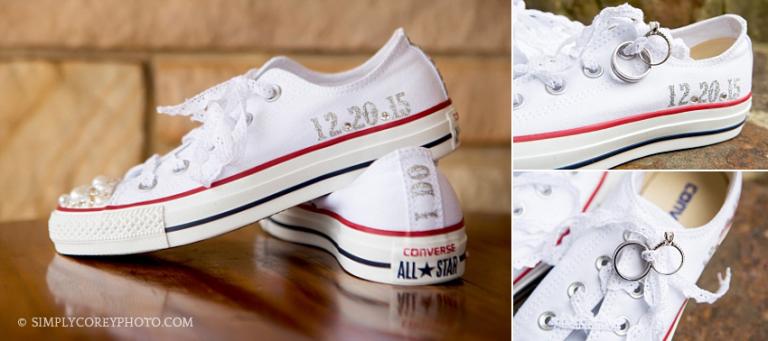 The groom's aunt put together Candace's blue and white bouquet as well as all of the other flowers for their wedding.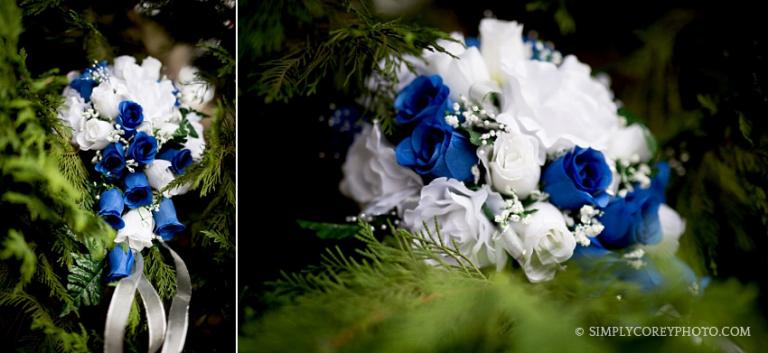 Candace actually wore a vintage wedding dress for her big day. Not any old wedding dress, but her mother's wedding dress! How special is that?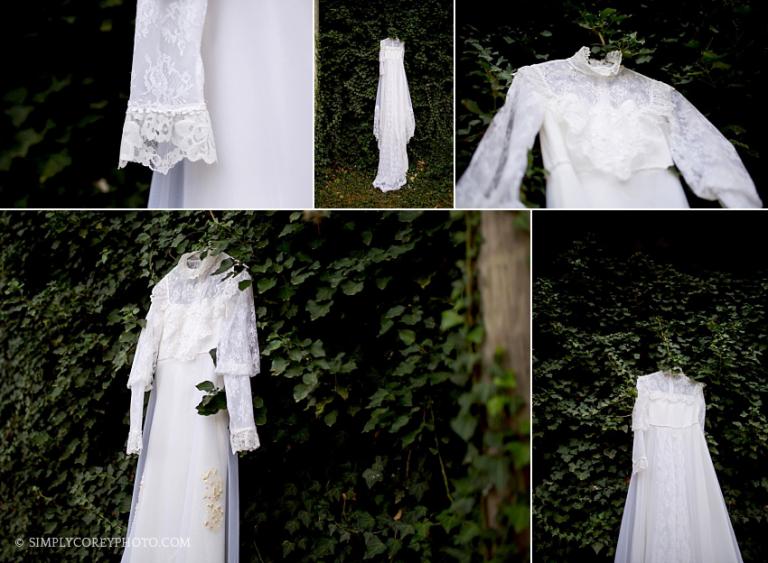 And it fit her perfectly! ♥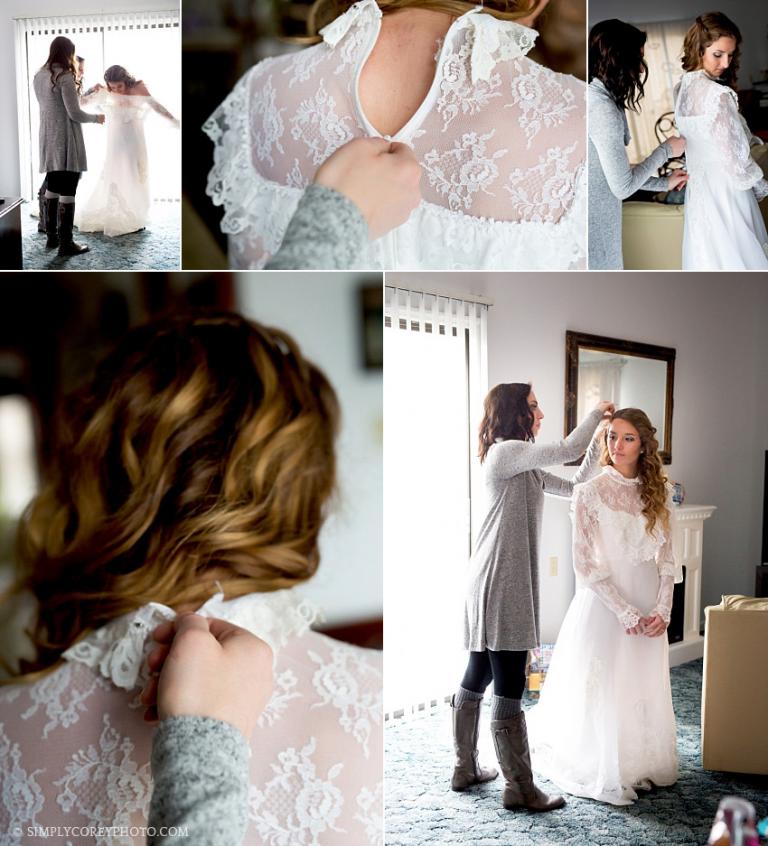 Anthony is in the U. S. Marine Corp. He was deployed a few weeks after their wedding day and is currently overseas for 6 months. I love that she chose a "Marine Wife" garter to honor him!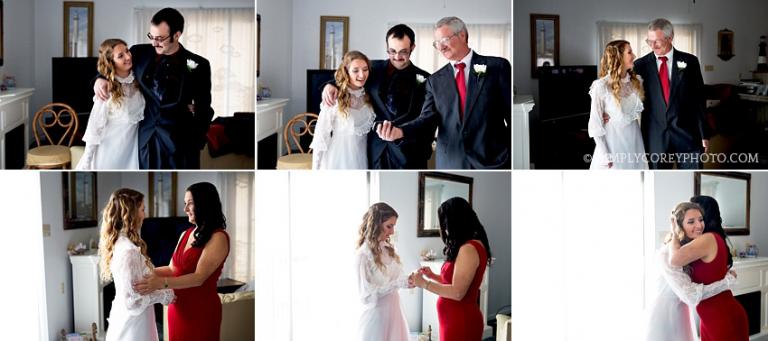 "Something old, something new, something borrowed, something blue, and a sixpence in her shoe." A sixpence became a symbol for good fortune and prosperity for the bride and the groom. Instead of a sixpence, Candace's dad placed a shiny penny in her shoe!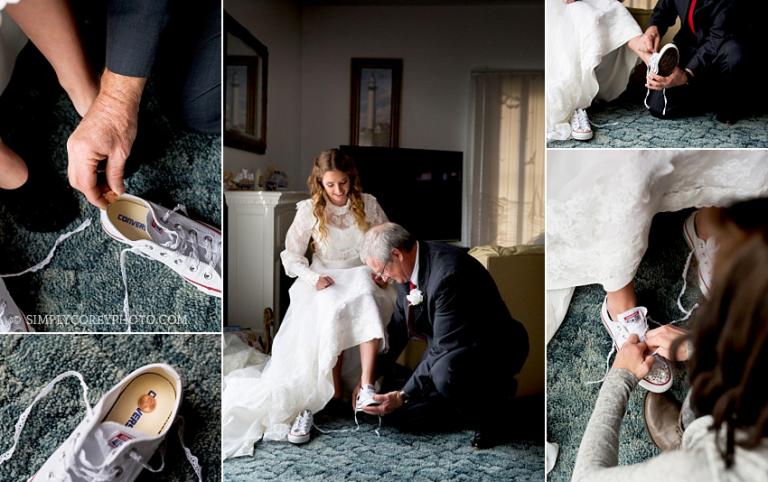 The view from Lookout Mountain was breathtaking and the wedding ceremony site was beautiful – even with the bare December trees and the overcast day!
I love how emotional Anthony became seeing his beautiful bride for the first time! ♥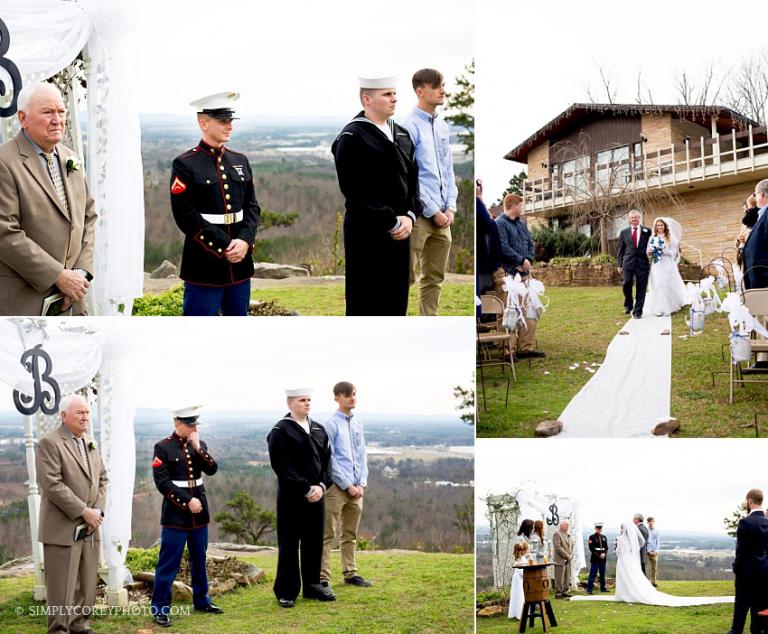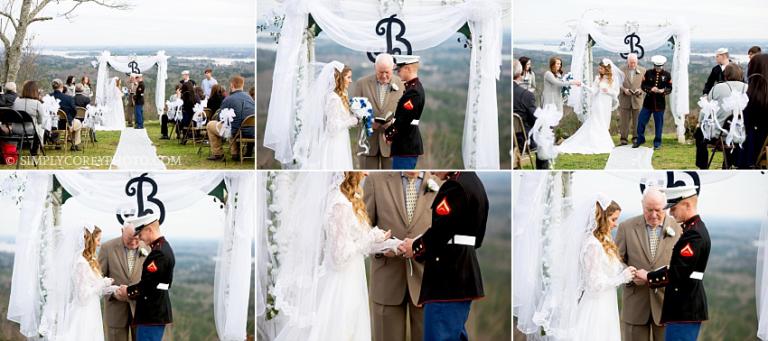 Following the ceremony and formal family and wedding party photos, I snuck the bride and groom away for some photos of just them. ♥
Have I mentioned how much I love the mountain view? Perfect for bride and groom portraits!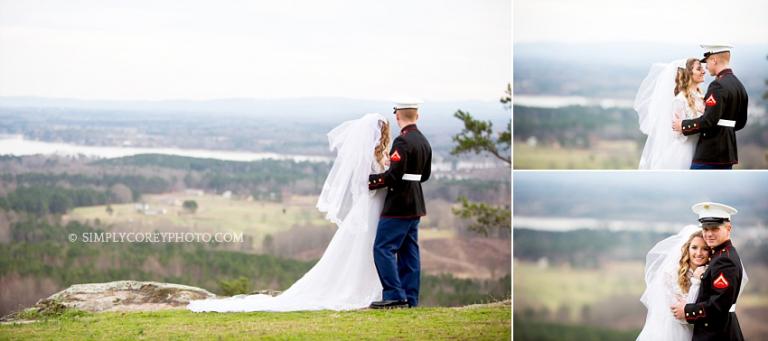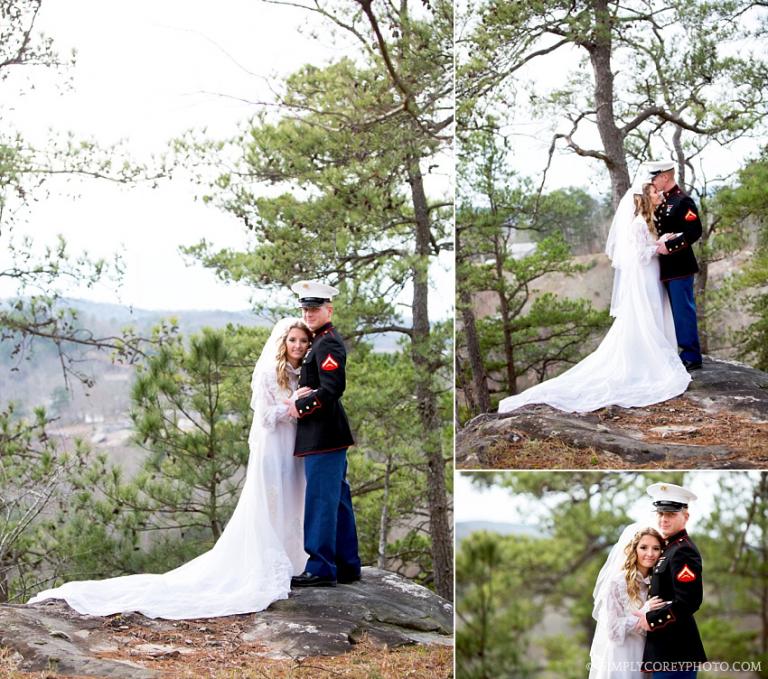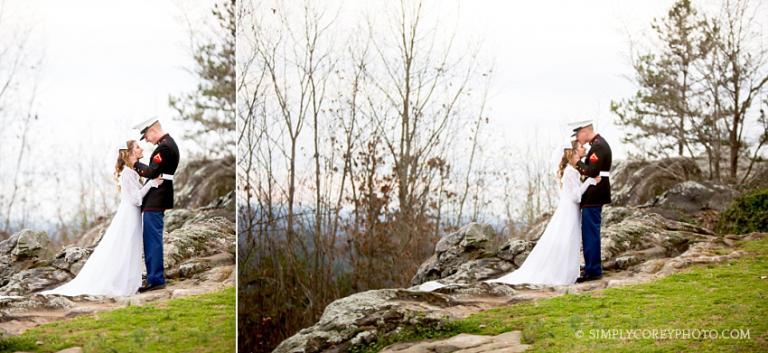 They had a laid back reception that included lots of visiting with family and friends, dinner, and a few wedding traditions – starting with the cutting of the cake!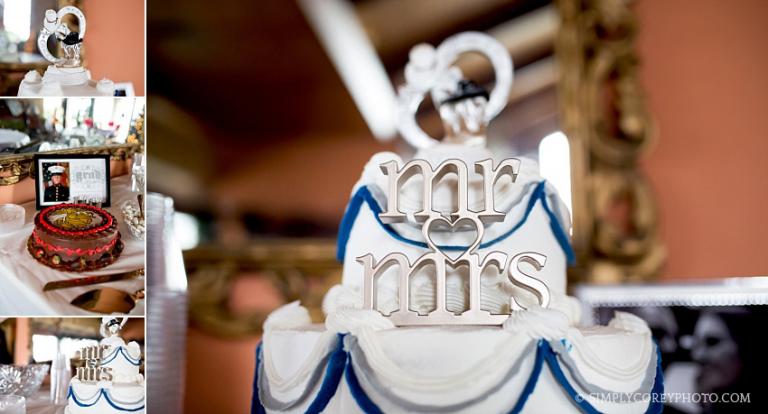 Then they moved outside for their first dance . . .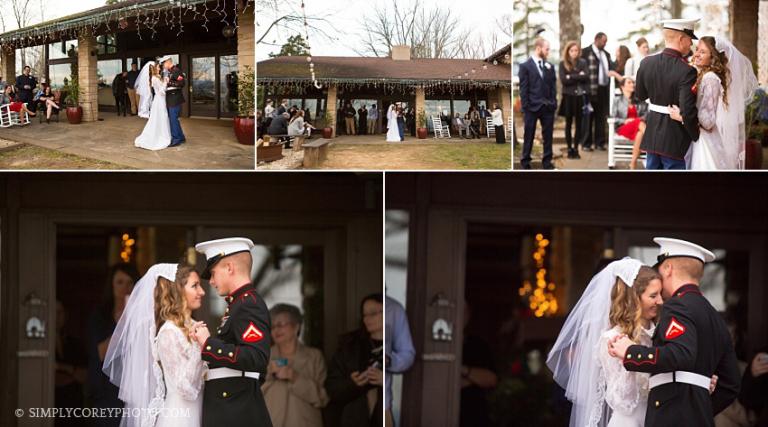 . . . and the father-daughter dance. ♥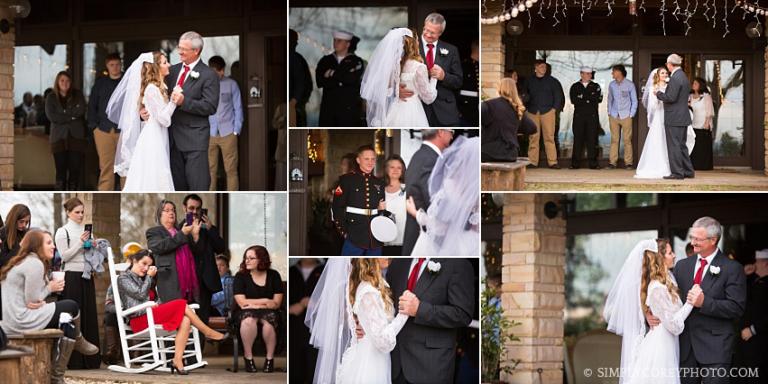 It was close, but Kimberly caught the bouquet!

And one of Candace's brothers caught the garter.

Since Candace and Anthony were staying at The Secret Bed and Breakfast Lodge after the wedding, the girls went ahead and put on some comfy clothes after the festivities.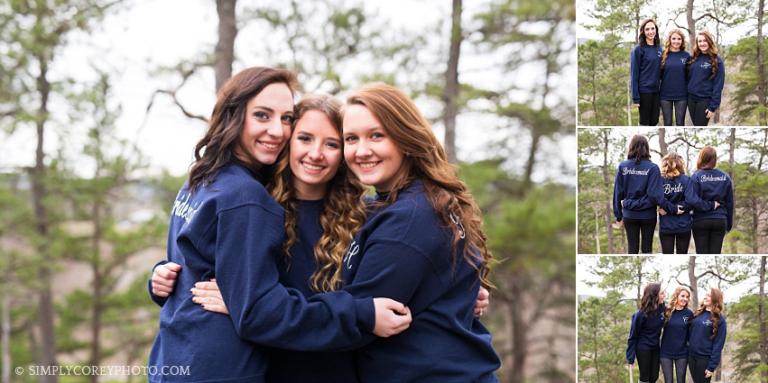 It was a fun day and I am so thankful I was able to be a part of it. I wish you two a lifetime filled with an abundance of love and laughter, Candace and Anthony! I also pray that Anthony makes it home safely from his deployment and that the time flies by for the two of you! ♥

. . .
more about atlanta wedding photographer, simply corey photography:
Simply Corey Photography is located in West Georgia, near Newnan, Villa Rica, Carrollton, Douglasville, and Bremen. I began my photography business in late 2004 and have photographed many couples and weddings throughout greater Atlanta since.  Custom engagement sessions may take place at my private outdoor location or the location of your choice within metro Atlanta.
Would you like some more information? I have put together some information together for weddings and couples portrait sessions with Simply Corey Photography, as well as several other types of portrait sessions. Each link provides examples of my work, what to expect, and starting rates. You may request detailed pricing and my availability by sending me an email!
Be sure to subscribe to the email newsletter! Simply Corey Photography sends out exclusive photography specials, mini session announcements, and other news from time to time.
I would also love for you to connect with Simply Corey Photography on Facebook and Instagram! Plus, what to wear inspiration and a variety of wedding ideas can be found on the Simply Corey Photography Pinterest boards.