Remember this beautiful couple's engagement session? I had the honor of photographing their beautiful wedding in July! Their wedding and reception were both held at the Conservatory at Waterstone in Acworth. They describe themselves as "a unique mix of modern loft and rustic french country" – such an awesome Atlanta wedding venue!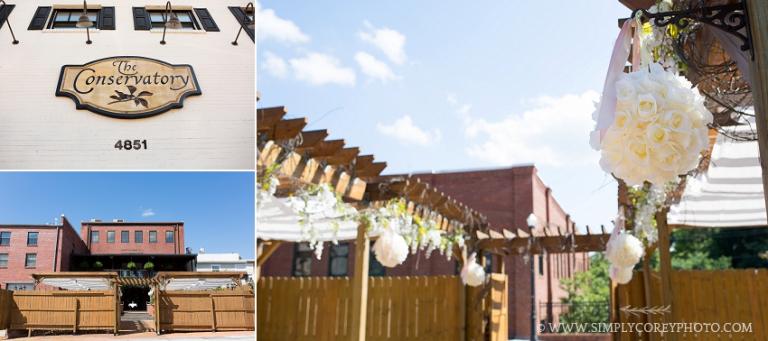 Allyson was in the private upstairs bridal suite getting ready with her girls when I arrived.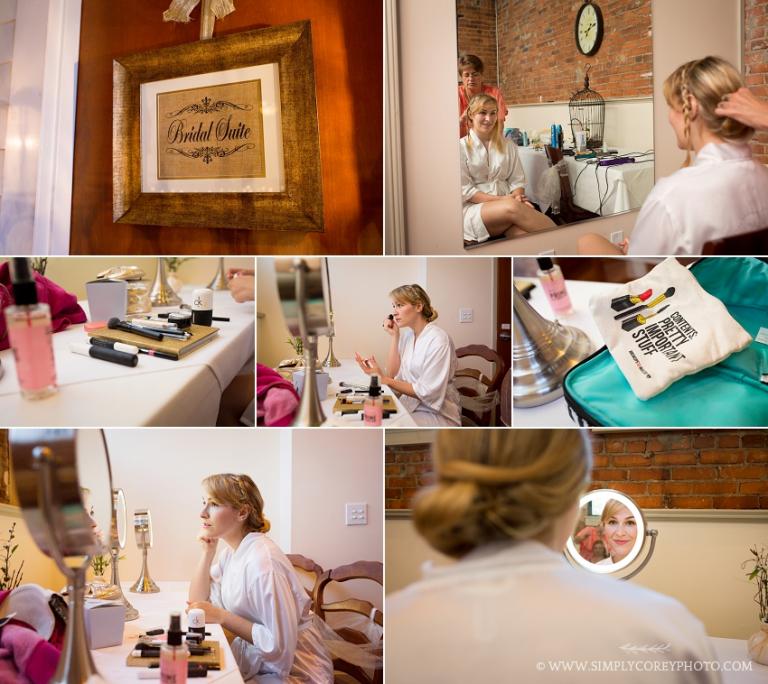 While she finished up, I whisked her belongings away for some detail shots! I absolutely love that she wore sparkly flats for her wedding!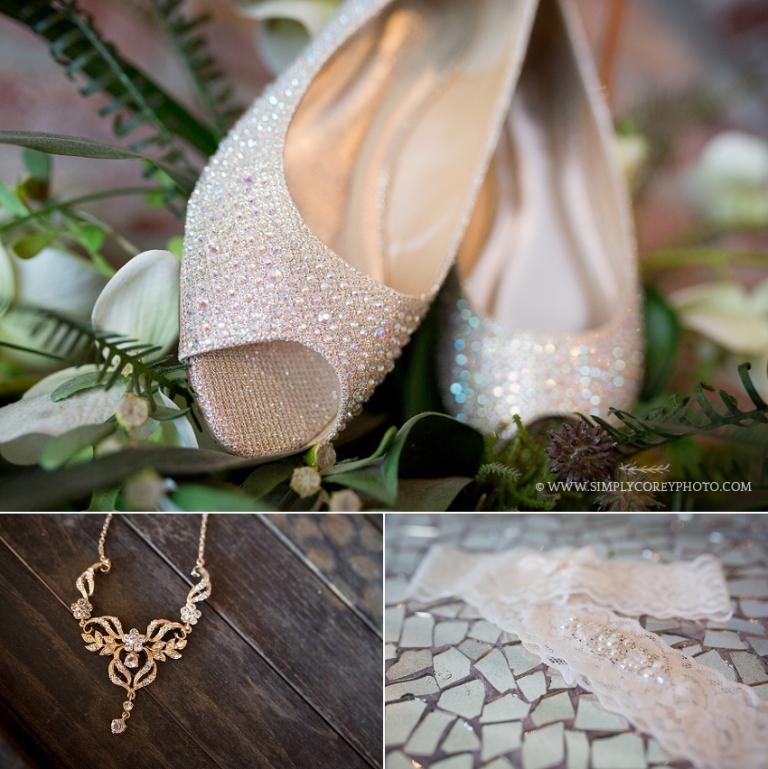 Allyson's veil was one of my favorites. The thick lace trim is just so elegant!
She chose summery pinks, yellows and oranges for her wedding colors. Perfect for her July wedding!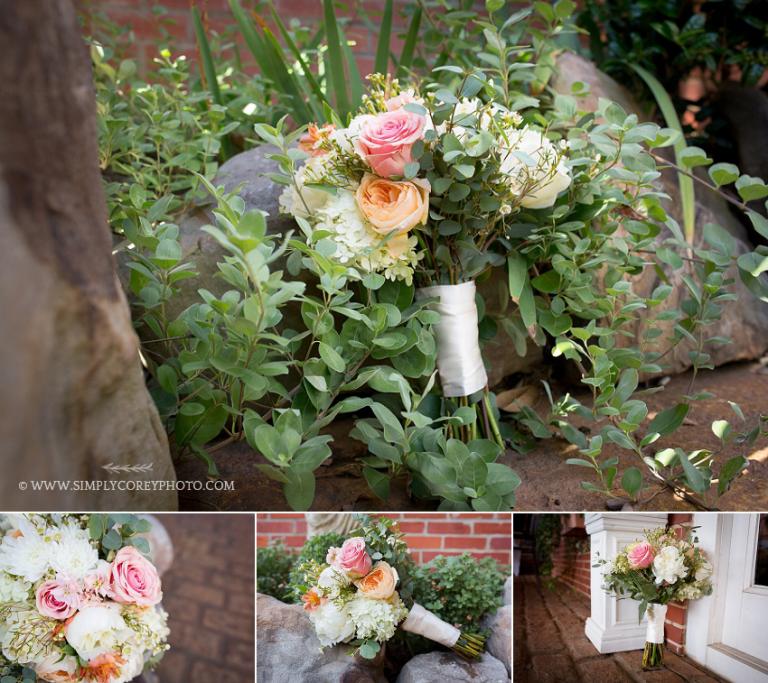 I loved the summery feel to their wedding cake covered with flowers that matched her bridal bouquet. Mike's Army groom's cake was incredible too. I love the personalized dog tag!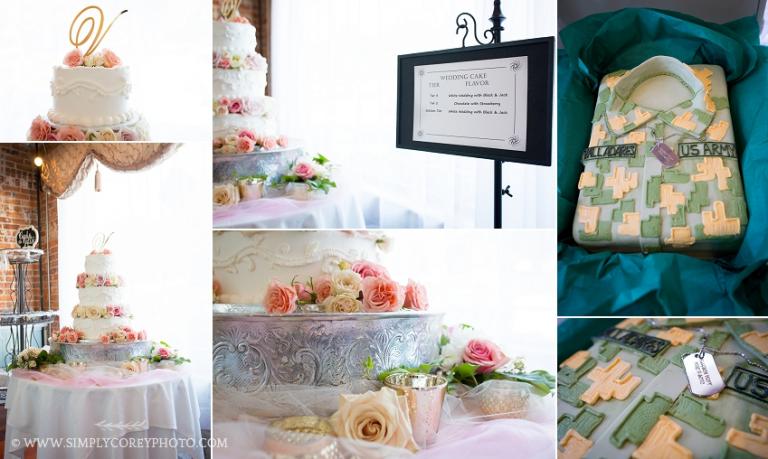 Practical wedding favors are my favorite and the stemless wine glasses Mike and Allyson gave their guests were too cool. I also loved the idea of having the guests sign a monogrammed platter instead of a traditional guest book!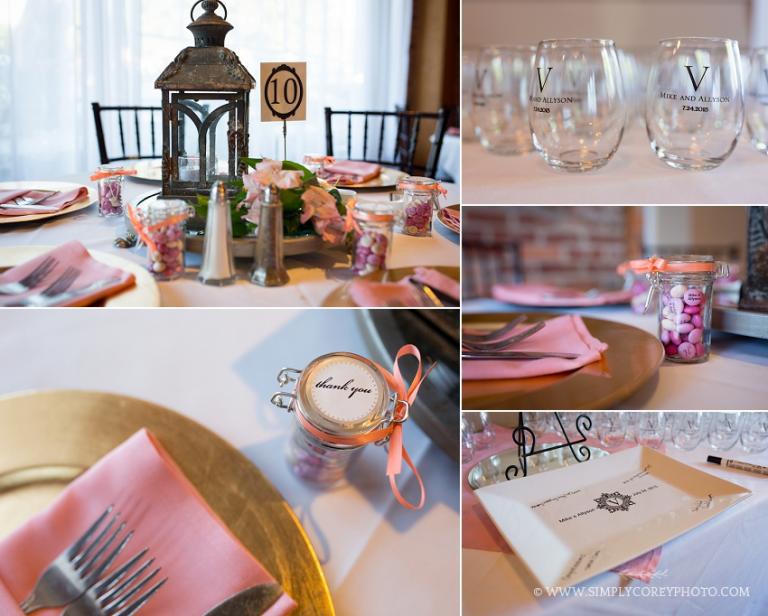 Allyson's bridesmaids helped her get into her dress in the bridal suite. I just love the look of joy and excitement on her face as everything was coming together before the ceremony! The photo of her flower girl looking at her adoringly melts my heart too!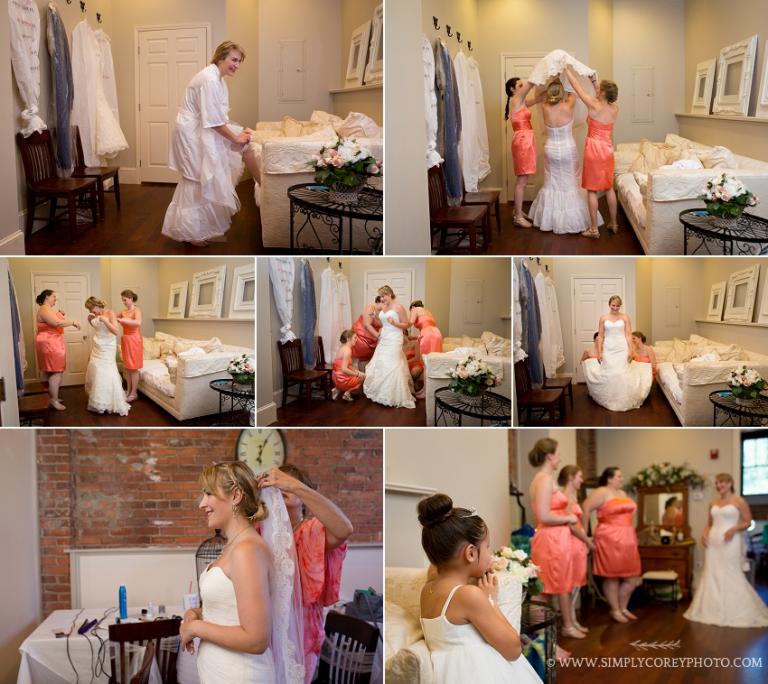 Mike and his best man prepared for the wedding downstairs. I love to see grooms in uniform and since Mike is in the U.S. Army, he wore his dress blues.

Isn't Allyson a gorgeous bride? ♥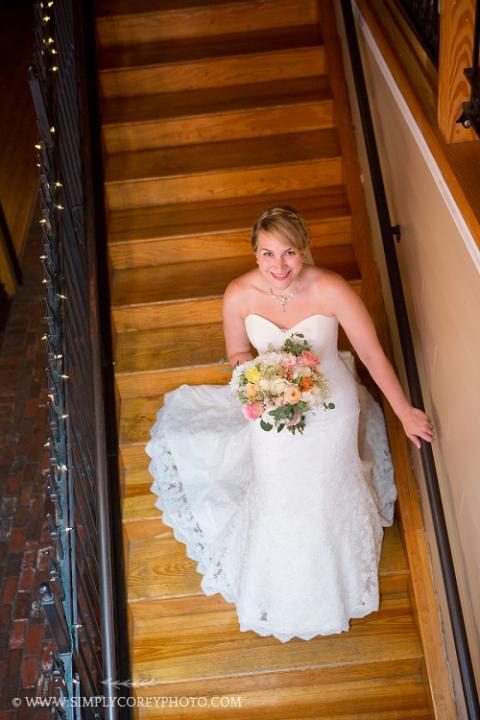 They were married during a beautiful wedding ceremony in the outdoor garden at The Conservatory at Waterstone.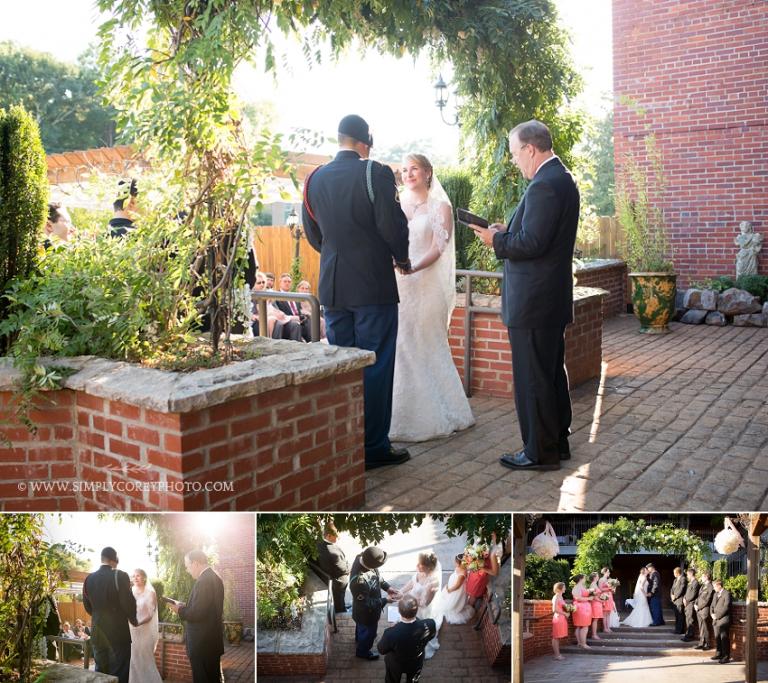 After the ceremony I took the wedding party behind the venue for some fun photos, making use of the beautiful light back there!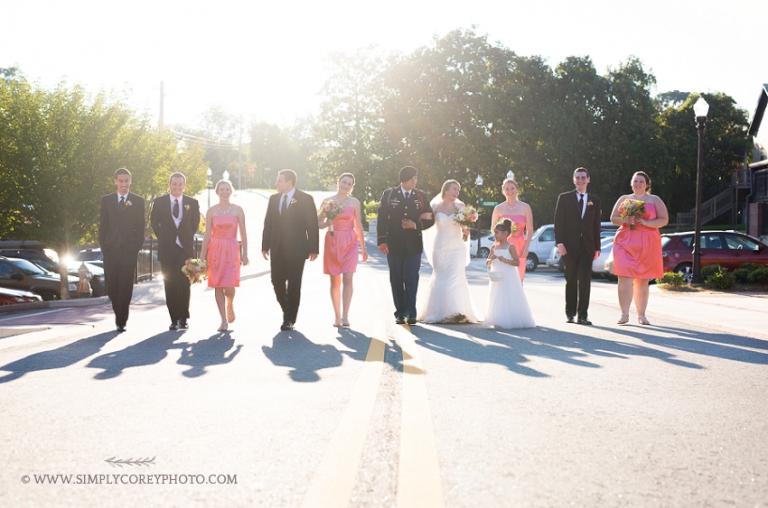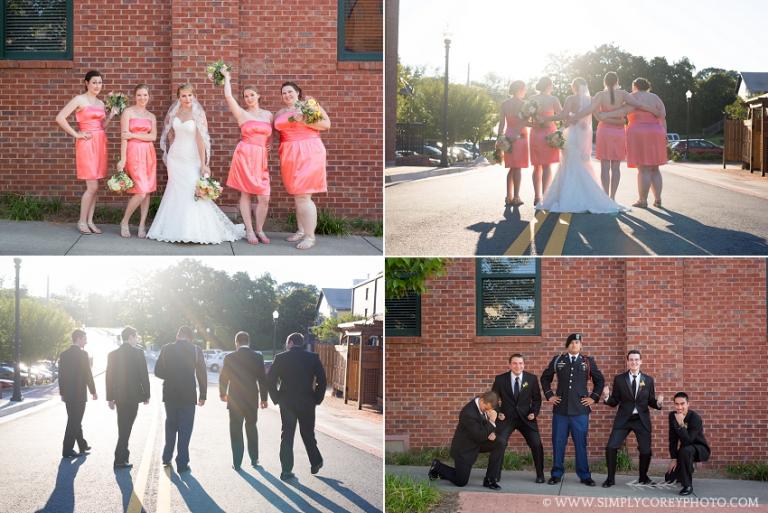 Once the group photos were finished, I photographed the bride and groom by themselves.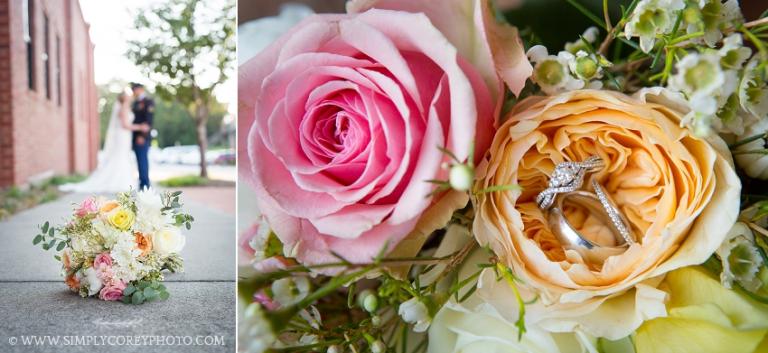 The light just got better and better during our time together. The sun was going down quickly as we made use of the middle of the street behind The Conservatory at Waterstone.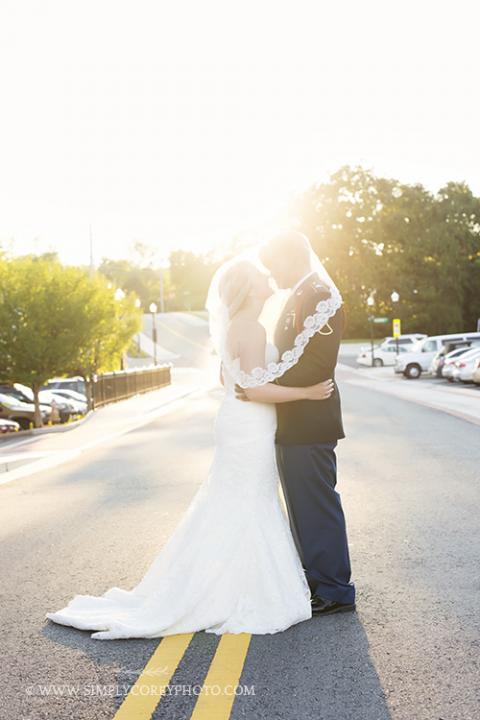 ♥

Their first dance was surrounded by loved ones- upstairs and downstairs!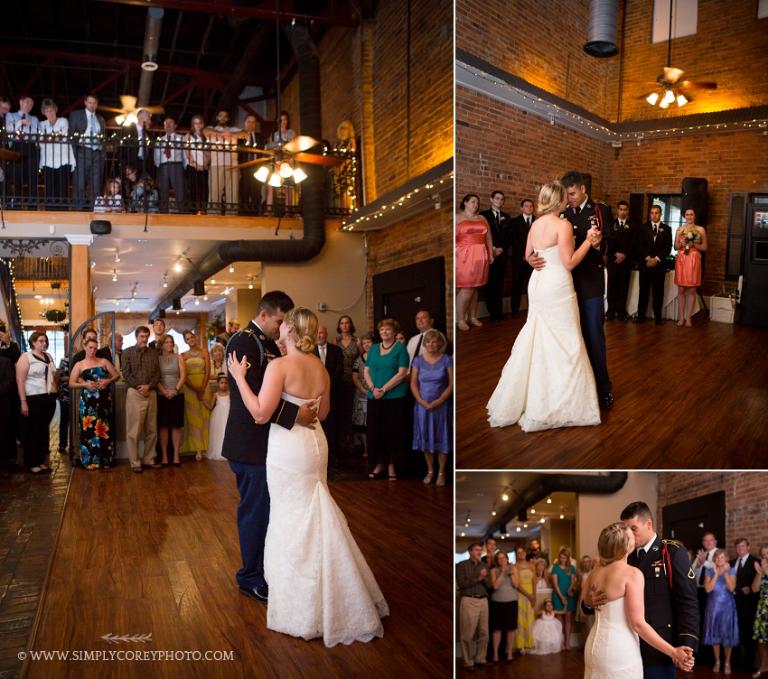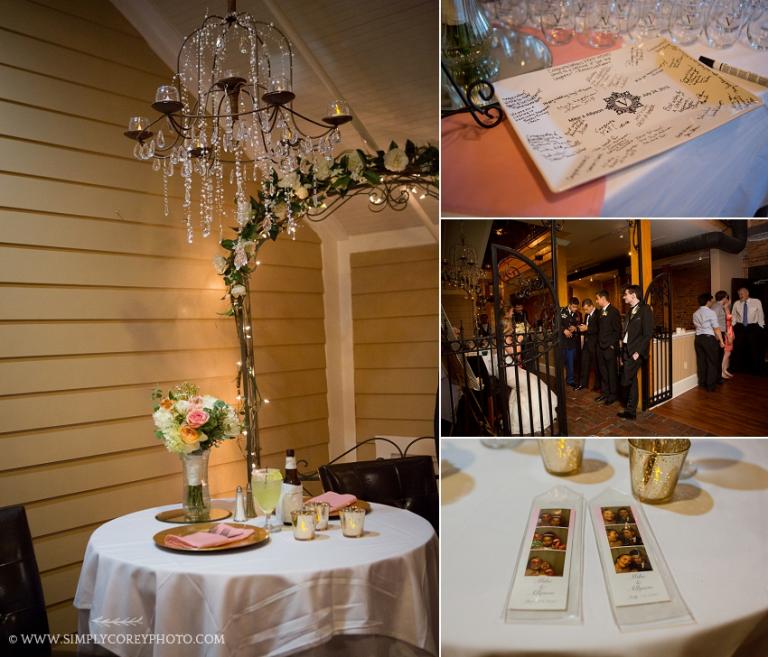 Time to cut into that beautiful cake!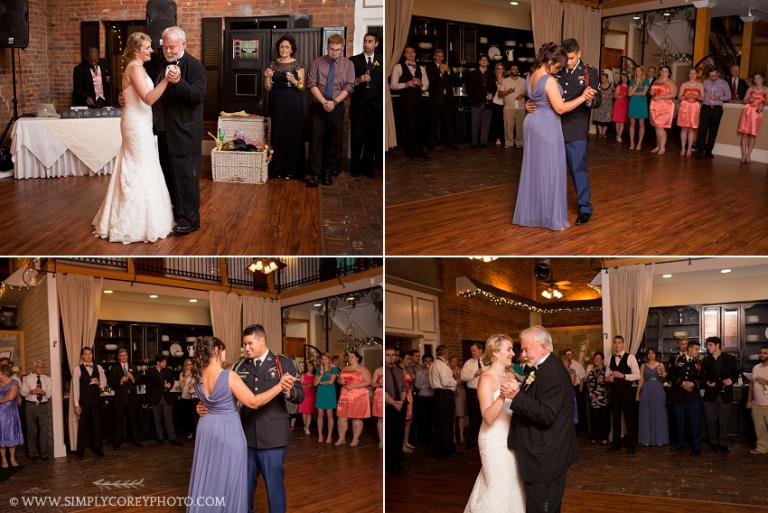 After the cake cutting, they had parent dances and an anniversary dance to see which couple had been married the longest.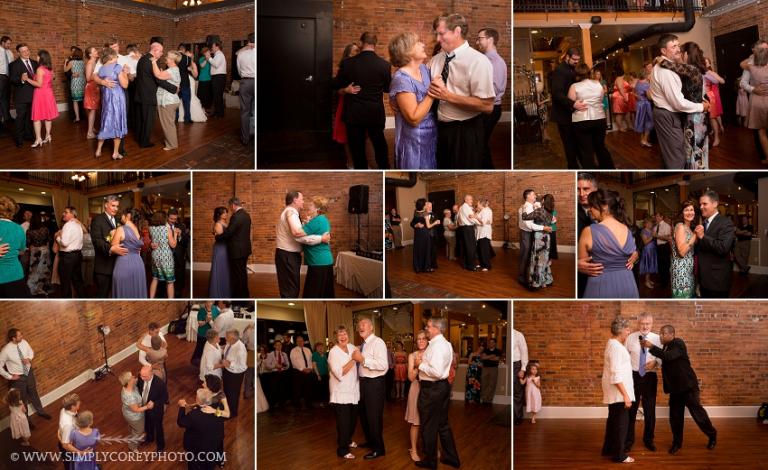 And then it was party time!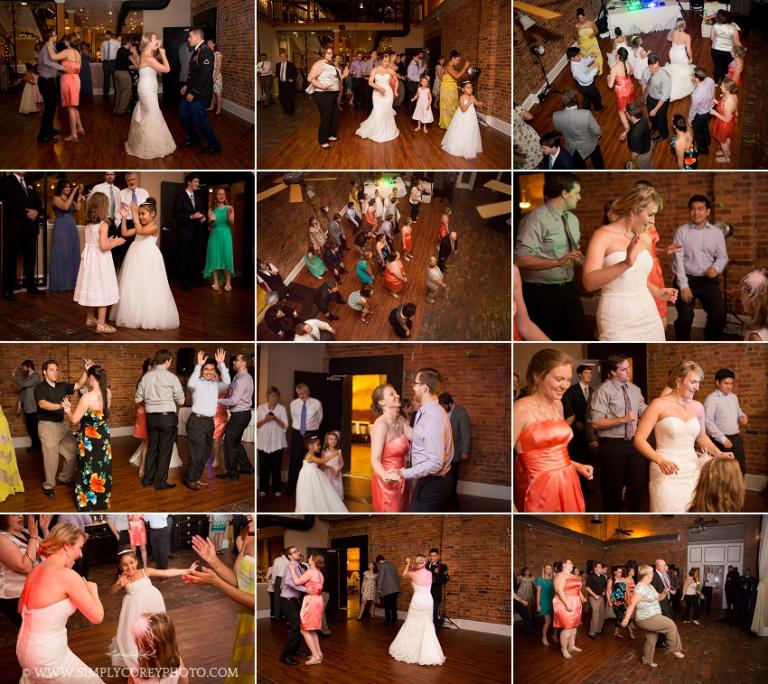 I am pretty sure Allyson's bouquet toss was the funniest toss I have ever witnessed. She threw her bouquet from the second floor but none of the single ladies ran for it. The bouquet actually made a "thud" when hitting the ground! Bridesmaid Claire (who happens to be an awesome Atlanta wedding photographer herself) was the one to finally pick it up!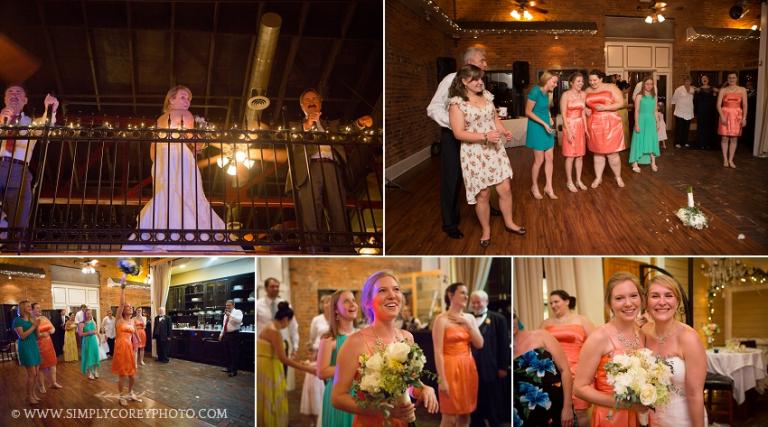 Mike was on the first floor with his guys when he threw the garter – but the same thing happened! The garter sat on the floor until a guest decided to be a good sport and pick it up!
Their guests lined up outside loaded with bubbles and sparklers as Mike and Allyson exited their wedding reception!
Congratulations again, you two! I wish you many many years of love and happiness! ♥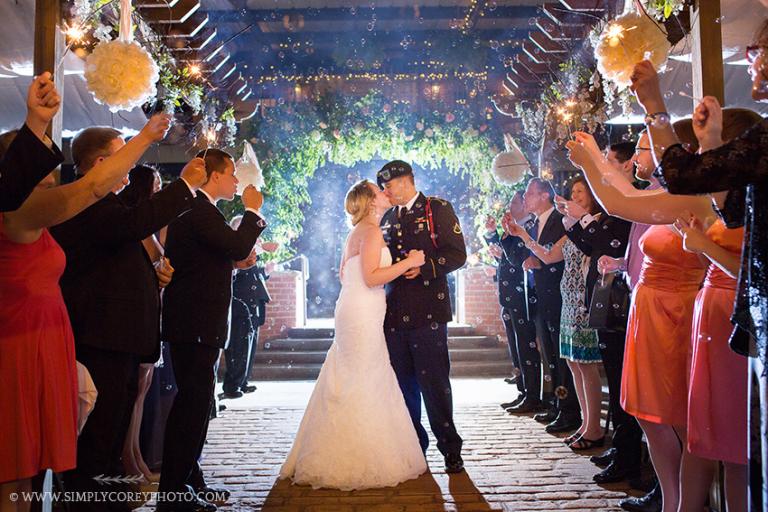 . . .
MORE ABOUT ATLANTA WEDDING PHOTOGRAPHER, SIMPLY COREY PHOTOGRAPHY:
Simply Corey Photography is located in West Georgia, near Newnan, Villa Rica, Carrollton, Douglasville, and Bremen. I began my photography business in late 2004 and have photographed many couples and weddings throughout greater Atlanta since.  Custom engagement sessions may take place at my private outdoor location or the location of your choice within metro Atlanta.
Would you like some more information? I have put together some information together for weddings and couples portrait sessions with Simply Corey Photography, as well as several other types of portrait sessions. Each link provides examples of my work, what to expect, and starting rates. You may request detailed pricing and my availability by sending me an email!
Be sure to subscribe to the email newsletter! Simply Corey Photography sends out exclusive photography specials, mini session announcements, and other news from time to time.
I would also love for you to connect with Simply Corey Photography on Facebook and Instagram! Plus, what to wear inspiration and a variety of wedding ideas can be found on the Simply Corey Photography Pinterest boards.