If you've seen the work in my galleries or in my blog posts, you have definitely seen my private outdoor location in the country! And if you're just now viewing my work for the first time (welcome!) you will also see that I do not specialize in just one area. I love to follow my clients through all of their life events – and my location is perfect for them all! Keep scrolling to view several different examples and read what makes this location so special …
West Georgia Photographer, Simply Corey Photography
I am located in west Georgia near Carrollton, Newnan, and Douglasville – and not far from St. Andrew's Golf & Country Club – but I have many families travel from all over greater Atlanta for their portrait sessions. Some amazing families have even driven 90 minutes one way to have their pictures here! So why should you have your portrait session here? I have a few reasons:
 1. It's Beautiful
Really! The leaves may come and go, but it is beautiful out here in the country during winter, spring, summer, and fall! Plus, the scenery is constantly changing – thanks to a husband who loves to plant and move things around the yard. A lot of my clients come from the city of Atlanta, so being in the country is a nice change for them – and most kids don't want to leave!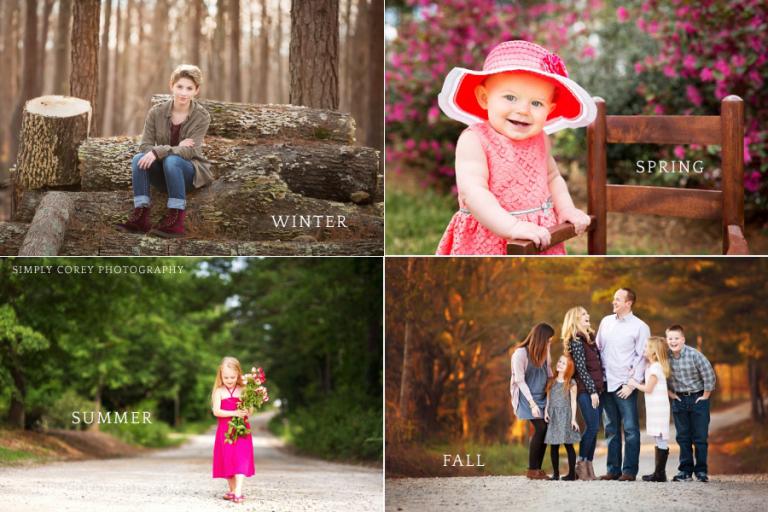 2. Variety
The property is rather large and has quite a few different spots to take photos in. This ensures that no two sessions will be exactly the same – especially when it's a different season or time of day! I have included several examples of families, high school seniors, and couples below so you can get an idea of the many different looks available here. I have done a lot of on-location photo sessions the past 12 years (that's for another blog post!) and I honestly feel like there are more options for my clients here than at a local park, if that is the look you're looking for.
3. Privacy
This is my absolute favorite perk of having sessions at my location. Whenever I have a photo session at a public park or other location, we have to wait for other people to leave the spot we're wanting to take photos in, dodge them in the background, wait for them to pass, and so on. When you come to my location for your portrait session, it is all about you! There are no crowds of people to compete with and you'll have privacy during your session.
Baby, Child, and Family Photography
My location is ideal for family portrait sessions! As I mentioned before, it is private and quite spacious. This is especially perfect for families with younger children who may get distracted by other people or dogs if we were somewhere else. It also provides a laid back environment so everyone can relax more. We can get creative and your little ones can wander and explore while I photograph them. All without the worries of a busy public location!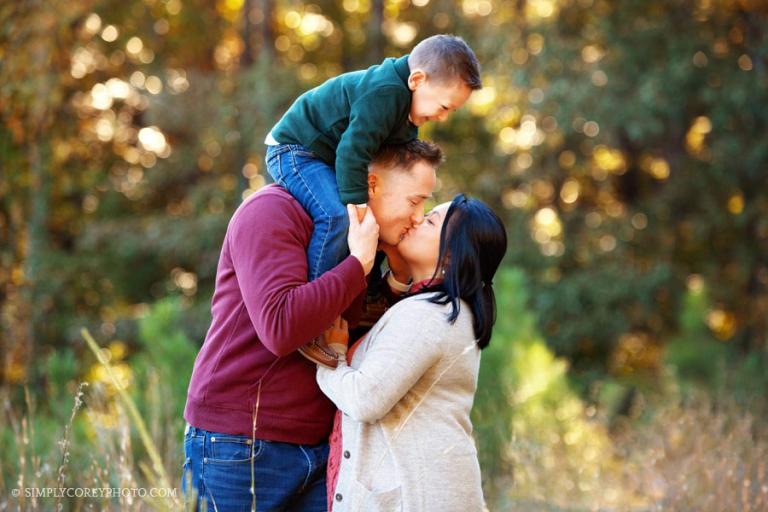 High School Senior Portraits
Is your high school senior outdoorsy? This is the perfect place for them to show off their outdoor extra-curricular activities or just the love of the outdoors. Your senior is welcome to bring their vehicle, their pet, sports gear, and more to their portrait session. The property has many photographic spots, so their final gallery will have plenty of different looks.  We also have a vintage dump truck on the property that teens love to be photographed with!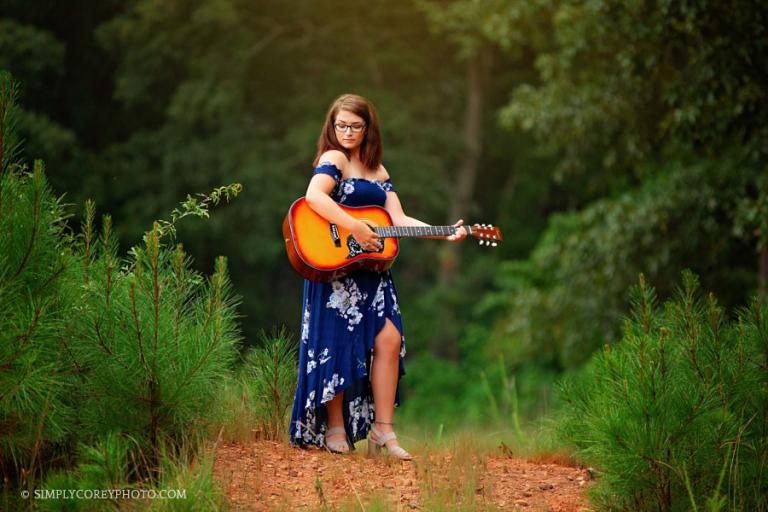 Engagement and Couples Photography
I also love to photograph couples here at my country location. Whether it is an engagement session or anniversary photos, this private location is perfect! You won't have to worry about feeling awkward while being photographed in a public location. Instead, you can focus completely on each other! ♥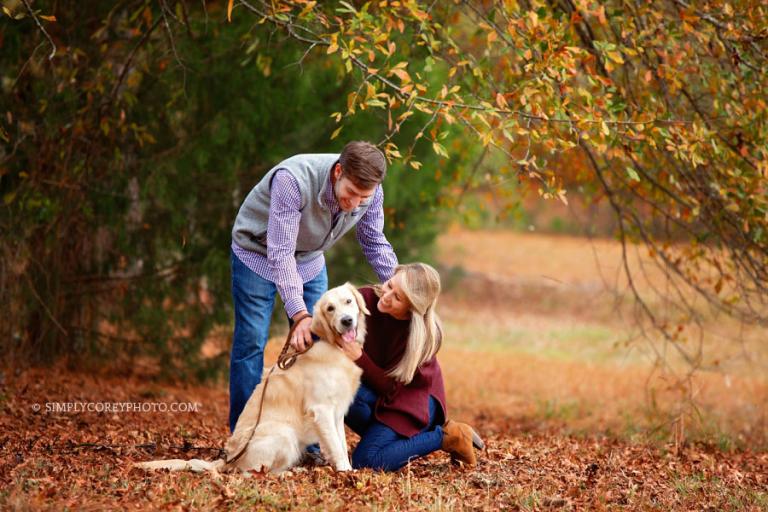 Studio Photography
I often get asked if I have a studio space. The answer is yes! Studio portraits are great for maternity, newborns, baby milestone sessions, children, and high school seniors!
. . .
MORE ABOUT ATLANTA FAMILY PHOTOGRAPHER, SIMPLY COREY PHOTOGRAPHY:
Simply Corey Photography is located in West Georgia, near Carrollton, Newnan, Douglasville, Villa Rica, and Bremen. I began my photography business in late 2004 and have photographed many babies, children, high school seniors, and families throughout metro Atlanta since then.  Custom portrait sessions may take place at my private outdoor location or the location of your choice within greater Atlanta.
Would you like some more information? I have put together some information together for family and senior portrait sessions with Simply Corey Photography, as well as several other types of portrait sessions. Each link provides examples of my work, what to expect, and starting rates. You may request detailed pricing and my availability by sending me an email!
Be sure to subscribe to the email newsletter! Simply Corey Photography sends out exclusive photography specials, mini session announcements, and other news from time to time.
I would also love for you to connect with Simply Corey Photography on Facebook and Instagram! And "What to Wear" inspiration for your upcoming portrait sessions can be found on the Simply Corey Photography Pinterest boards.
.