You may remember these handsome brothers from their session last year. They were the absolute sweetest with their baby brother!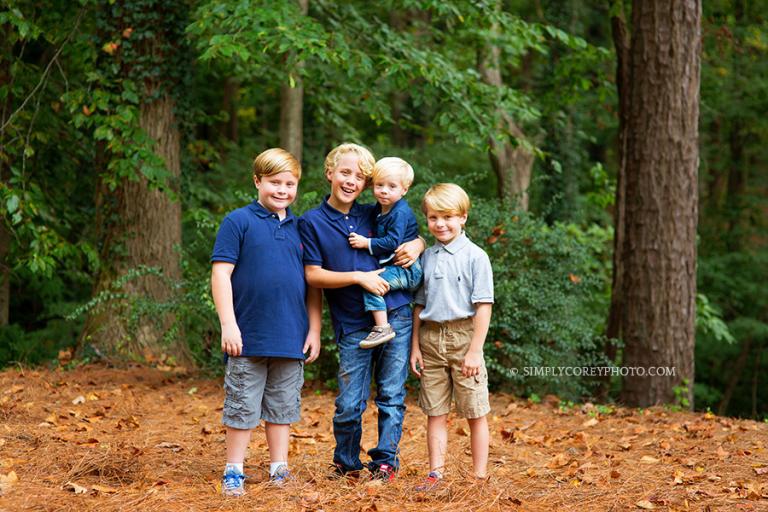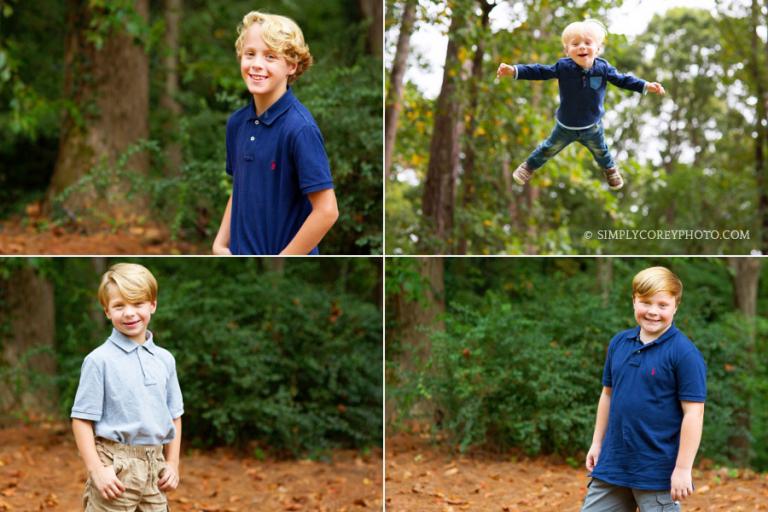 So when Mom contacted me and told me that they added a beautiful baby girl to their family, I knew the boys must have been over the moon. I was right! The older three all wanted to hold their new baby sister for photos!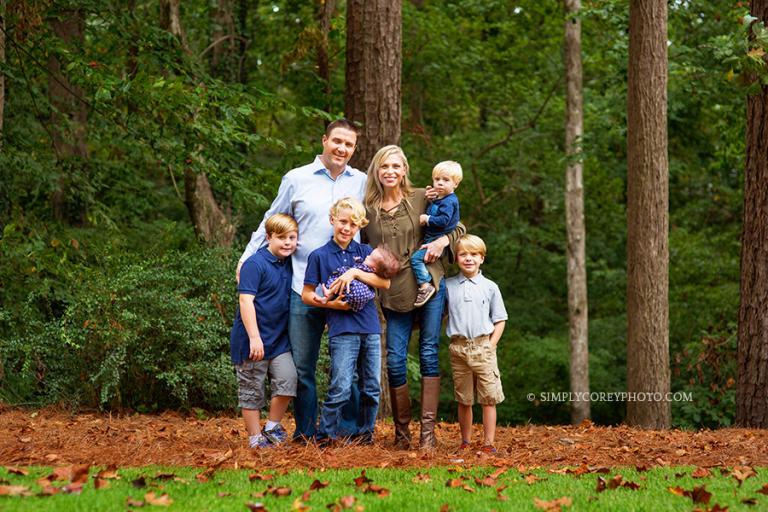 Even though they were perfectly fine with their amazing boys, Mom and Dad were thrilled to add a little girl to their family. Any new baby would have to be tough to keep up with four big brothers and Marion has already proven her strength. This sweet baby girl was born with hydrocephalus and had already been through so much in her first few weeks. She had just gotten back from spending weeks in Boston and recovering from surgery when we met for her newborn session.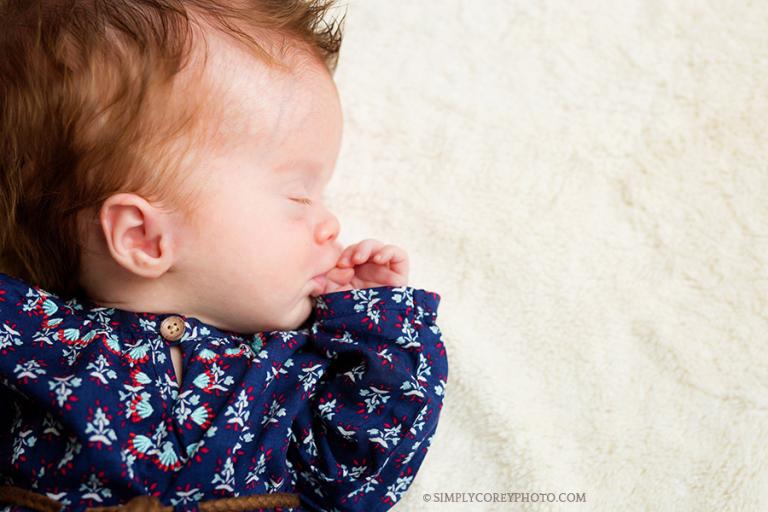 Here is some of Marion's birth story Mom gave me permission to share . . .
"Thursday was a big day. Every moment with Marion has been so emotional, from her early arrival, to my first C-section delivery, to every ultrasound view and test result, to the sense of awe and closeness to God when her life is in our arms as we hold her . . . Marion's middle name is Eve, which means "life." We were counseled multiple times on her potential and imminent medical complications and even encouraged to terminate the pregnancy at one point. Holding her life in our arms and looking into her eyes brings us to tears and has given us moments where we've never felt so close to God's presence and unfailing love. You can almost sense angels surrounding her.
As we watched the swelling subside from birth, her delicate facial features and protruding hydrocephalic forehead and expanding skull became more visible. We were immediately in love and still could not believe we had a baby GIRL joining the Goodman brotherhood.
Marion's vitals were strong and stable, but she was not showing interest in bottle feeding, so I pumped and NICU nurses kept her feedings slow and steady on the feeding tube. We wanted to keep her calm and full. She was spitting up when feeding went too fast, and upsetting her would only cause increased pressure and stress on her head. We could see her furrowed brow and winces of pain when we looked into her eyes. She was so sleepy and loved the calm of music and gentle voices. Blake's serenades may not have been the most calm, but they swooned Marion and calmed her immediately. She is smitten with Daddy already.
The neonatologist at Northside assigned a social worker to our case, and they tirelessly worked and supported us to coordinate a hospital-to-hospital transfer as recommended by Marion's neurosurgeon in Boston, Dr. Warf. They found a company, VitalOne, that would work with our insurance company and safely transport Marion from her NICU bed in Atlanta to her NICU bed at Boston Children's. Logistics were set up in record time, but just as we were ready to go, Boston informed us that a bed was no longer available. We would have to wait until a patient was discharged. We started to pray and waited patiently. I was still in horrible pain and would not be discharged in time to travel with Marion. I was devastated, but within a couple hours, Boston called back, and a NICU bed unexpectedly became available! Departure was scheduled for 4:00pm.
Marion rode in style on her very first plane ride . . . a private jet! The plane took off just as thunderstorms began rolling into the metro Atlanta area. Storms chased them out of town as the plane safely made its journey to Boston in two hours."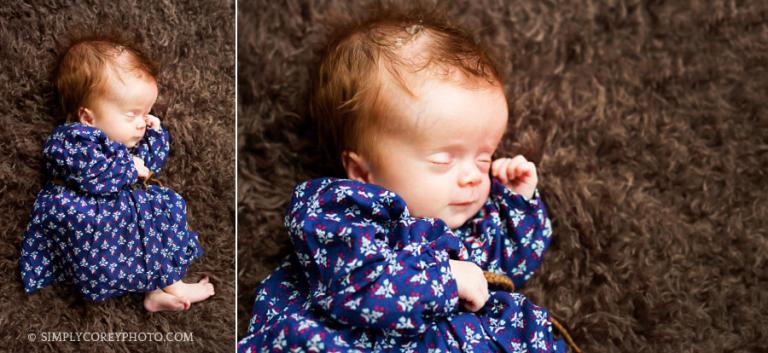 Baby Marion went to Boston Children's so she could have her ETV/CPC procedure done and came home doing really well! Isn't she the cutest?
I love these shots with (a very tired) Mom and Dad. Their hearts are so obviously full! ♥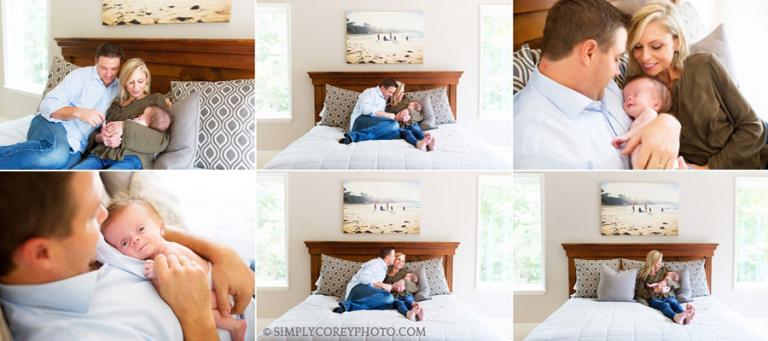 Congratulations again, Goodman Family! Your baby girl is absolutely precious!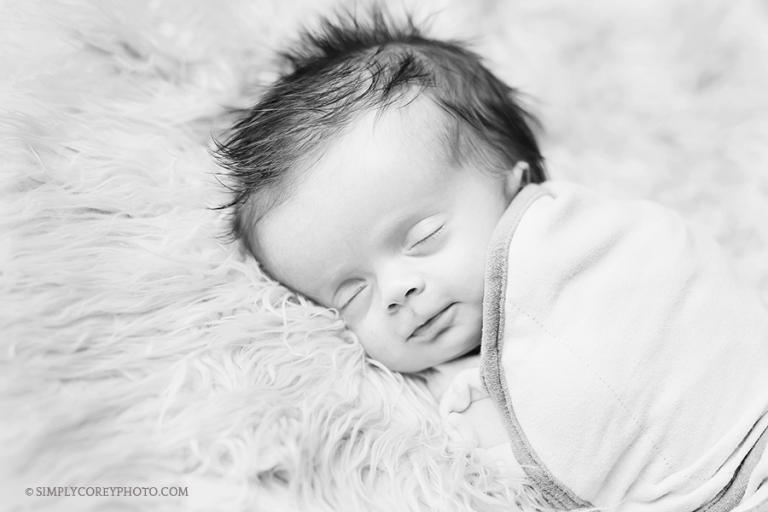 . . .
More About Atlanta Newborn Photographer, Simply Corey Photography:
Simply Corey Photography is located in West Georgia, near Villa Rica, Carrollton, Douglasville, Newnan, and Bremen. I opened my photography business at the end of 2004 and have had the privilege of photographing many expecting mothers, newborns, and babies with their families throughout metro Atlanta since then.
New parents have the option of coming to my home studio for a custom newborn session or have me come to their home for a lifestyle newborn session within greater Atlanta.
Are you expecting a new baby of your own? I have put together some information together for newborn sessions with Simply Corey Photography, as well as several other types of portrait sessions. Each link provides examples of my work, what to expect, and starting rates. Maternity and newborn sessions, baby milestone sessions, and baby's first year collections are all available with Simply Corey Photography. You may request detailed pricing and my availability by sending me an email!
Subscribers to my email newsletter receive the first announcements for exclusive photography specials, mini session announcements, and other news from time to time. Be sure to sign up!
You are also welcome to connect with Simply Corey Photography on Facebook and Instagram! I share recent photography sessions, past work, and even a little bit of my everyday often.