I met this handsome little guy less than a couple of weeks ago – the day he turned two months old! I must admit, I was a bit nervous because older newborns don't always sleep as well as younger babies … and his grandma had grand plans for his session! No pressure. Ha! But, his mom followed my session prep guide perfectly and he did amazing! This baby boy slept better than some of my younger newborns and we were able to do a variety of sets – including the fun valentine themed shots his grandma had in mind!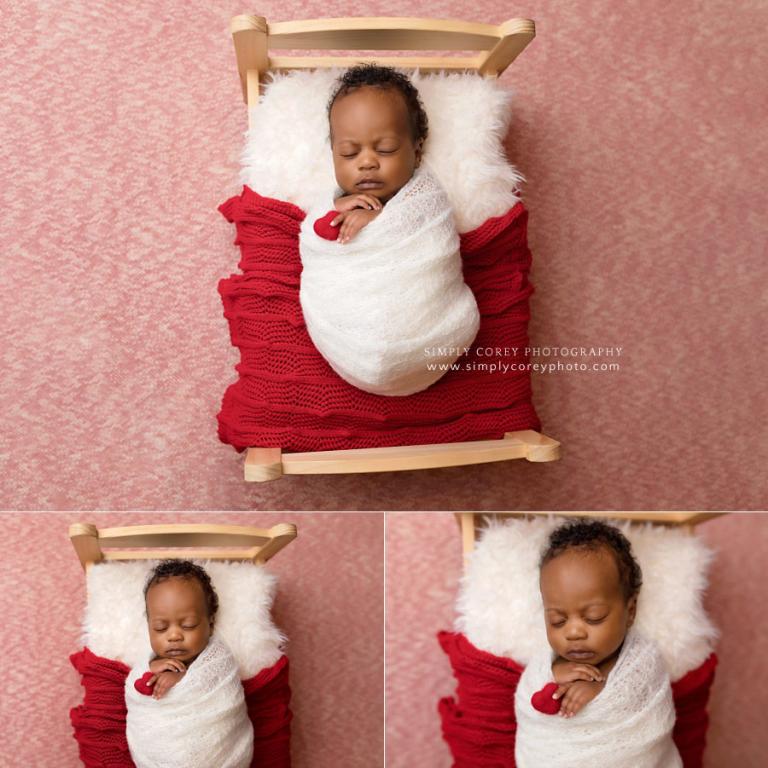 I knew his family was wanting a Valentine's Day theme, so I brought along a little heart of my own for him to hold in a few of his photos. ♥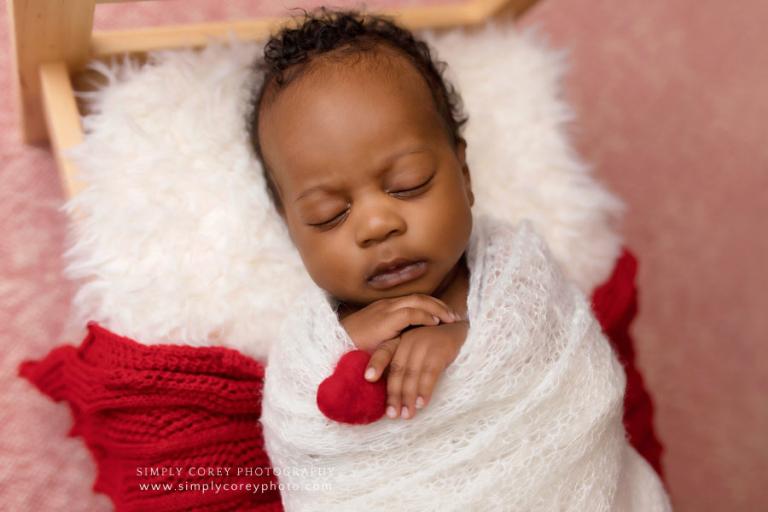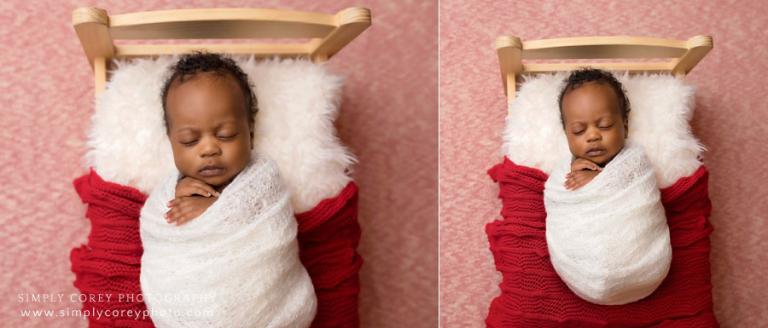 He wasn't sure about being messed with at first, but it didn't take long before that adorable furrowed brow disappeared! He was settled before we knew it!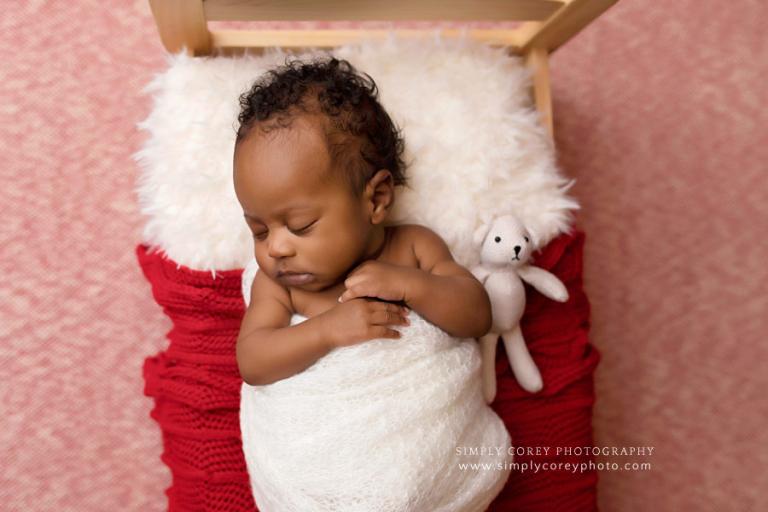 And after a few tries, I got him to hold the little teddy bear – another one of my favorite props!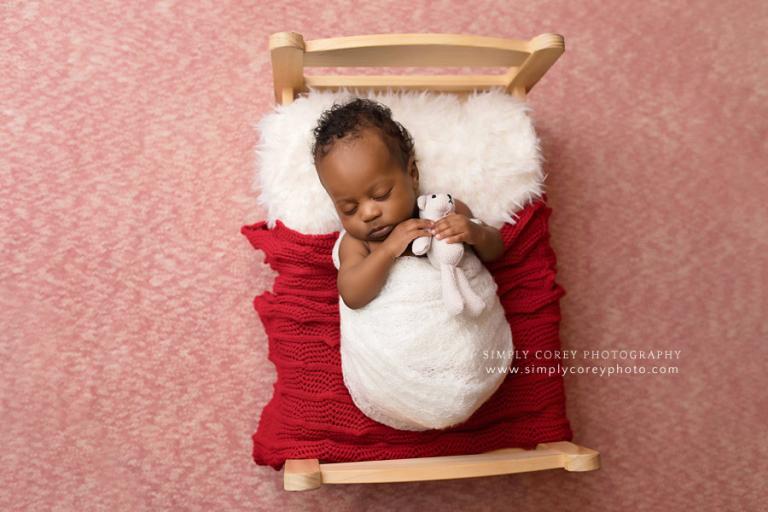 His grandma is the one that booked the session with me and I love that she was all about the valentine theme. She had these sweet angel wings with the cupid bow and arrows waiting for me when I arrived. So fun!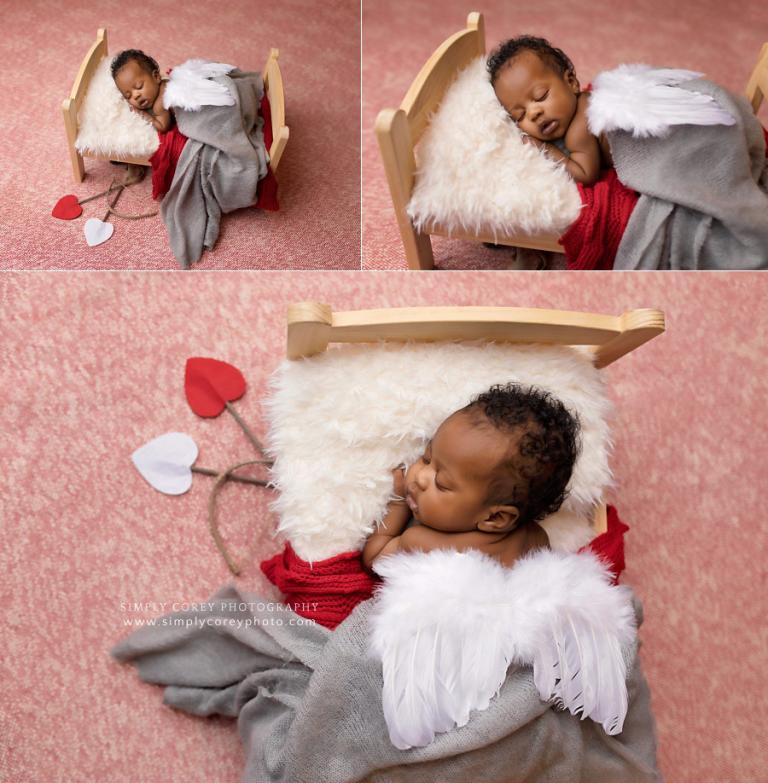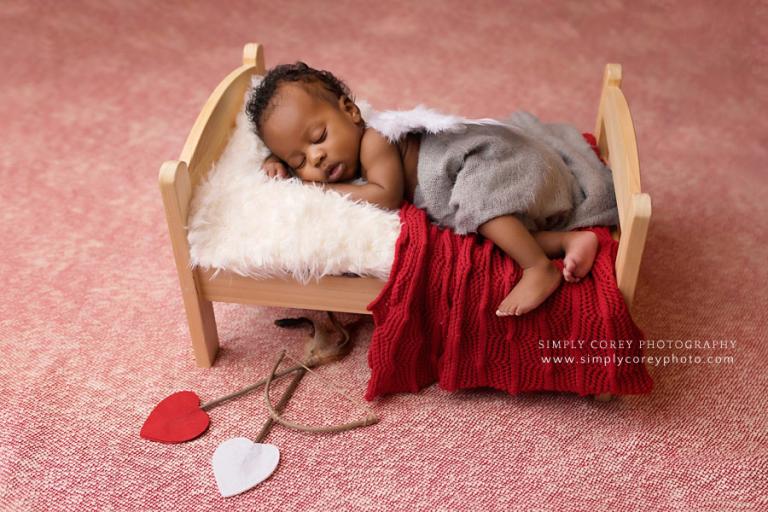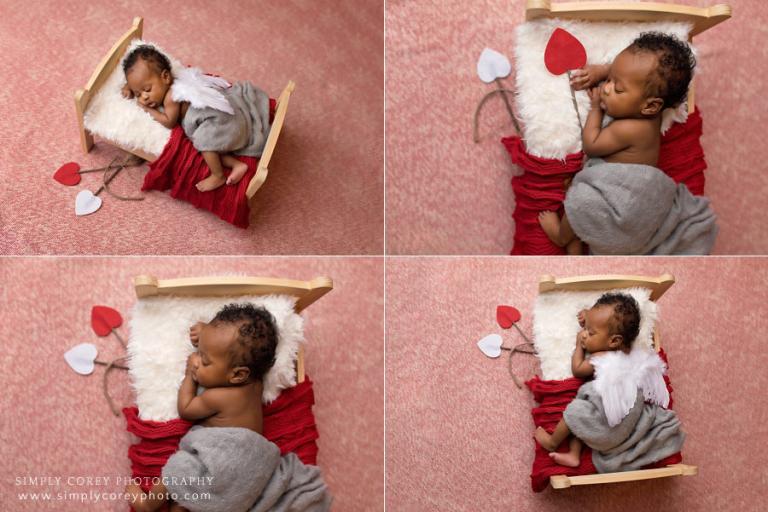 She also made this adorable kissing booth! And just look at that chocolate kisses hat! Such a perfect touch, and I love that he cooperated for these!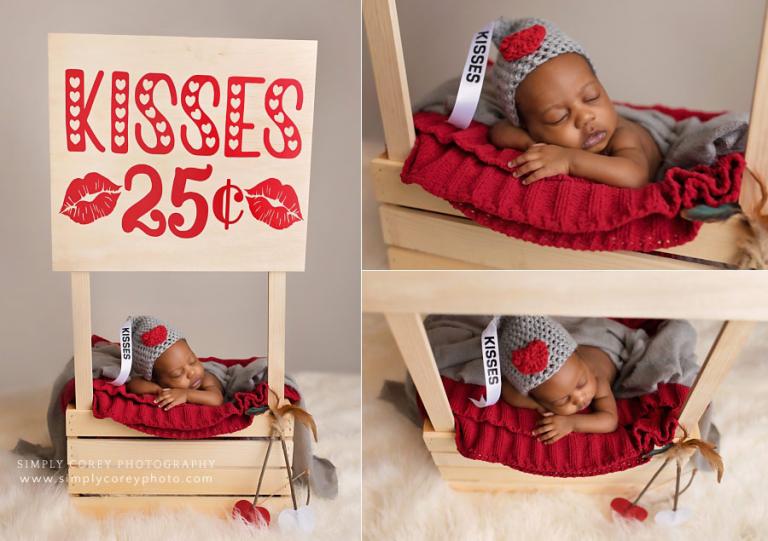 Then we did a few on some neutral colors … with the bear again! And I must say, this baby has the best curly hair! Isn't he adorable?! ♥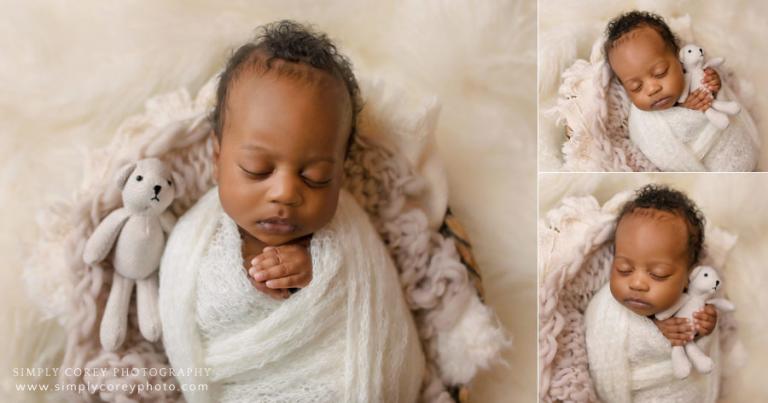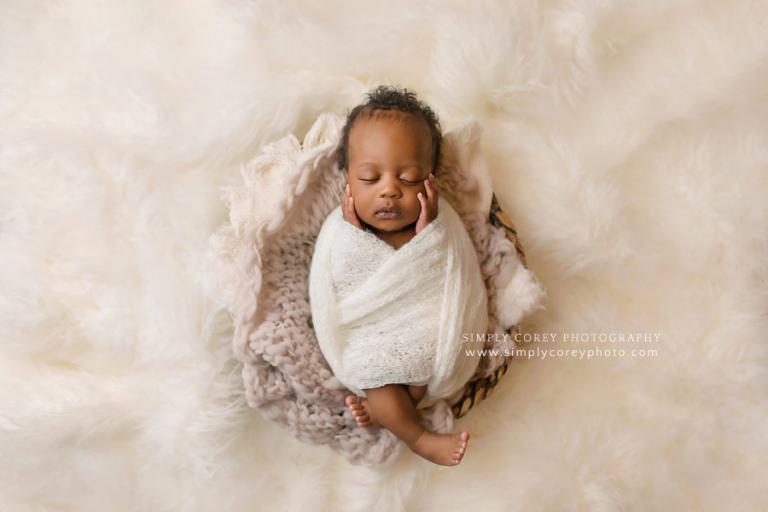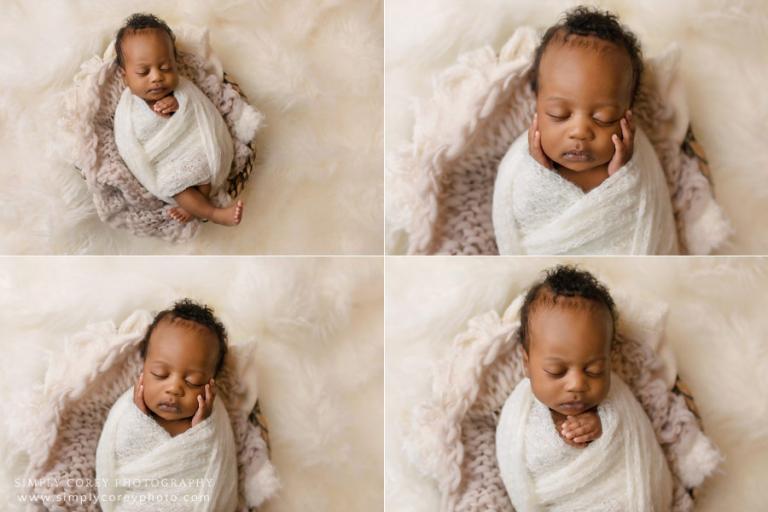 We ended the session with him in his "My First Valentine's Day" outfit. ♥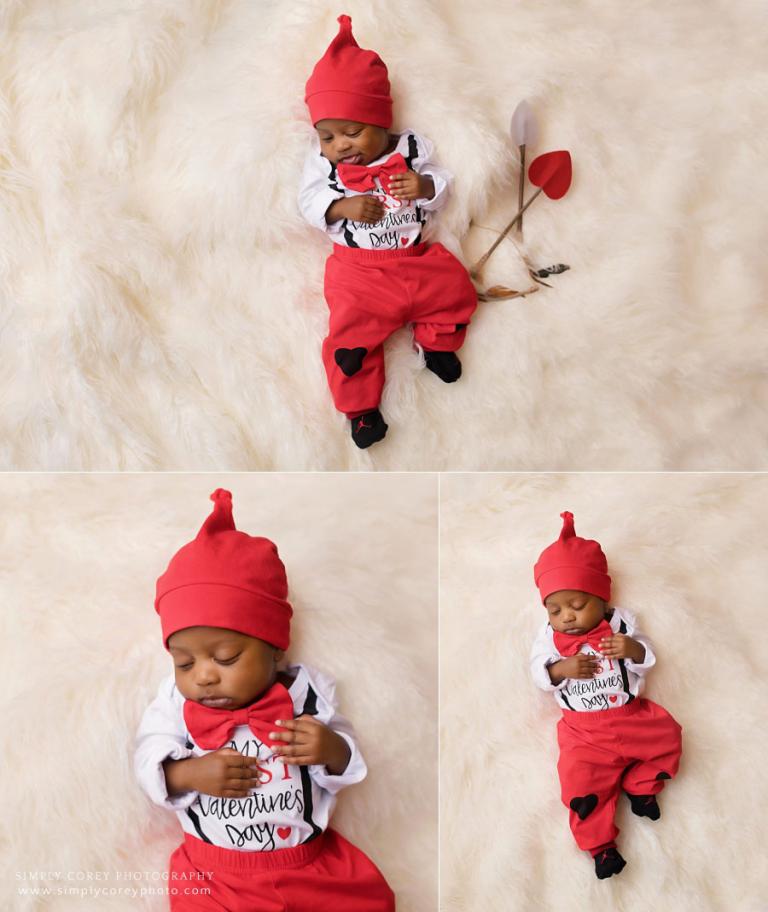 This newborn session was on location, so we had to get creative with some blank walls for the photos with Mom and Dad …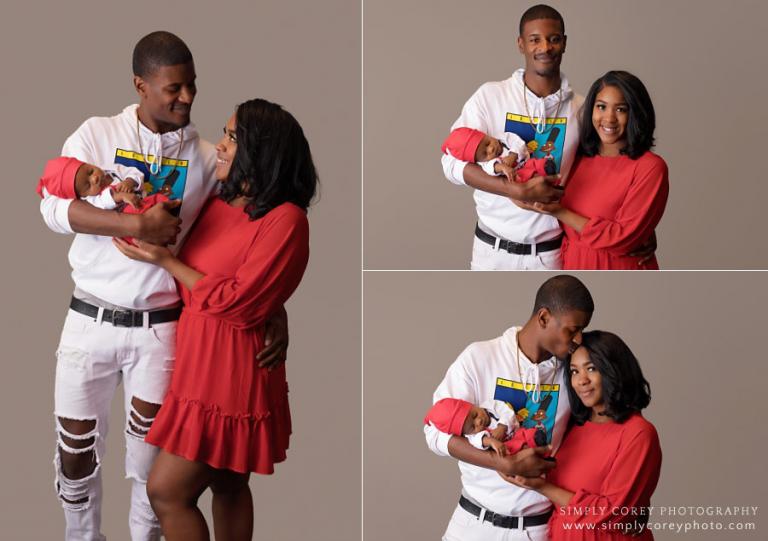 and a few more including aunts, an uncle, and great-grandma! Next time, his grandma will have to join in!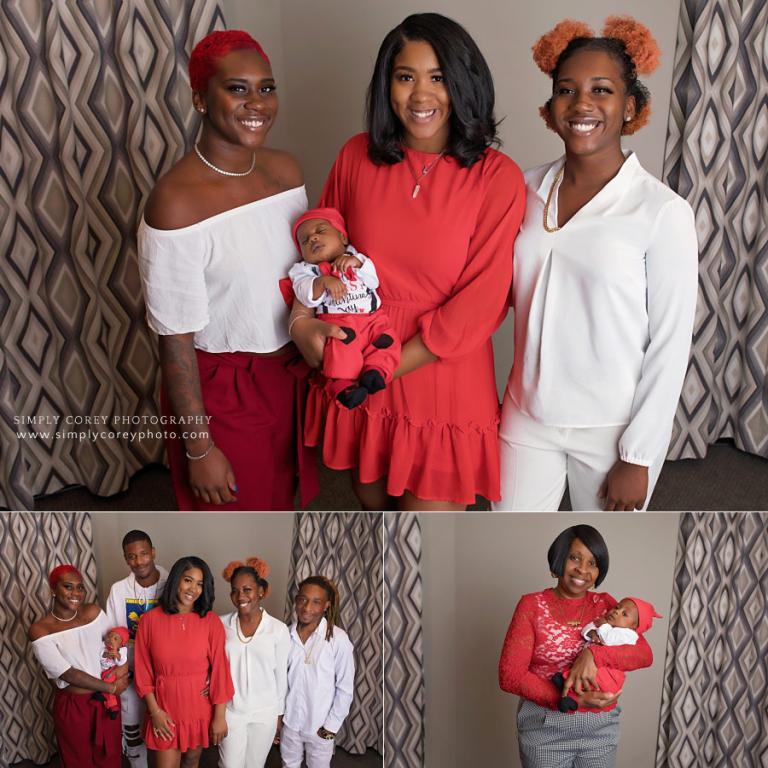 . . .
More About Atlanta Newborn Photographer, Simply Corey Photography:
Simply Corey Photography is located in west of Atlanta, near Douglasville, Carrollton, Newnan, Villa Rica, Dallas, Georgia. I have been a professional photographer for more than 16 years, and have photographed many maternity, newborn, and baby milestone sessions throughout greater Atlanta.
Newborn sessions may be held in the studio or in your metro Atlanta home. These sessions are best held when your baby is between five days and three weeks old. Maternity sessions are also available and best held between 30 and 36 weeks. You're welcome to request detailed pricing and my availability by using the form on my contact page.
Members of my VIP Facebook Group and subscribers to my email newsletter are the first to receive announcements for exclusive photography specials, mini session announcements, and other news from time to time. I'd also love for you to follow Simply Corey Photography on Facebook and Instagram!