Do you remember this pup loving couple? Well, Brooke and Michael were married at the awesome Barn at Tatum Acres in Jasper, Georgia on September 16th! If you have seen any of my wedding blog posts, you know that I love to share the whole day so you can see what their wedding was like. This wedding day was filled with lots of fun and memorable moments, so I had an even harder time narrowing down the photos to share! Be sure to scroll all the way through to see all of the beautiful details, fun times, heartfelt moments, and lots of crazy antics! ♥
You know it's going to be a fun wedding day when the bride's getting ready photos start off with some rockin' hair and makeup. Ha! Bethany of The Upper Cut Salon in Villa Rica did an amazing job!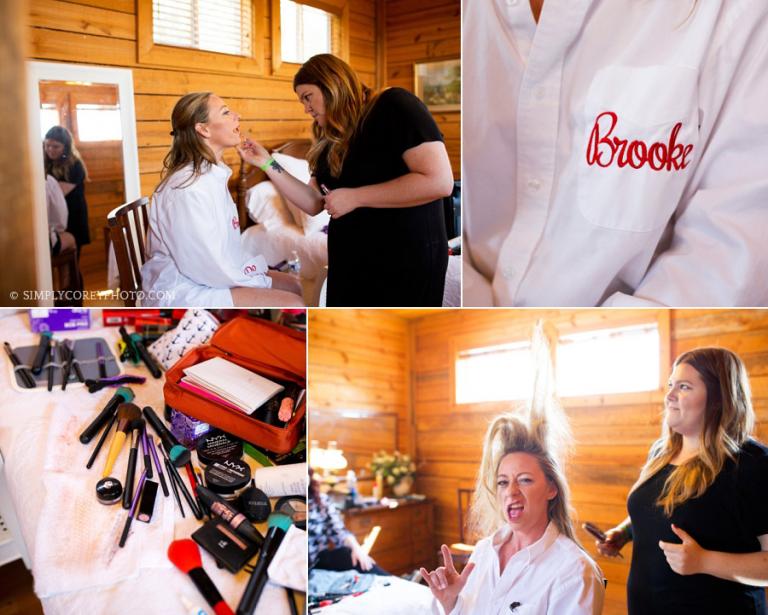 Meanwhile, the groom and his groomsmen were having their own fun getting ready.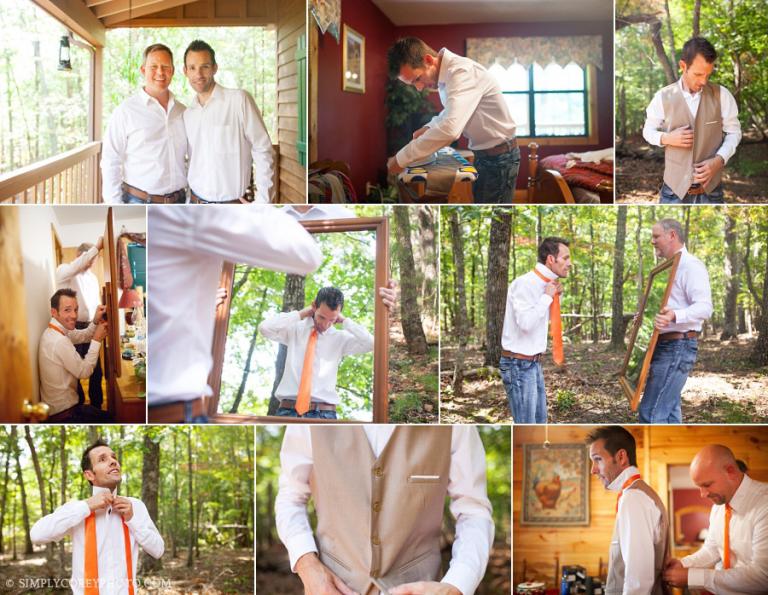 The groom lost his mother just months before the wedding and this beautiful cross was hers. I love that he chose to wear it on his wedding day. ♥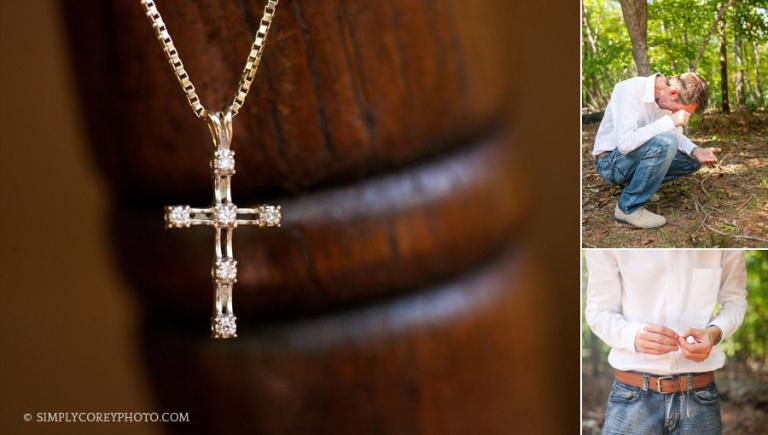 I love the pops of red and orange Brooke and Michael chose and Brooke's ring is so unique!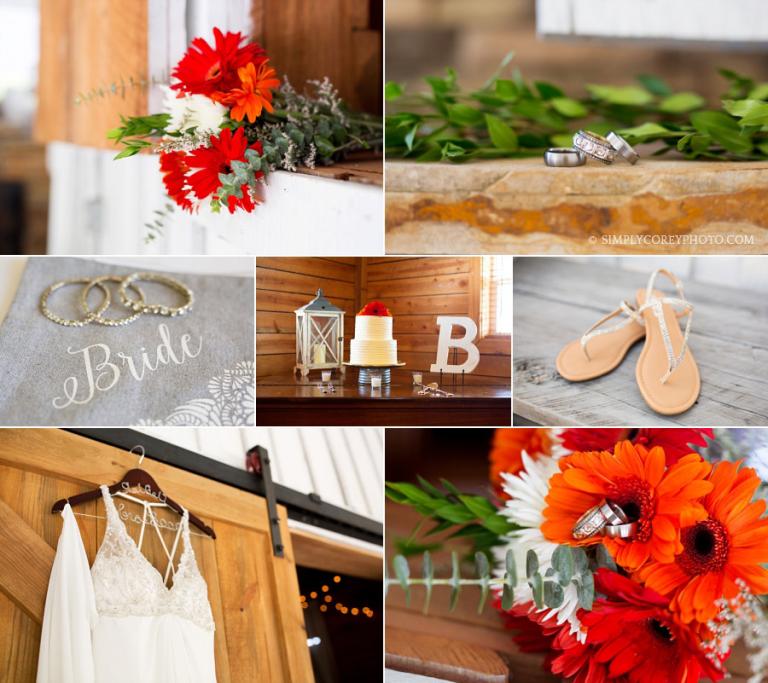 The matching embroidered shirts Brooke had for her and her bridesmaids were so fun too!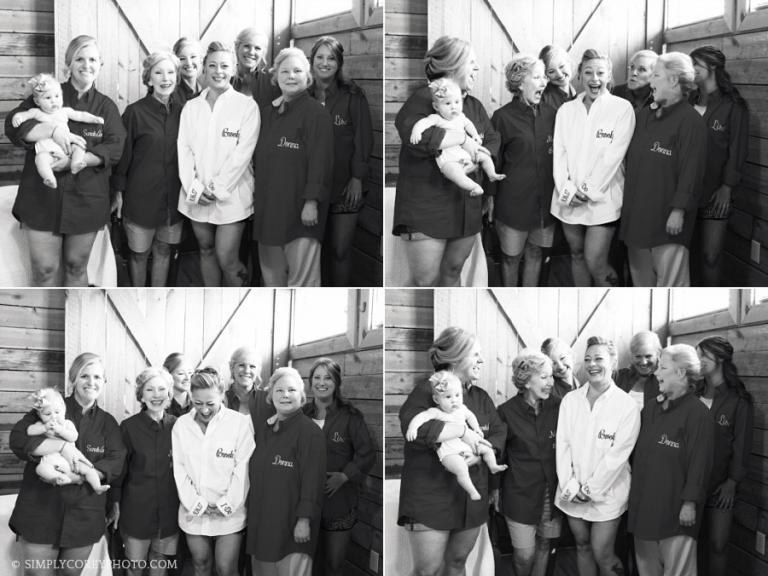 Brooke's mom helped her put on her wedding dress in one of the rooms above the barn at Tatum Acres. I love that it was just the two of them and they could share that moment together away from the hustle and bustle of everyone else getting ready.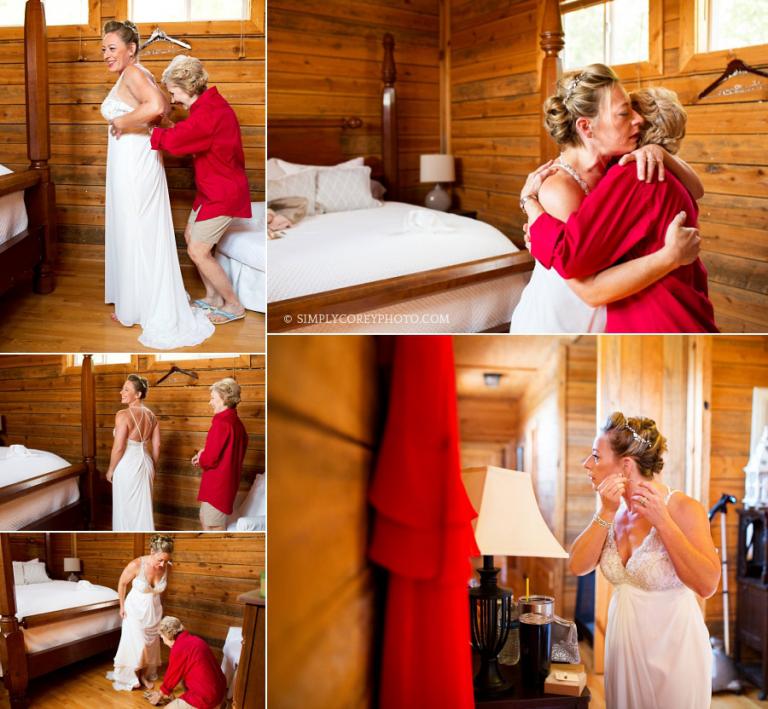 Once she was ready, Brooke chose to have a first look with her father. It was filled with lots of smiles, happy tears, and laughter!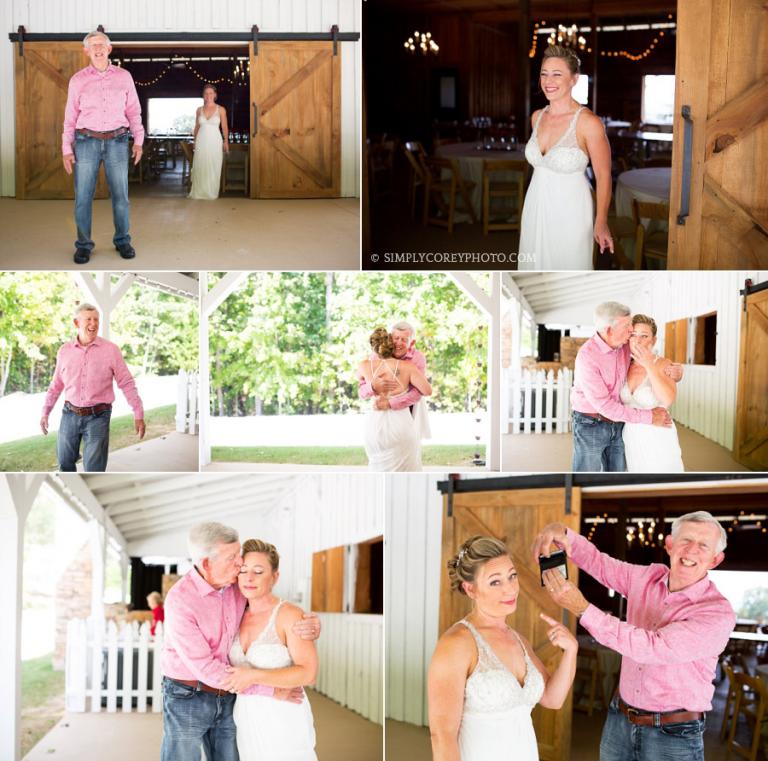 This bride had the best group of bridesmaids!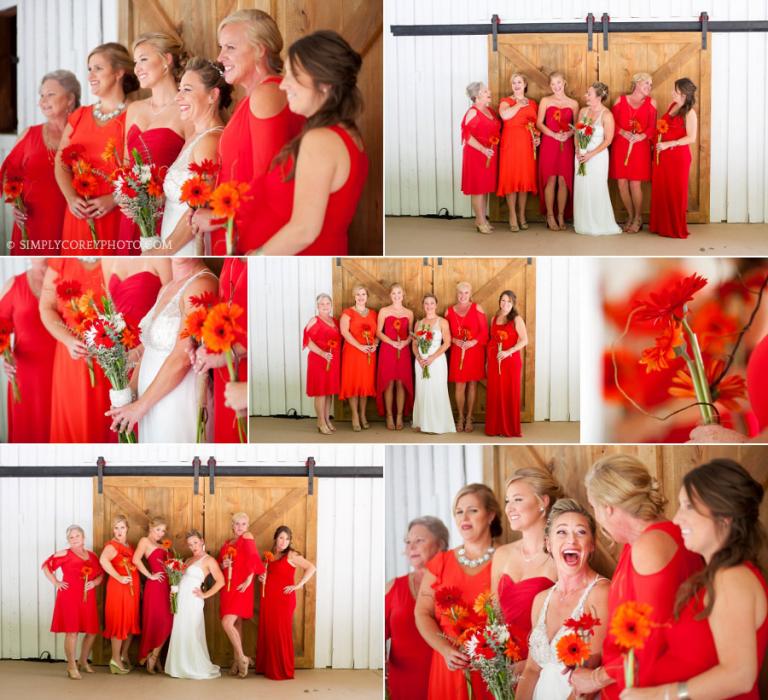 I'm pretty sure they laughed until they cried during these photos …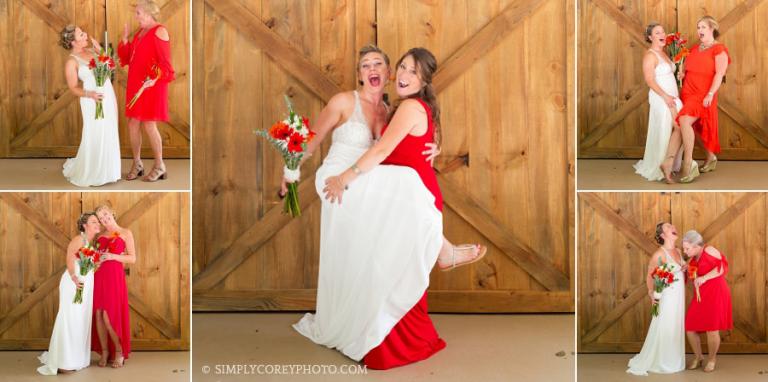 The groom and his groomsmen were just as fun … but the bride's dad sort of stole the show before their photos began!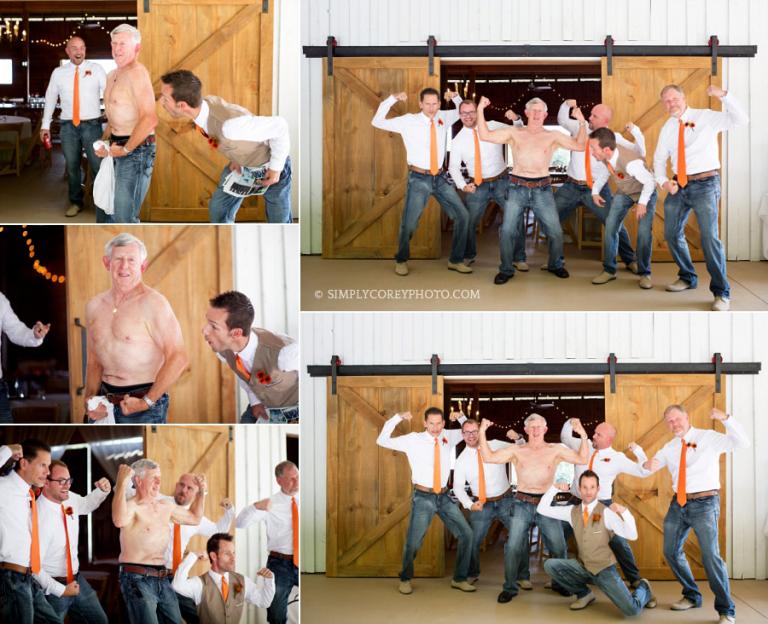 Not only did the groom and his guys wear awesome colorful  striped socks, they also mismatched them so that no one had a matching pair. Love it!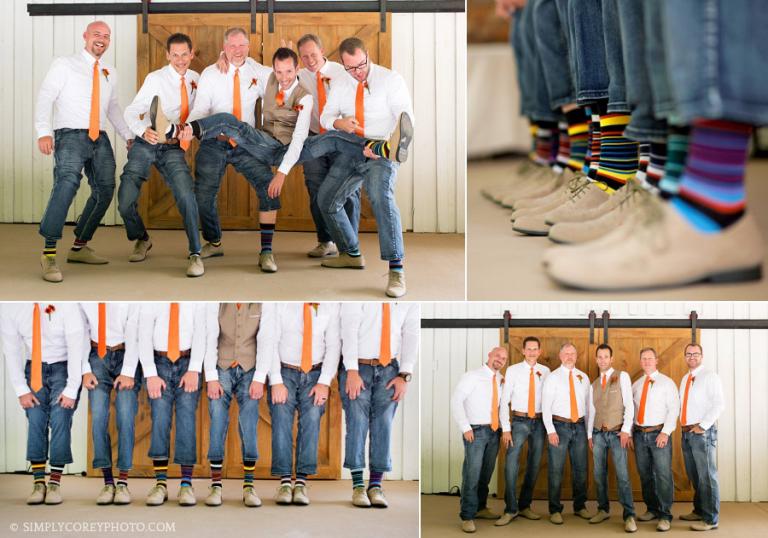 In addition to the necklace honoring his mom, Michael also placed a white balloon on the front row in memory of her. Such a sweet way to include her in his big day! ♥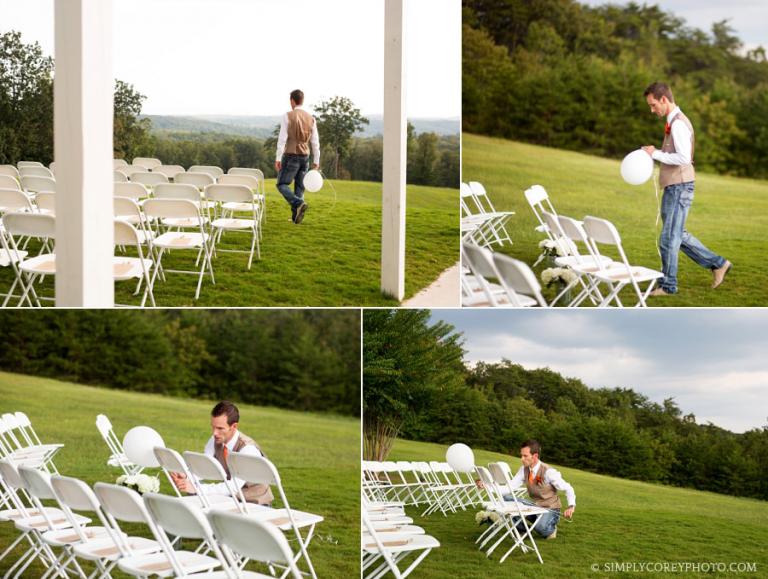 Everything was set for the wedding ceremony to begin …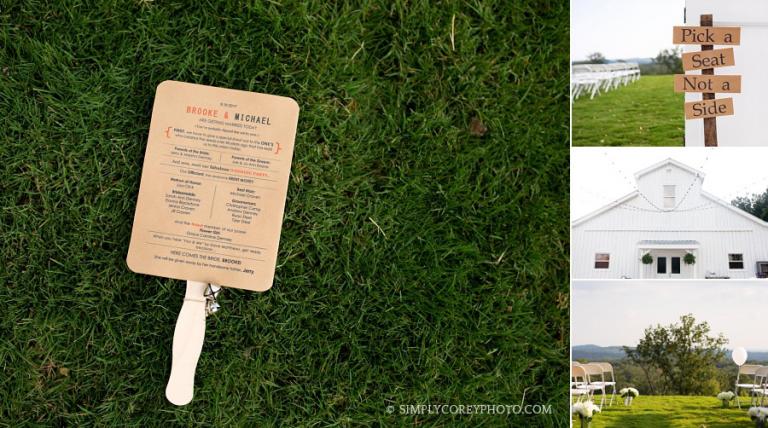 The first time a groom sees his bride is always an emotional moment during any wedding. I think Michael wins for being completely in awe of his gorgeous bride. He had to take a moment to regain his composure. ♥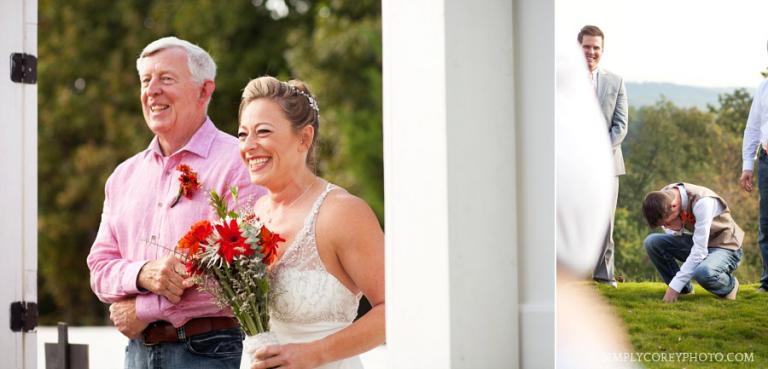 I am so thankful those clouds overhead behaved. Michael and Brooke's wedding was absolutely beautiful!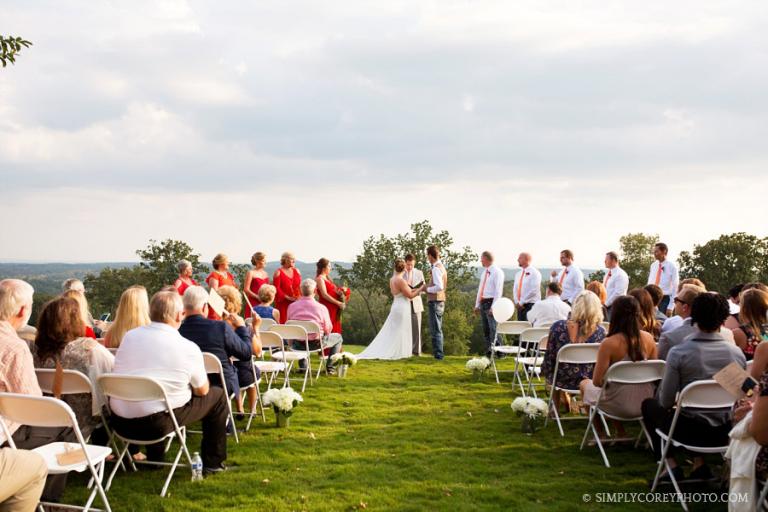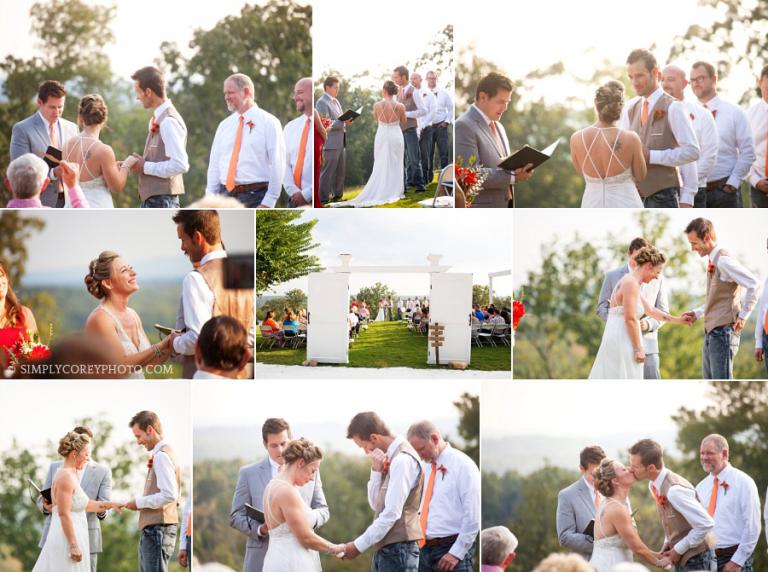 After they were introduced husband and wife, their arms raised, and then some non-traditional wedding music started. The bride, groom, and complete wedding party went into the Harlem Shake! Michael also set his mom's balloon free when they reached the end of the aisle. ♥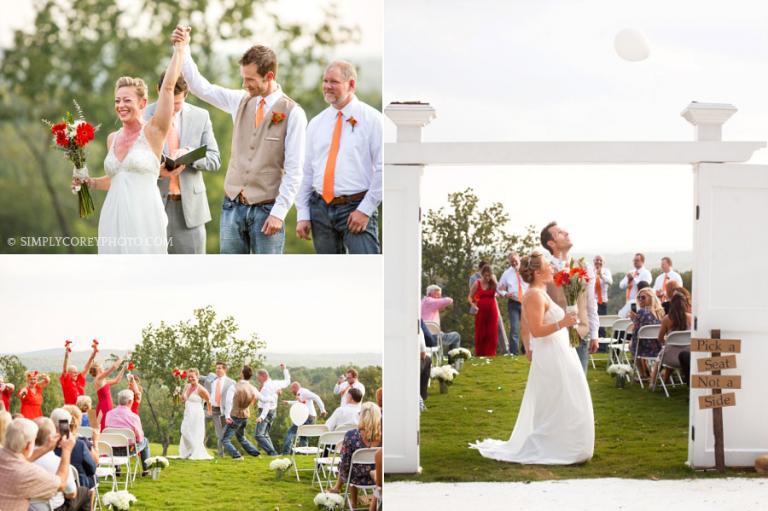 Of course, we had fun when the whole bridal party was together for more photos …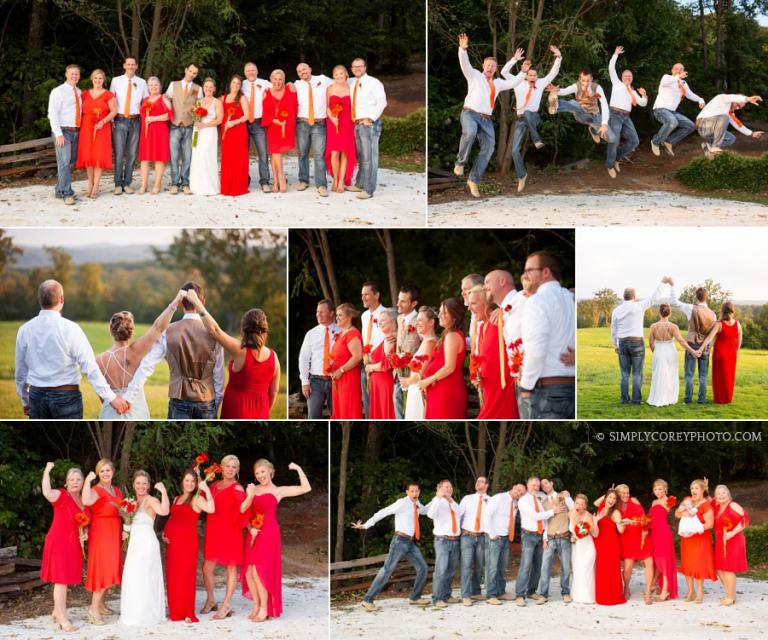 And the laughter didn't stop when we got the newly married couple alone. Playfulness is definitely a huge part of their relationship and I love it!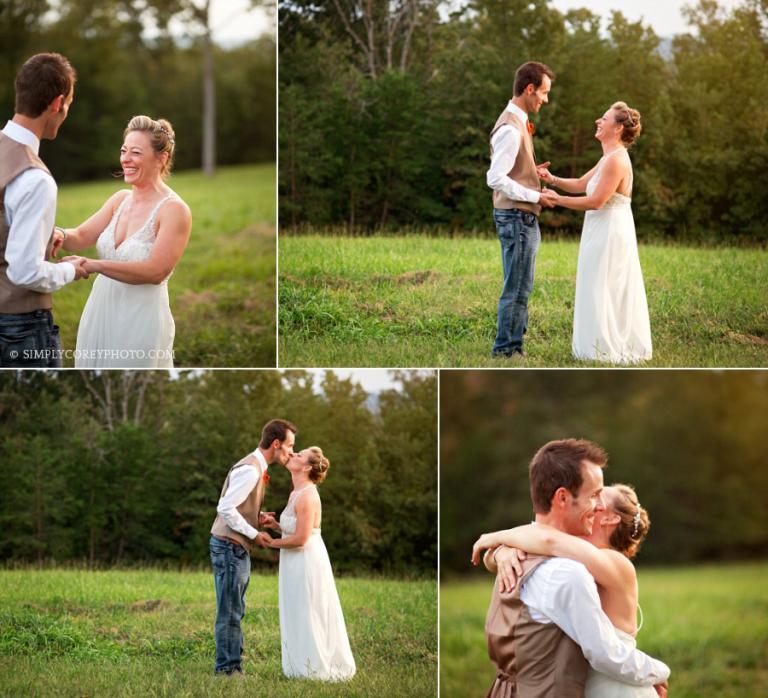 Brooke's wedding gown was made from a beautiful flowy material. I asked Michael to twirl her, but the uneven ground made it difficult. We definitely had fun trying!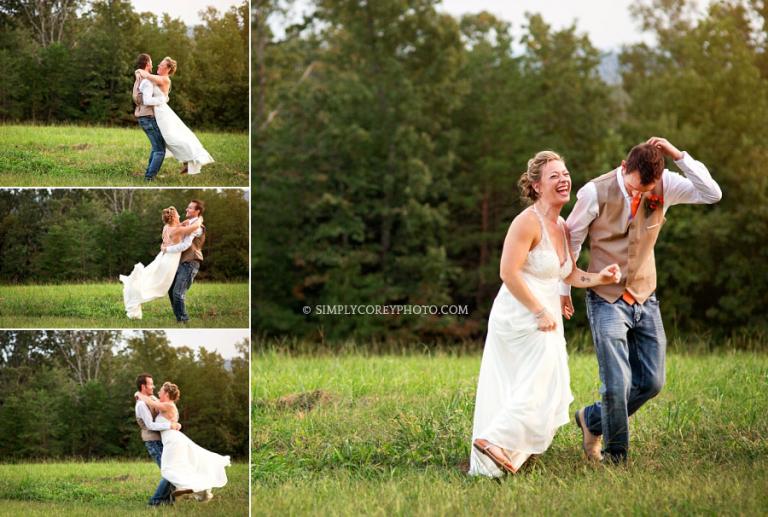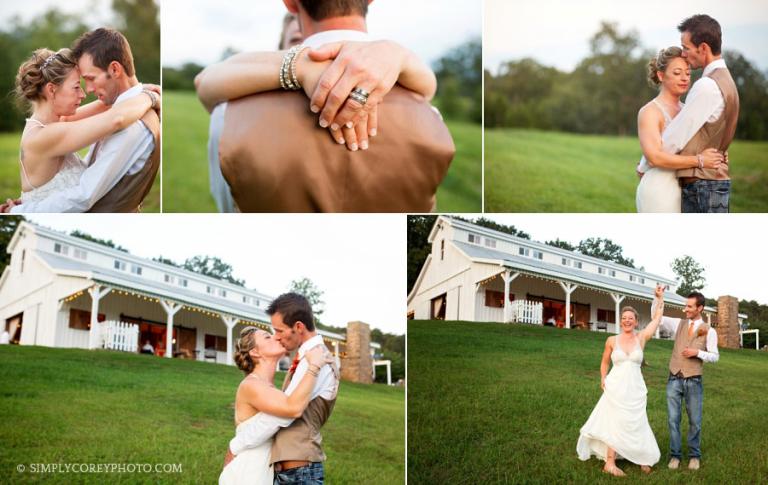 The reception was catered by the Tex's Tacos food truck – Atlanta's most awarded Taco Food Truck. And I understand why! Their Chicken Fresca tacos were absolutely delicious!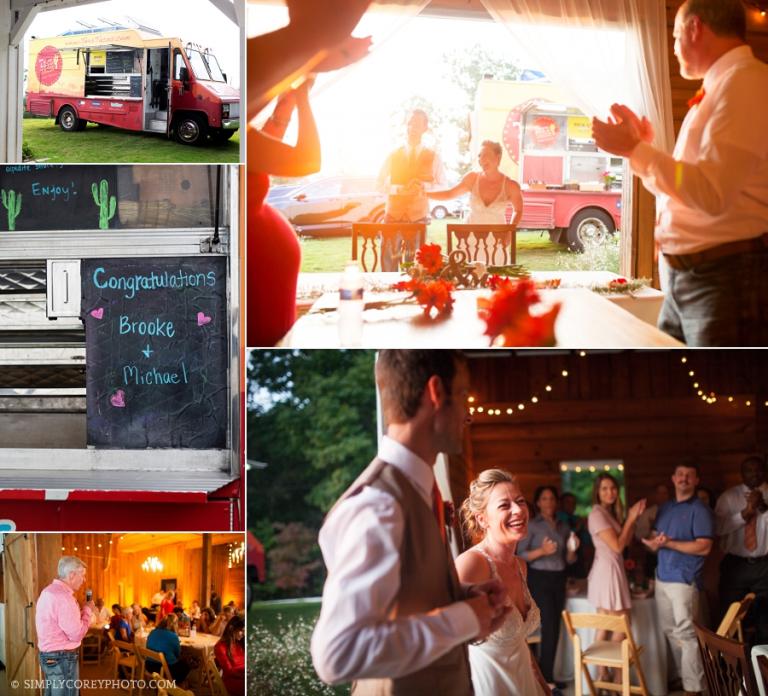 Both of them behaved themselves after cutting the cake … though I was wondering if they would for a minute! Ha!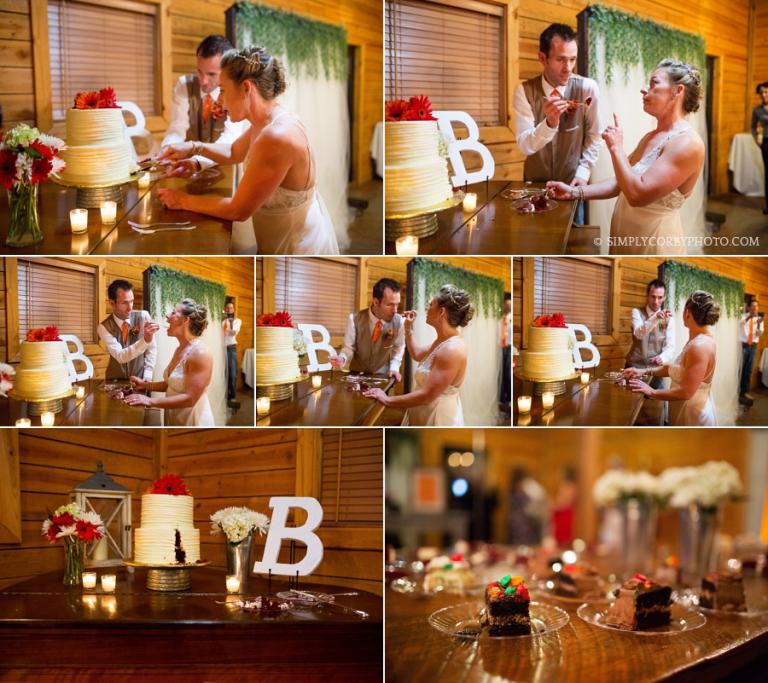 Hilarious and heart warming toasts were given by the Matron of Honor and the Best Man …
And then the couple had their first dance …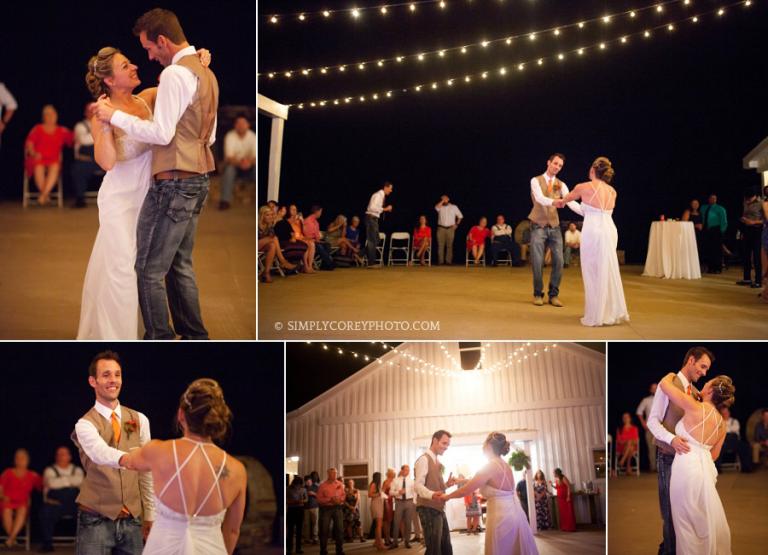 Which was followed by the bride's father-daughter dance. ♥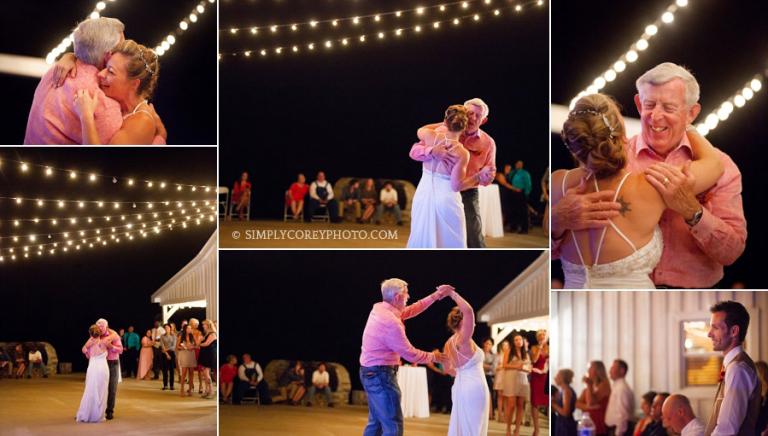 Then the bride was in for a huge surprise from the groom. He put together a fully choreographed dance with his groomsmen to a medley of love songs. It was absolutely amazing!!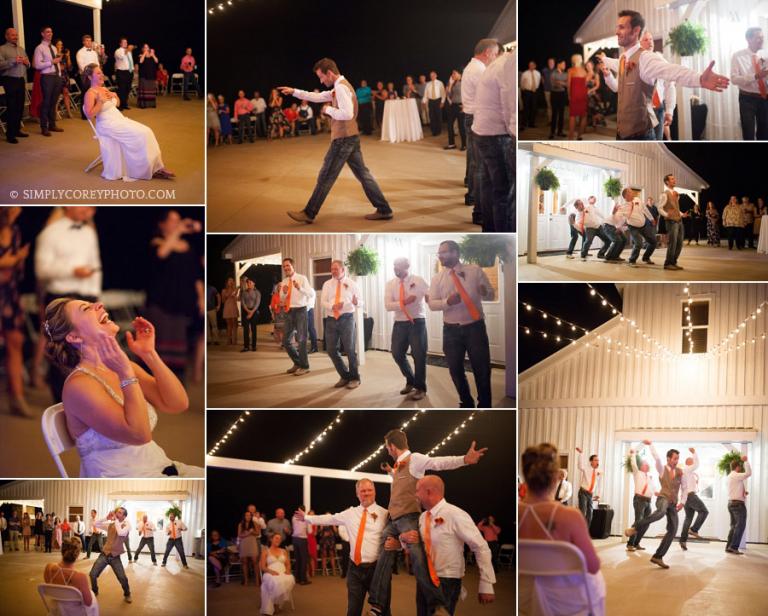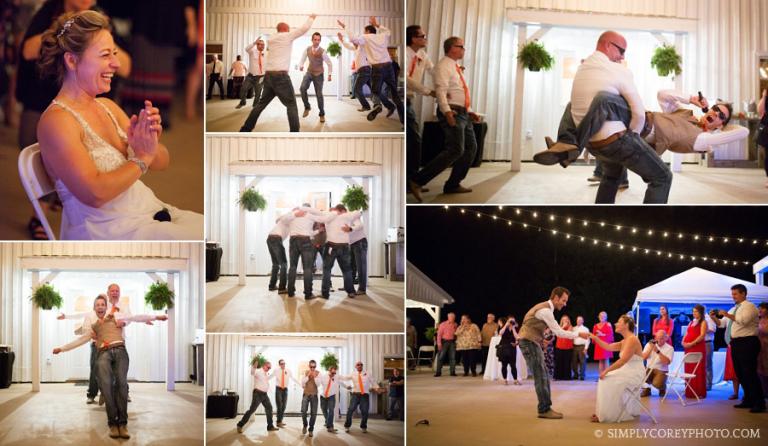 Then it was party time! And I have to say that Brooke's parents were awesome out there on the dance floor!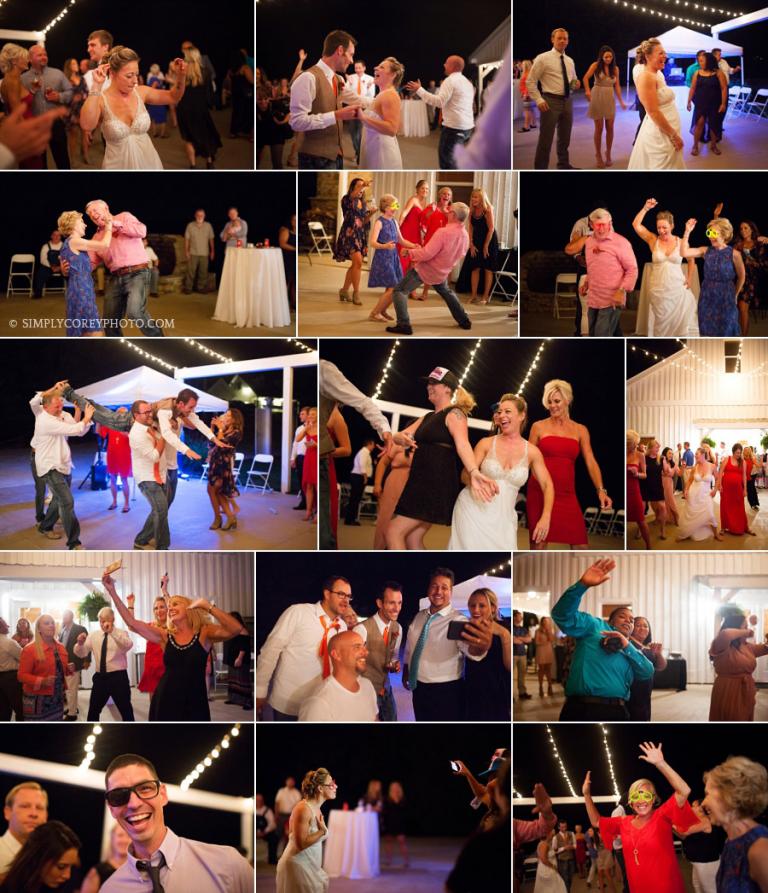 Their sparkler exit was such a beautiful ending to a such a wonderful day! Congratulations again, Brooke and Michael! I wish you two many years of love and laughter! ♥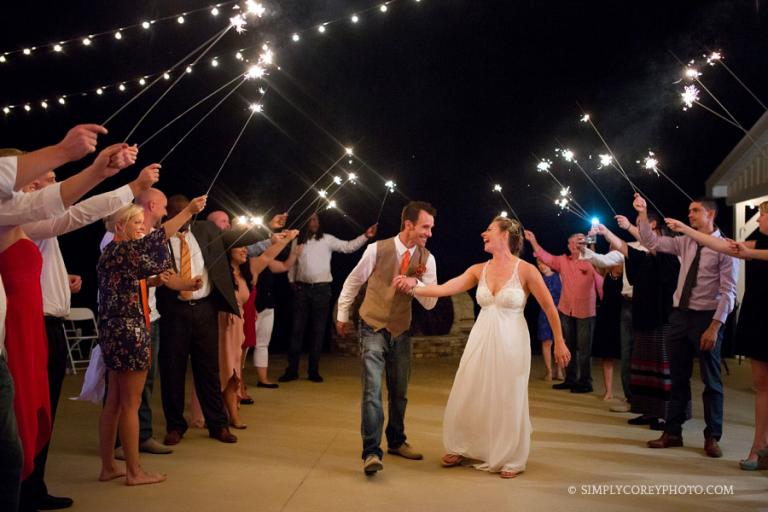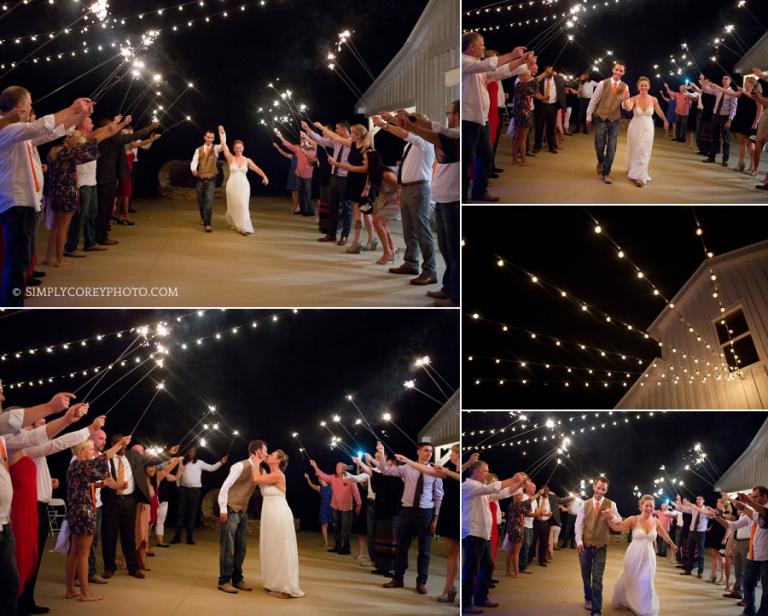 .  .  .
Brooke & Michael's Wedding Vendors:
Photographer: Simply Corey Photography
Venue: The Barn at Tatum Acres
Dress: Bridal Sense in Sandy Springs
Flowers: The Bride!
Catering: Tex's Tacos in Atlanta
DJ: Absolute Entertainment in Atlanta
Hair: Bethany from The Upper Cut Salon in Villa Rica
Cake: Flour Child Cakery in Douglasville
. . .
More About Atlanta Wedding Photography by Simply Corey Photography:
Simply Corey Photography is located in West Georgia, near Newnan, Villa Rica, Carrollton, Douglasville, and Bremen. I began my photography business in late 2004 and have photographed many couples and weddings throughout greater Atlanta since.  Custom engagement sessions may take place at my private outdoor location or the location of your choice within metro Atlanta.
Would you like some more information? I have put together some information together for weddings and couples portrait sessions with Simply Corey Photography, as well as several other types of portrait sessions. Each link provides examples of my work, what to expect, and starting rates. You may request detailed pricing and my availability by sending me an email!
Be sure to subscribe to the email newsletter! Simply Corey Photography sends out exclusive photography specials, mini session announcements, and other news from time to time.
I would also love for you to connect with Simply Corey Photography on Facebook and Instagram! Plus, what to wear inspiration and a variety of wedding ideas can be found on the Simply Corey Photography Pinterest boards.