Warning: This post has a lot of photos! That's what you get when you combine an amazing couple, 10 hours of fall wedding coverage at a fantastic venue, and two photographers who are passionate about their jobs! I love seeing the story of a wedding day unfold just as much as the images themselves – and telling a story results in a lot of images!
You may remember this fun couple from their summer engagement session with me. They were married last October in front of a beautiful pond at Foxwoods in Tallapoosa! It was a gorgeous fall wedding and Tabitha and Casey couldn't have picked a better venue for their big day.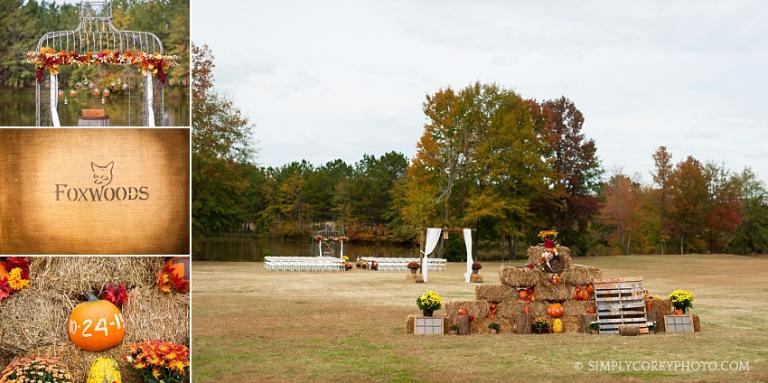 I loved all of the autumn decor that went along with their fall themed wedding. Everything was perfect – including Tabitha's red Toms!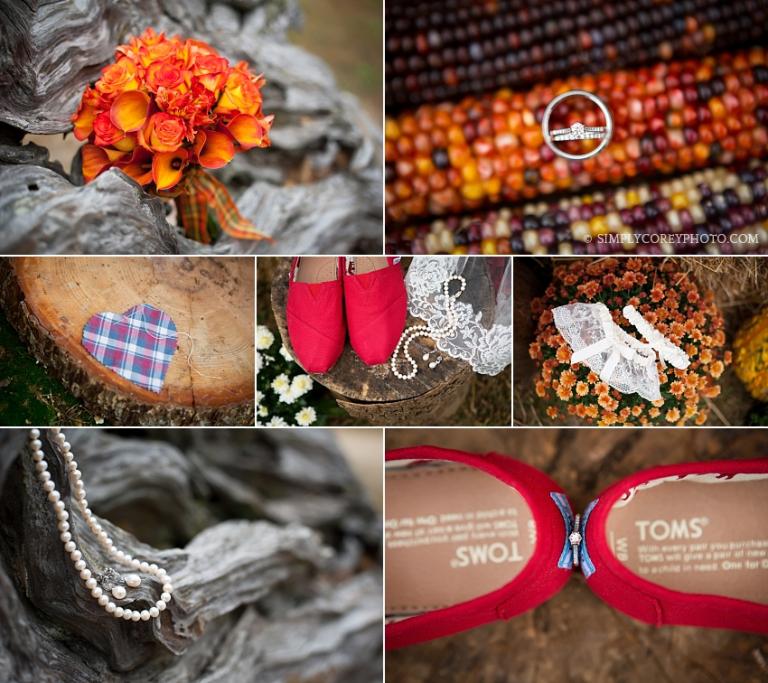 Tabitha chose to style her own hair and apply her own makeup for her wedding day. I give her mad props for curling all that blond hair. She looked absolutely stunning!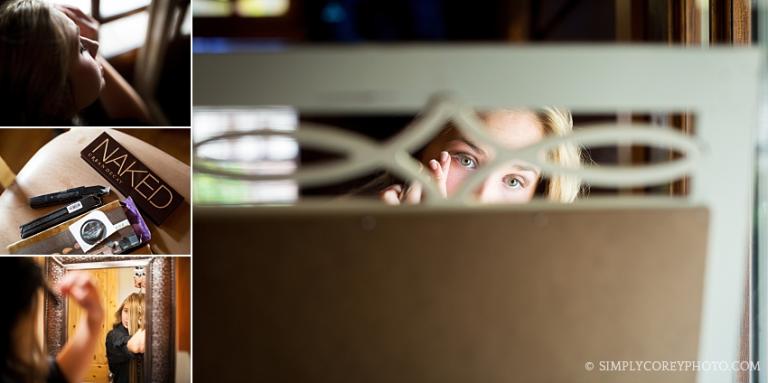 I love the little details found in wedding days and this is definitely one of my favorites. Tabitha's mom sewed a heart made from one of her grandfather's shirts into her wedding dress. ♥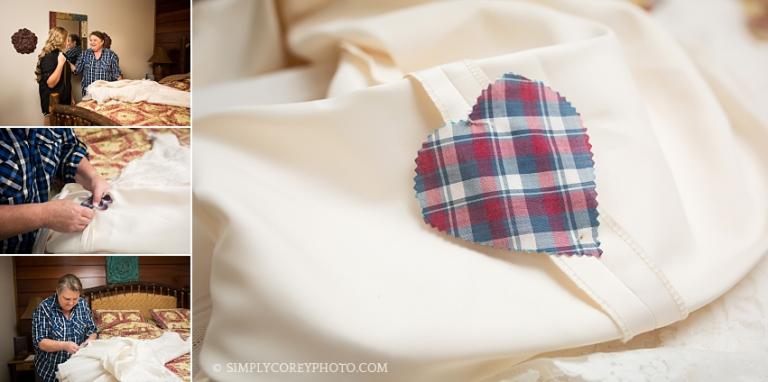 And such a beautiful dress it is! We had so much (maybe a little too much) fun putting her dress in the fall trees.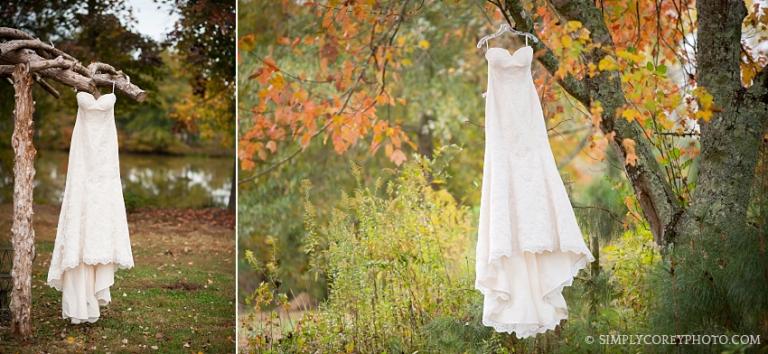 Many thanks to my tree climbing assistant. No wedding dresses (or photographer's assistants) were harmed in the creation of these wedding dress photos!

Casey and his guys ended up getting ready in the reception hall . . .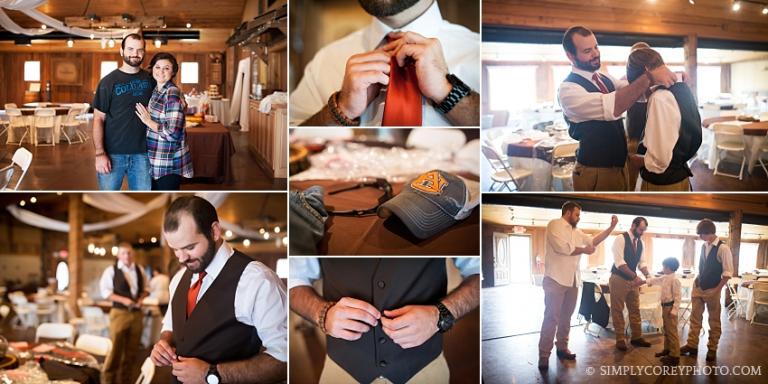 . . . and then we took them out for some photos!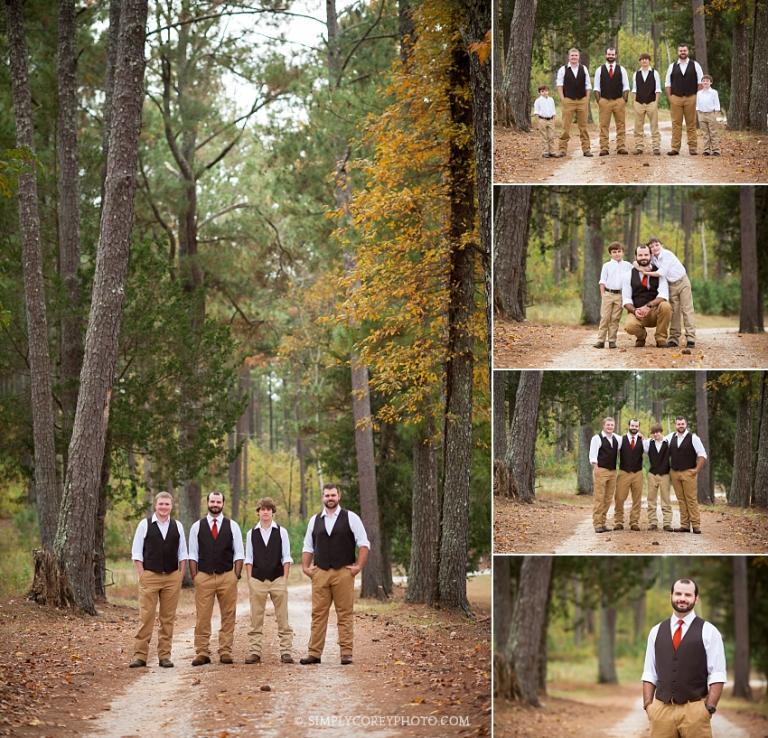 Tabitha had her girls and her mom help her get into her wedding dress . . .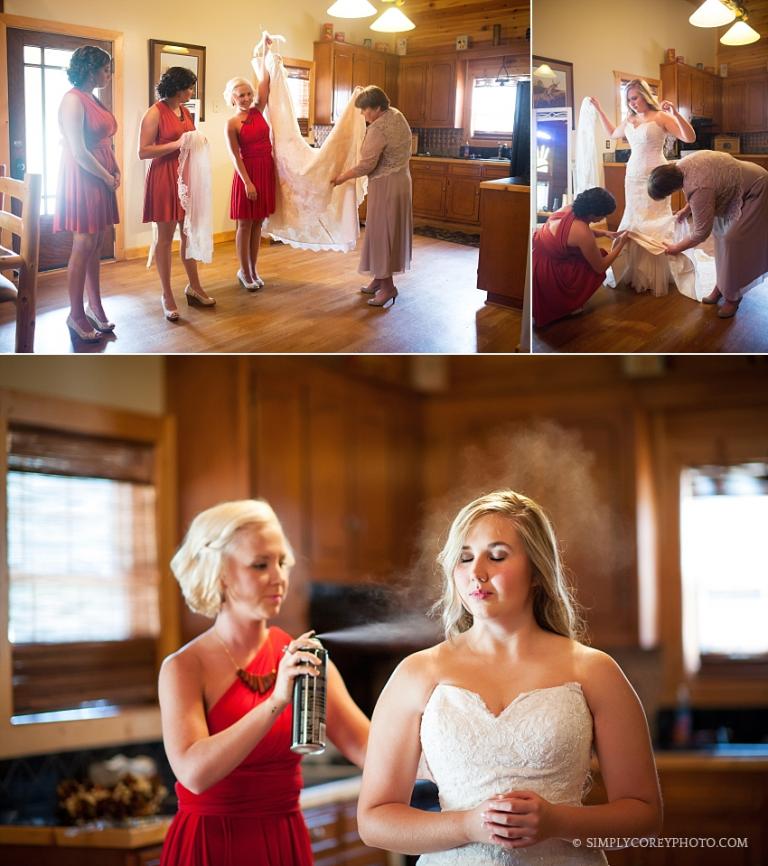 . . . and then it was time for her daddy's first look! ♥ I absolutely adore the embroidered heart she put on his tie! Just perfect!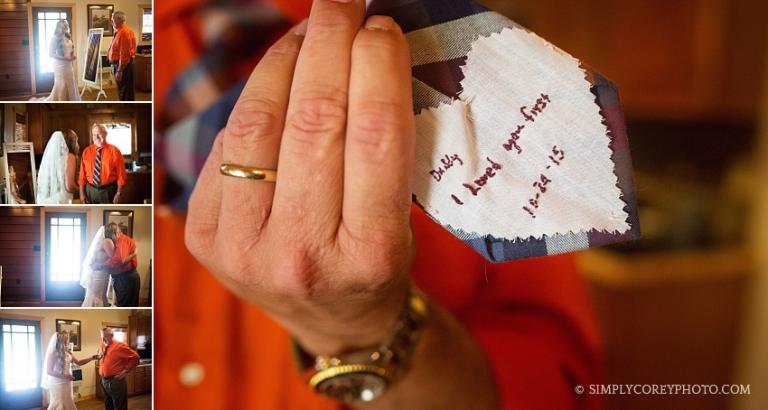 After we tucked the guys away, we took the girls out for some photos of their own. The colors she chose for her bridesmaid dresses were so great for autumn!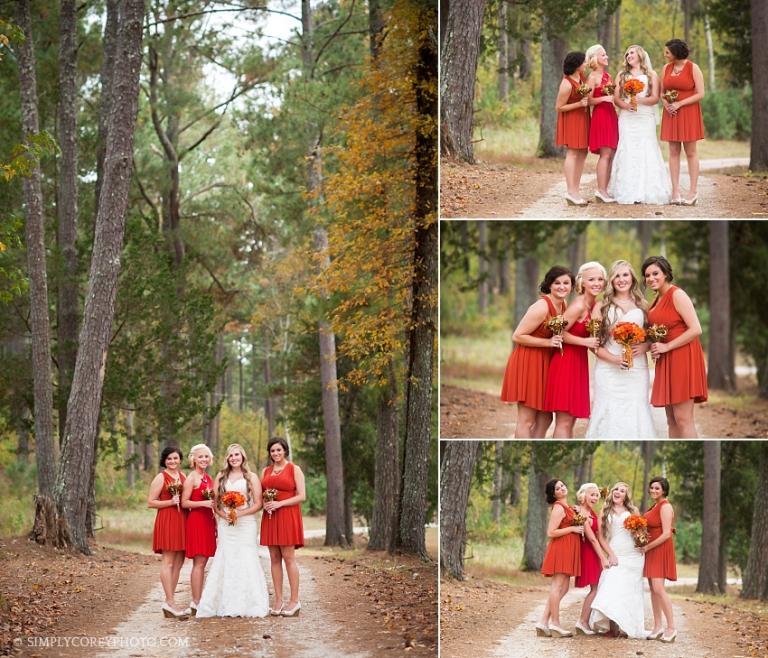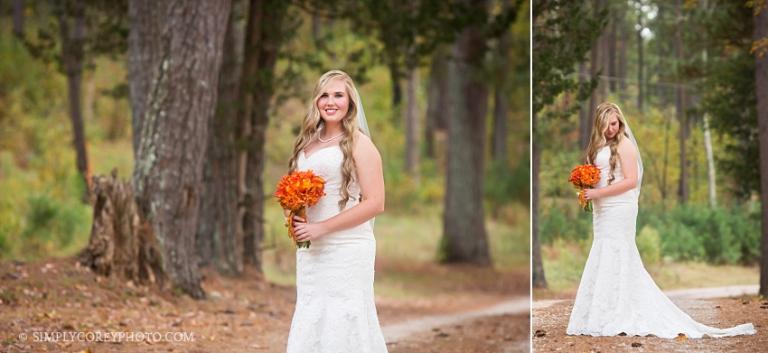 I also love the fall decor for their wedding ceremony. The pond at Foxwoods surrounded by fall trees was such a lovely backdrop too!

It's time! Just look at that grin on Casey's face! ♥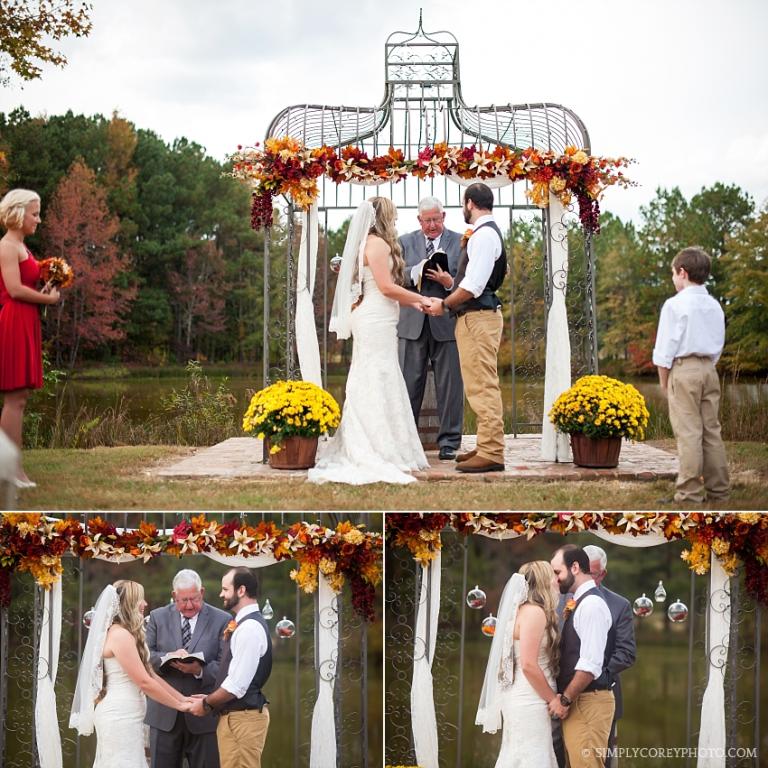 After they said "I do" and shared their first kiss as husband and wife, Tabitha and Casey had a wine box/love letter ceremony. Their box was beautiful! On the front, it has their last name and wedding date engraved. On the top, it has a beautiful tree with 1 Corinthians 13:13 engraved at the bottom:
"And now these three remain: faith, hope, and love. But the greatest of these is love."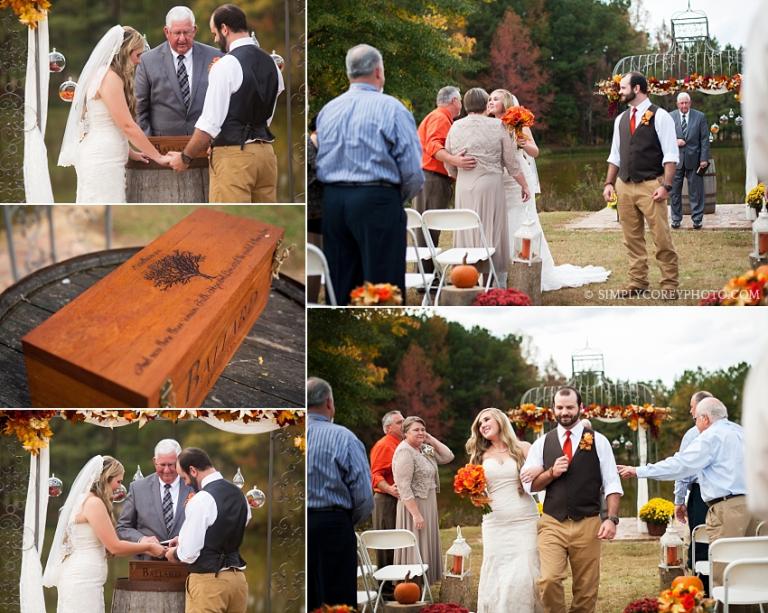 I fell in love with this field the minute I laid eyes on it! Isn't it the best?!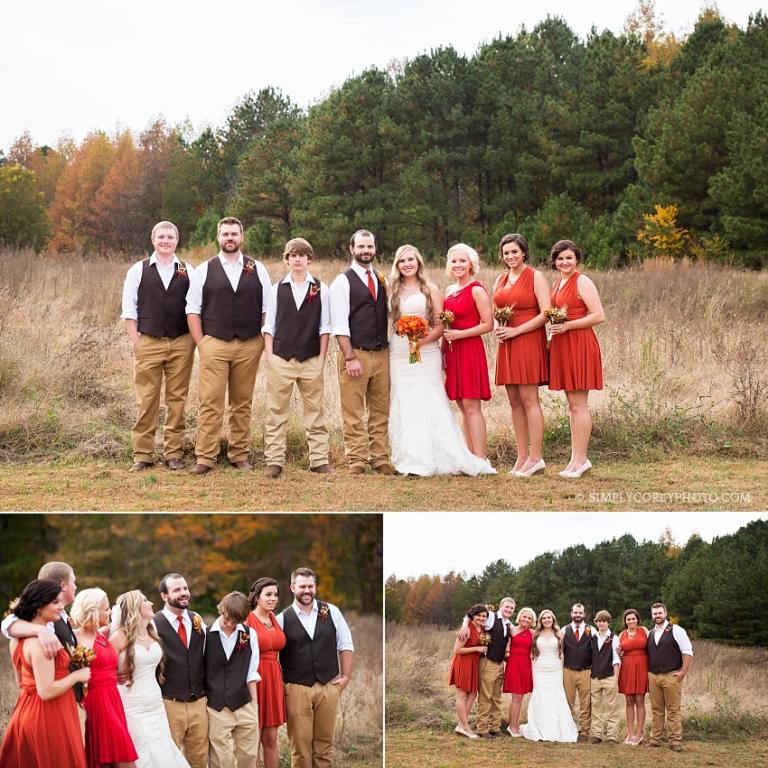 Love these two. Their love for each other is just so amazing. ♥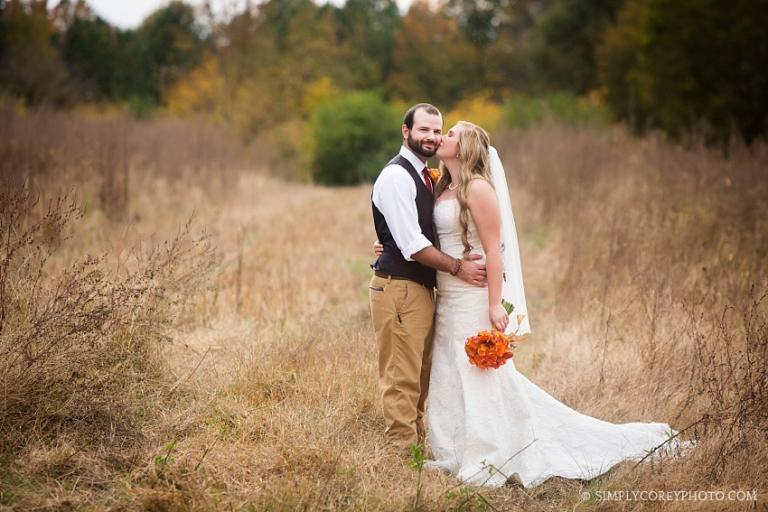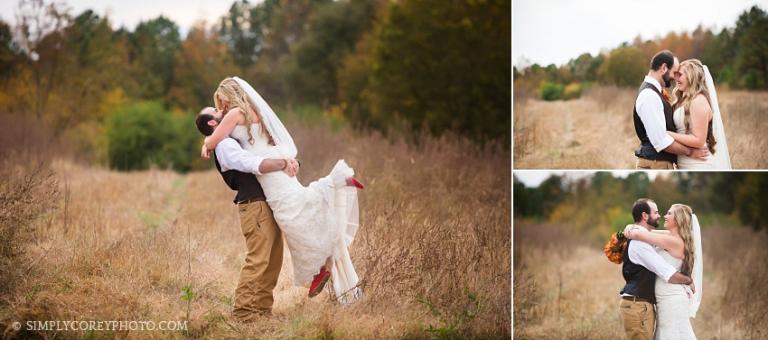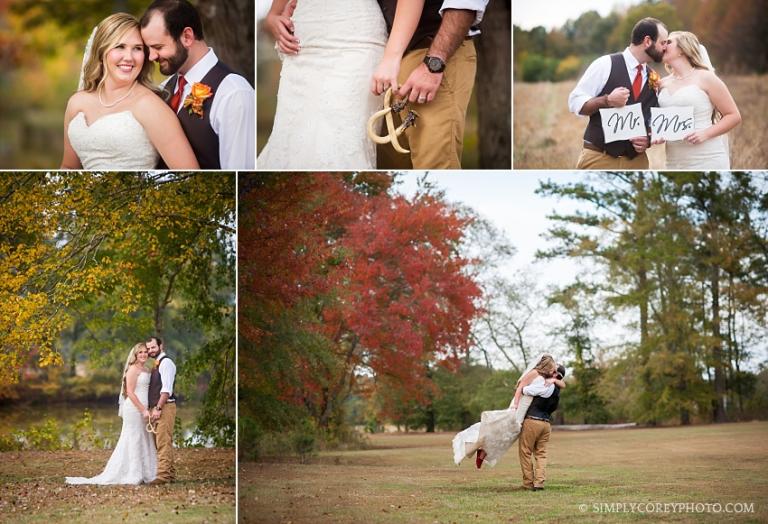 And have I mentioned how much I love the personal touches Tabitha put into including her grandparents on her wedding day? ♥

Their reception was held in the restored 1900's barn at Foxwoods and I love the warm and intimate feel of it!
Tabitha's mother made this beautiful cake for them. It was absolutely delicious – and I am not even a big fan of cake! She was even gracious enough to share the recipe!

Casey's groom "cake" was more up my alley. I may not be a big cake eater, but I love me some Krispy Kreme doughnuts! Aren't the little bide and groom at the top adorable?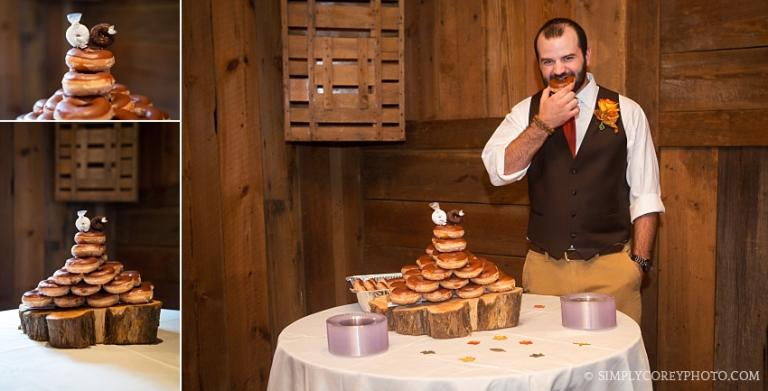 Both the garter toss and the bouquet toss had some surprises! First, Casey acted as if he was going to throw the garter but then unexpectedly walked back and gave it to one of his engaged friends instead!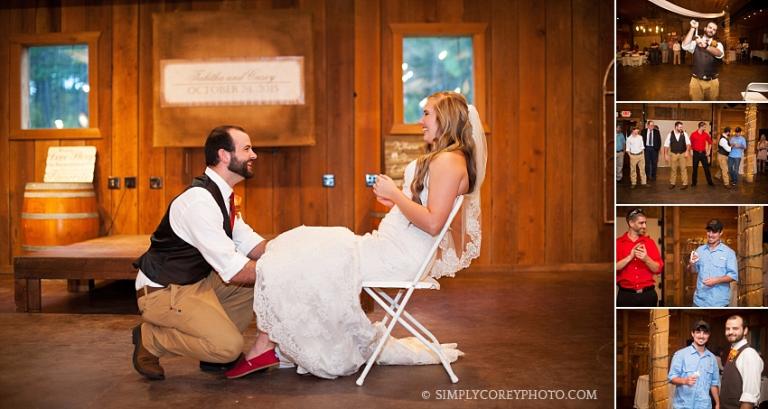 Then, when Tabitha went to throw the bouquet, it got stuck in some of the fabric draping from the ceiling! The guys quickly came to the rescue and the bouquet was saved!
They ended the evening with a sparkler exit surrounded by loved ones . . .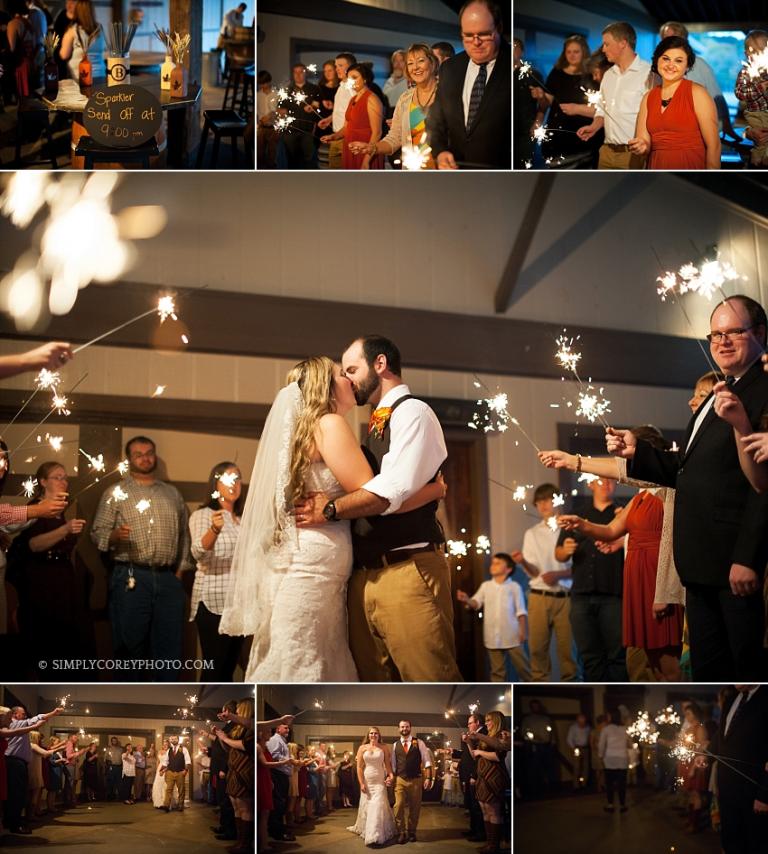 . . . and instead of a limo, they drove away in a Mustang! After some more well wishes from Tabitha's dad. ♥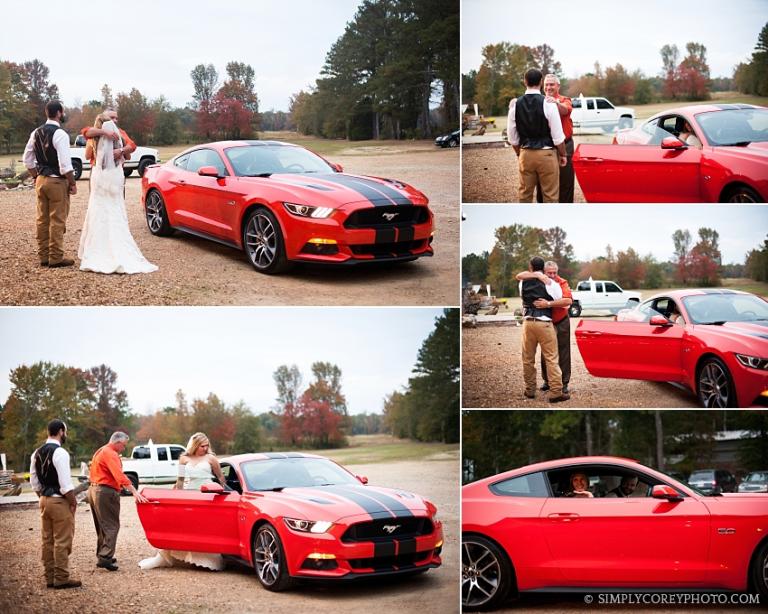 Tabitha and Casey – you two have made me smile since the first day I met you. I wish you two the best life filled with an abundance of love and laughter! ♥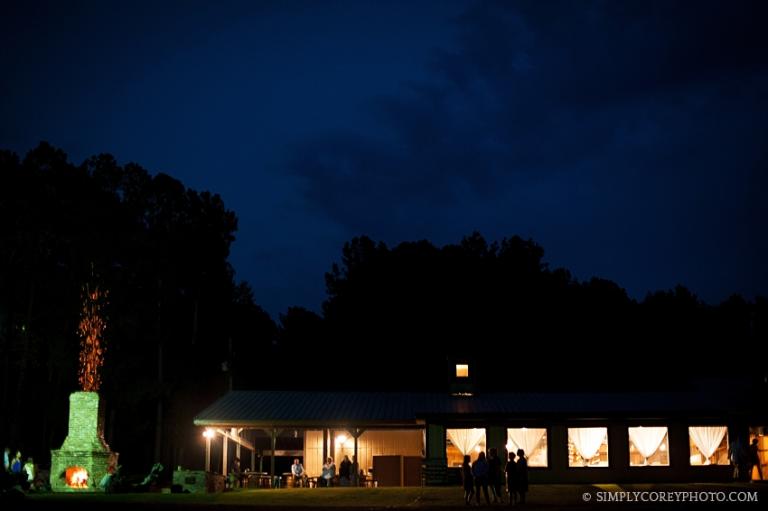 . . .
more about Atlanta wedding photographer, Simply Corey Photography:
Simply Corey Photography is located in West Georgia, near Newnan, Villa Rica, Carrollton, Douglasville, and Bremen. I began my photography business in late 2004 and have photographed many couples and weddings throughout greater Atlanta since.  Custom engagement sessions may take place at my private outdoor location or the location of your choice within metro Atlanta.
Would you like some more information? I have put together some information together for weddings and couples portrait sessions with Simply Corey Photography, as well as several other types of portrait sessions. Each link provides examples of my work, what to expect, and starting rates. You may request detailed pricing and my availability by sending me an email!
Be sure to subscribe to the email newsletter! Simply Corey Photography sends out exclusive photography specials, mini session announcements, and other news from time to time.
I would also love for you to connect with Simply Corey Photography on Facebook and Instagram! Plus, what to wear inspiration and a variety of wedding ideas can be found on the Simply Corey Photography Pinterest boards.