I love to tell stories through my photography, so it is hard to choose just a handful of favorites to include in a blog post when sharing a wedding. I had the honor of photographing Brittany and Francisco's Atlanta wedding earlier this summer and I hope you enjoy experiencing just a little of their big day through my photographs.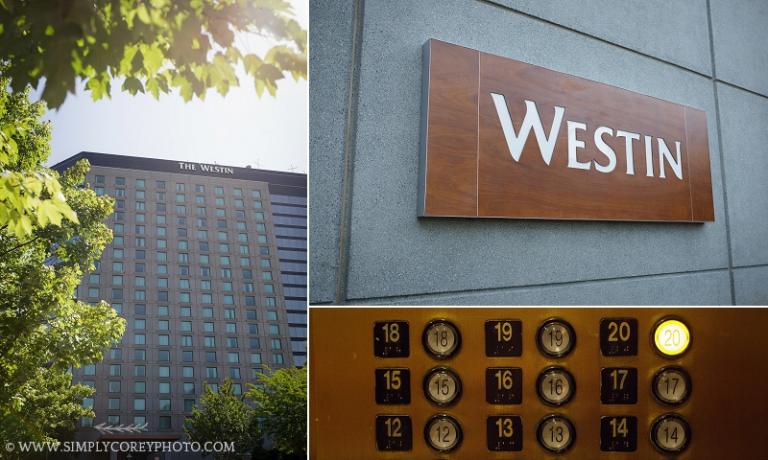 They were married at the Westin Atlanta Perimeter North, located near Sandy Springs.
The beautiful bride and bridesmaids prepared for the big day up on the 20th floor while the groom and his groomsmen were in a room of their own just a few floors below.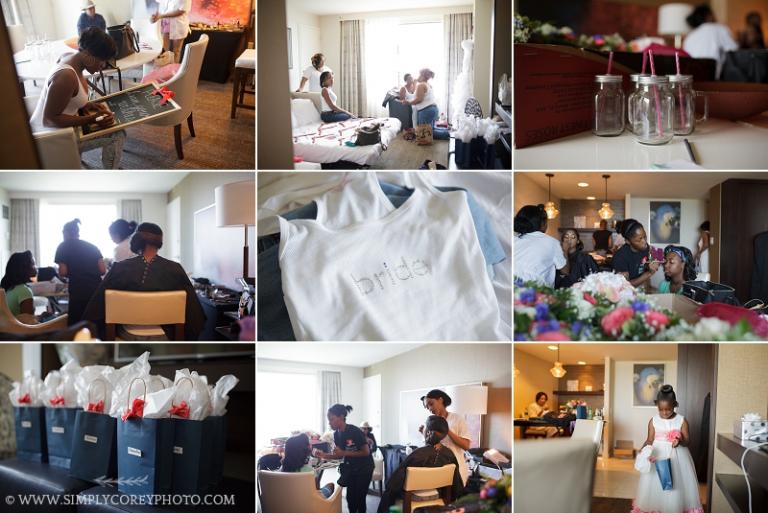 Each of the girls had a personalized hanger – with Brittany's saying "Mrs" ♥ – and isn't her dress gorgeous?
Love these fun shots of Brittany and her girls piled up on the bed in the Hospitality Suite.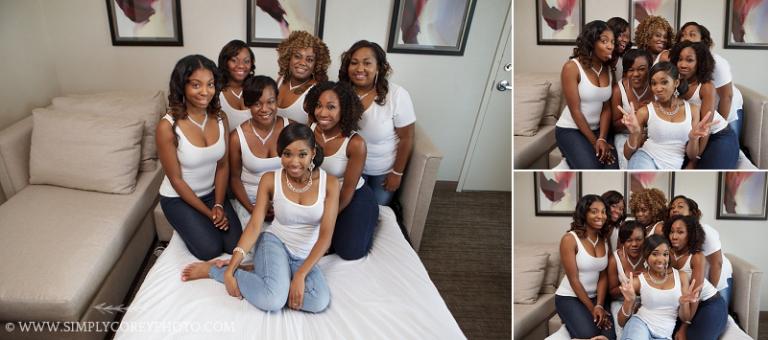 Details are some of my favorite shots to photograph during a wedding. I photographed hers in multiple places but loved how these went together!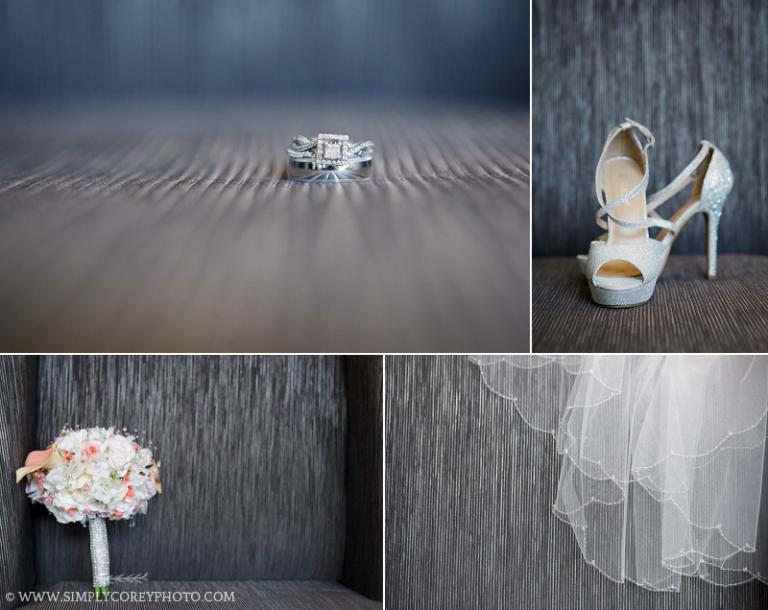 And another of their beautiful wedding rings.
The groom and his groomsmen were having some fun of their own in their room – which included Nerf guns, plastic cup targets and (somewhat) willing participants.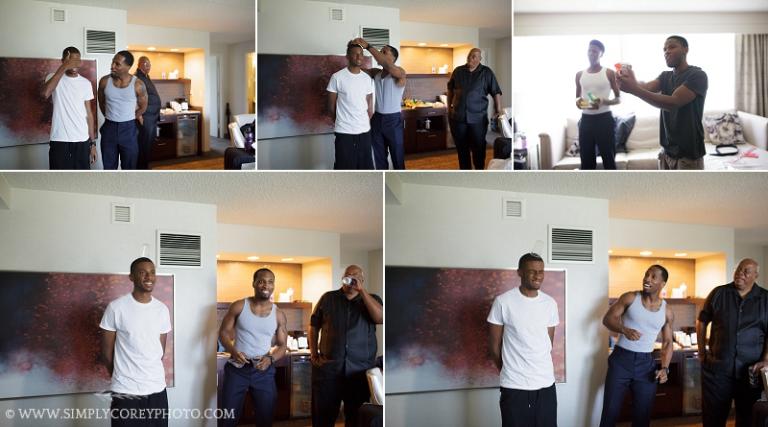 The guys did some serious getting ready too. Just check out that ironing …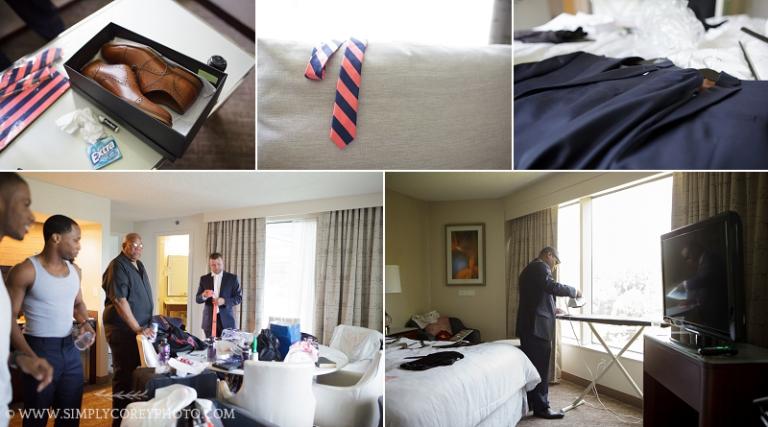 Brittany's mom helped her into her beautiful dress. ♥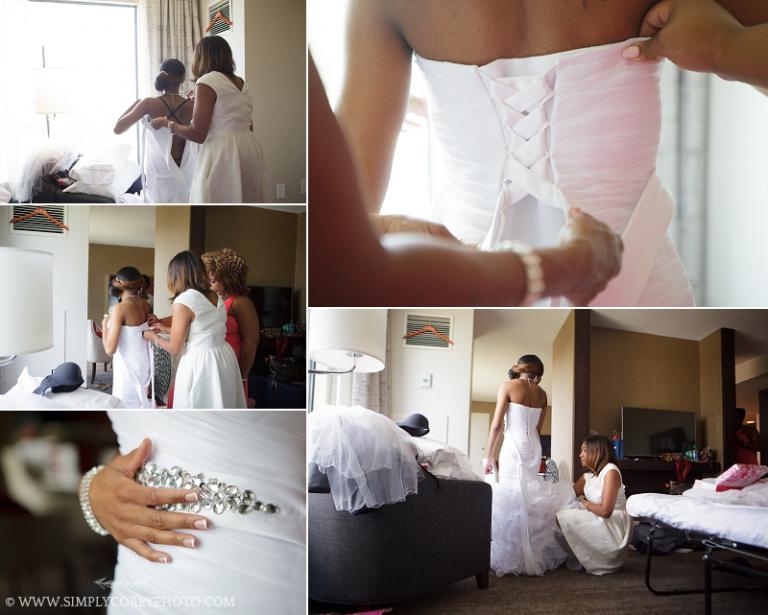 Francisco had a series of three thoughtful surprises for his gorgeous fiancée. Each one was delivered up to her room by one of his groomsmen. He started off with something simple, her favorite candy, and followed up with two amazing gifts from Michael Kors! Brittany was a very happy bride. ♥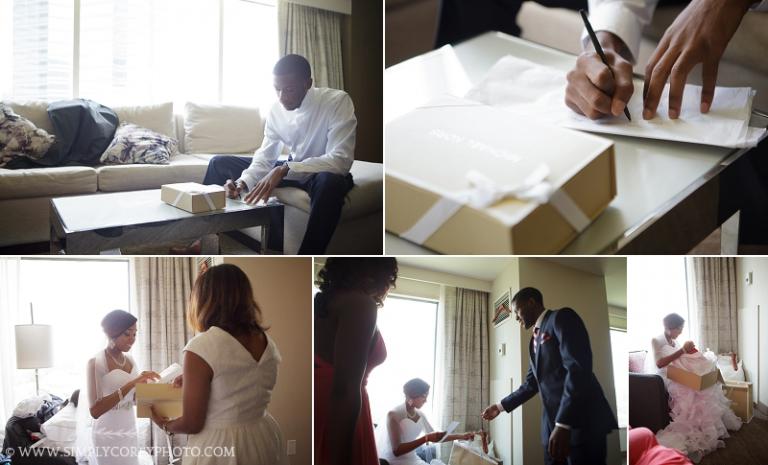 I love how the bride's garters matched the bridesmaid dresses so perfectly! The coral and navy combination they chose for their wedding colors was perfect.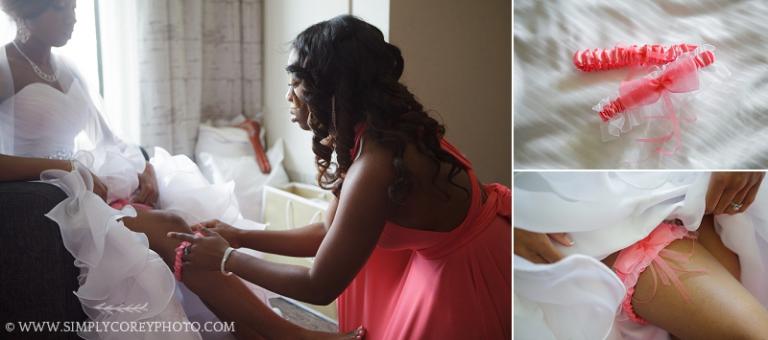 One of the most touching moments to me was watching Brittany's dad and stepdad share the father-of-the-bride duties. Her father began walking down the aisle and then her stepfather met them in the middle and joined them for the rest of the walk to the altar. I hadn't met any of them before the wedding, but I could tell from events throughout the day that both sets of parents are so great with each other. She is one lucky girl to have two sets of wonderful parents! ♥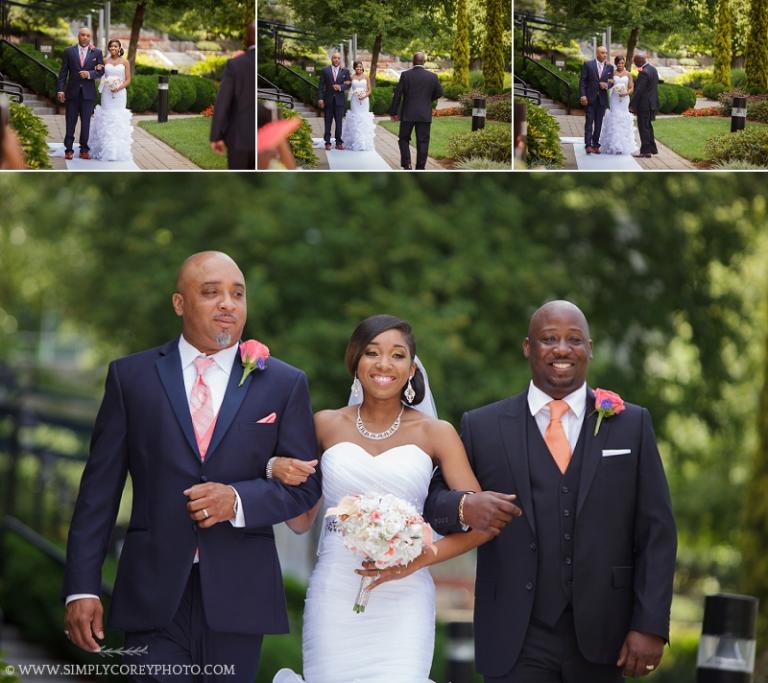 Brittany and Francisco were married lakeside at the Westin Atlanta Perimeter North and it was such a beautiful outdoor ceremony!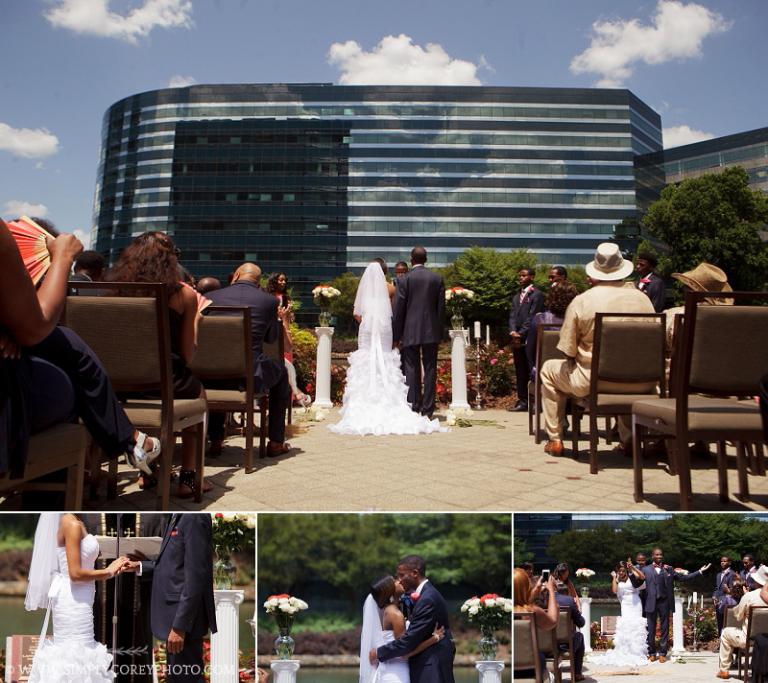 After the wedding ceremony, we took some outdoor family portraits and some fun photos of the bride and groom with their wedding party.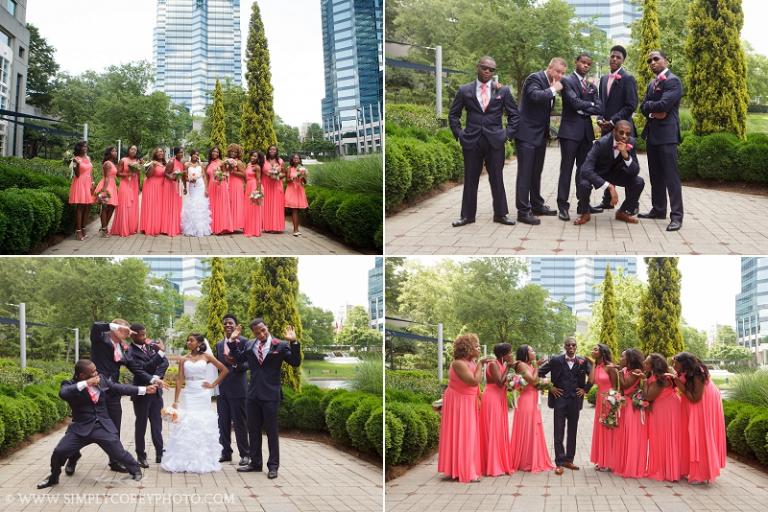 And then some of the gorgeous bride and groom alone. ♥
After the formal wedding photos, the new couple and their family and wedding party were all introduced into the Gershwin Ballroom for their wedding reception.
Their first dance was not a traditional first dance and was so much fun to watch!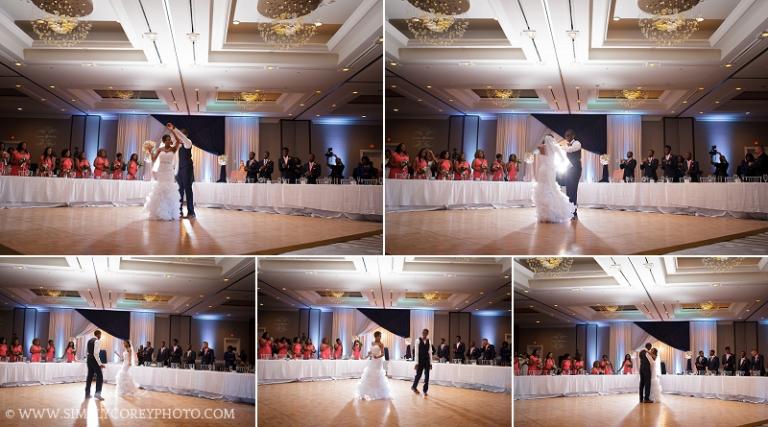 The father-daughter dance was just as sweet as walking her down the aisle. Of course, everyone in the wedding party breaking into The Wobble at the end made it a little different – and a lot of fun!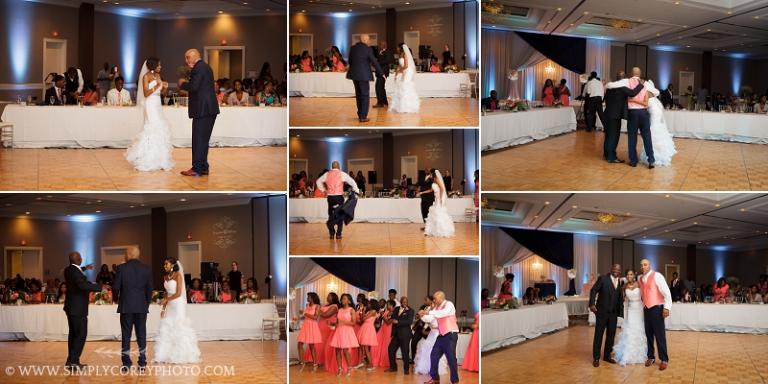 Brittany and Cisco played The Shoe Game during their wedding reception.
This was something new for me to see at a wedding but it was a lot of fun to watch. Click on the link to read more about this fun wedding reception game!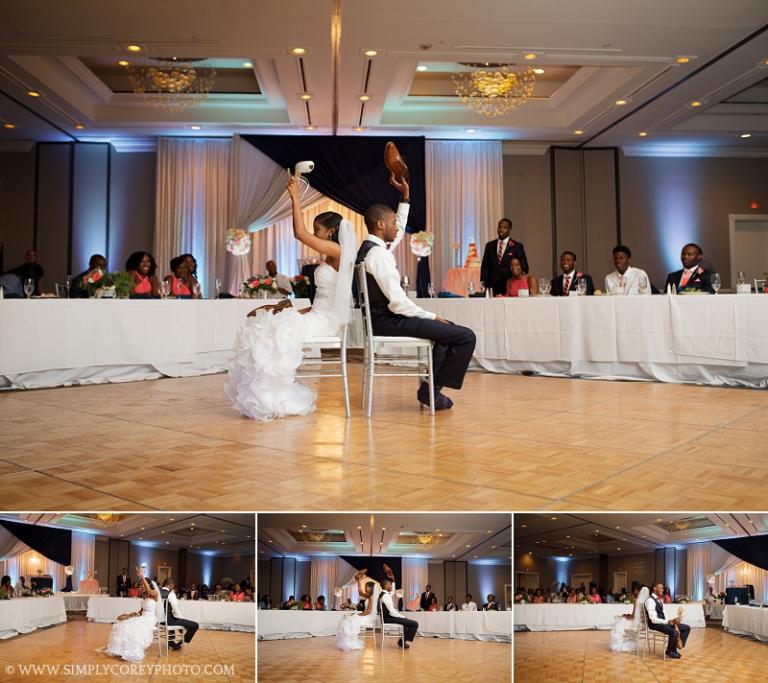 Their wedding cake was gorgeous and fit so well with their navy and coral theme.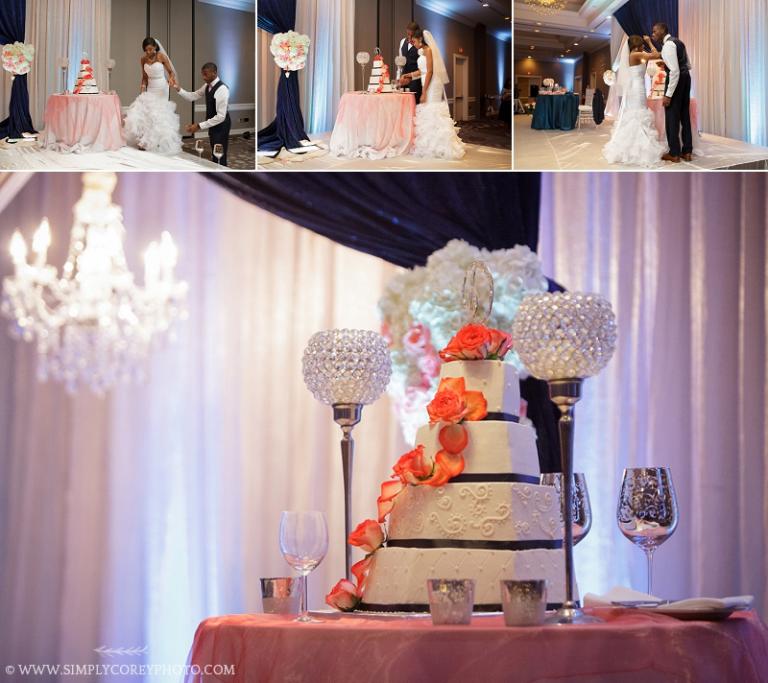 Everyone had a blast at the reception. Lots of dancing, laughter, and fun!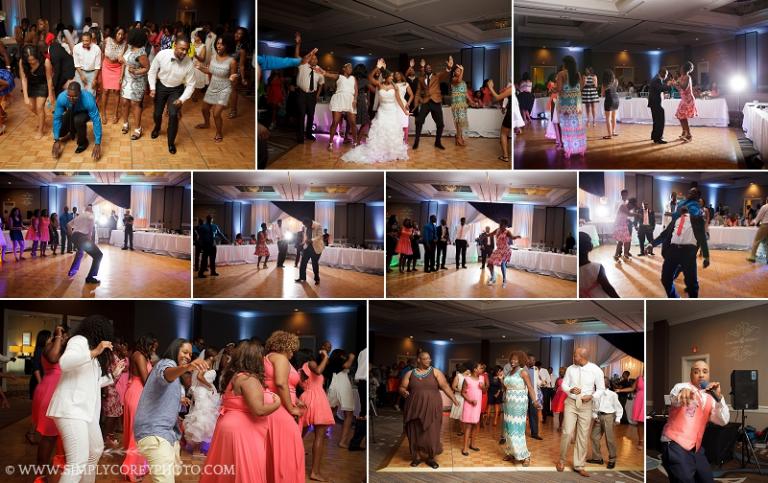 As Brittany and Cisco exited their wedding reception, guests threw flower petals at them to send them on their way.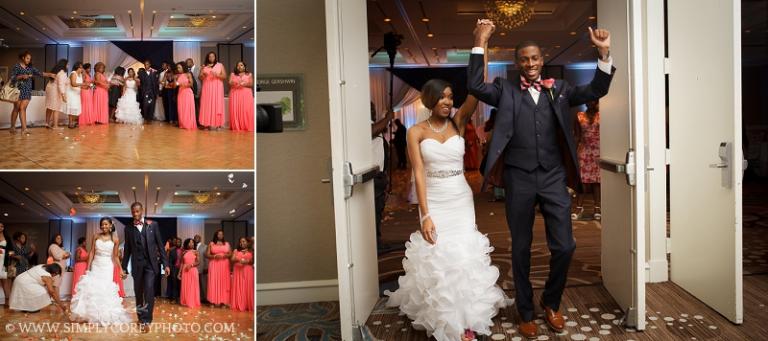 Congratulations again, Brittany and Cisco! I enjoyed being your wedding photographer and I wish you a lifetime of love and happiness! ♥
. . .
MORE ABOUT ATLANTA WEDDING PHOTOGRAPHER SIMPLY COREY PHOTOGRAPHY:
Simply Corey Photography is located in West Georgia, near Newnan, Villa Rica, Carrollton, Douglasville, and Bremen. I began my photography business in late 2004 and have photographed many couples and weddings throughout greater Atlanta since.  Custom engagement sessions may take place at my private outdoor location or the location of your choice within metro Atlanta.
Would you like some more information? I have put together some information together for weddings and couples portrait sessions with Simply Corey Photography, as well as several other types of portrait sessions. Each link provides examples of my work, what to expect, and starting rates. You may request detailed pricing and my availability by sending me an email!
Be sure to subscribe to the email newsletter! Simply Corey Photography sends out exclusive photography specials, mini session announcements, and other news from time to time.
I would also love for you to connect with Simply Corey Photography on Facebook and Instagram! Plus, what to wear inspiration and a variety of wedding ideas can be found on the Simply Corey Photography Pinterest boards.