Mom wasn't sure if she was going to do a newborn session but decided to have one last minute because she didn't want to miss having photos of her sweet baby boy while he was so little. I'm so glad she found me because her little guy was absolutely adorable … and already so curious about the world around him! He was so content while he was awake and didn't want to miss a thing during his newborn session. Isn't he a sweetheart? ♥
This bunny has sentimental value since it belonged to a close family member who passed away months before baby Markham was born. I love that she included it in his newborn session. I think it would be fun to keep photographing him with it as he grows this first year!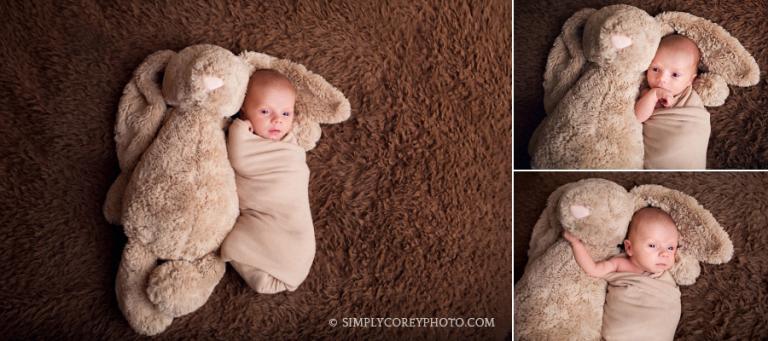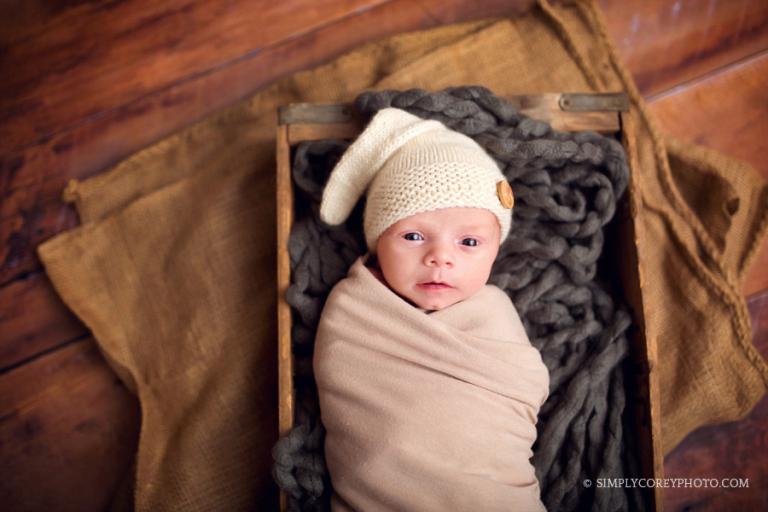 We were finally able to convince him to sleep and he did so well! We were able to capture a variety of different looks during his session. Impressive for being close to 3 weeks old!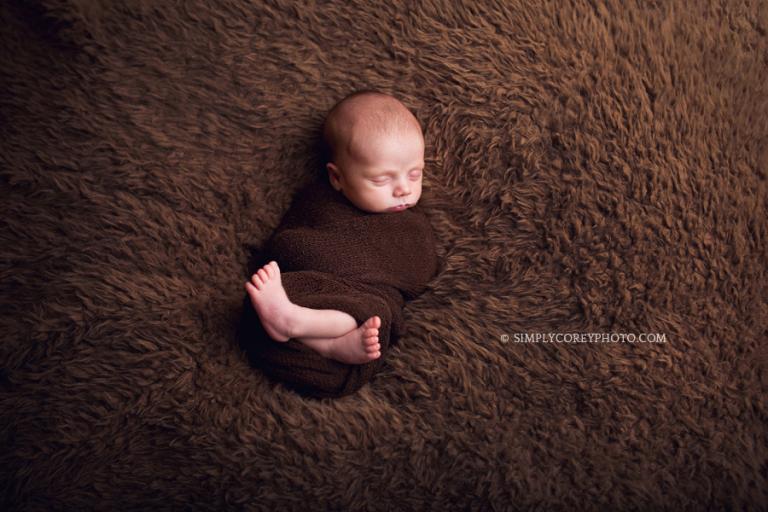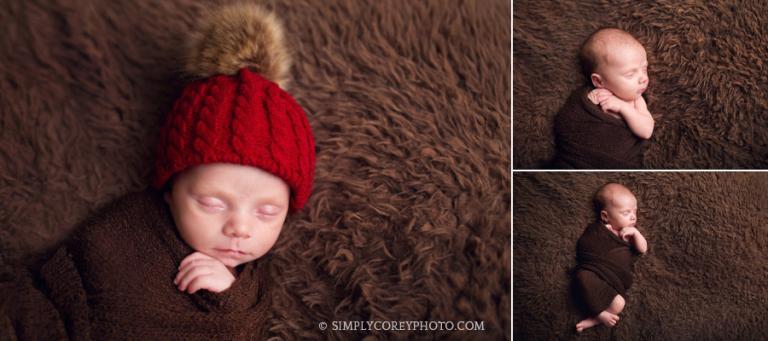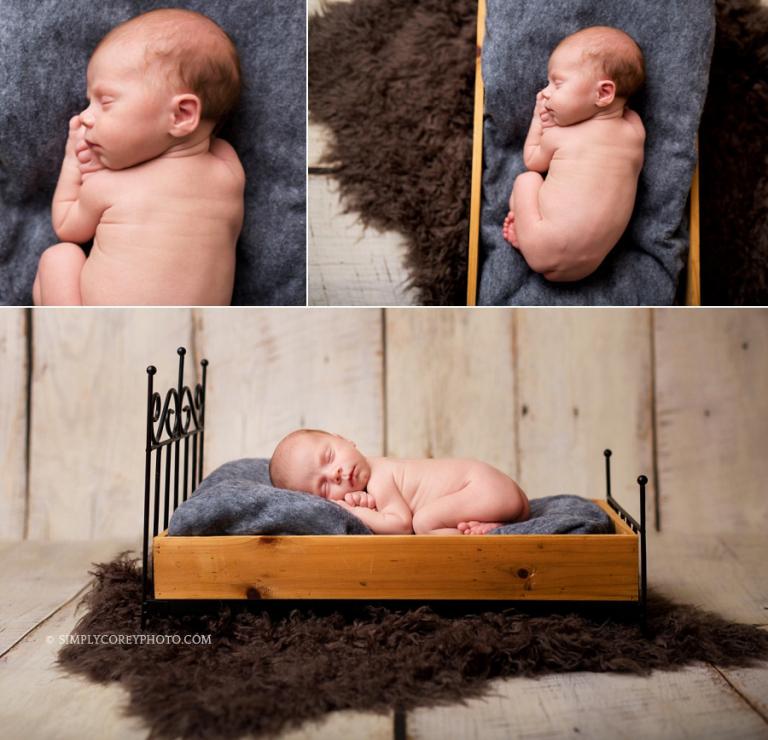 This little hat was a gift for their new baby and I thought it was so cute!
Just look at that sweet little face and that dimpled chin! ♥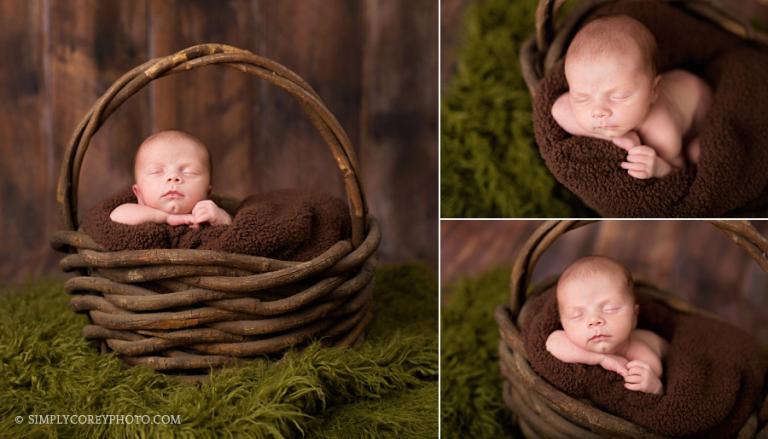 Markham's newborn session is part of his Watch Me Grow collection, a series of photography sessions during baby's first year. I am looking forward to watching him grow and changes over the next several months. It will be amazing that he even fit into this bucket at one time!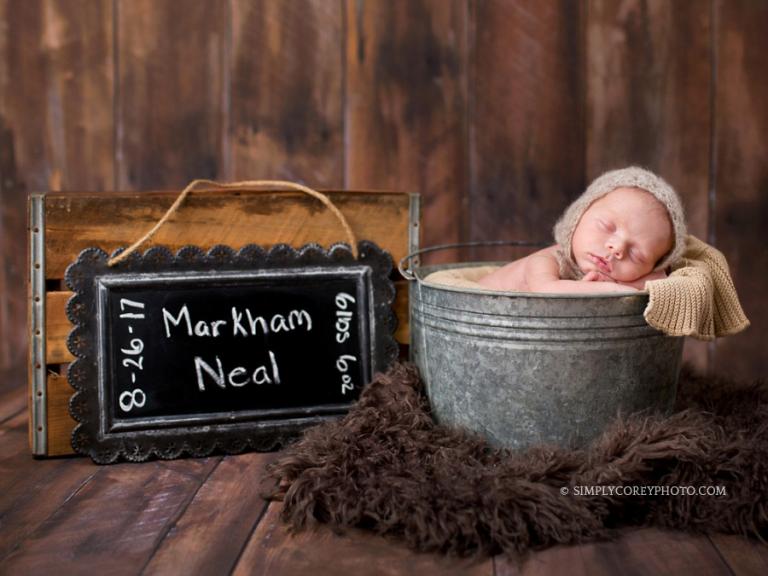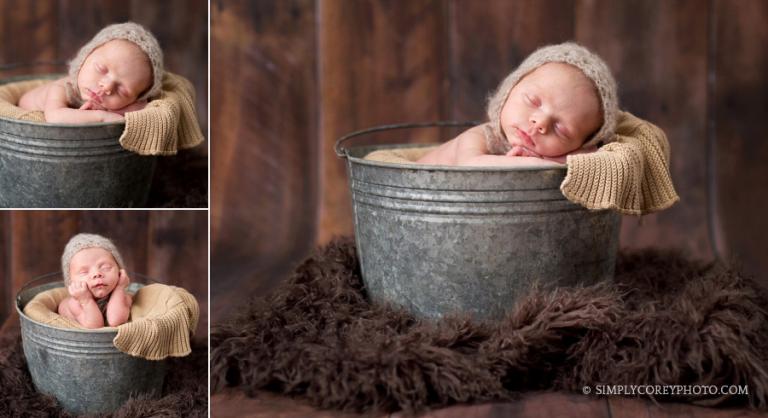 Little baby feet are the best! I love those little toes!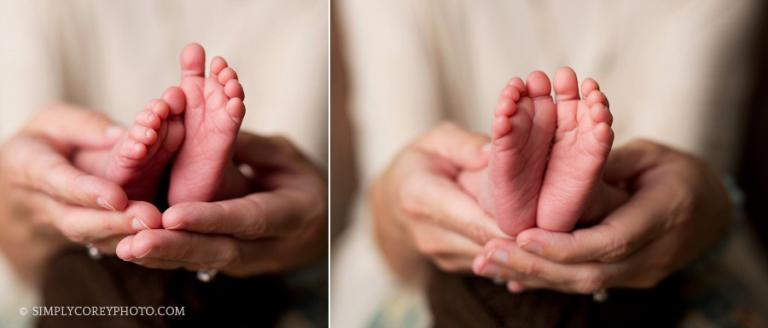 . . .
More About Carrollton Newborn Photographer, Simply Corey Photography:
Simply Corey Photography is located in West Georgia, near Douglasville, Villa Rica, Carrollton, Newnan, and Bremen. I opened my photography business at the end of 2004 and have had the privilege of photographing many expecting mothers, newborns, and babies with their families throughout metro Atlanta since then.
New parents have the option of coming to my home studio for a custom newborn session or have me come to their home for a lifestyle newborn session within greater Atlanta. Locations beyond 30 miles from me will require a small drive fee.
Are you expecting a new baby of your own? I have put together some information together for newborn sessions with Simply Corey Photography, as well as several other types of portrait sessions. Each link provides examples of my work, what to expect, and starting rates. Maternity, baby milestone sessions, and baby's first-year collections are also available with Simply Corey Photography. You may request detailed pricing and my availability by sending me an email!
Subscribers to my email newsletter receive the first announcements for exclusive photography specials, mini session announcements, and other news from time to time. Be sure to sign up!
You are also welcome to connect with Simply Corey Photography on Facebook and Instagram! I share recent photography sessions, past work, and even a little bit of my everyday often.