It has been a while since I have photographed my son – or any of my kids for that matter! I was itching to try out a new lens anyway when Frankie inspired me to photograph him and his dandelions. We were out in the yard tending to our ducks and chicken when he became very excited about the dandelions in our yard.
He told me they were his favorite flower and was gushing over the bouquet of yellow weeds he had collected. So I ran inside the house and grabbed my camera. I didn't care that he was in a dirty play shirt or that his face still had evidence of his snack he had just eaten. I took him to a patch of tall grass near our neighboring pasture and he agreed to take pictures with me … for about five whole minutes. But I'll take it!
Capturing genuine smiles from Frankie can be a bit challenging. You would never guess it from the photos I share, but he hates looking at the camera. He is usually all for taking pictures with me but if I ask for a smile, I usually get a silly face instead. So, taking pictures has turned into a game. A game that I work very hard at playing because I want to capture that great smile of his I see any other time! I absolutely love how these photos turned out. No fancy clothes, no elaborate set. Just my sweet boy and his dandelions. ♥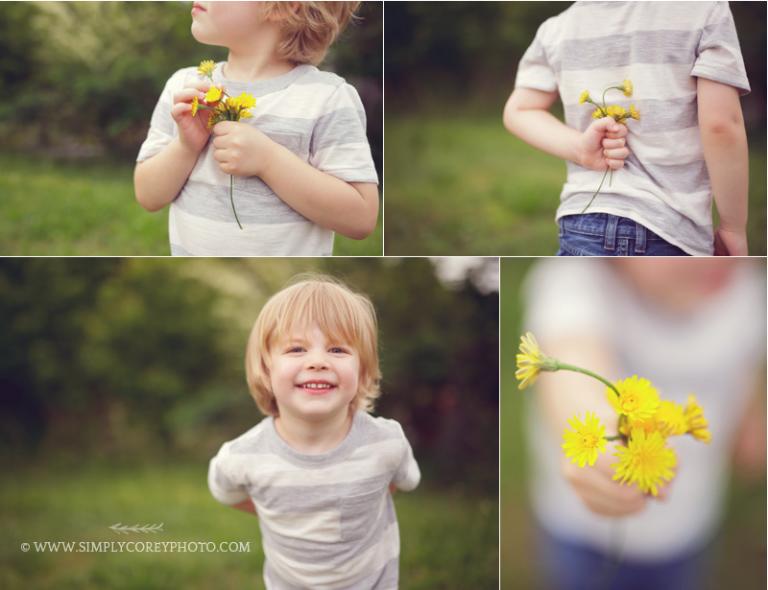 This next one cracks me up because of his expression. He may look as though he's winking but really he's just trying to get his eyes to focus past the piece of tall grass that was in front of him! I love my silly boy.
After his mini photo session with Mom, we put his dandelions in water and he was off to play with our ducks and chicken again.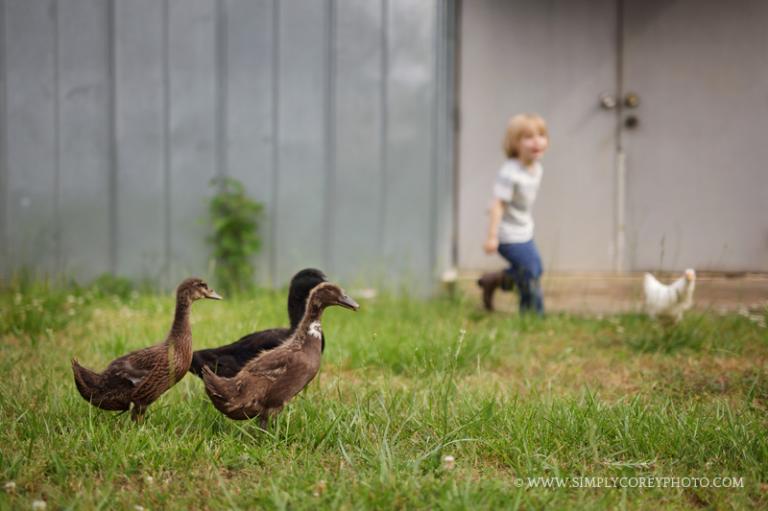 . . .
MORE ABOUT ATLANTA PORTRAIT PHOTOGRAPHER, SIMPLY COREY PHOTOGRAPHY:
Simply Corey Photography is located in West Georgia, near Carrollton, Newnan, Douglasville, Villa Rica, and Bremen. I began my photography business in late 2004 and have photographed many babies, children, and families throughout metro Atlanta since then.  Custom portrait sessions may take place at my private outdoor location or the location of your choice within greater Atlanta.
Would you like some more information? I have put together some information together for family and children's portrait sessions with Simply Corey Photography, as well as several other types of portrait sessions. Each link provides examples of my work, what to expect, and starting rates. You may request detailed pricing and my availability by sending me an email!
Be sure to subscribe to the email newsletter! Simply Corey Photography sends out exclusive photography specials, mini session announcements, and other news from time to time.
I would also love for you to connect with Simply Corey Photography on Facebook and Instagram! And "What to Wear" inspiration for your upcoming portrait sessions can be found on the Simply Corey Photography Pinterest boards.