I am currently catching up on my blogging from a busy fall season and wanted to share Kara and Lee's wedding day from back in September. They were married at A Walk to Remember – Hudson's by the Lake (owned by Hudson Hickory House) in Douglasville, GA.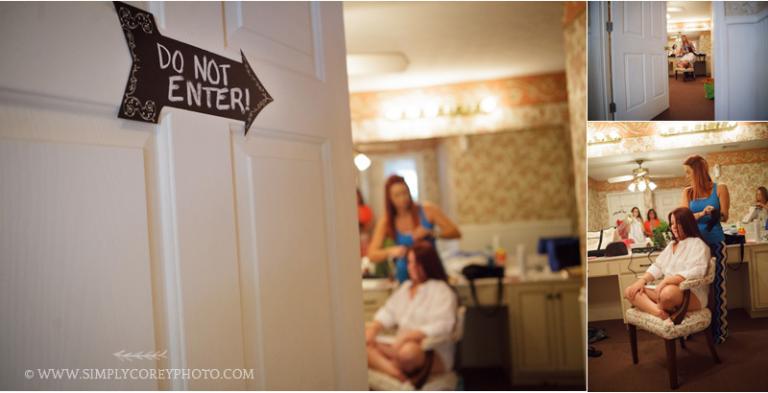 Kara and Lee celebrated their special day with an Alice in Wonderland themed wedding and reception. Here you can see how they decorated the reception hall with just a few of the fun details.
I loved the black, red, and white accents all throughout their day. The cupcakes and candy bar looked awesome.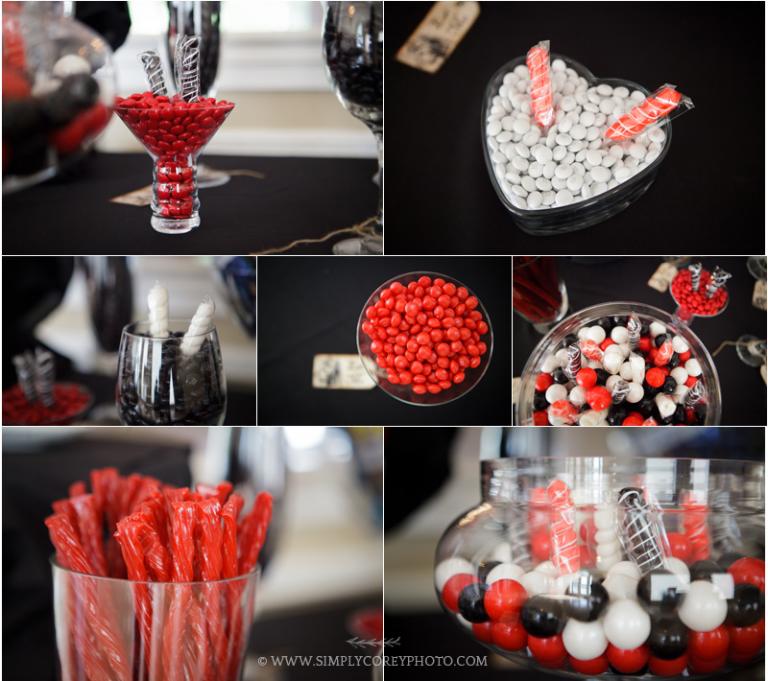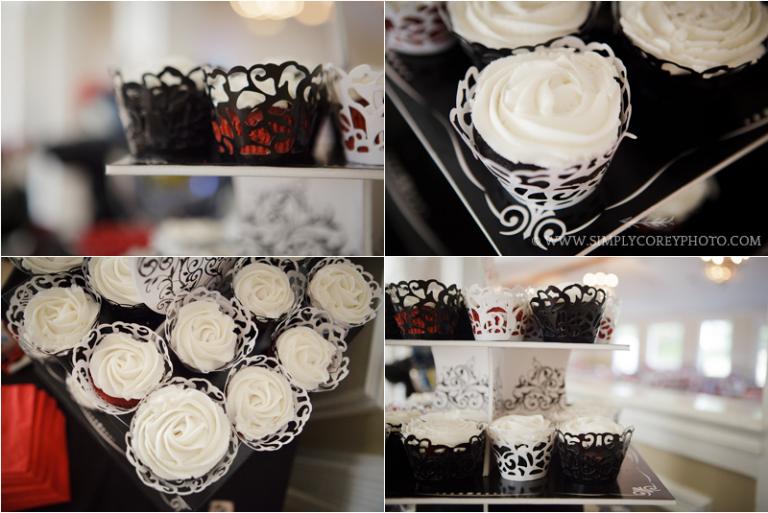 They even emptied out a pocket watch (like the white rabbit in Alice in Wonderland used) to hold their rings. Their son carried the pocket watch down the aisle and presented them with it during the wedding ceremony. ♥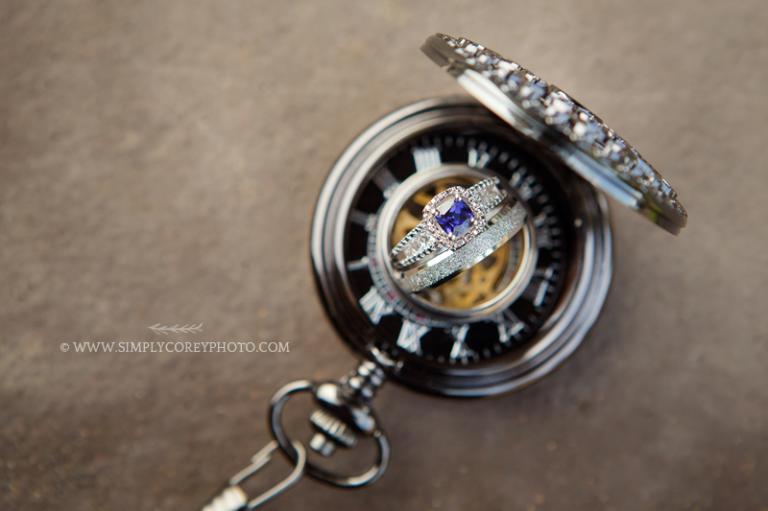 Their cake was even customized to fit their fun wedding day theme with red roses and cards.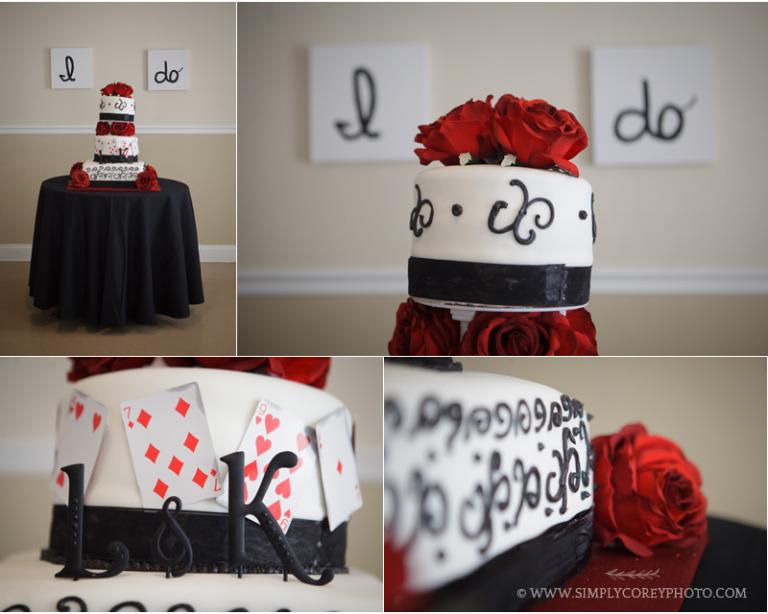 I love that Kara decided to only have a select few in the bridal room with her as she prepared for her big day. It was an intimate afternoon filled with lots of fun and laughter.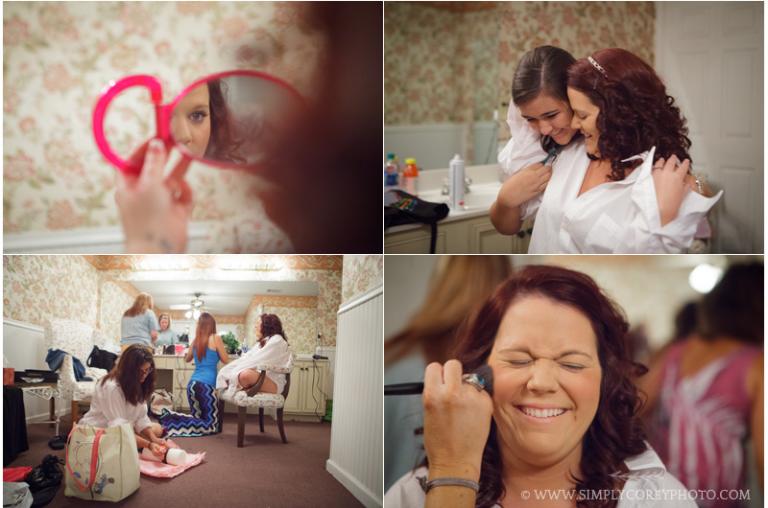 Kara's wedding dress was absolutely beautiful and I found the perfect place to display it.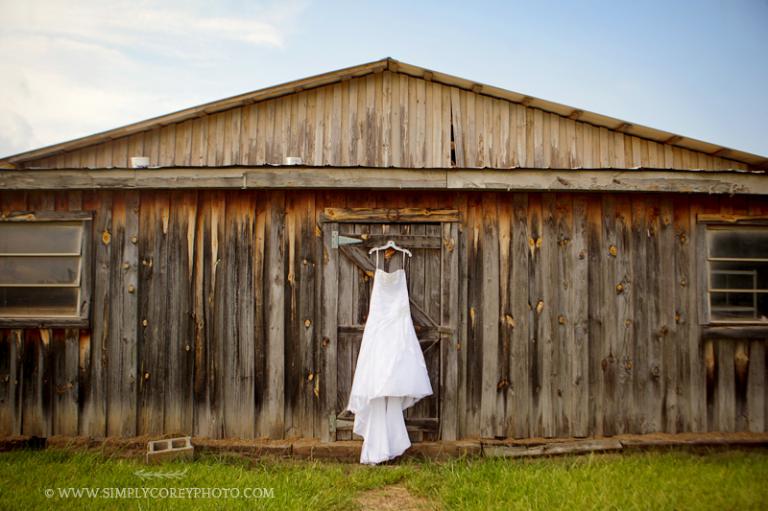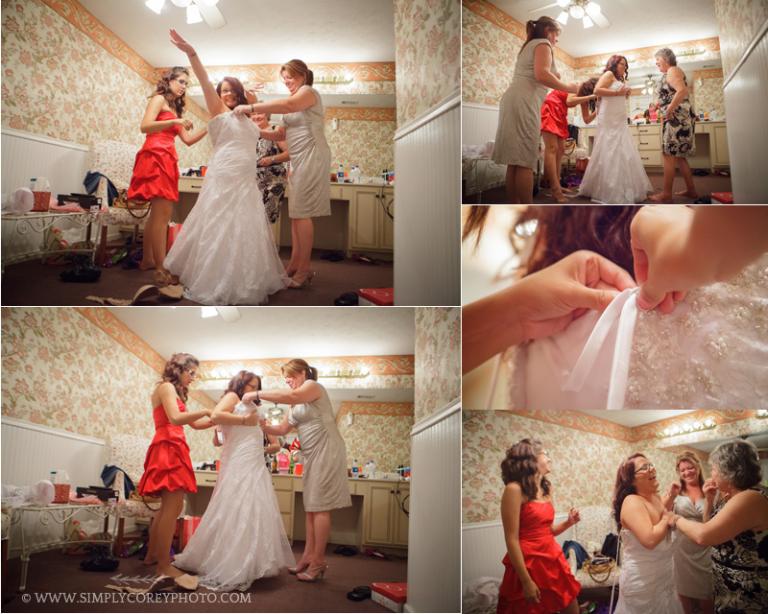 I love that inside her beautiful wedding dress, she had a heart made out of a red plaid shirt that belonged to her late grandfather. It was such a touching and emotional moment when she selected the fabric with her matron of honor. Her grandmother then pinned it into her dress right there in the bridal room. ♥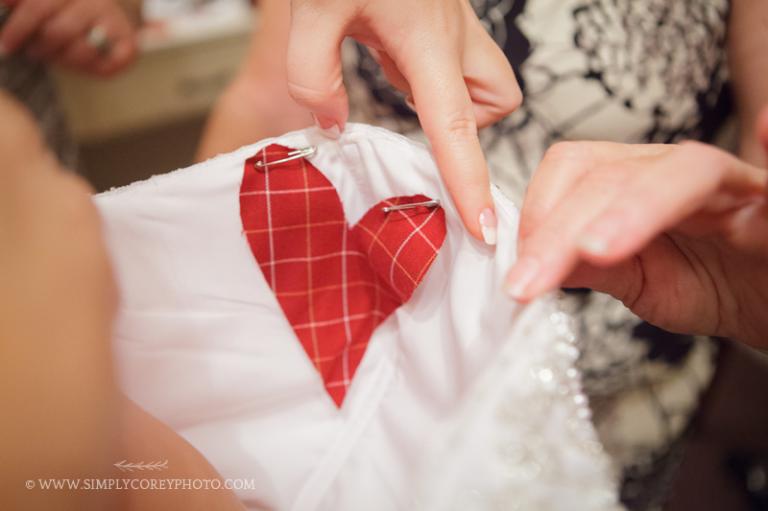 I also loved her beautiful bouquet with red Calla Lilies for her wedding day!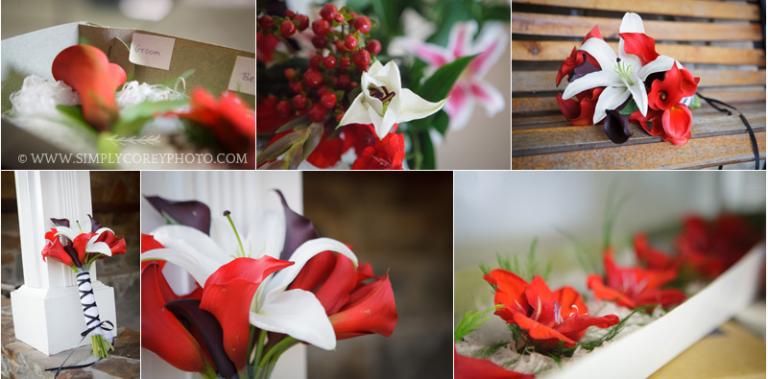 The ceremony was held outside on the dock at Hudson's by the Lake and the sign reading "Happily Ever After Starts Here" was a surprise to Kara. The White Rabbit from Alice in Wonderland was such a cute touch on the stairs leading to the dock!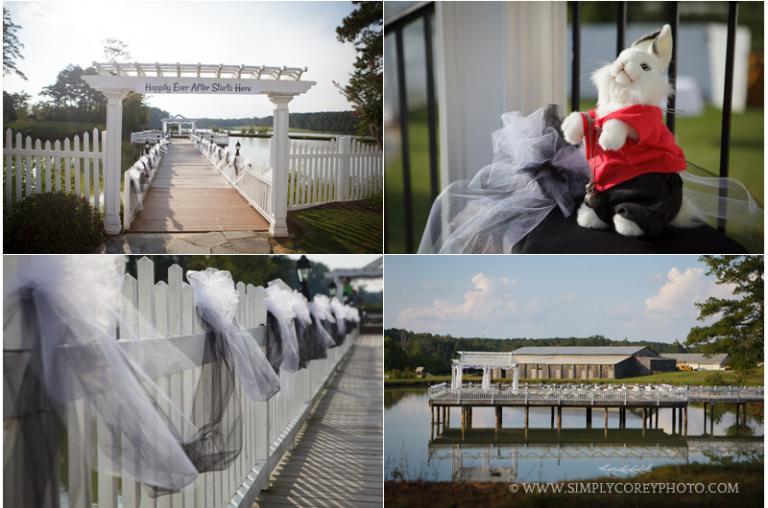 Kara and Lee had a beautiful sunset during their September wedding ceremony.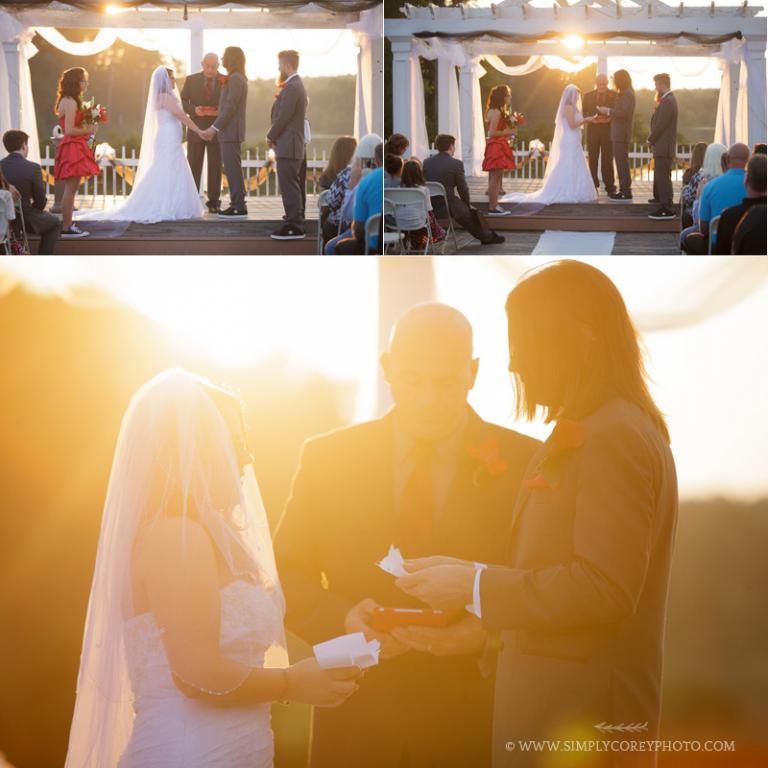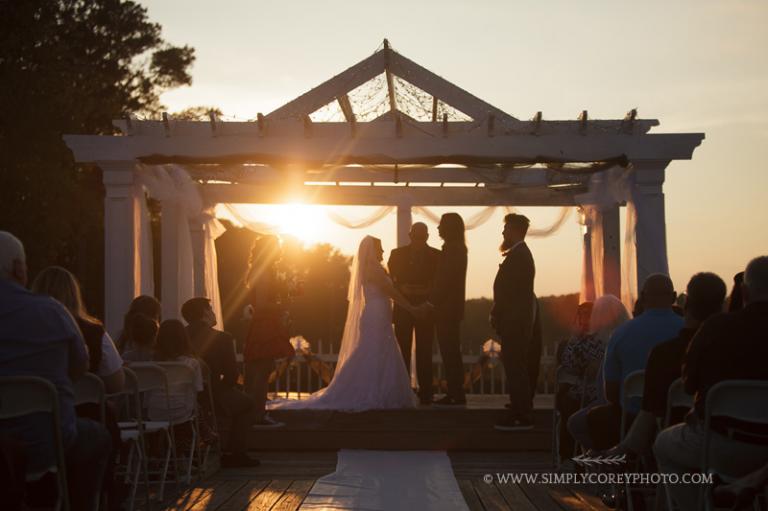 Instead of a unity candle, their family decided to do a salt covenant. It was absolutely beautiful. ♥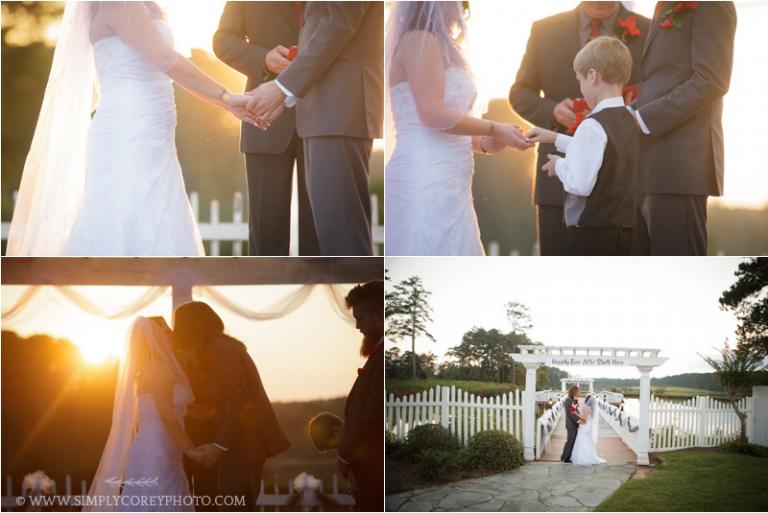 They ended the beautiful evening with a fun wedding reception including cake, dancing and lots of love and laughter.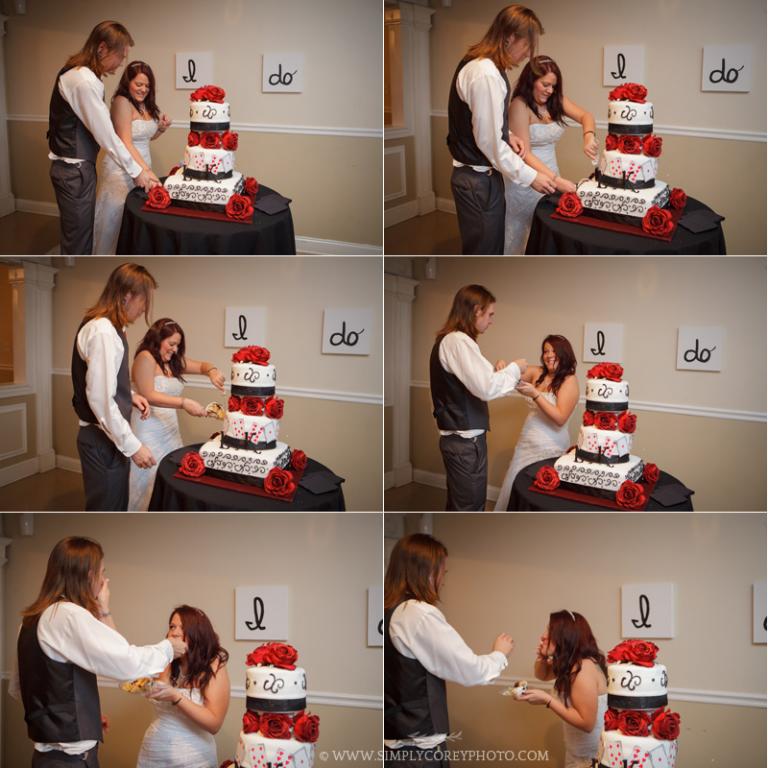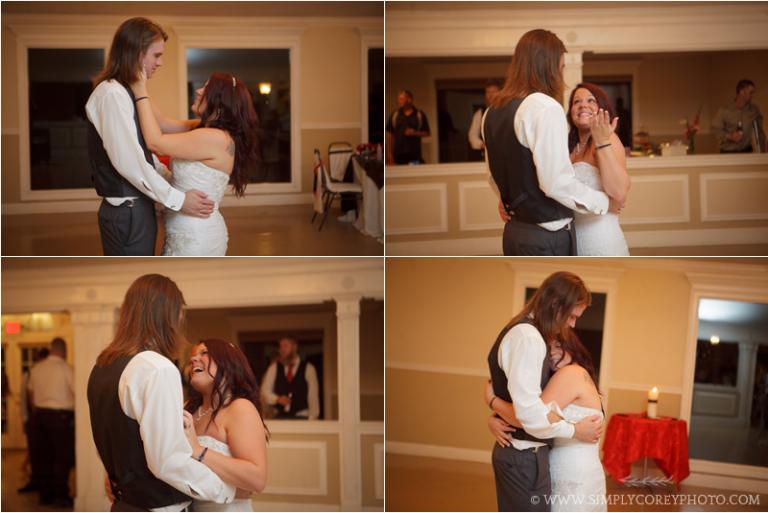 Kara and Lee were very blessed to be surrounded by so many of their loved ones on their wedding day. I was honored to be a part of their celebration and wish them nothing but the best for their life ahead!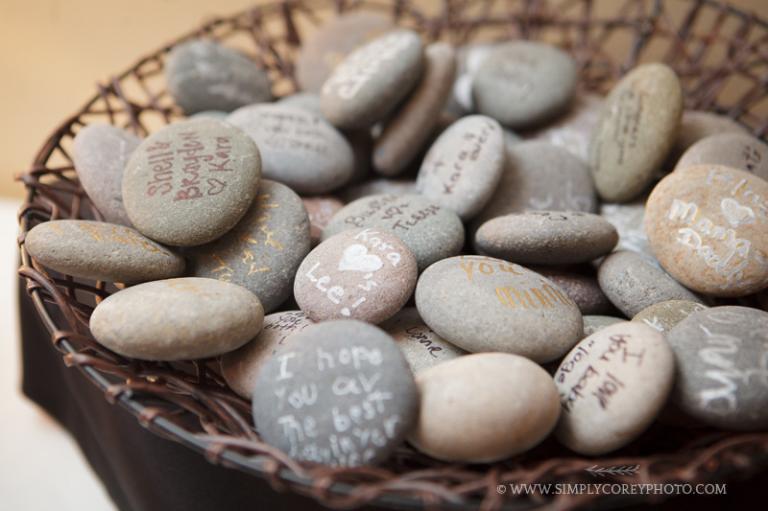 . . .
MORE ABOUT DOUGLASVILLE WEDDING PHOTOGRAPHER, SIMPLY COREY PHOTOGRAPHY:
Simply Corey Photography is located in West Georgia, near Villa Rica, Bremen, Douglasville, Carrollton, and Newnan. I began my photography business in late 2004 and have photographed many couples, engagements, anniversary sessions, and weddings throughout metro Atlanta since then. Custom portrait sessions may take place at my private outdoor location or the location of your choice within greater Atlanta.
Would you like some more information? I have put together some information together for couples and weddings with Simply Corey Photography, as well as several other types of portrait sessions. Each link provides examples of my work, what to expect, and starting rates. You may request detailed pricing and my availability by sending me an email!
Be sure to subscribe to the email newsletter! Simply Corey Photography sends out exclusive photography specials, mini session announcements, and other news from time to time.
I would also love for you to connect with Simply Corey Photography on Facebook and Instagram! And "What to Wear" inspiration for your upcoming portrait sessions, as well as a variety of wedding planning tips, can be found on the Simply Corey Photography Pinterest boards.