** View Current Available Mini Sessions by Clicking Here! **
Once again, our Santa Claus mini sessions were a hit! If you're sad that you missed them this year, be sure to mark your calendar for the first weekend in November for next year! Or sign up for the Simply Corey Photography email newsletter so you're notified of different mini session events! We do them early in the holiday season every year to ensure you have your photos back in time for Christmas cards and holiday gifts. ♥
This year was just as magical as the last 11+ years. We had the pleasure of seeing a few "regulars" that see Santa with me every year and a few new faces! And there was fun to be had by all!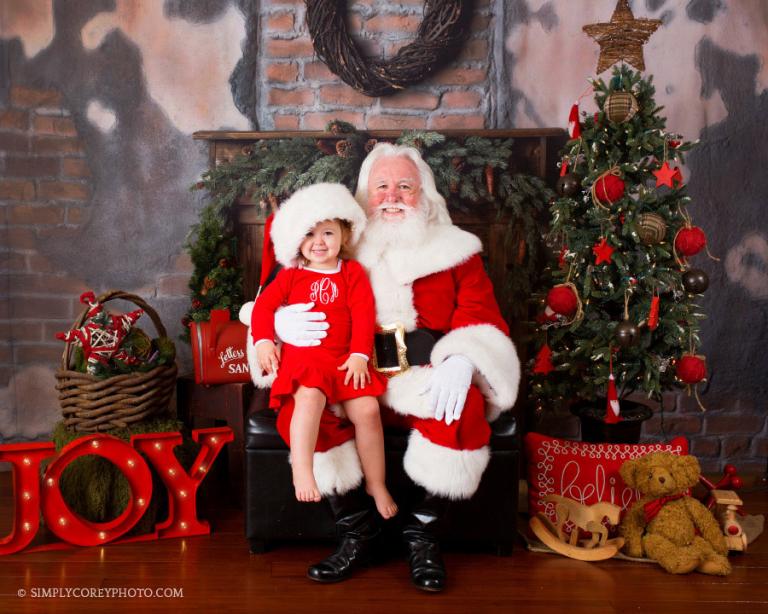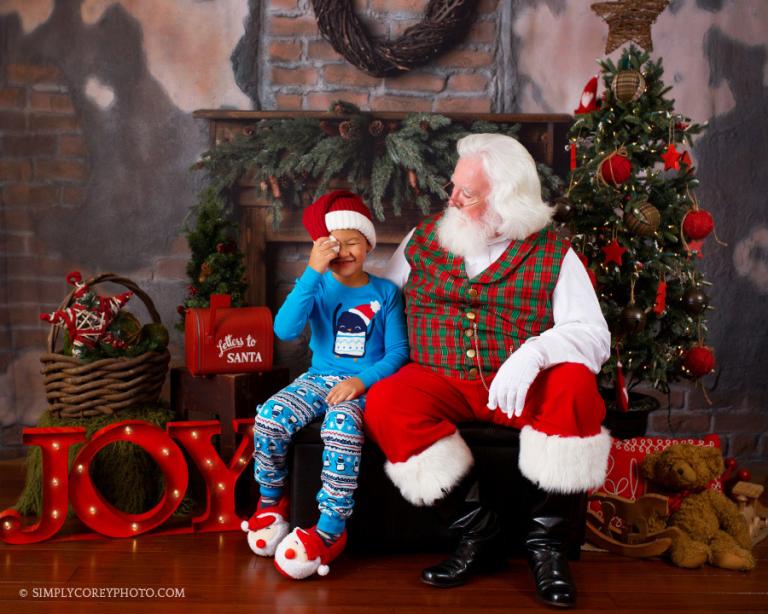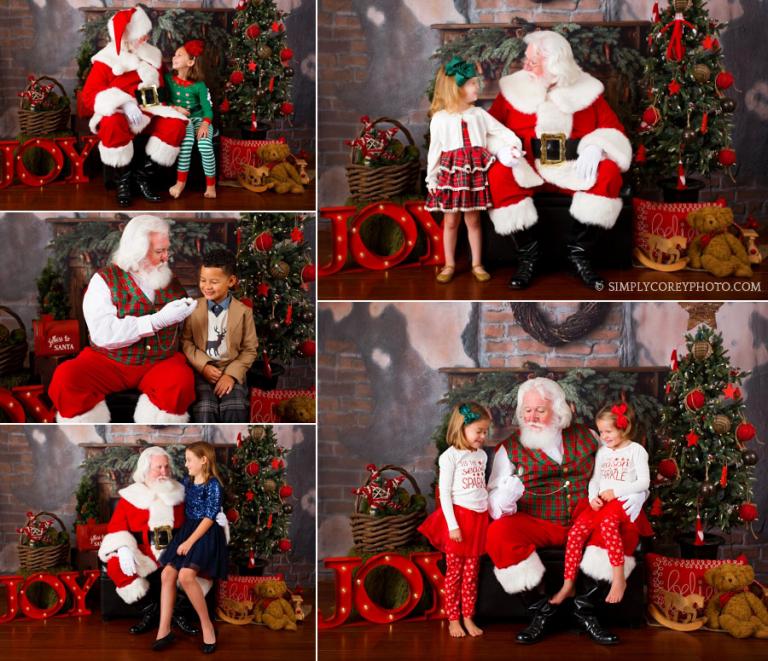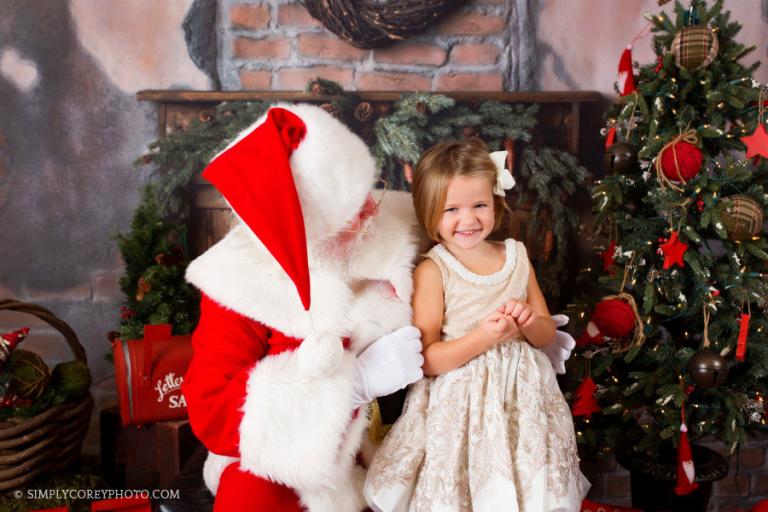 This little guy wasn't so sure about Santa at first. After grabbing some crayons and paper, Santa plopped himself on the floor and offered to color with him (one of his favorite things to do). It didn't take this cutie long to warm up to Santa after a few minutes of coloring, and we were able to get several shots of him on Santa's lap!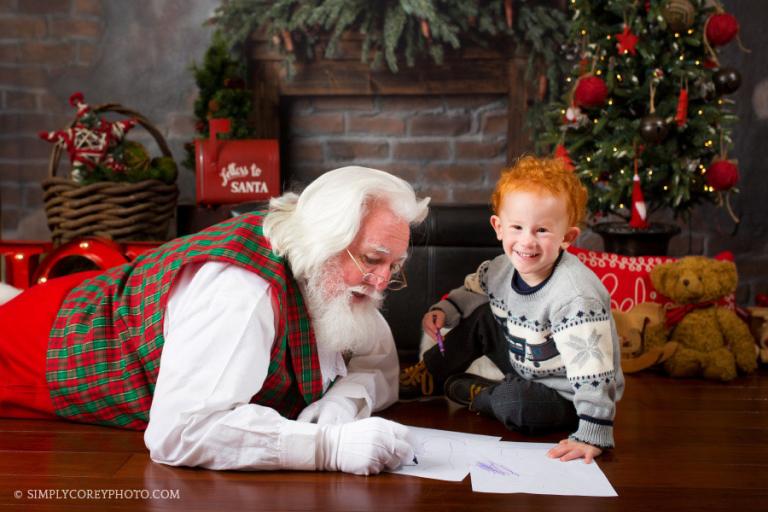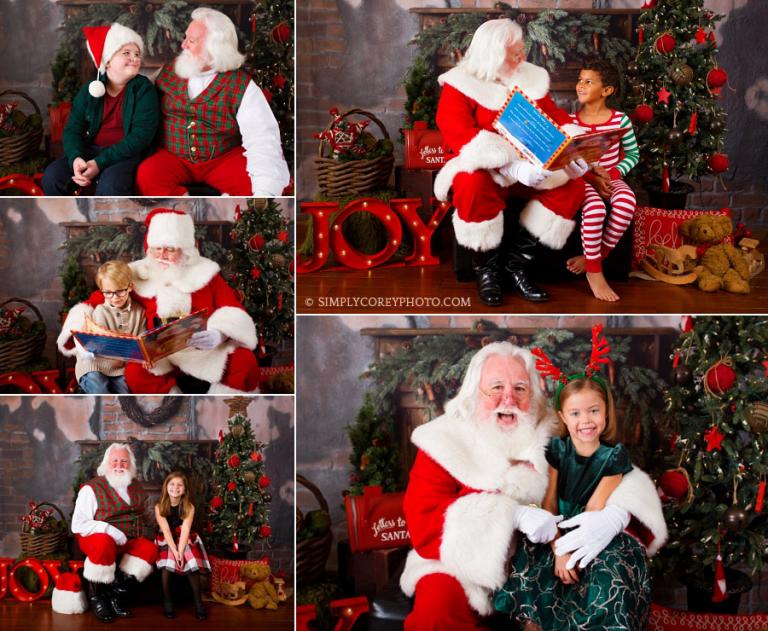 This little one wasn't having it though! But a crying baby on Santa's lap is always a classic and makes for a fun keepsake. There's always next year!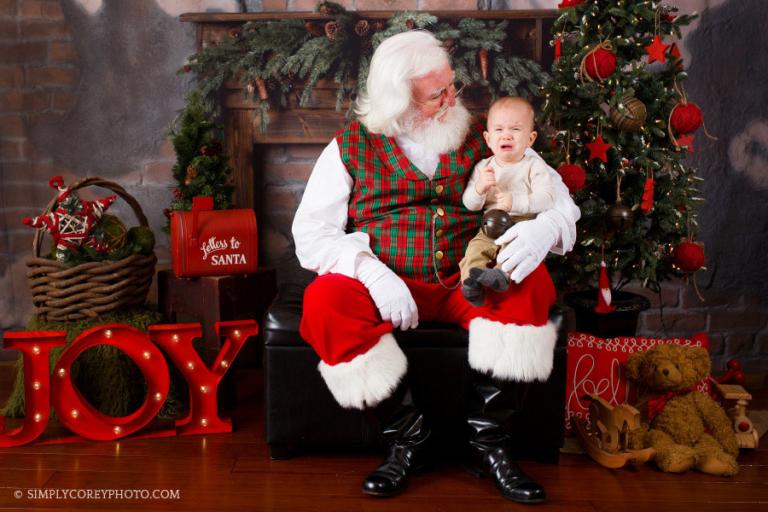 This little guy said "Hang on, Santa. Let me pull up my Amazon wishlist … " Ha!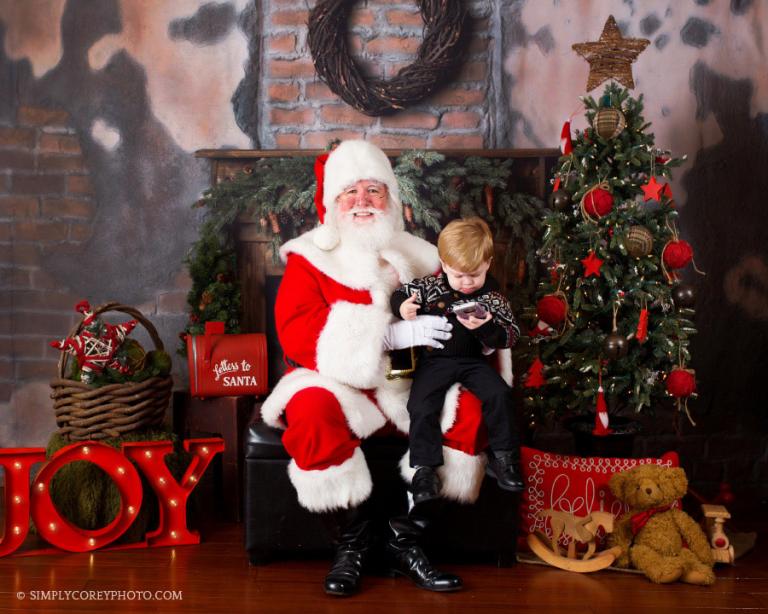 Sibling photos are always so fun! Some families even have a family portrait made with Santa for the holidays!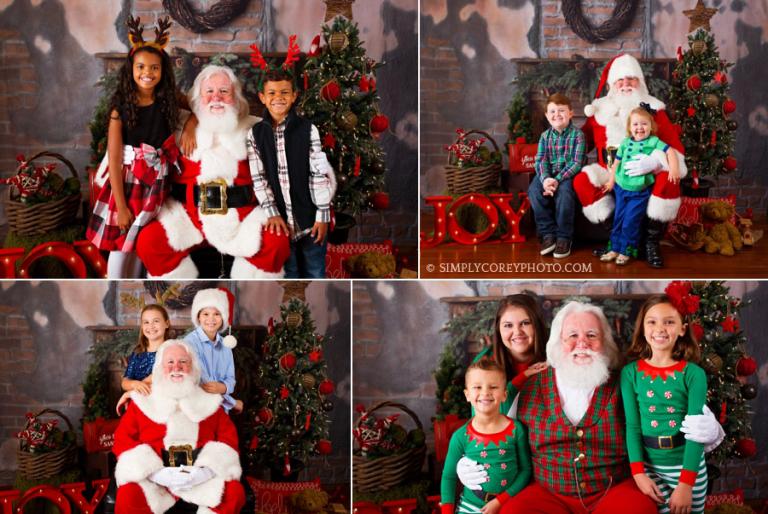 Santa always loves it when the kids bring him a present! This sweet girl gave him a picture she had drawn. ♥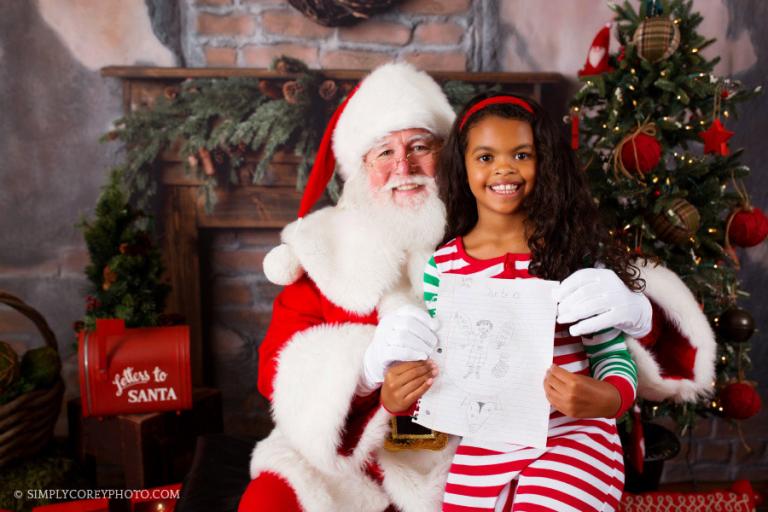 This young man has been seeing Santa since he was a toddler. Now he and Santa wear the same size shoe!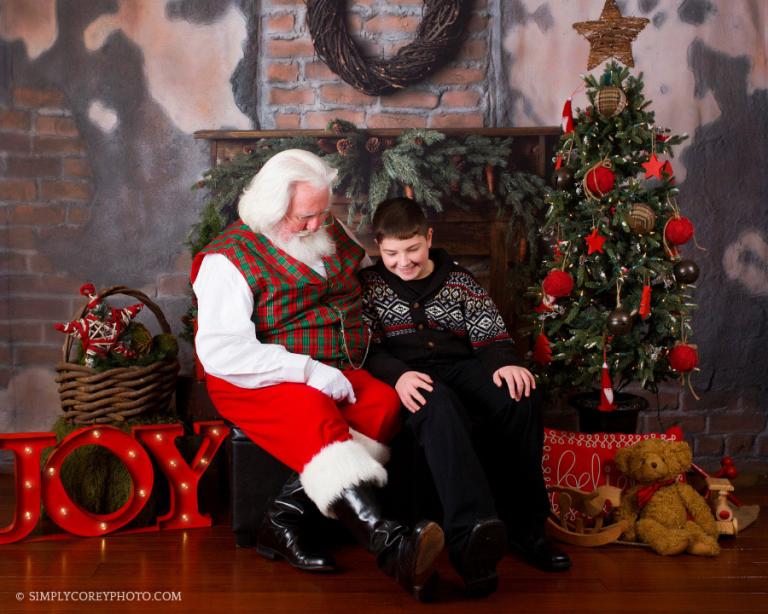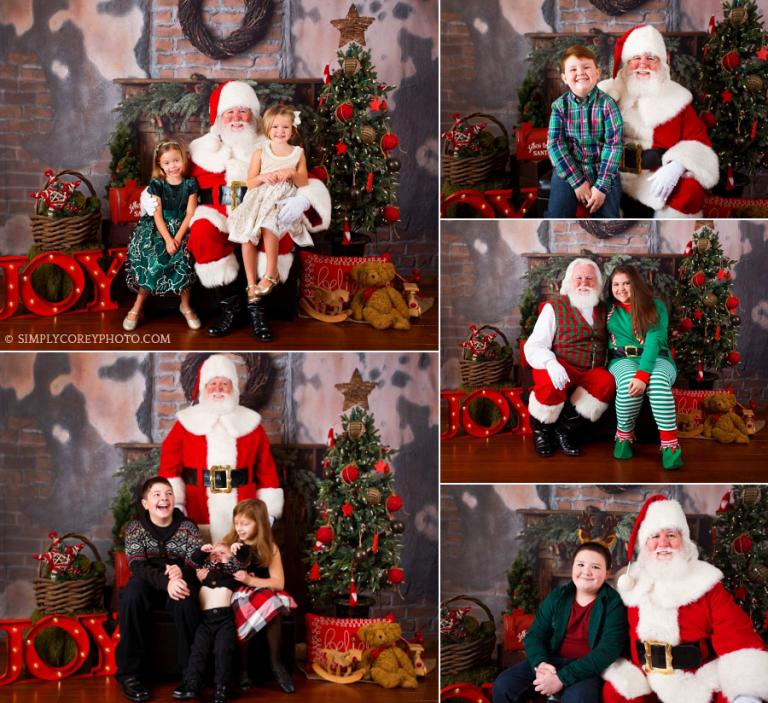 Her Elf on the Shelf came along for this sweet girl's visit with Santa! I'm sure he had nothing but good things to report! I loved her Elf on the Shelf pajamas too – so cute!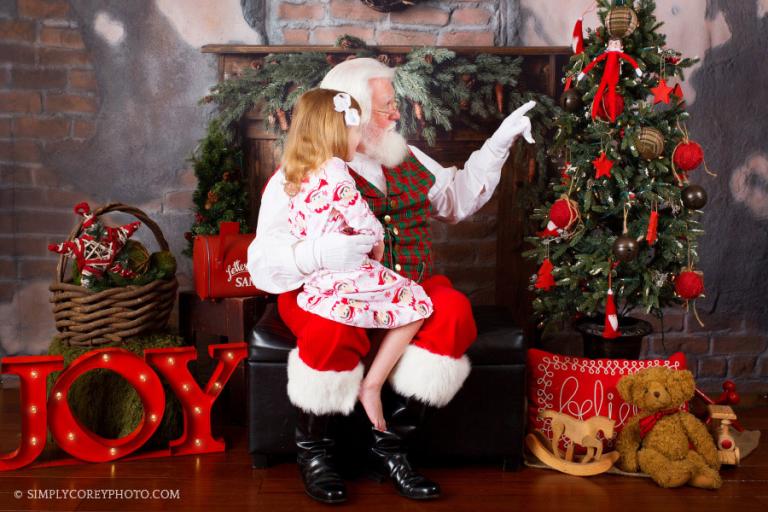 Santa made a comment that my little guy looked like Ralphie from A Christmas Story and brought out a Red Ryder BB gun. I guess Santa wasn't worried about this kid "shooting his eye out"! Ha!
Thank you to everyone who came to see Santa and Simply Corey Photography! I enjoyed being a part of your holiday memories this year and hope you all have a very Merry Christmas! ♥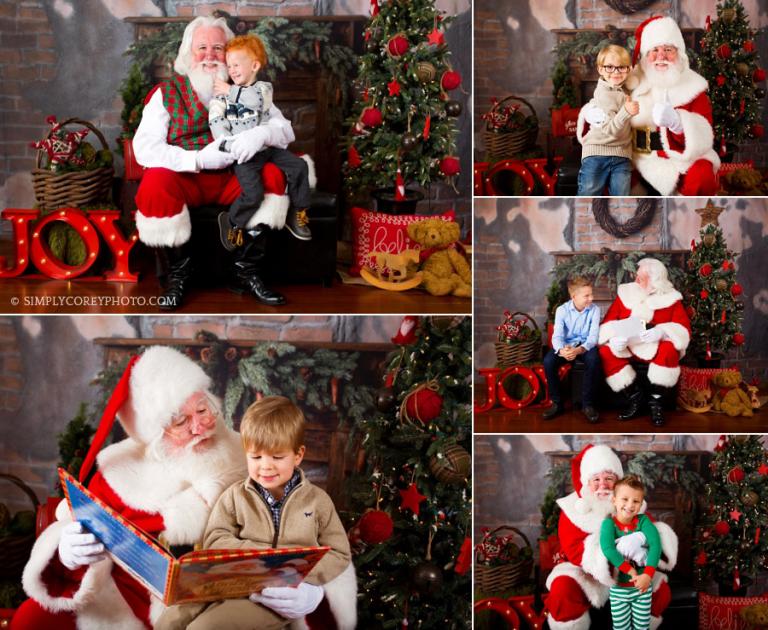 . . .
More About Atlanta Santa Claus Mini Sessions Photographer, Simply Corey Photography:
Simply Corey Photography is located in West Georgia, near Carrollton, Newnan, Douglasville, Villa Rica, and Bremen. I began my photography business in late 2004 and have photographed many babies, children, high school seniors, and families throughout metro Atlanta since then.  Custom portrait sessions may take place at my private outdoor location or the location of your choice within greater Atlanta.
Would you like some more information? I have put together some information together for family and children's portrait sessions with Simply Corey Photography, as well as several other types of portrait sessions. Each link provides examples of my work, what to expect, and starting rates. You may request detailed pricing and my availability by sending me an email!
Be sure to subscribe to the email newsletter! Simply Corey Photography sends out exclusive photography specials, mini session announcements, and other news from time to time.
I would also love for you to connect with Simply Corey Photography on Facebook and Instagram! And "What to Wear" inspiration for your upcoming portrait sessions can be found on the Simply Corey Photography Pinterest boards.