This adorable baby boy was one of the happiest babies I've photographed. He smiled for some milestone portraits, during his cake smash, and again during the splash in my little tub! It takes most babies a little time to warm up. Not him. He arrived ready for his photo session! Ha!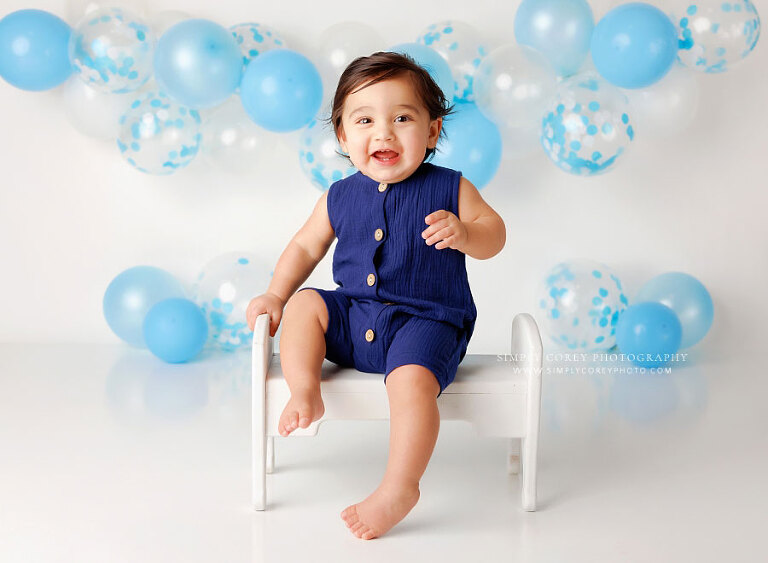 I love that his parents chose a simple set with blue and white balloons for his cake smash session. We began with a few photos without cake and several different props – and a cute little romper from my client closet!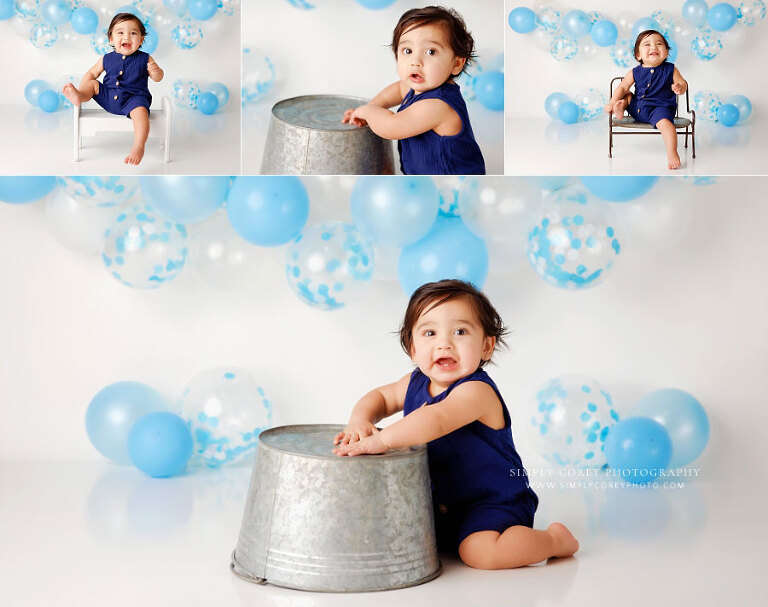 I think he loved the ladder most!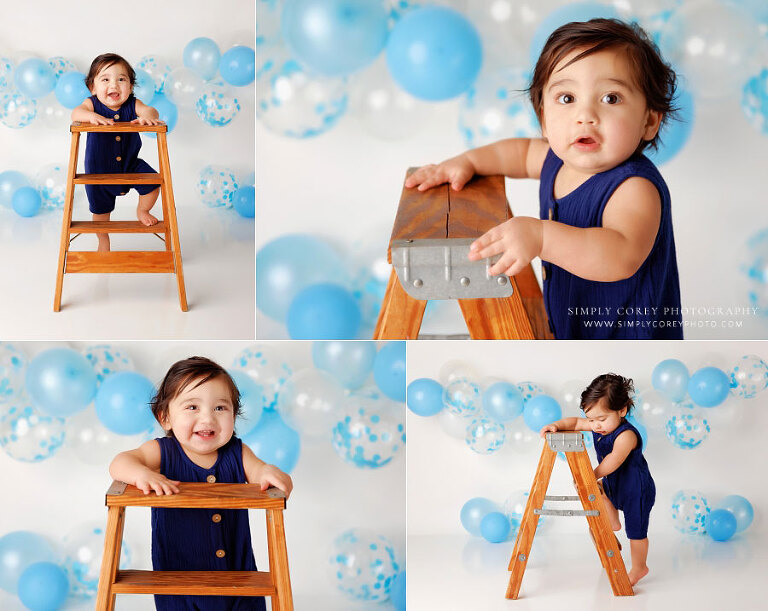 Then a few "clean" photos of him in his cake smash outfit before the mess began!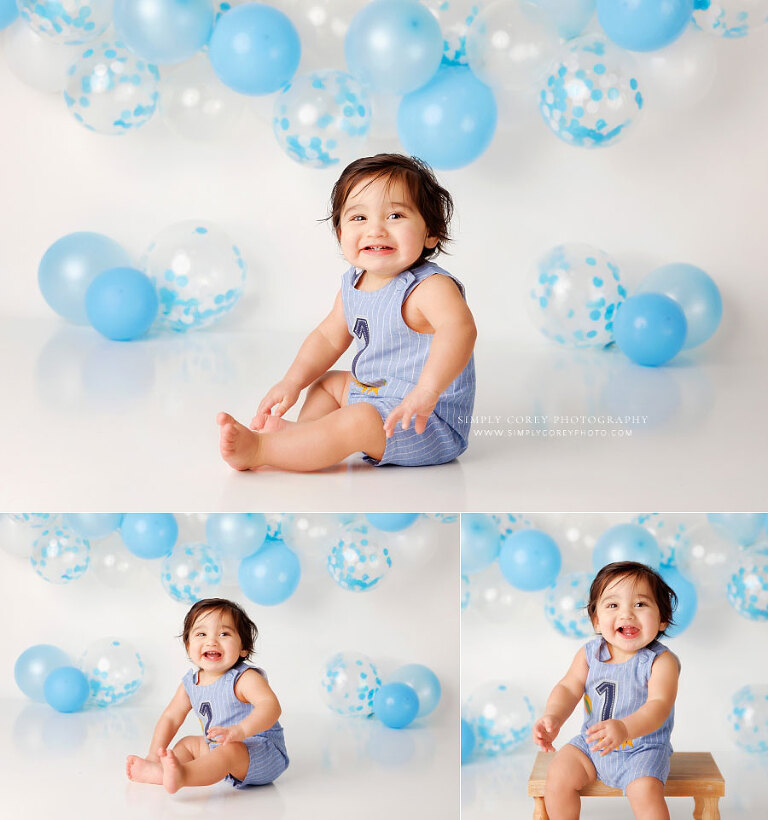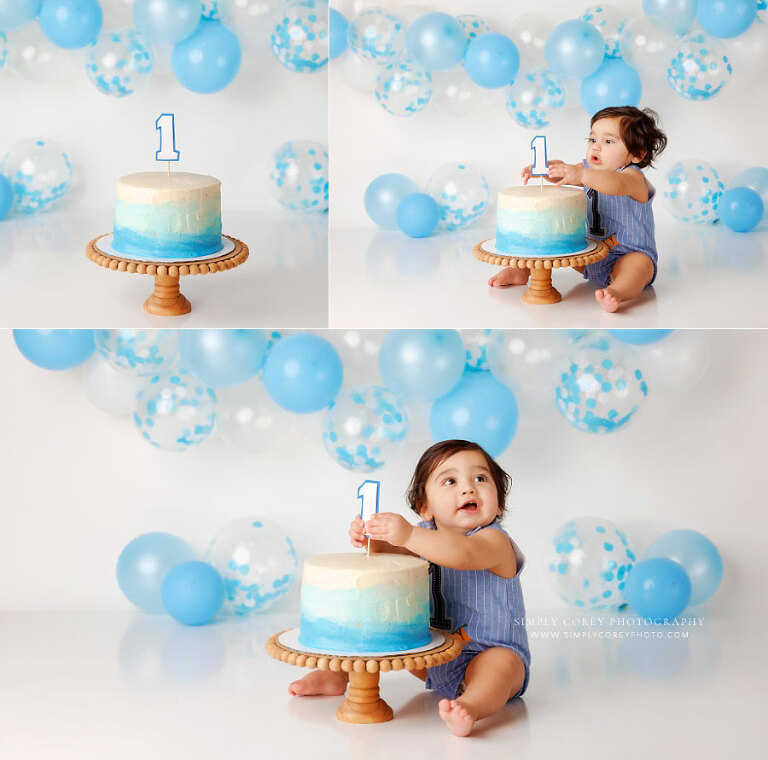 He was very interested in the cake topper, and with most cake smash sessions, it didn't last long …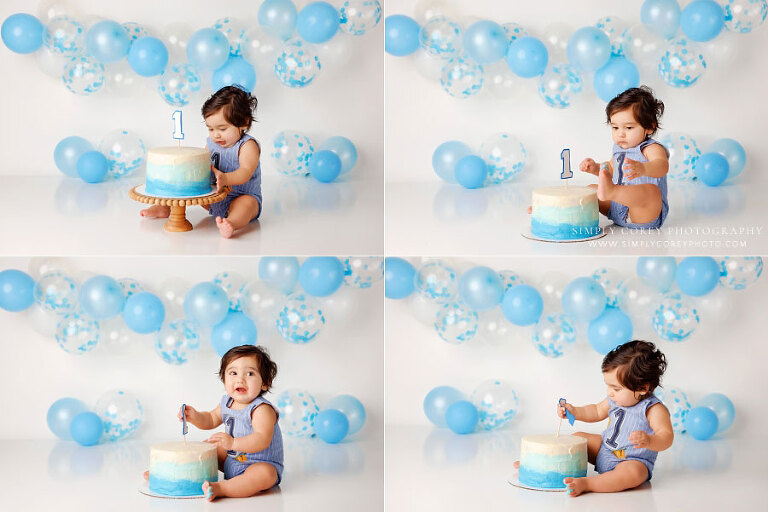 He was definitely ready for the cake once the topper was removed! Just look at that hand!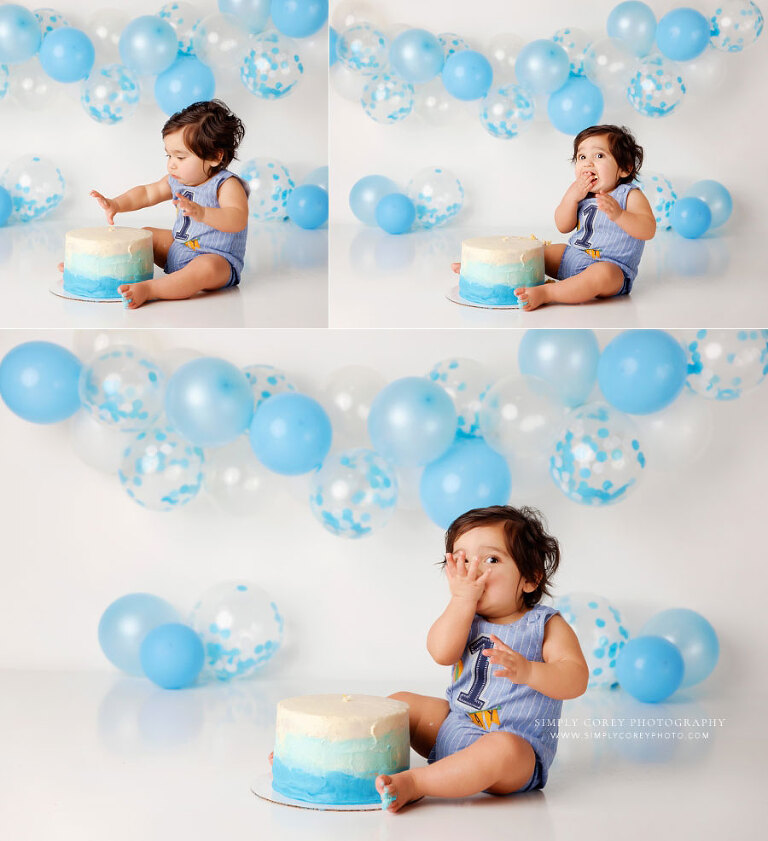 Baby boy had the best expressions too. I love the progression of these next photos as the taste hits him!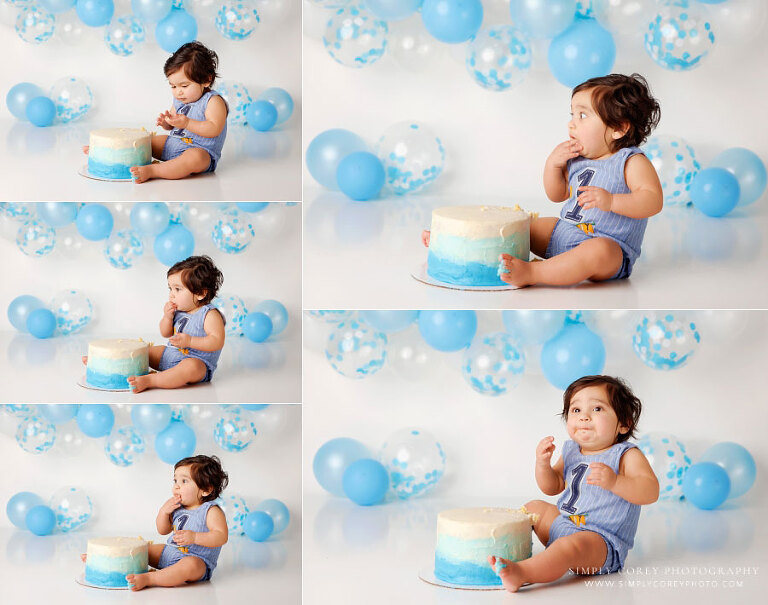 A big smile for cake!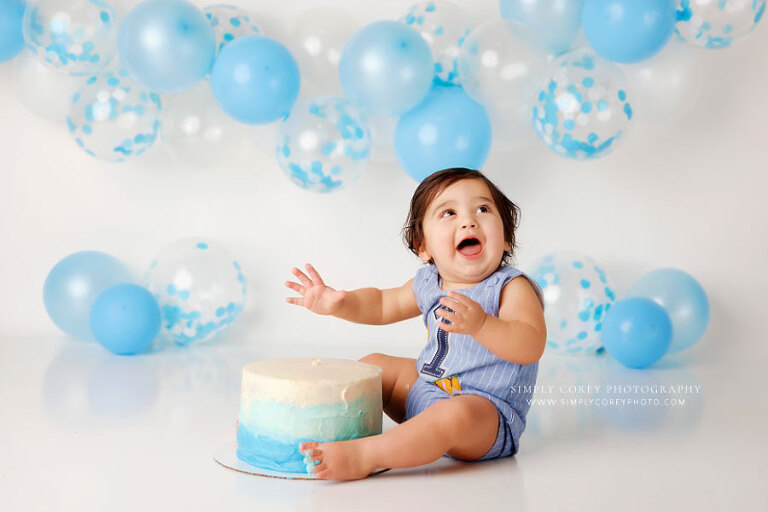 He even loved getting his toes involved!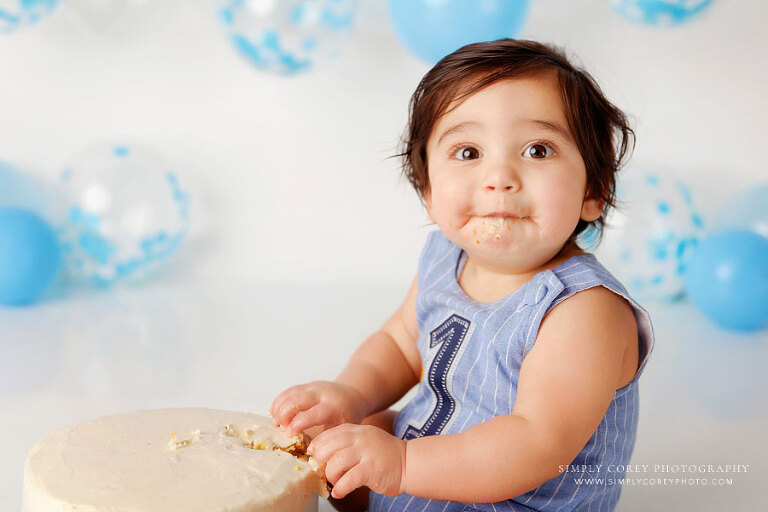 But my favorite is when he leaned over and put his face in the cake to take a bite! And he did it twice!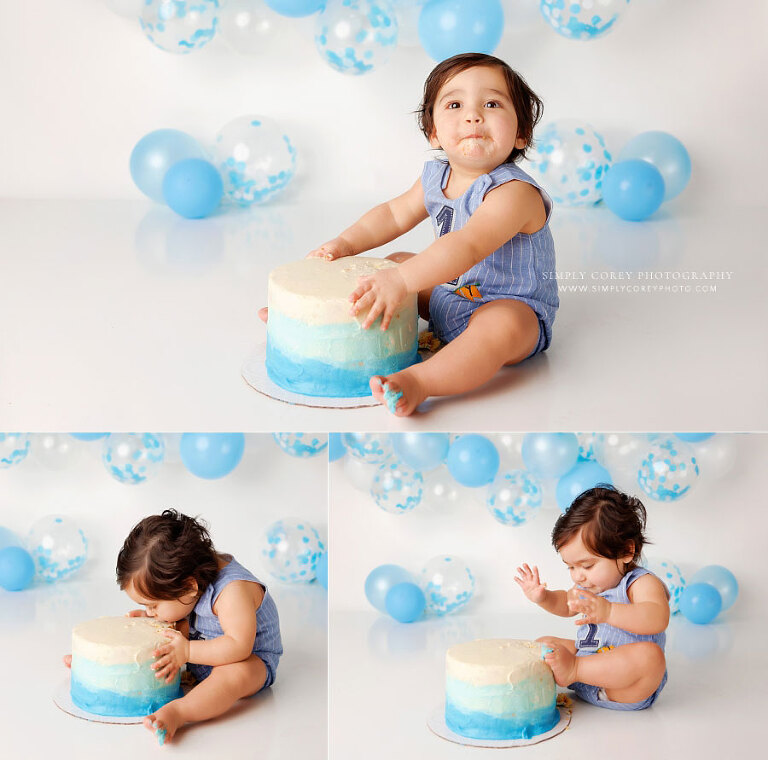 Seriously the best expressions … and smiles … and frosting covered toes!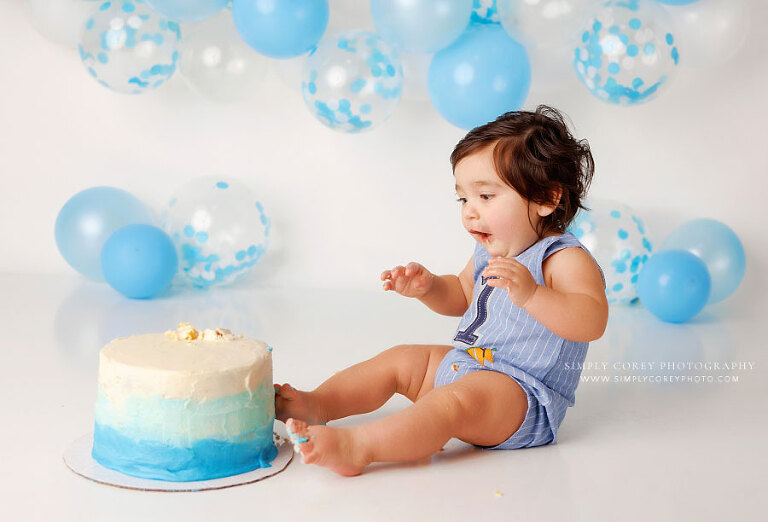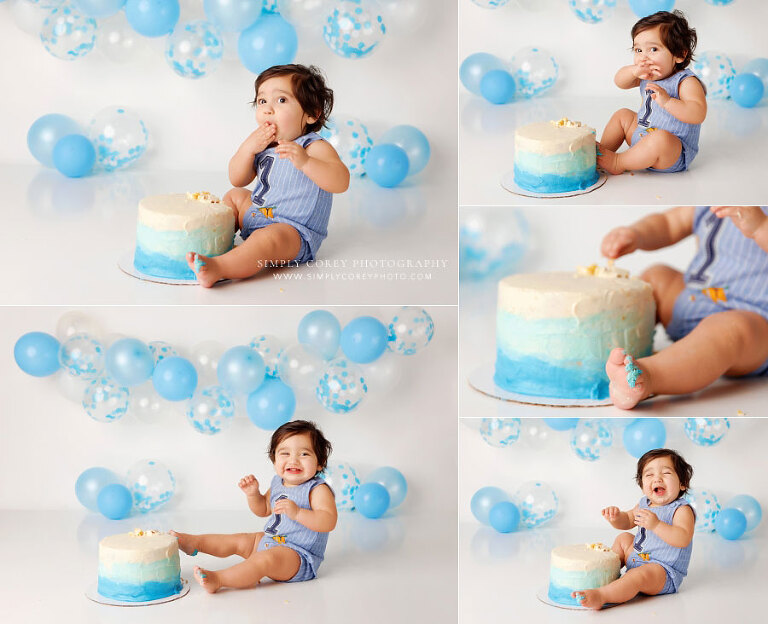 Another face plant into the cake! Ha!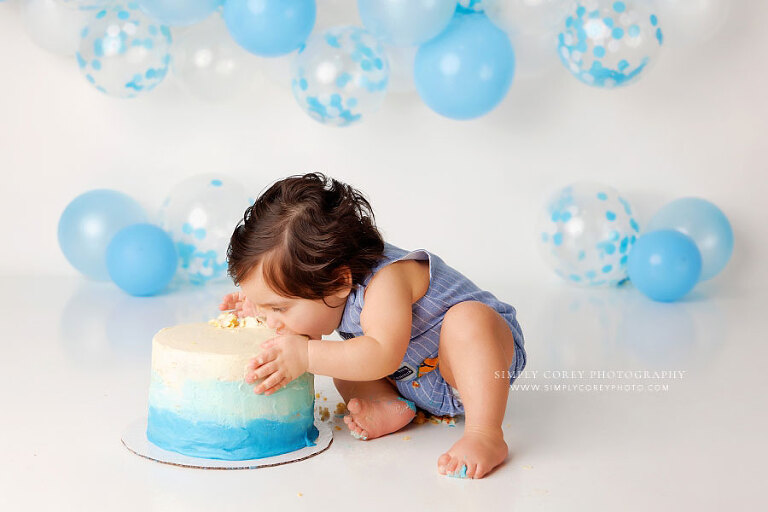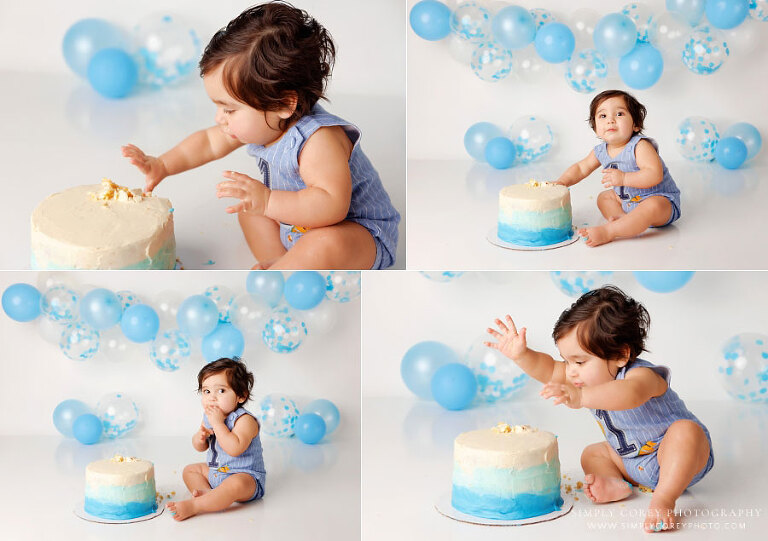 When it was all over, it looked like he barely made a dent in his smash cake – but these photos show how much he loved it!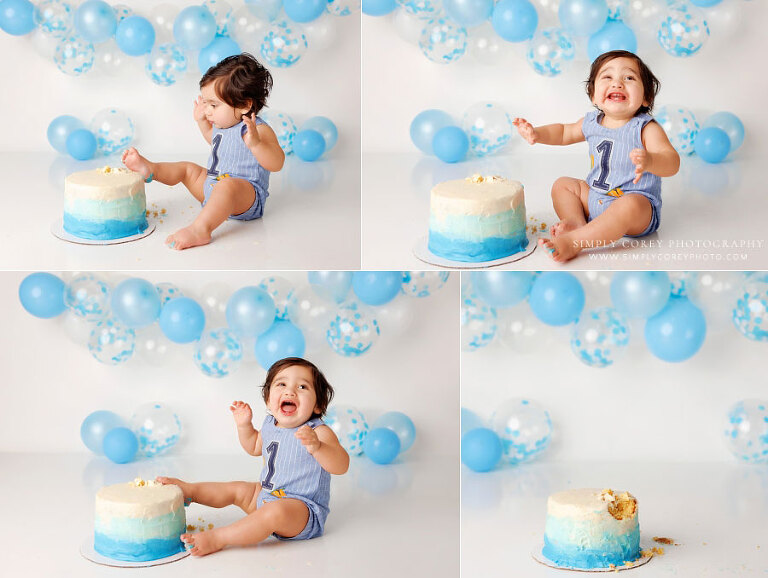 We ended his cake smash with a splash! My little tub is usually a favorite with babies and parents alike – and this baby boy was definitely a fan! The perfect ending to a perfect cake smash!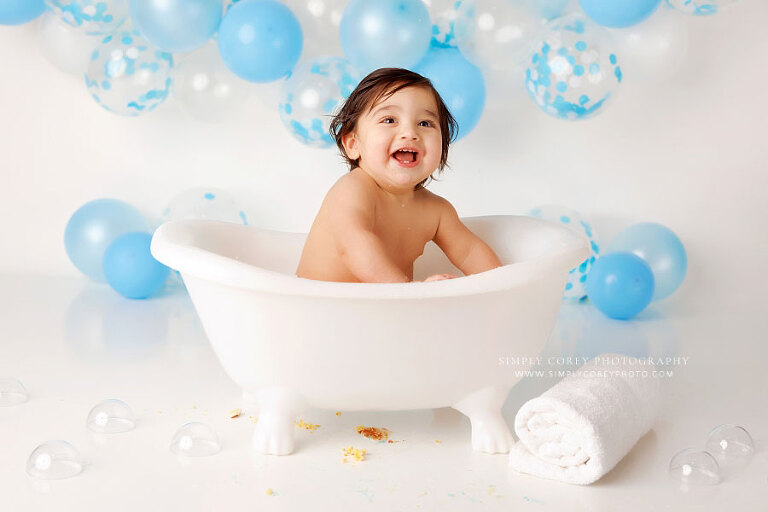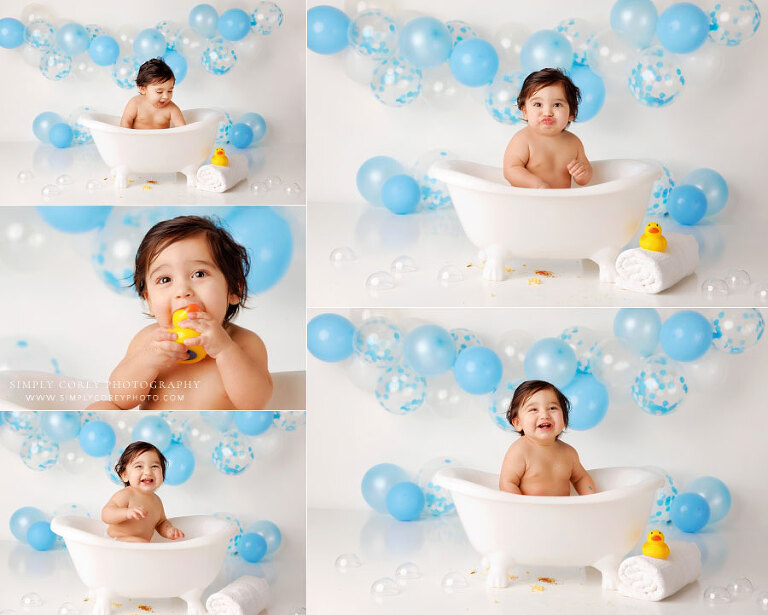 . . .
More About Carrollton Cake Smash Photographer, Simply Corey Photography:
Simply Corey Photography is located west of Atlanta, near Carrollton, Douglasville, Villa Rica, Newnan, and Bremen, Georgia. I have been a professional photographer since 2004, and have had the privilege of photographing many newborns, babies, and families throughout the metro Atlanta area over the years.
Babies change and grow so fast during their first year, and I would love to capture some memories and milestones for you! You can request my pricing and availability for cake smashes, baby milestone sessions, and family portraits by using the form on my contact page.
Custom themed baby milestone sessions and cake smash sessions are held exclusively at the studio. Family portrait sessions with your baby are available in the studio, at my private outdoor location, or on-location. Lifestyle sessions in your home or another metro Atlanta location are available too.
Members of my VIP Facebook Group and subscribers to my email newsletter receive the first announcements for exclusive photography specials, mini session announcements, and other news from time to time. Be sure to subscribe! You are also welcome to connect with Simply Corey Photography on my Facebook page and Instagram!