I stole the title of this blog post from the post mom made on Facebook when she shared photos from this session! Ha! Due to current events, we had to postpone his newborn session, so this handsome little guy was just 3 days short of turning 2 months old by the time we could do it. He did great though – and I love that he showed off his personality in so many of his photos!
Speaking of personality and current events, I was wearing a mask during our studio session together. He didn't know what to think of it at first, and definitely made that known. Just check out these looks he gave me!

Thankfully it didn't take him long to warm up to me. His mom and I joked that my expressive eyes kept him intrigued and smiling!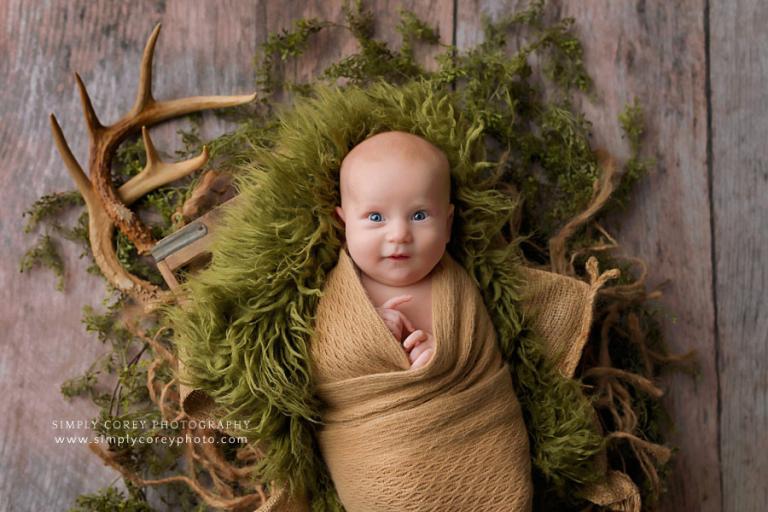 Wyatt's baby shower had a deer theme, so I thought it would be cool to incorporate deer antlers in one of his studio sets. I love the way it turned out!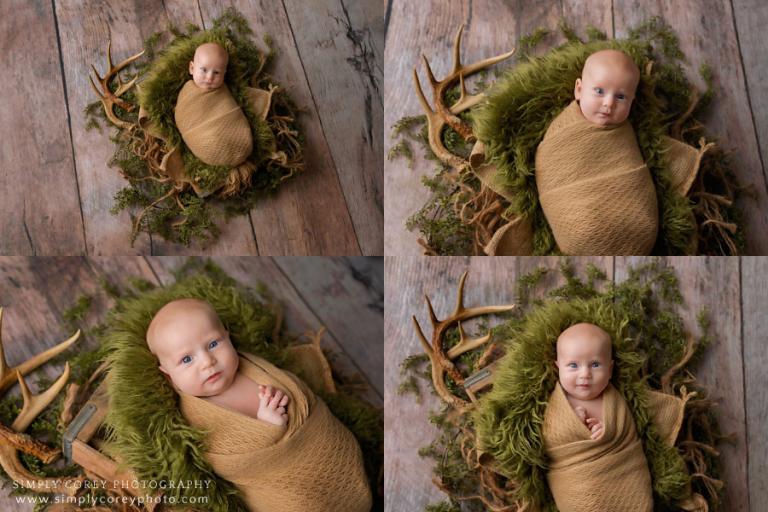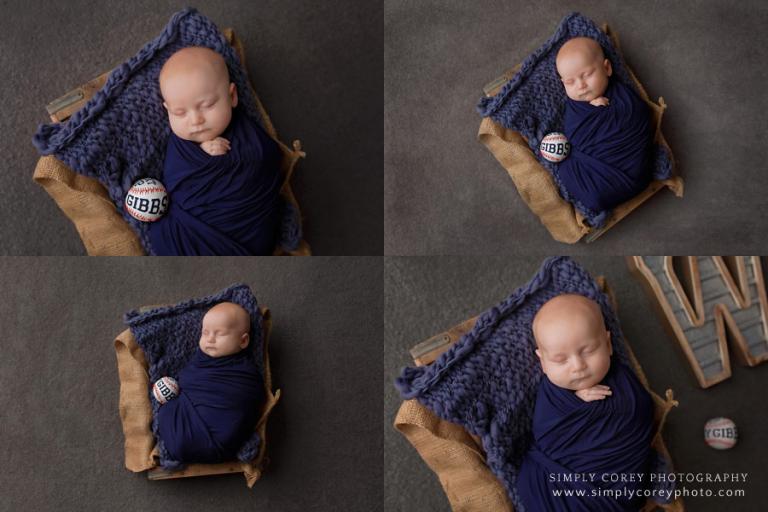 The baseball in these photos was a key part in how Wyatt's mom told his dad she was pregnant. She had it embroidered to say "Next Up Baby Gibbs". I thought that was an adorable way to announce her pregnancy! ♥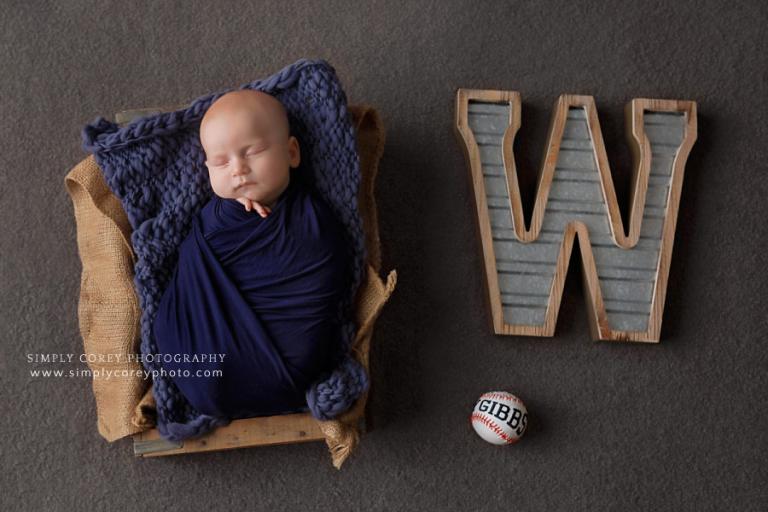 More of his amazing expressions …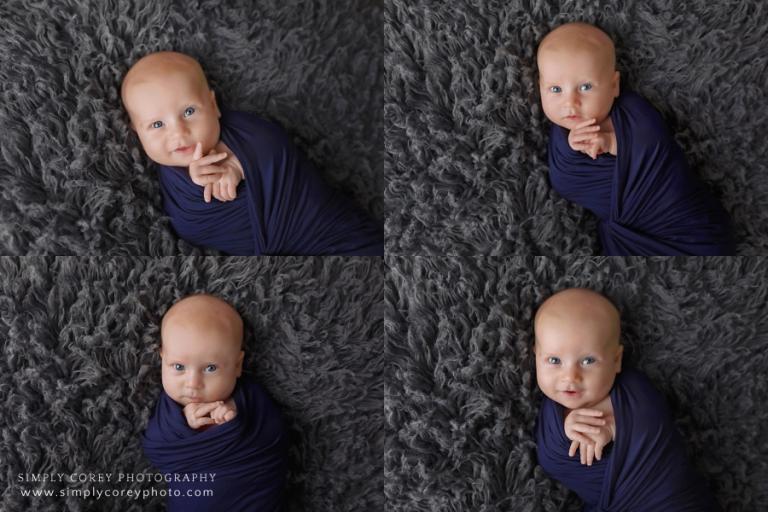 And then this next one cracked us all up! That face paired with his daddy's police badge was hilarious!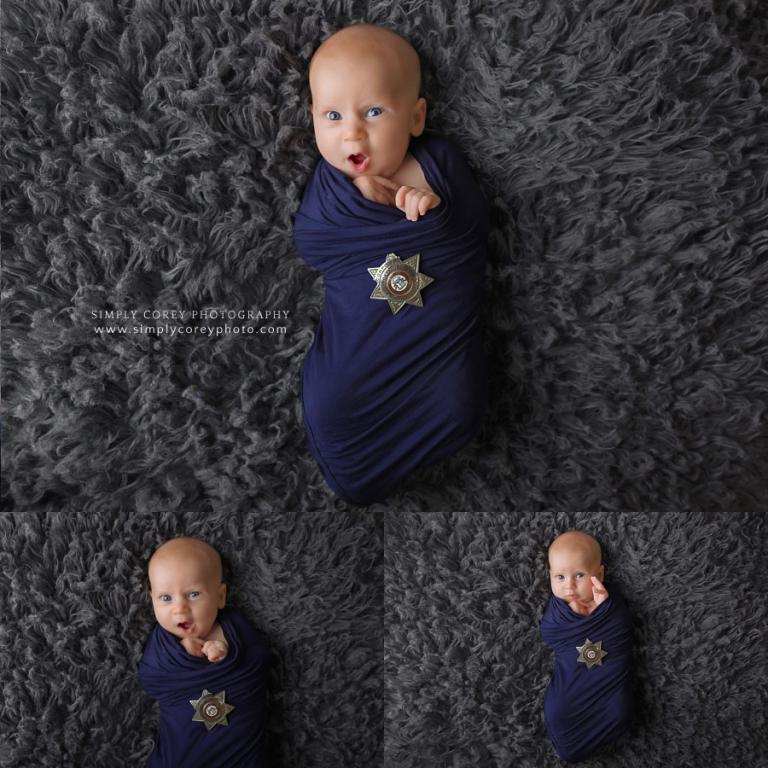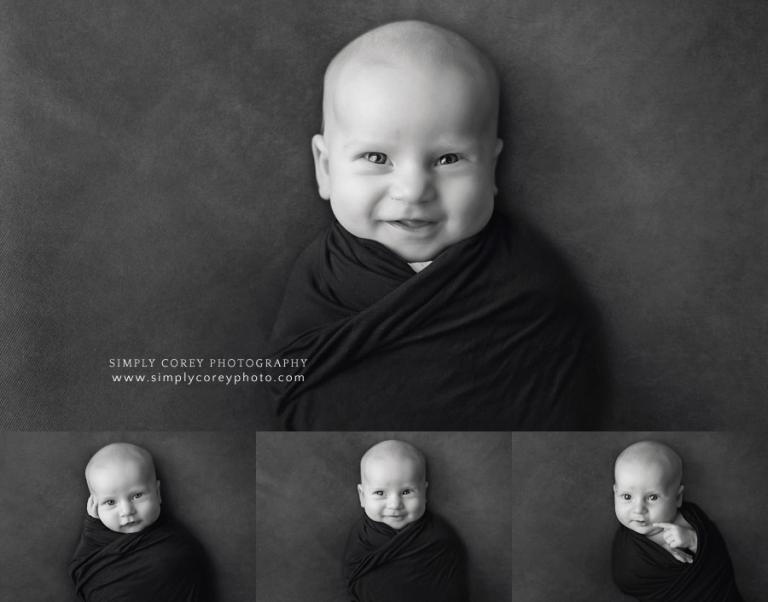 More with his daddy's badge and some cute little camouflage pants!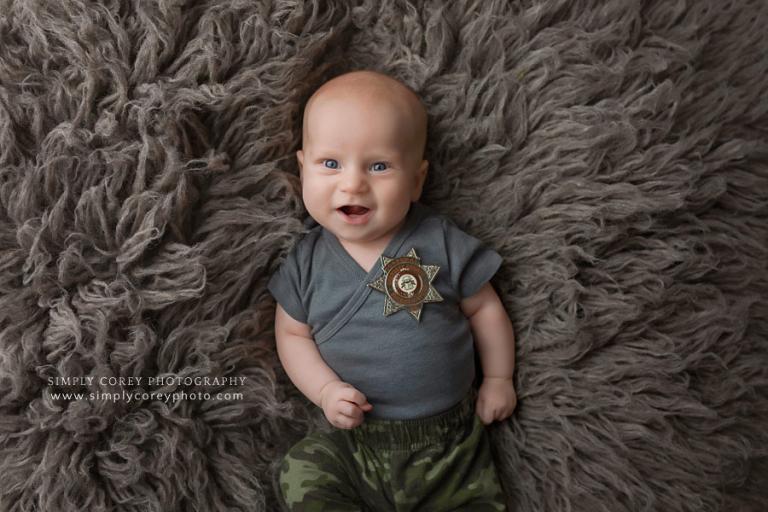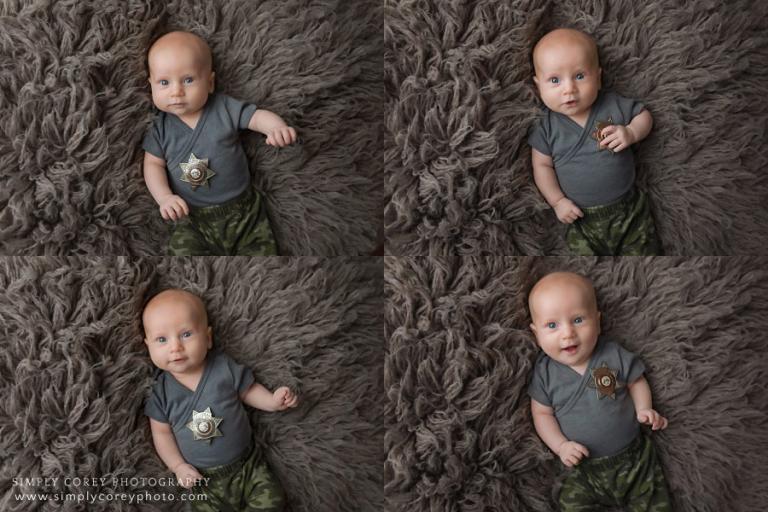 I think Wyatt was the smiliest 2 month old I have ever photographed. Such a happy baby!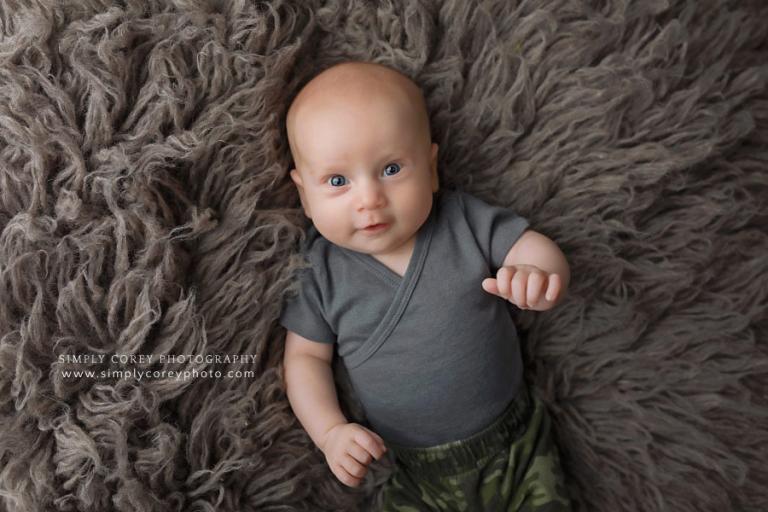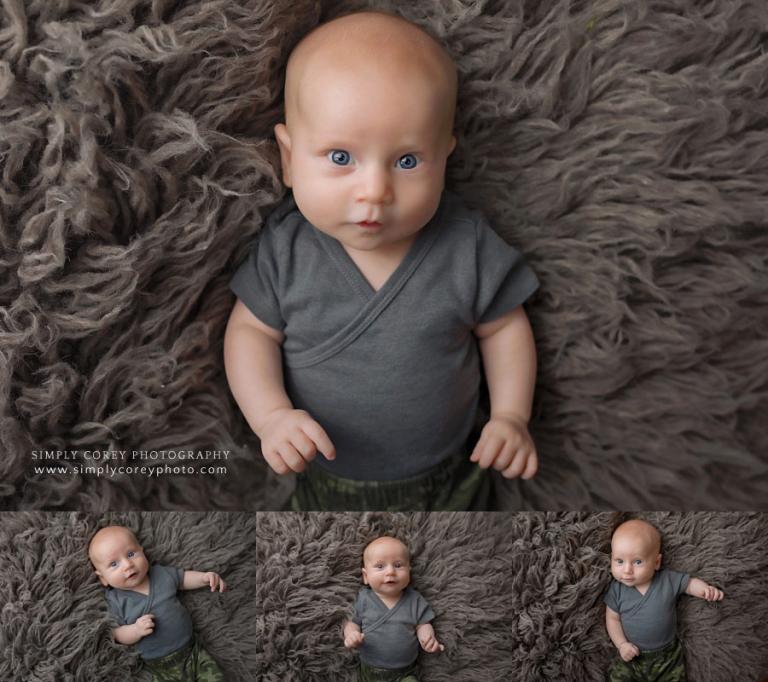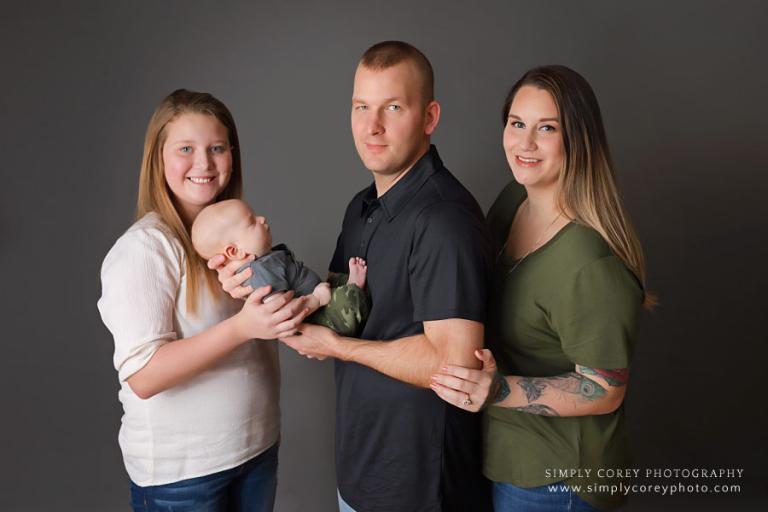 Then we ended the session with some photos with Mom, Dad, and big sister. ♥ You may recognize this beautiful family from their maternity session up on the blog!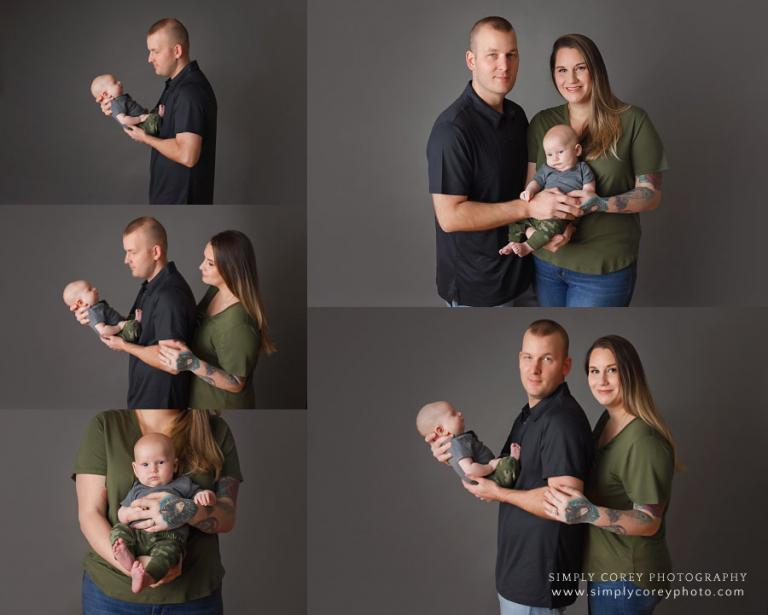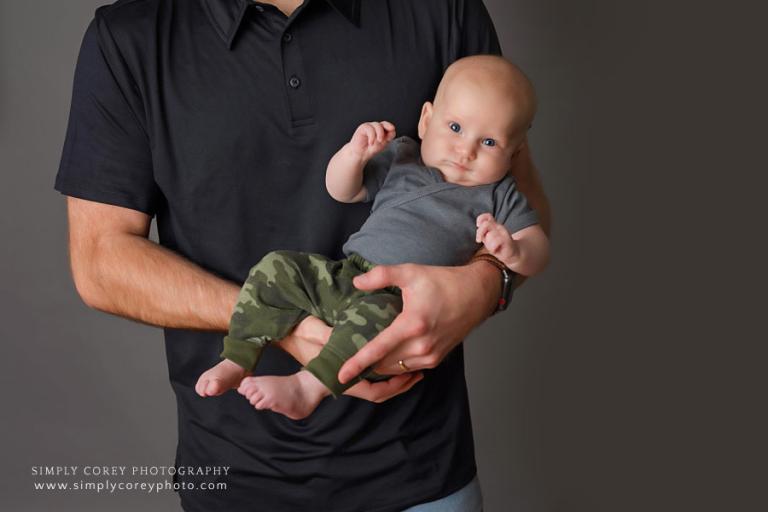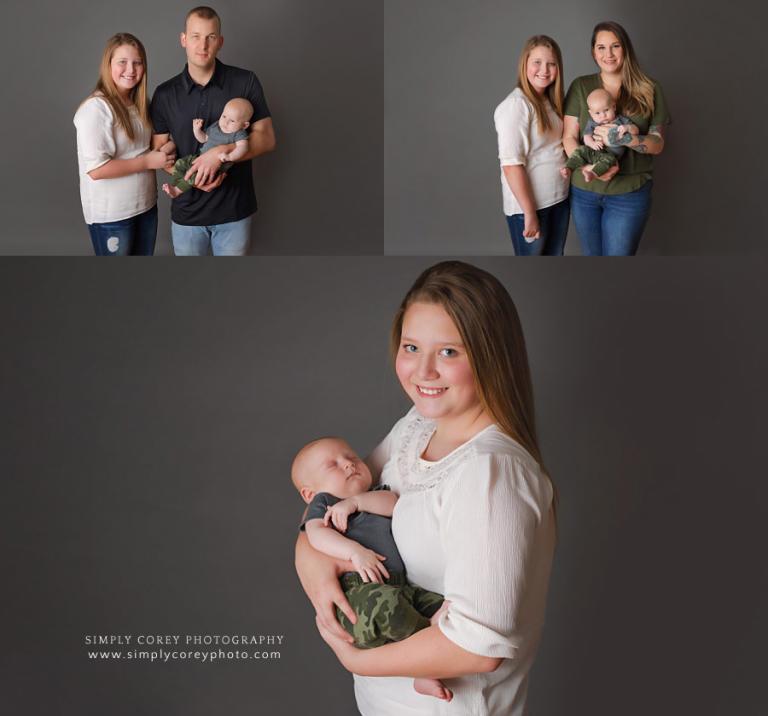 . . .
More About Douglasville Newborn Photographer, Simply Corey Photography:
Simply Corey Photography is located in West Georgia, near Douglasville, Carrollton, Villa Rica, Newnan, and Bremen. I began my photography business at the end of 2004, and have photographed many maternity, newborn, and baby milestone sessions throughout metro Atlanta since then.
Newborn sessions may be held in the studio or in your greater Atlanta home, and are best held when baby is between one and three weeks old. Maternity sessions are also available and are best held between 32 and 37 weeks. You're welcome to request detailed pricing and my availability by using the form on my contact page.
Members of my VIP Facebook Group and subscribers to my email newsletter are first to receive announcements for exclusive photography specials, mini session announcements, and other news from time to time. You are also welcome to connect with Simply Corey Photography on Facebook and Instagram!