This senior session is one of my all-time favorites. Most teen guys aren't exactly excited about their senior portraits and are usually just making their moms happy by doing them … including my own. Ha! The good news is they all end up having a great time because I make it fun and easy.
This young man's mom may have joined him for his session, but he wasn't just there for her. We had a lot of fun capturing different looks and a few of his interests … starting with music and one of his guitars!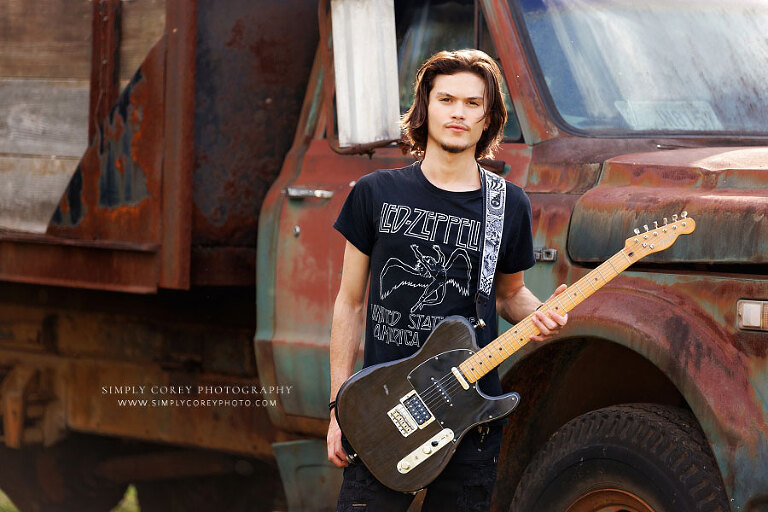 Our vintage dump truck was perfect for these too!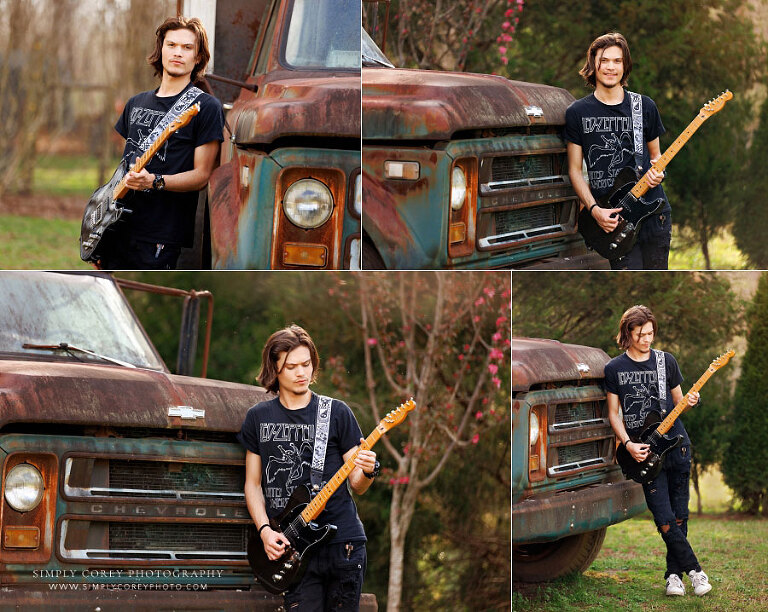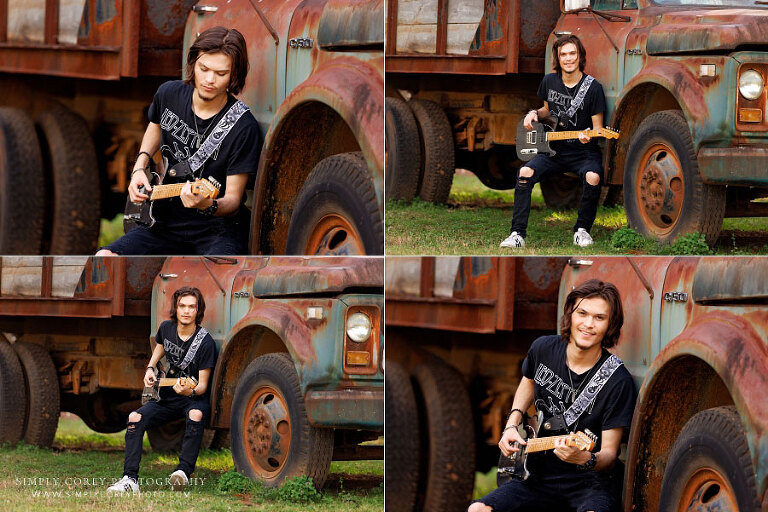 A quick change into a hoodie and beanie for a different look – and I love how these look in black and white!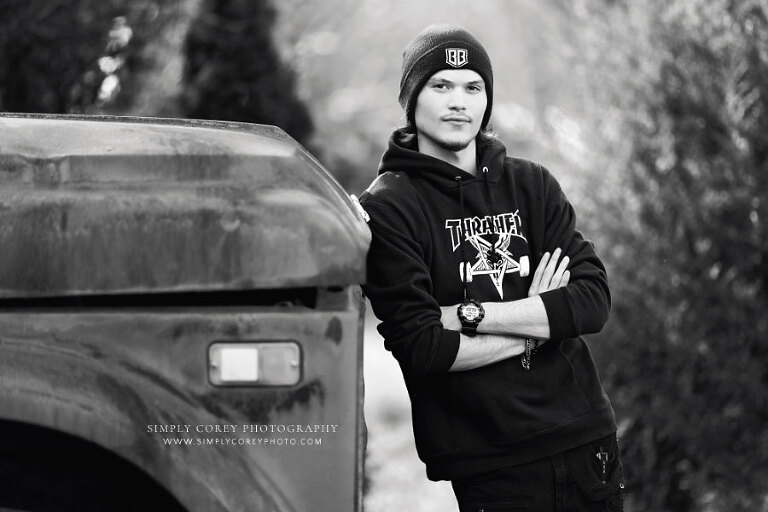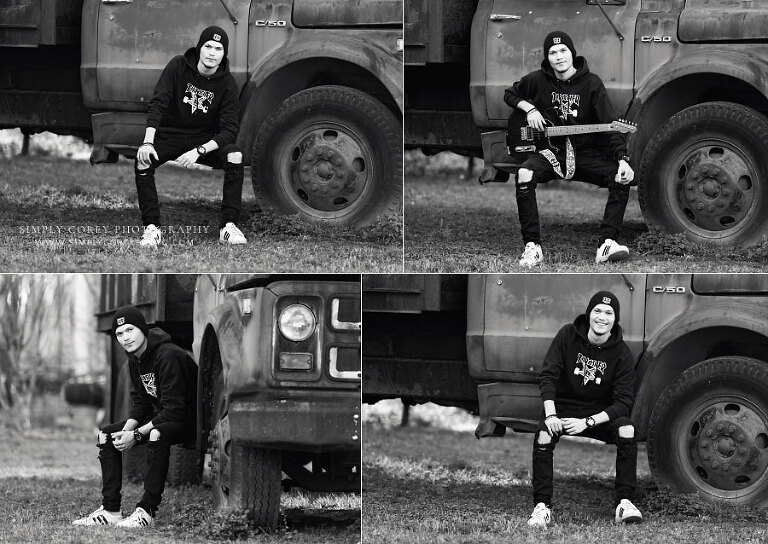 Yep, he understood the assignment. Ha! He was definitely a natural in front of the camera!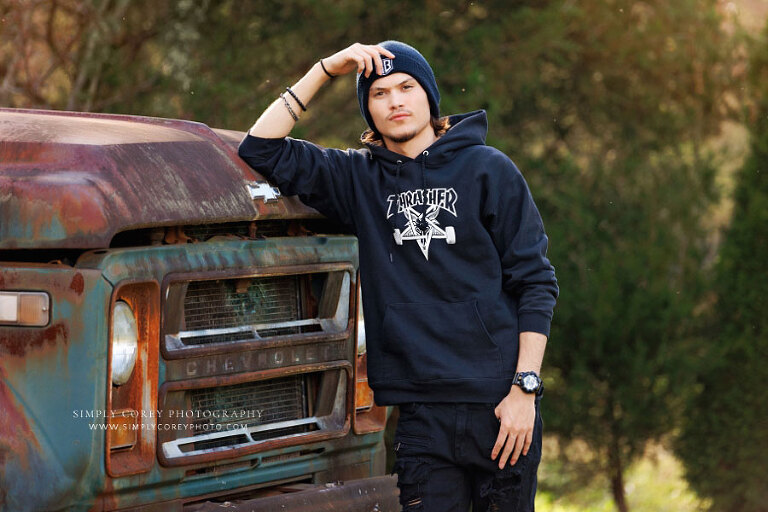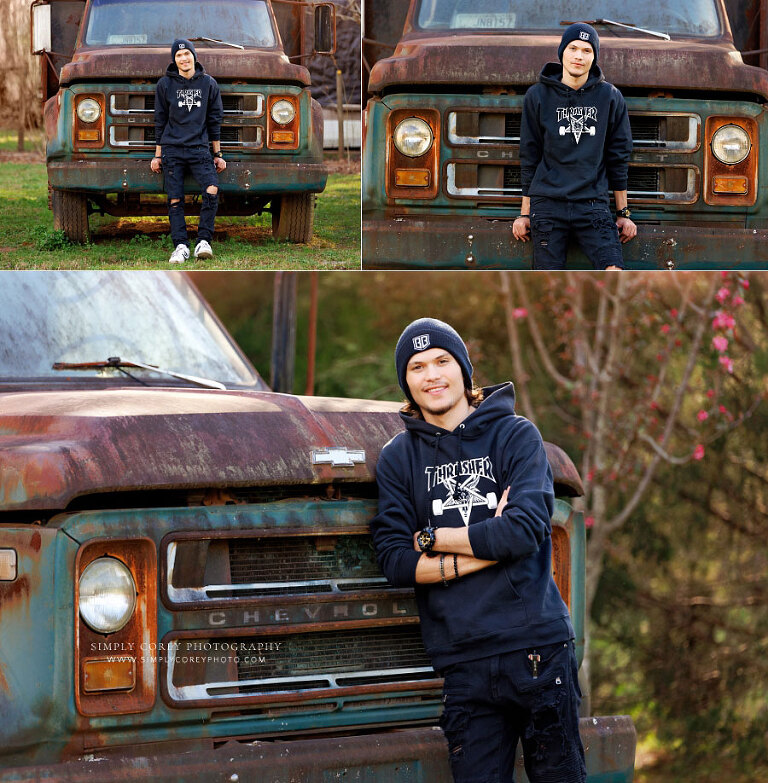 Next, he changed into some camo and we headed to a field for some photos with his Beretta rifle …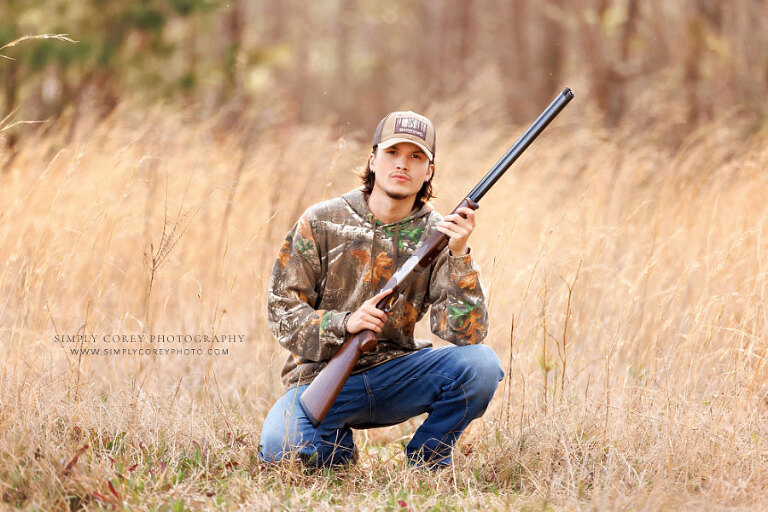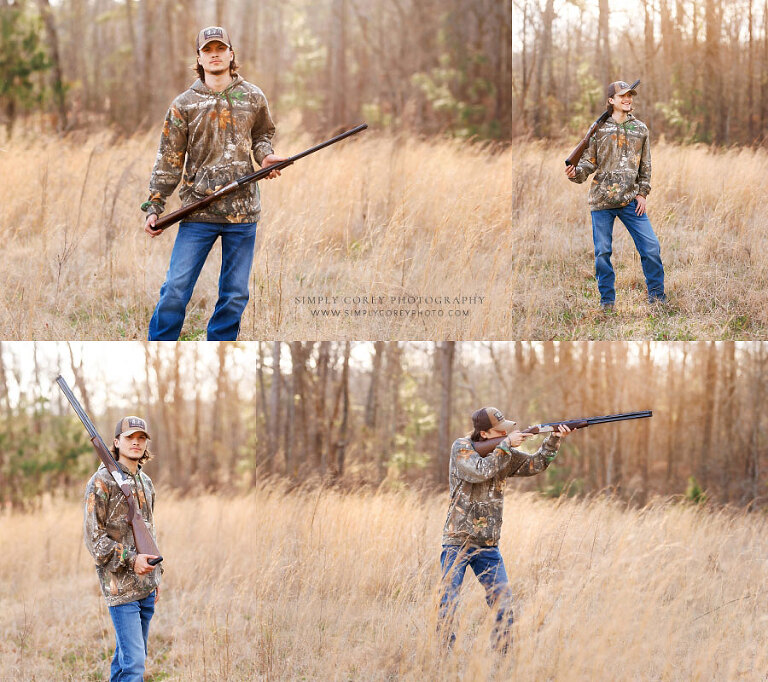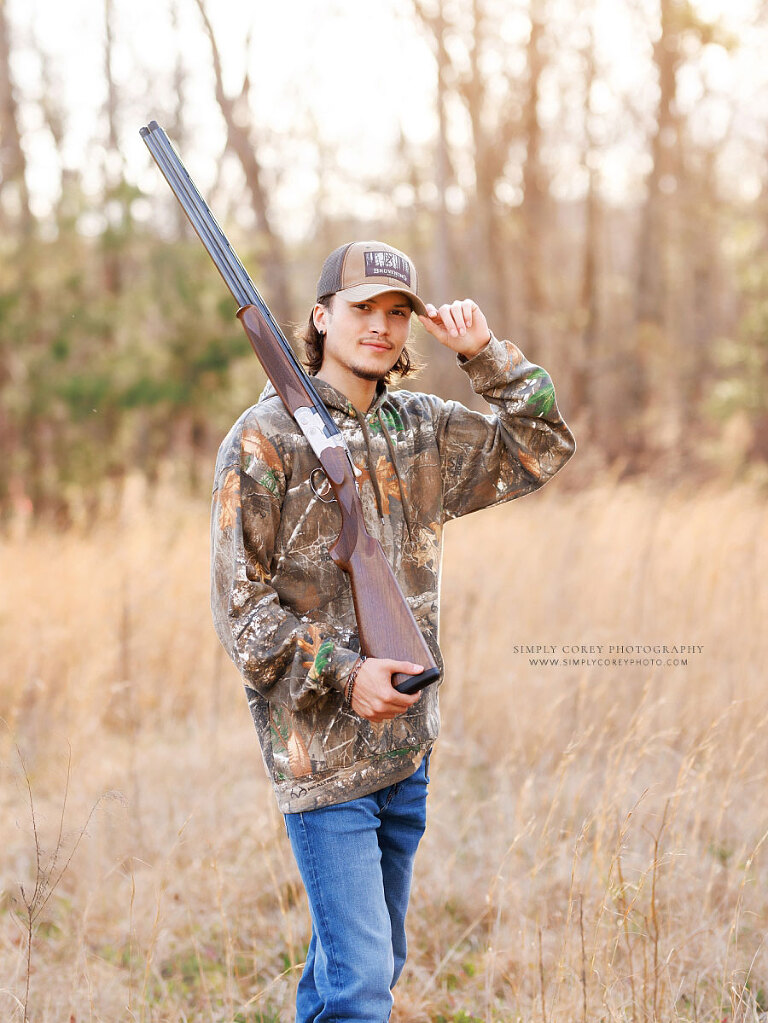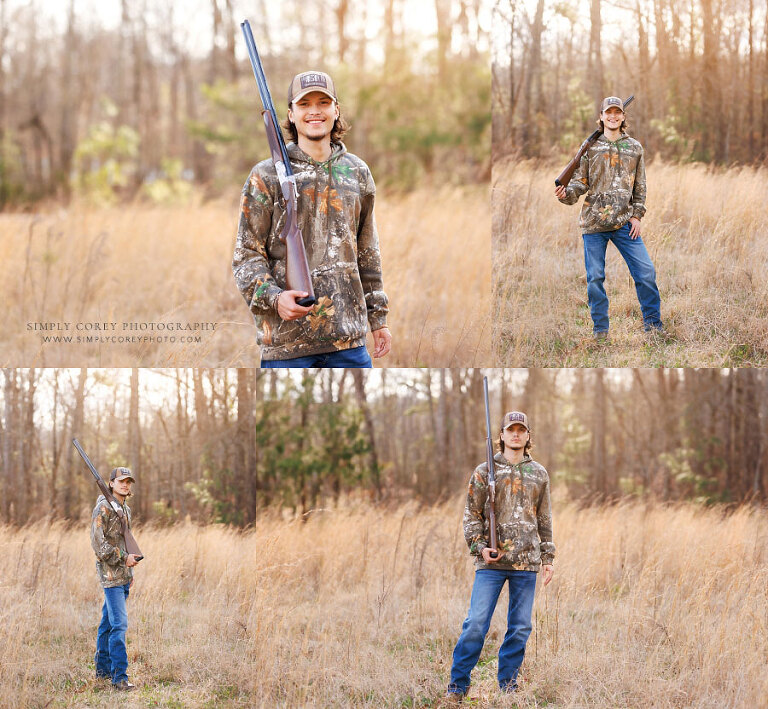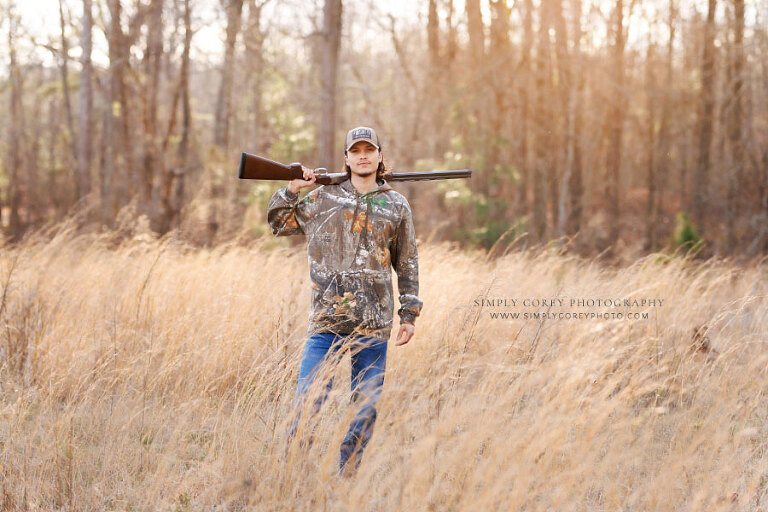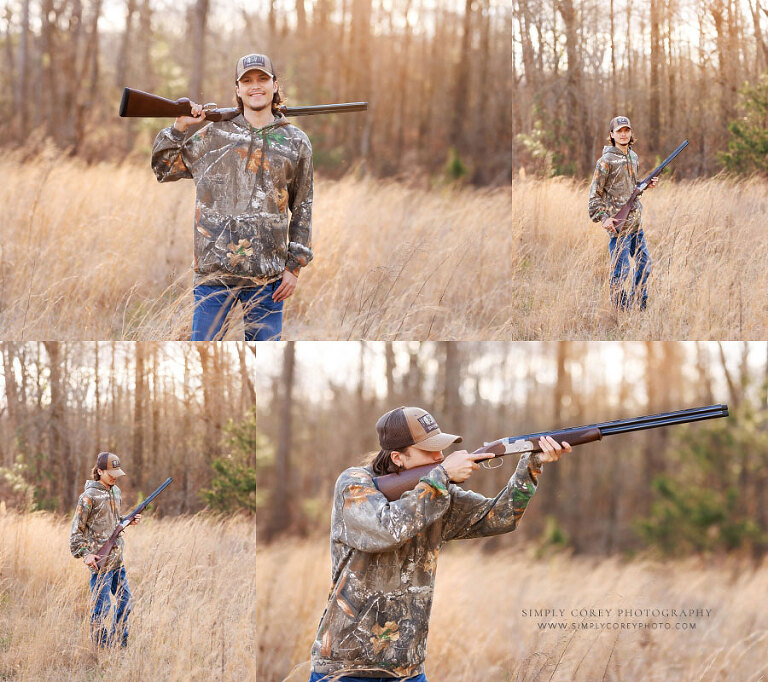 His mom had mentioned wanting an American flag for his session and I made it happen … by using the flag we had flying on our porch! Ha!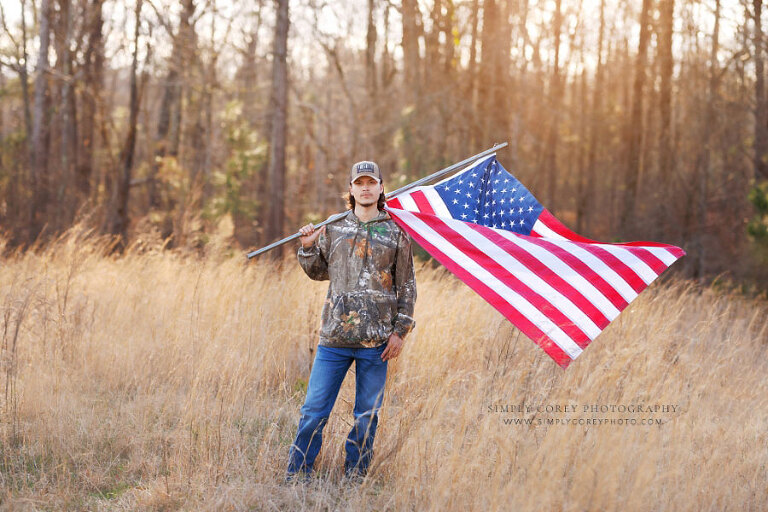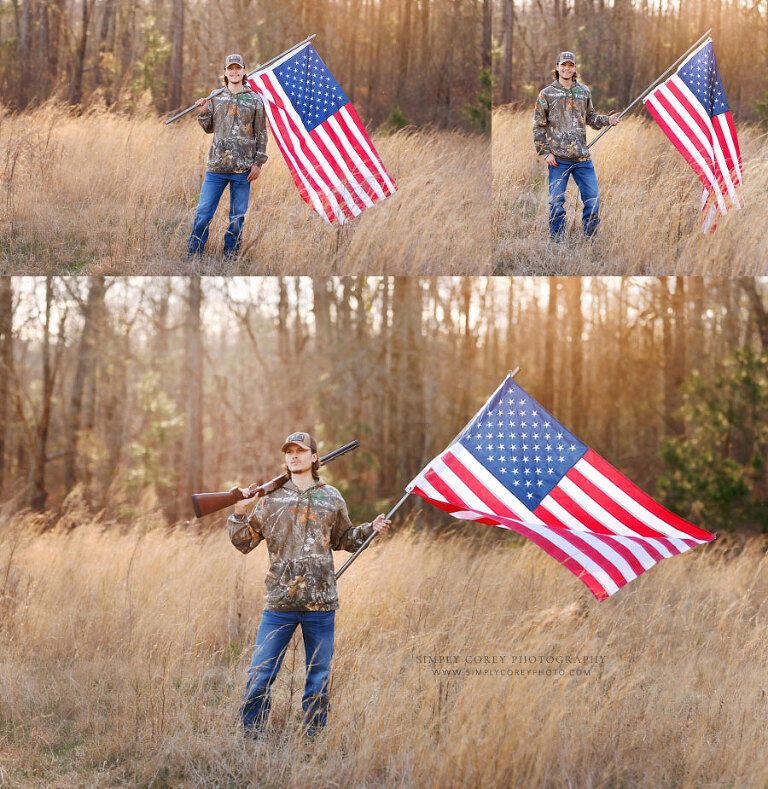 After photos in the pasture, we stayed outside and did some photos with his truck …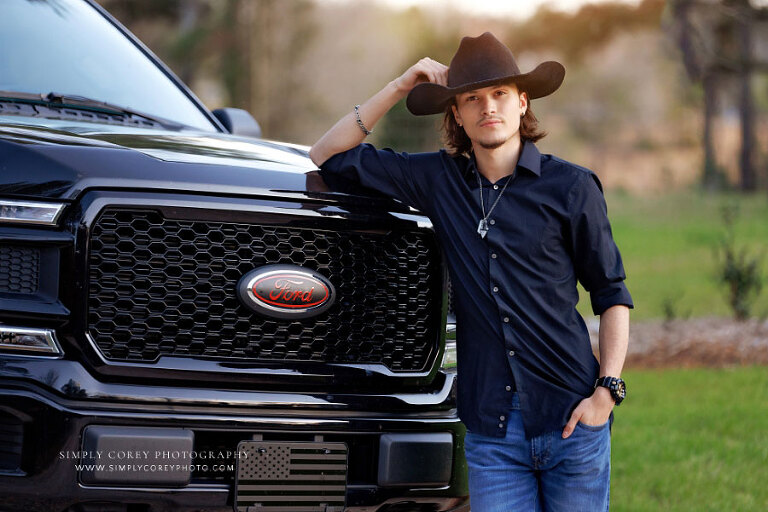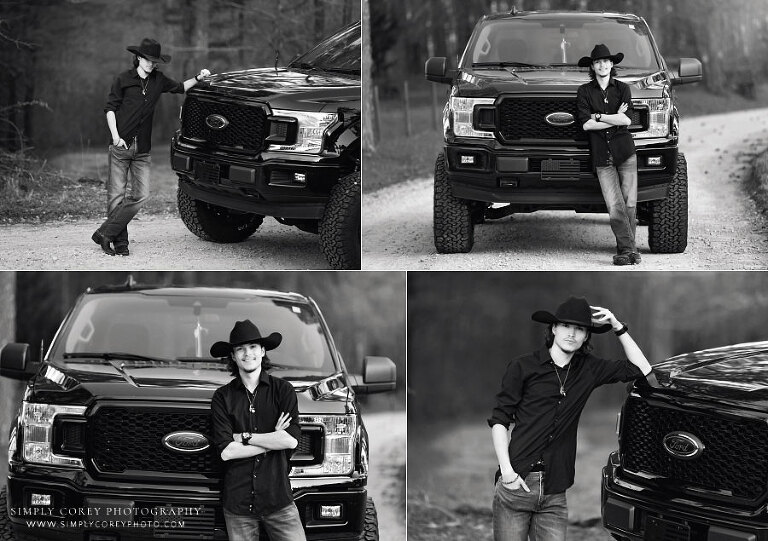 He brought his NRA flag and we used my American flag again. We weren't sure how we were going to keep the flags up on the tailgate, but his mom came to the rescue and held them in place from inside the bed! Ha!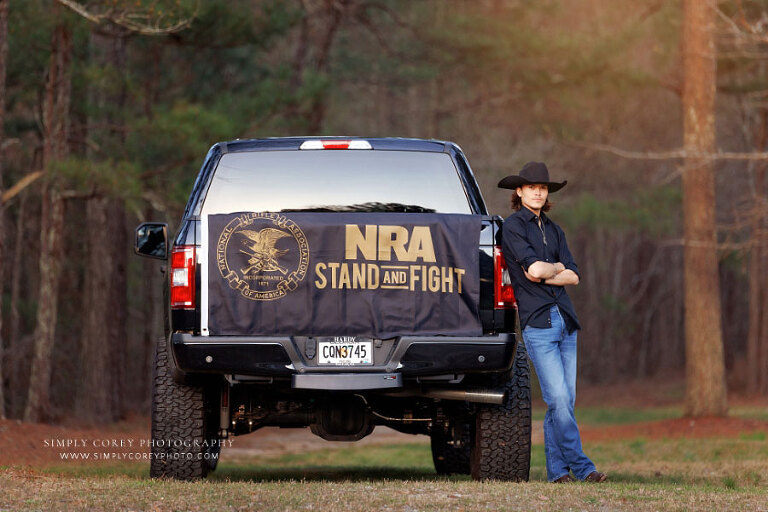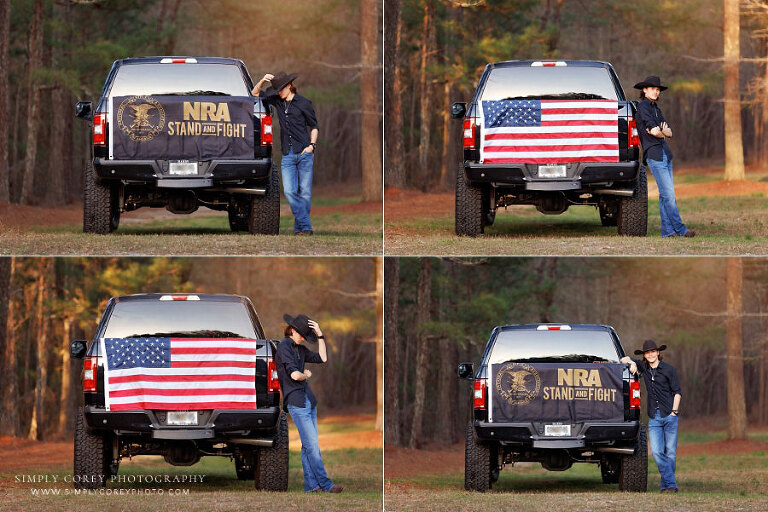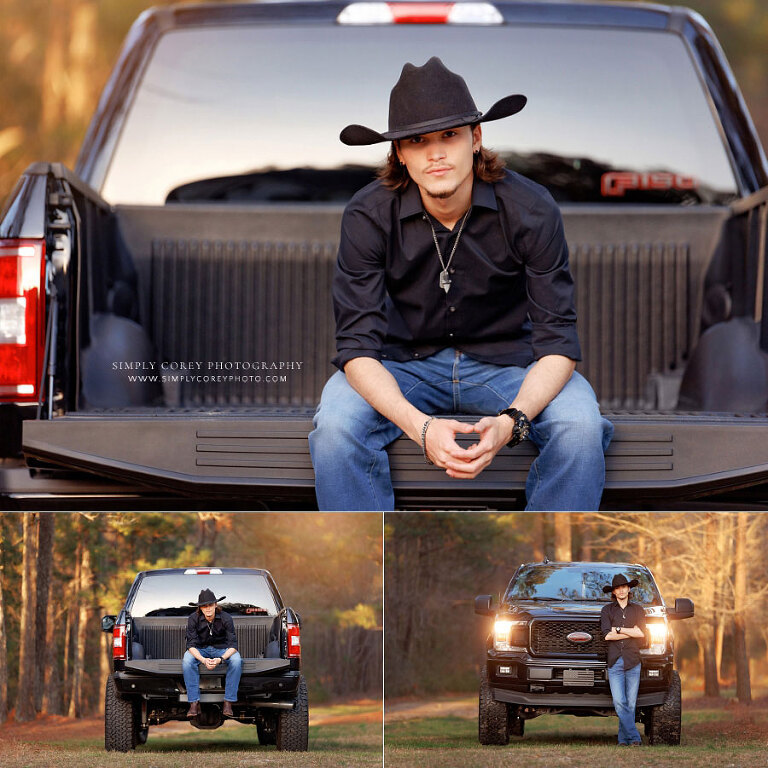 I love the photos with his headlights on!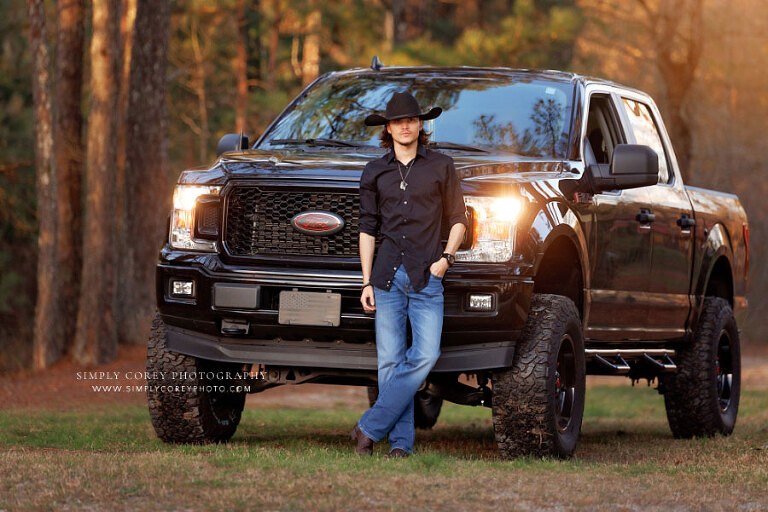 We ended his session in the studio with an American flag backdrop. It was the perfect addition to his senior portraits!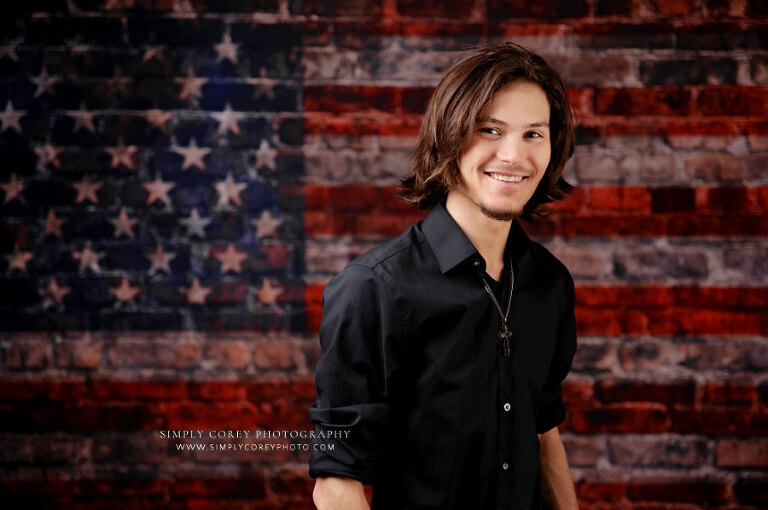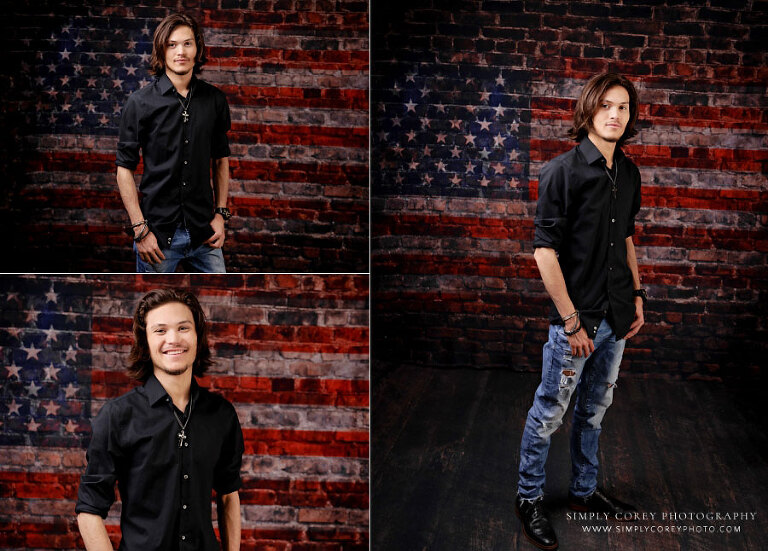 I love that he included his acoustic guitar for these …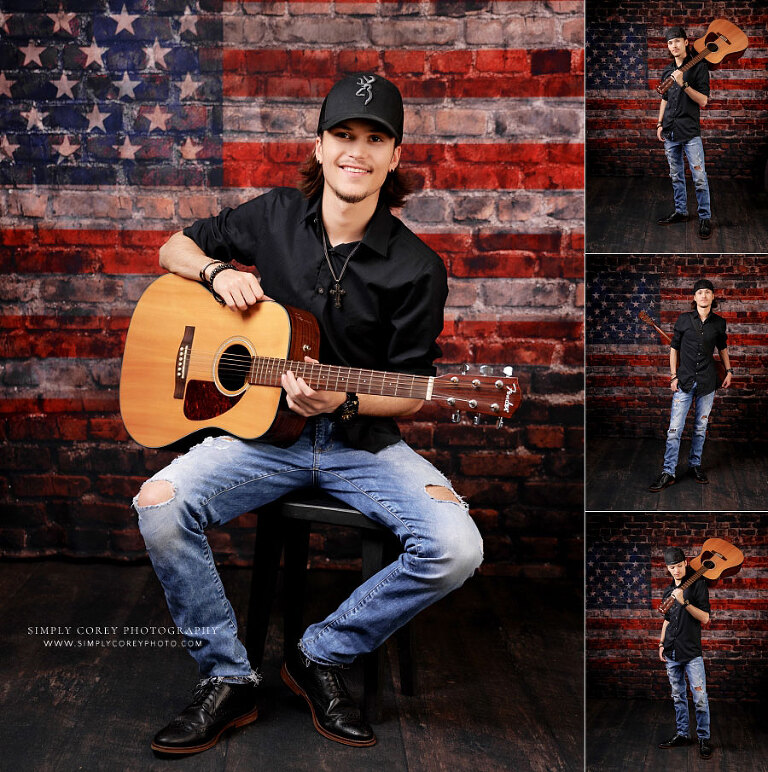 This session was held almost a year ago, so Tarian has already graduated, but I have so many favorites from his session and had to feature it on the blog.
Congratulations again to you, Tarian! I wish you the best in all you do!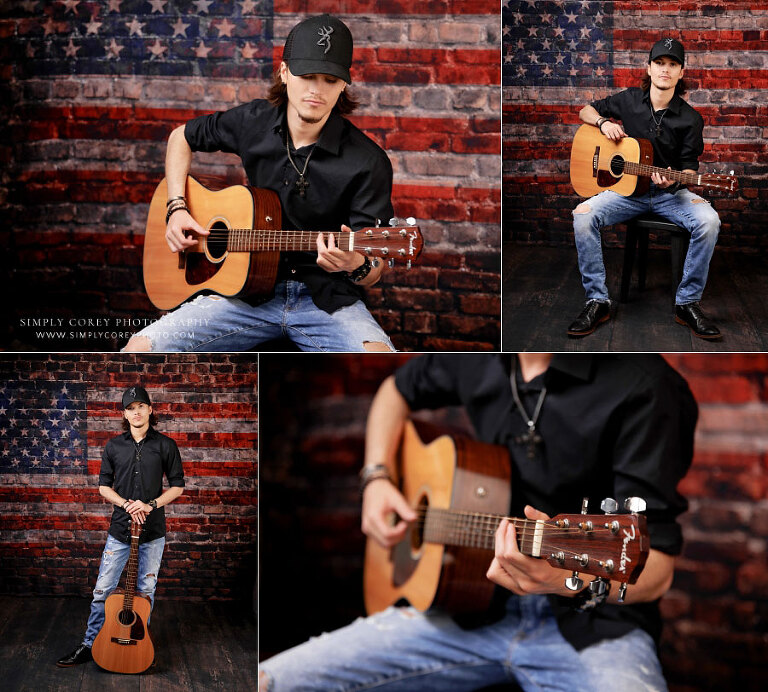 . . .
MORE ABOUT HIRAM SENIOR PORTRAIT PHOTOGRAPHER, SIMPLY COREY PHOTOGRAPHY:
Simply Corey Photography is located west of Atlanta, near Villa Rica, Douglasville, Newnan, Tyrone, Hiram, and Carrollton, Georgia. I have been a professional photographer since late 2004 and have photographed many teens and high school seniors throughout the greater Atlanta area over the last eighteen years.
Teens and seniors may have their portrait sessions in the studio, at my private outdoor location, or at the location of their choice within metro Atlanta. This can be a downtown area, a park, or somewhere related to their extra-curricular activities or interests.
Do you have a high school senior graduating soon? Senior portrait sessions may be held any time before or during your teen's senior year. You're welcome to request more information about custom portrait sessions by using the form on my contact page.
Members of my VIP Facebook Group and subscribers to my email newsletter receive the first announcements for exclusive photography specials, mini session announcements, and other news from time to time. Be sure to sign up! You are also welcome to connect with Simply Corey Photography on my Facebook page and Instagram!