This was my 15th year doing Santa Claus Mini Sessions, and they are always my favorite! I love capturing babies and kids as they visit with Santa. Whether it's their first time or their 7th, it's always so much fun. Mini sessions with Santa Claus have become a yearly tradition for several of my families, and I love seeing how reactions to Santa change over the years as kids get older. Thank you to everyone who came to see us this year! ♥
These twin baby boys did so well considering it is their first Christmas! They took their visit very seriously, but there weren't many tears at all … and check out that sweet pouty lip in the middle photo!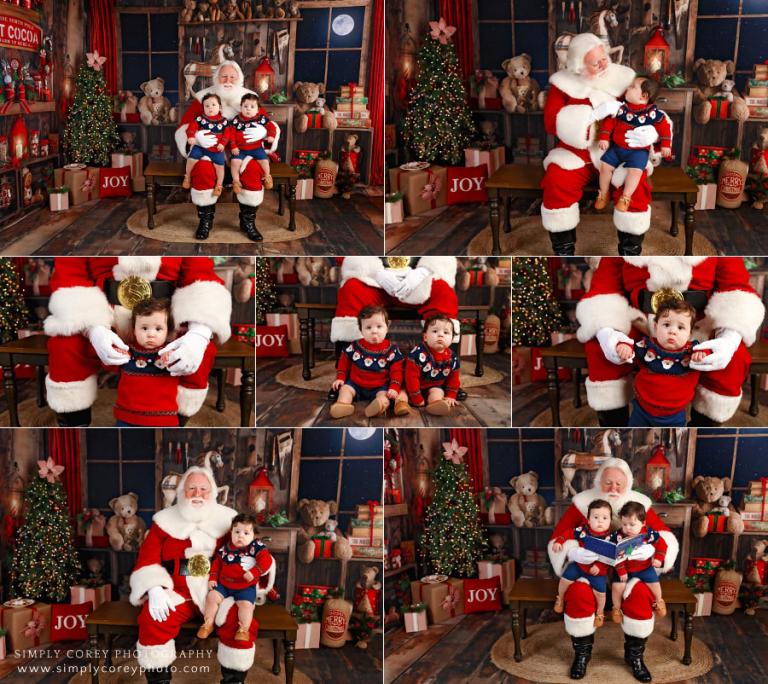 These adorable sisters came decked out in beautiful classic nightgowns that their grandma made for them! Both had a great visit … and I especially love the sass of the younger sister. Just look at that finger in the bottom photo. Ha!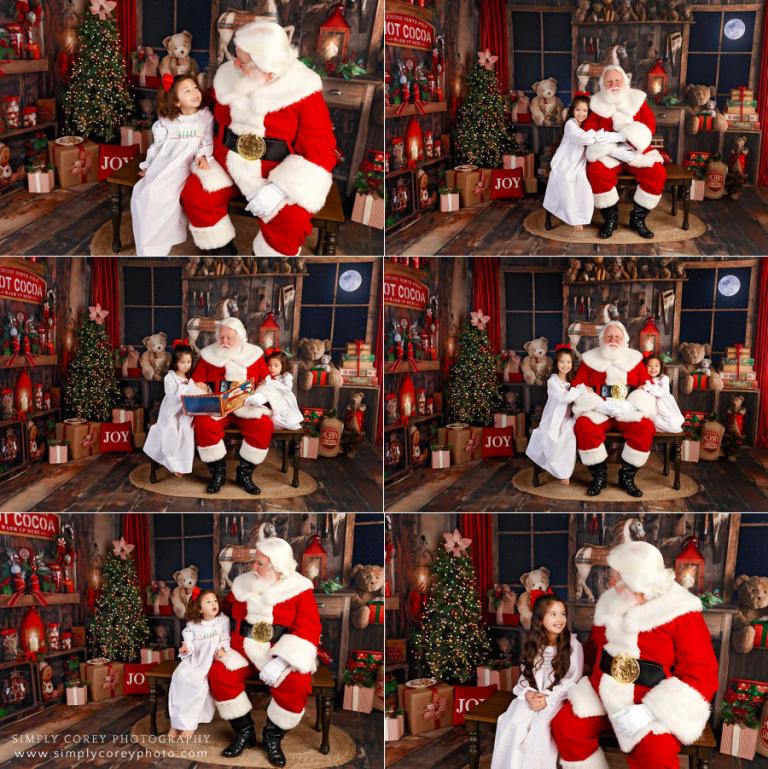 These sweet siblings came with sweets to share with Santa – some Little Debbie Christmas tree cakes that matched the girls' dresses! So fun!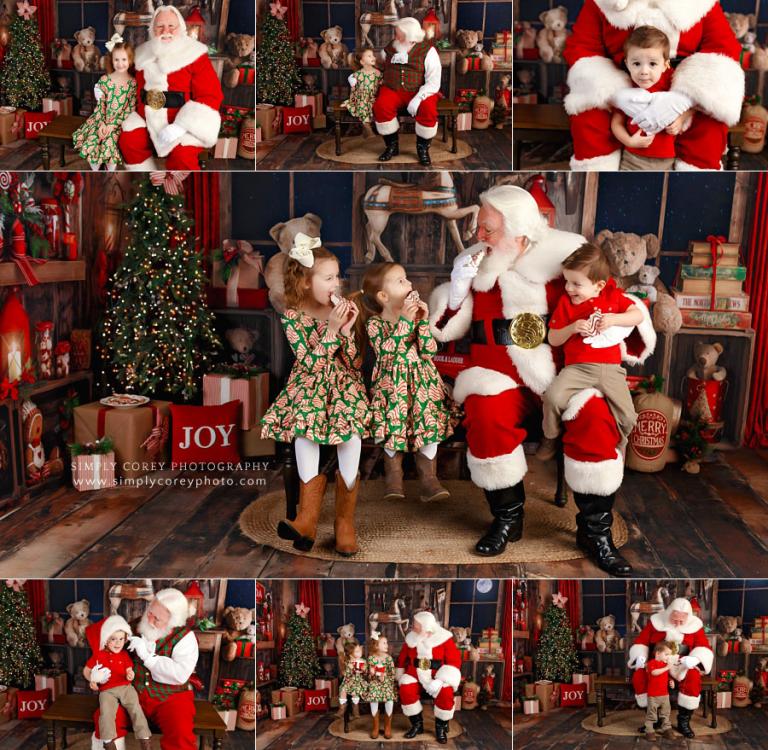 This little cutie wasn't sure about trying on Santa's hat this year, but she looked even cuter once we talked her into it!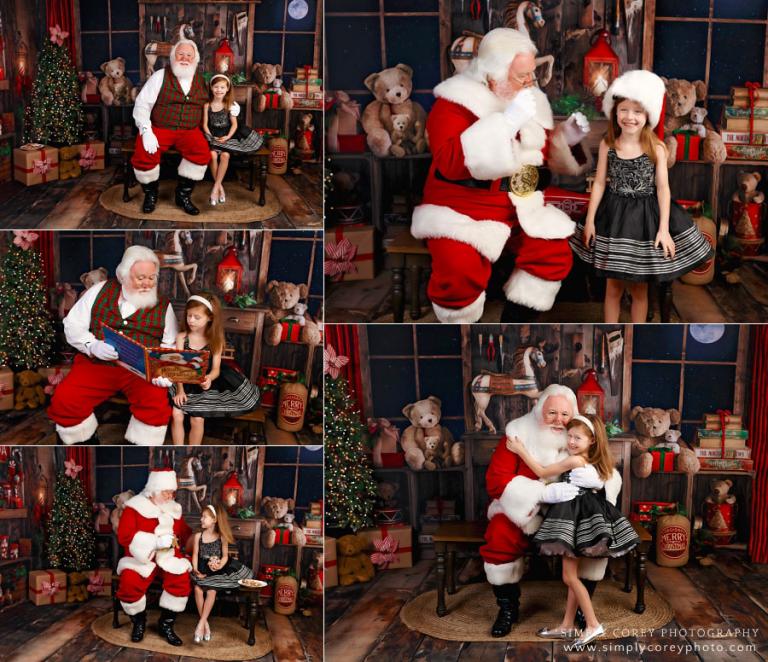 This little guy is bursting with personality and he had the best time visiting Santa this year. So many smiles!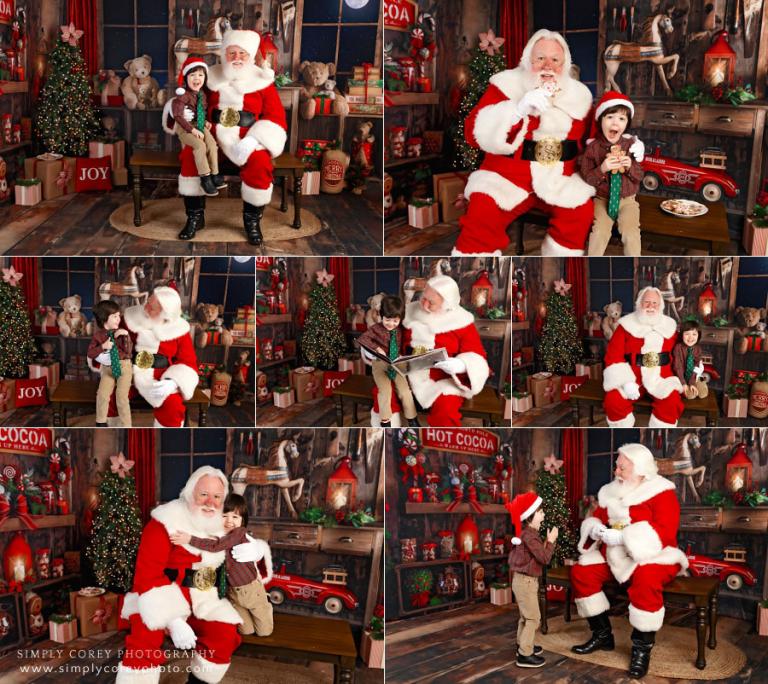 I enjoyed meeting these two (and their parents) this year, and the boys had a great time meeting Santa. The oldest boy reminded me of my own science-loving son … shenanigans and all (middle photo – ha!).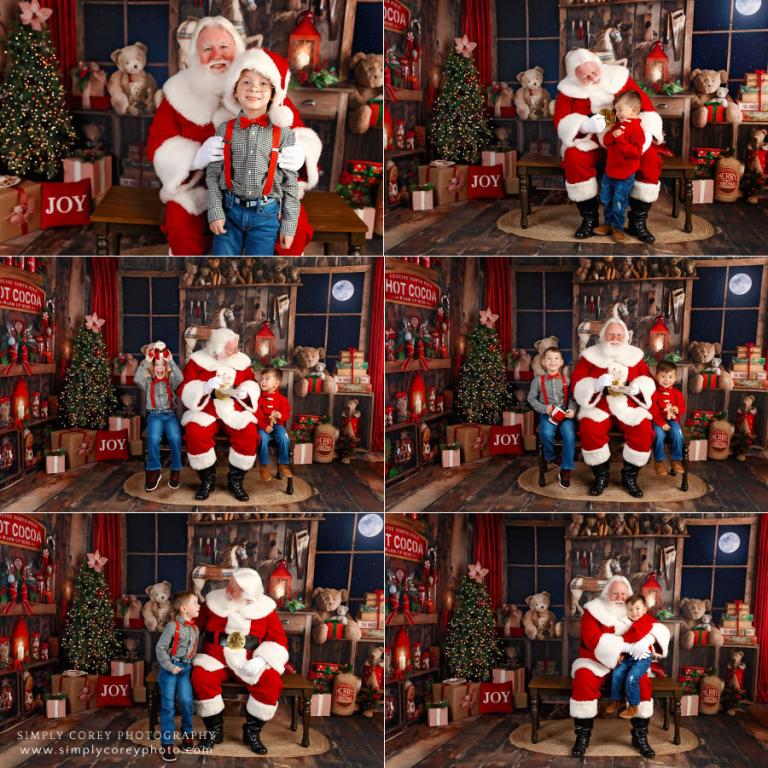 These two have been visiting Santa for a few years now and I love that they were still so into their visit. There was so much laughter!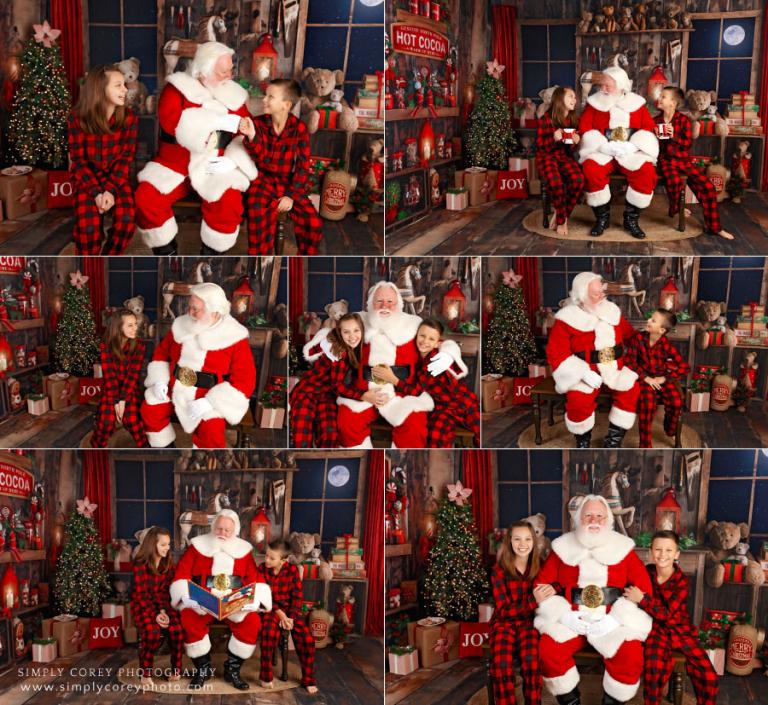 I have photographed this handsome little guy since he was a newborn, but it was his first Santa session with me. That smile of his made my day!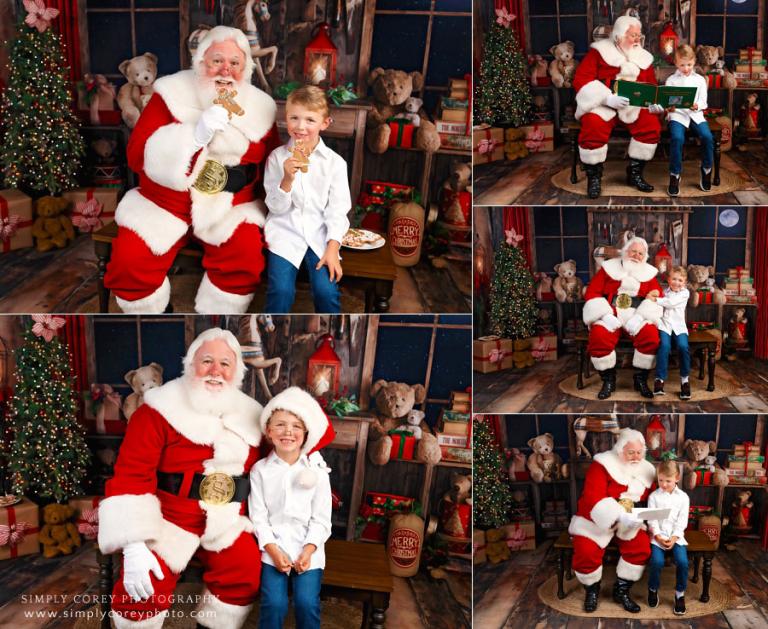 Little sister was asleep when they arrived for their session, so we handed her to Santa and got a sweet sleepy photo! We began to wonder if that's all we were going to get, but she woke up and all three siblings had a great visit.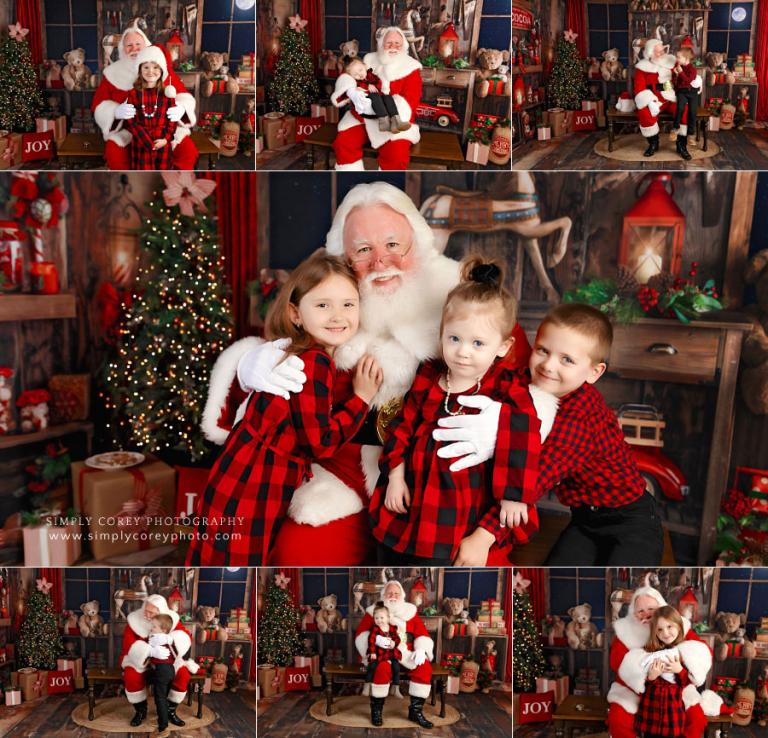 Almost everyone enjoyed Santa this year. This sweet baby girl did great last year, but this year she wasn't too sure. She ran away and there were some tears, but her Mom helped her warm up just enough to get the last photo. Maybe next year will be better!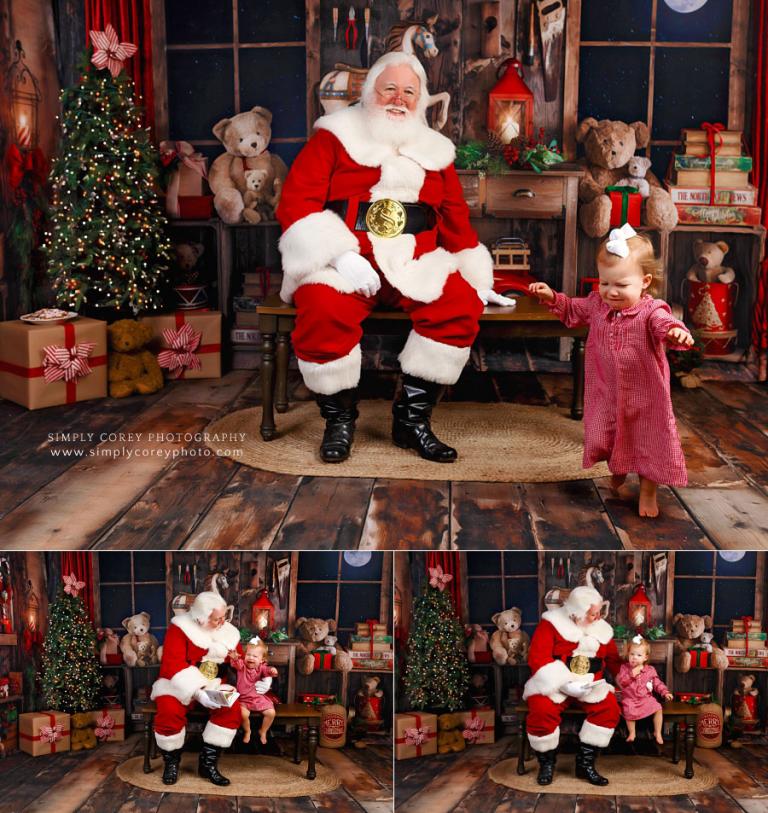 These twins are some of the sweetest boys I've ever met. Such good manners – and so super cute in those Santa hats!
This family has been coming to see Santa for several years – since big brother was a baby! Little sister decided to be shy this year, but we got her talking to Santa before long.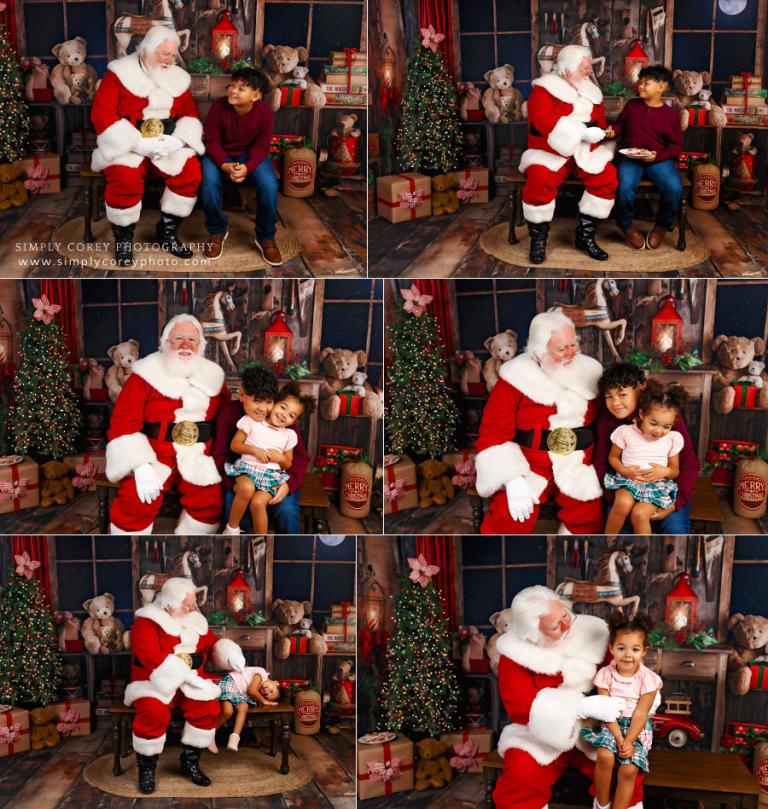 You can see how much excitement and love for Santa these girls had just by looking at those smiles – and those big hugs!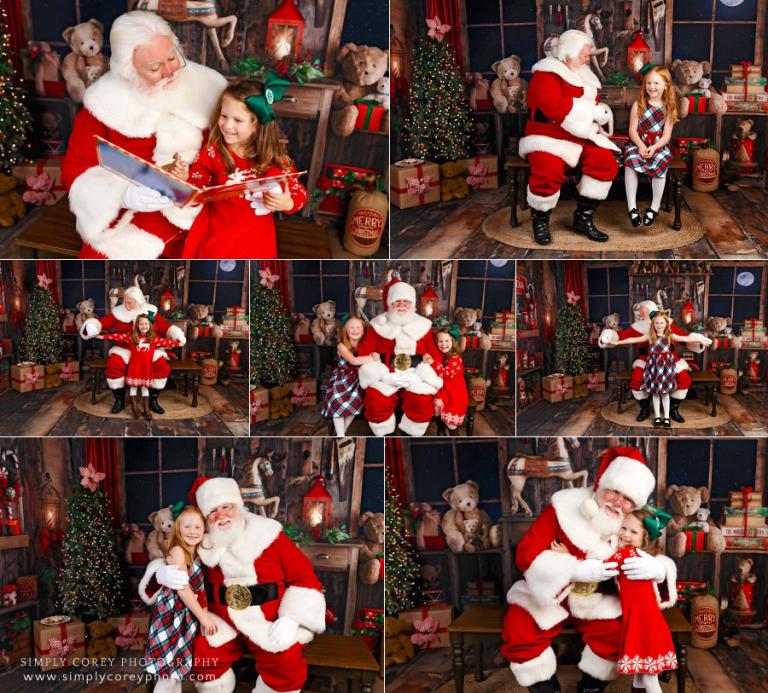 This adorable baby girl didn't know what to think of Santa Claus, but we were still able to get some sweet photos of their visit together – and even one by herself when she had had enough.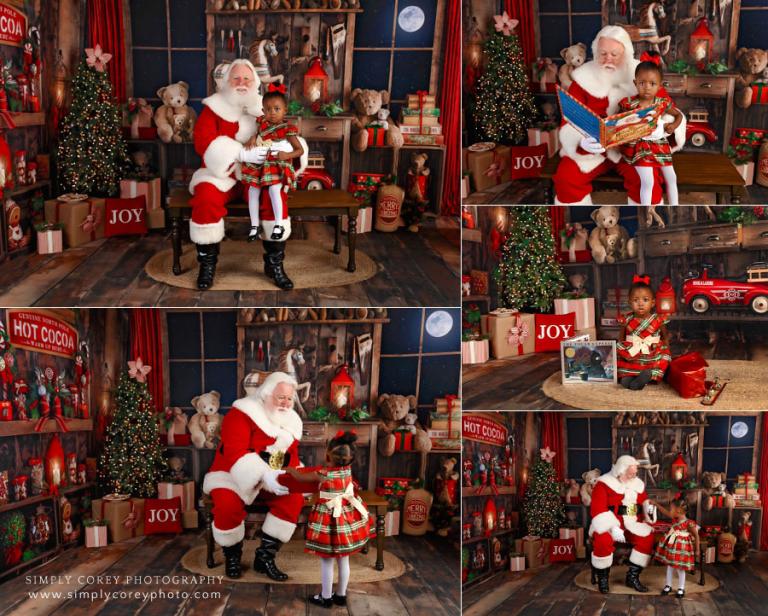 These cousins have been visiting Santa for a few years now, and every visit is so full of joy – and silliness!
This cutie was a little unsure of Santa last year, but this year he was all smiles and chatted him up! He also had the best dinosaur Christmas pajamas!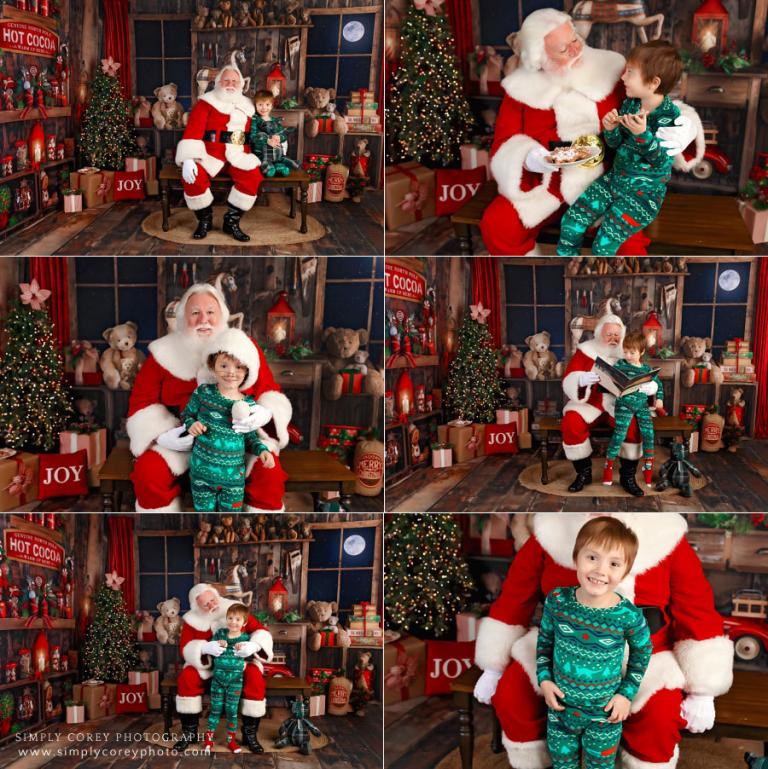 These brothers have been coming to see Santa since they were wee ones. Santa had to sit on the floor and color with little brother during one of his first visits – and now they're buddies!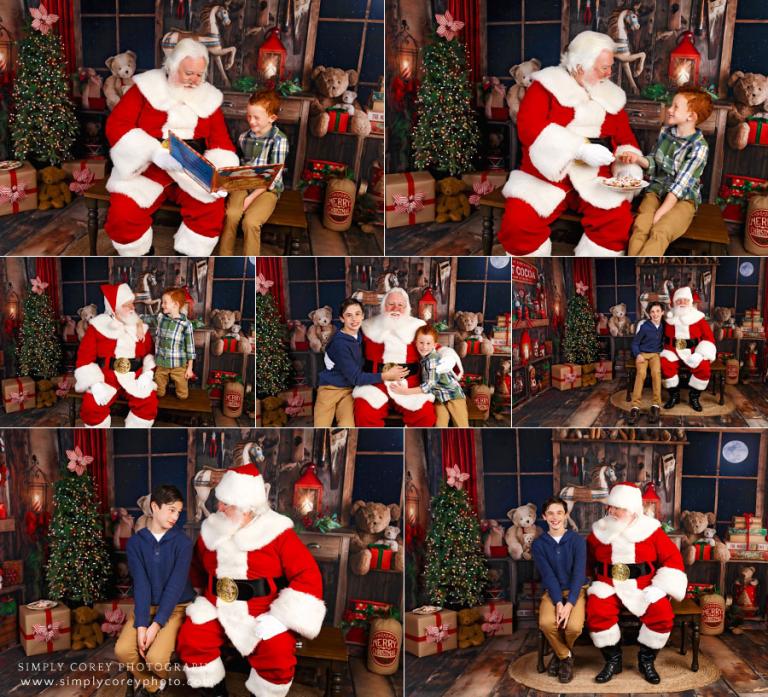 This sweet girl started off with a few photos by herself because she was so nervous about meeting Santa. We had Santa join her once we had her seated with her Curious George book – and it wasn't long before she was excited about showing it to him!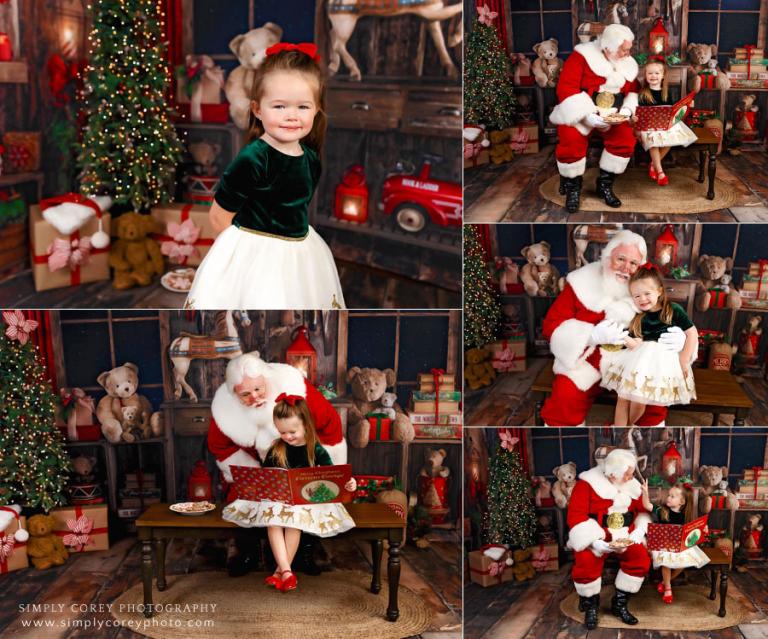 These two have a special relationship with Santa, and I am always glad I can capture their memories for them.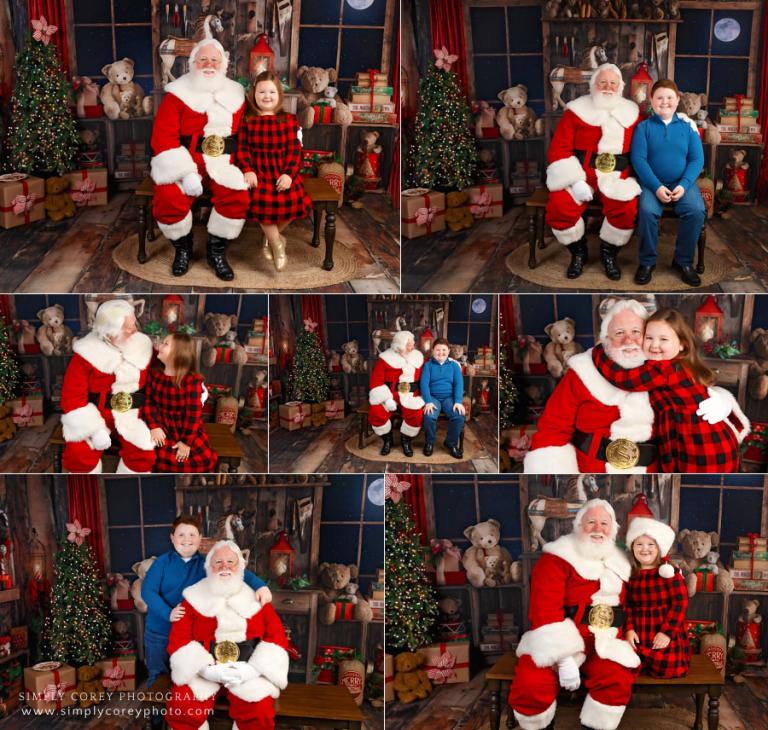 . . .
MORE ABOUT ATLANTA SANTA CLAUS MINI SESSIONS BY SIMPLY COREY PHOTOGRAPHY:
Simply Corey Photography is located west of Atlanta, near Carrollton, Douglasville, Newnan, Villa Rica, and Dallas, GA. I have been a professional photographer since 2004, and have photographed many babies, children, and families throughout greater Atlanta.
Santa Claus Mini Sessions with Simply Corey Photography are held early each year – typically the end of October in Cumming and early November in Douglasville. Dates are typically announced in the summer.
All other mini sessions are held exclusively at my outdoor location or in the studio on specific days throughout the year. More information and a list of current mini session events can be found here on the mini session section of the website.
Custom portrait sessions are also available for maternity, newborns, babies, kids, teens, and families. Please request detailed pricing and my availability by using the form on my contact page.
Members of my VIP Facebook Group and subscribers to my email newsletter are first to receive announcements for exclusive photography specials, mini session announcements, and other news from time to time. You are also welcome to connect with Simply Corey Photography on Facebook and Instagram!