I had the pleasure of photographing this handsome baby boy and his family just shy of two weeks after he was born. He had to spend a little time in the NICU to help regulate his breathing but thankfully he was home in no time!
There are three beautiful furbabies in this home but we only photographed Bennett with Gizmo. He is the smallest dog of the bunch – but the alpha of the house. I am pretty sure Gizmo thought I was there just for him!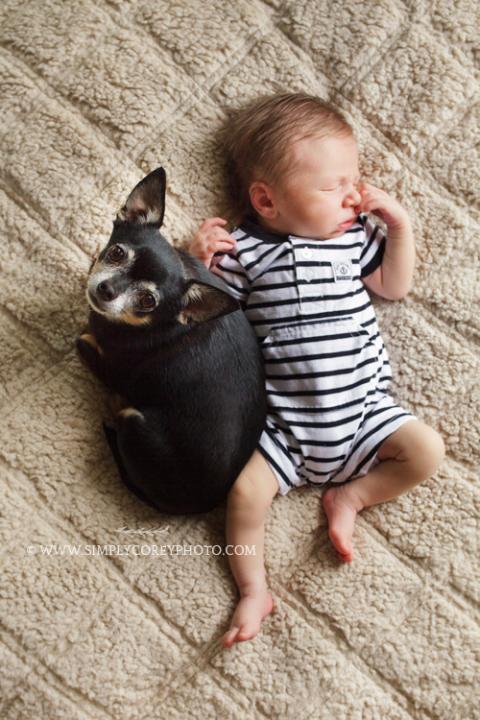 Dad is in the US Navy so we used his hat, neckerchief, and dog tags for a few photos. You can't see it in this picture, but baby Bennett's outfit says "Little Sailor" on it. ♥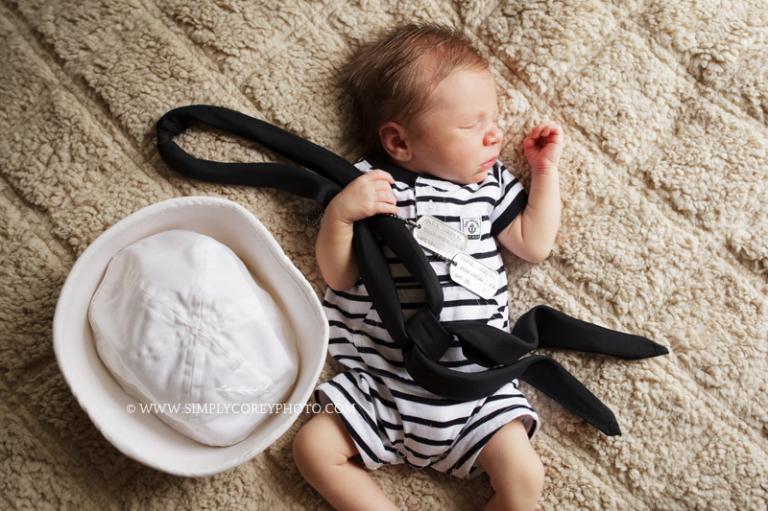 Both Mom and Dad love college football – but different teams – so we had to get some "house divided" photos just for fun. Just look at that dimple! I love that he was smiling for both of Mom and Dad's teams.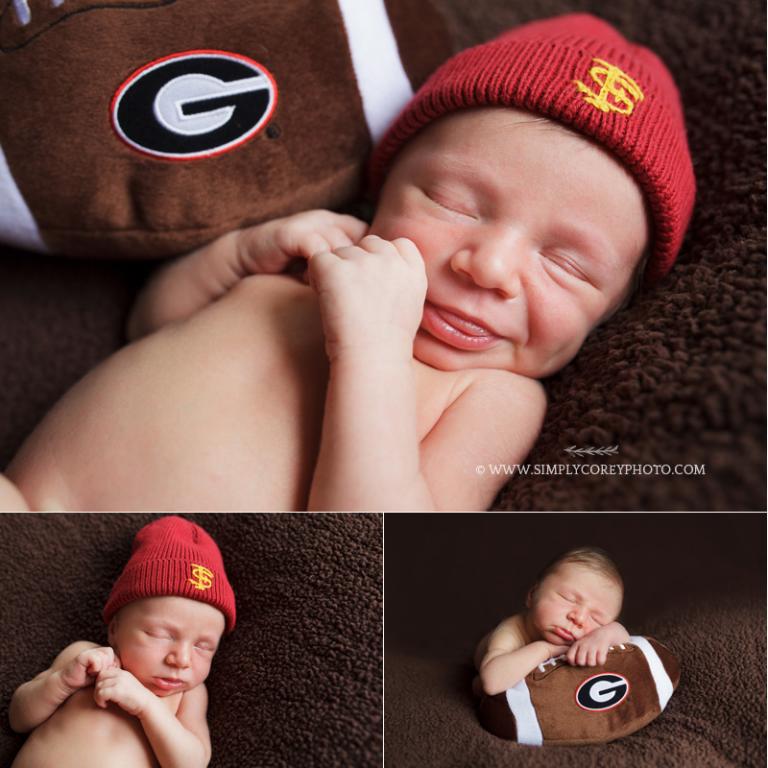 This little hat was knitted for him as a gift. Isn't it so cute?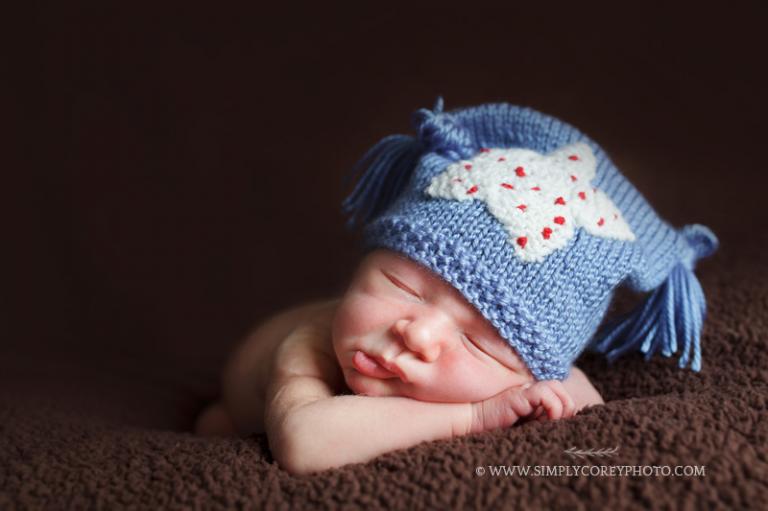 Mom told me they had painted the stripes on before she was even pregnant because they knew it would be a nursery eventually! They did an awesome job putting it all together. The big "B" and little splashes of yellow everywhere are the perfect touches. I also love how they put some personal touches on his name sitting on his dresser!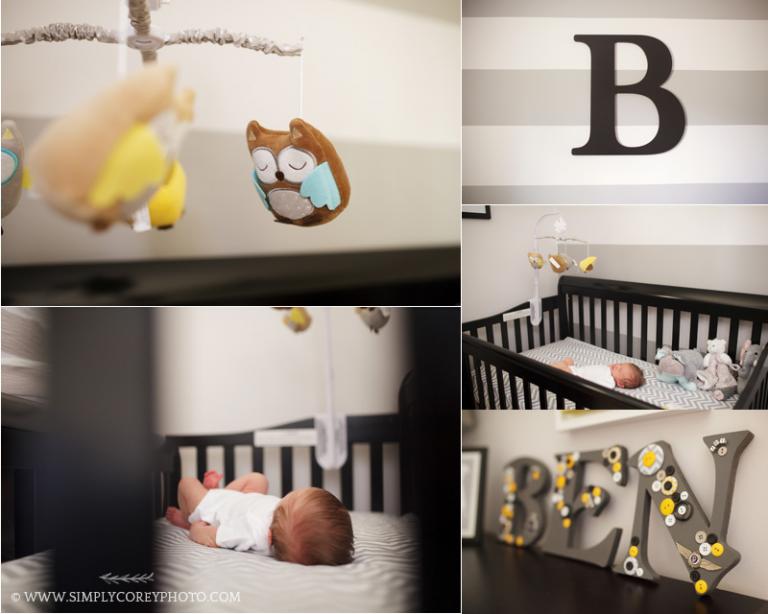 I had such a great time photographing this new family of three and I hope to see more of them as baby Bennett grows! ♥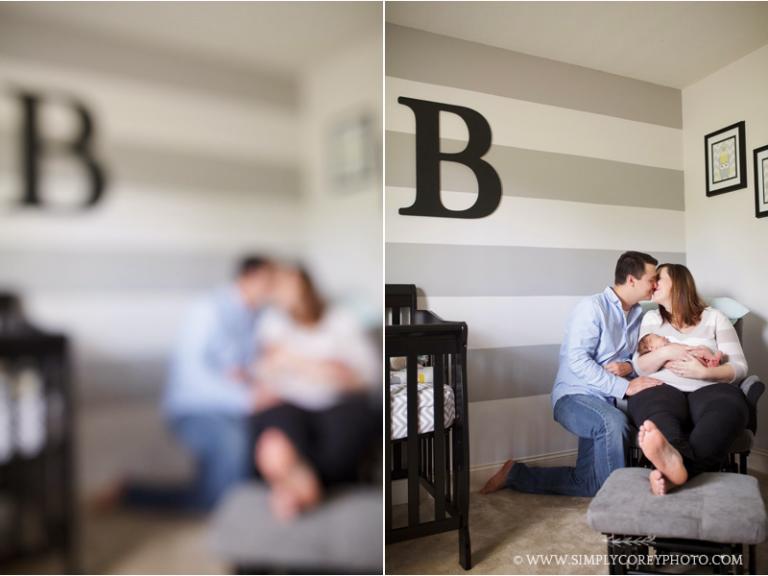 . . .
More About Atlanta Newborn Photographer, Simply Corey Photography:
Simply Corey Photography is located in West Georgia, near Bremen, Carrollton, Newnan, Douglasville, and Villa Rica. I opened my photography business at the end of 2004 and have had the privilege of photographing many expecting mothers, newborns, and babies with their families throughout metro Atlanta since then.
New parents have the option of coming to my home studio for a custom newborn session or have me come to their home for a lifestyle newborn session within greater Atlanta.
Are you expecting a new baby of your own? I have put together some information together for newborn and family sessions with Simply Corey Photography, as well as several other types of portrait sessions. Each link provides examples of my work, what to expect, and starting rates. Maternity and newborn sessions, baby milestone sessions, and baby's first-year collections are all available with Simply Corey Photography. You may request detailed pricing and my availability by sending me an email!
Subscribers to my email newsletter receive the first announcements for exclusive photography specials, mini session announcements, and other news from time to time. Be sure to sign up!
You are also welcome to connect with Simply Corey Photography on Facebook and Instagram! I share recent photography sessions, past work, and even a little bit of my everyday often. What to wear inspiration for your portrait session can also be found on the Simply Corey Photography Pinterest boards.