Thank you to all of the families who brought their adorable babies and kids to see Santa this year! It was an amazing Christmas experience – as always – and so many fun holiday memories were made! ♥
This little guy traveled the farthest to see Santa. Hands down. He and his parents were already planning on flying in from London, England to visit family – a family that visits me and Santa every year. His grandma was over the moon excited when she found out our Santa mini sessions were going to be held during their stay!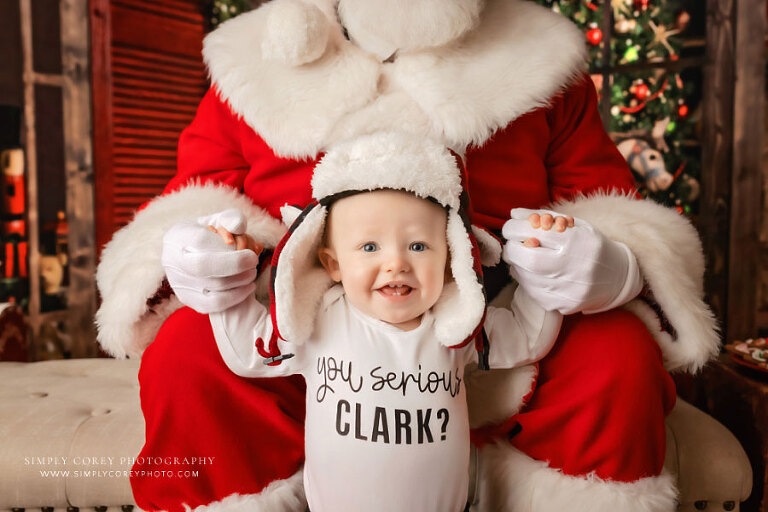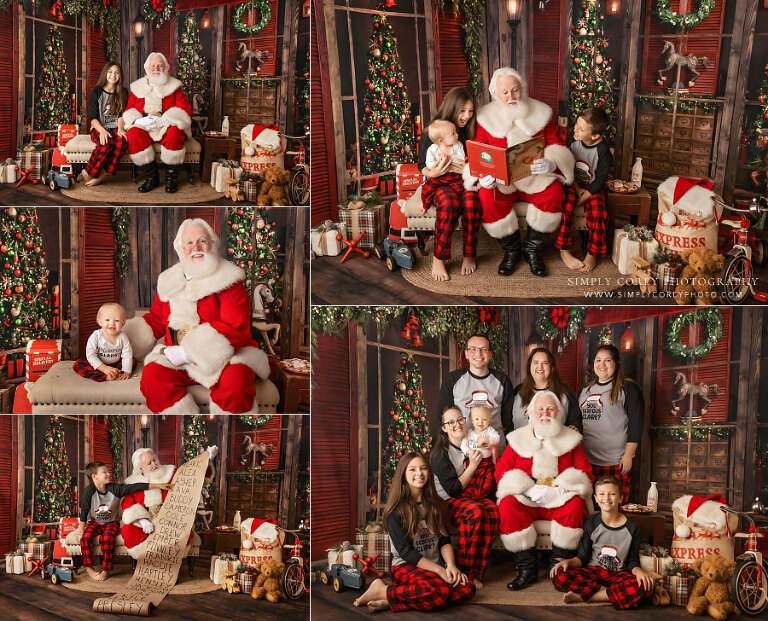 This next family also comes to me every year – and has since big brother was a toddler! They added a new baby brother this year and I love that he got to celebrate his first Christmas with Santa too. He even wore the same striped hat his brother did!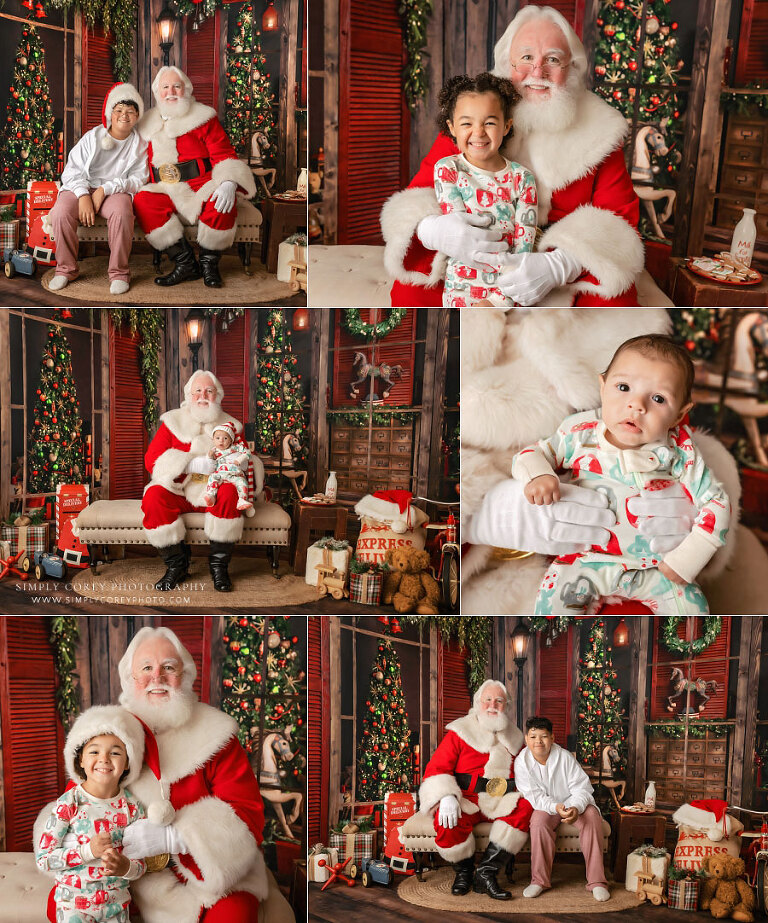 This little beauty always takes her portrait sessions with me very seriously and seeing Santa was no exception! I love the sweet moments I was able to capture of the two of them!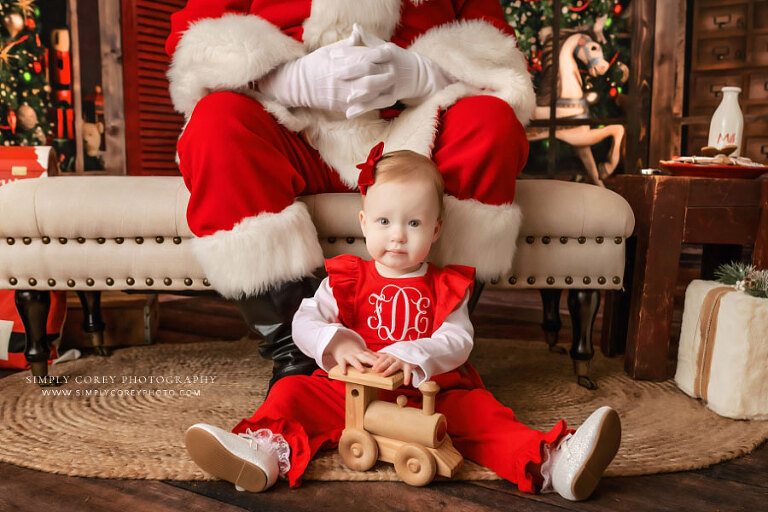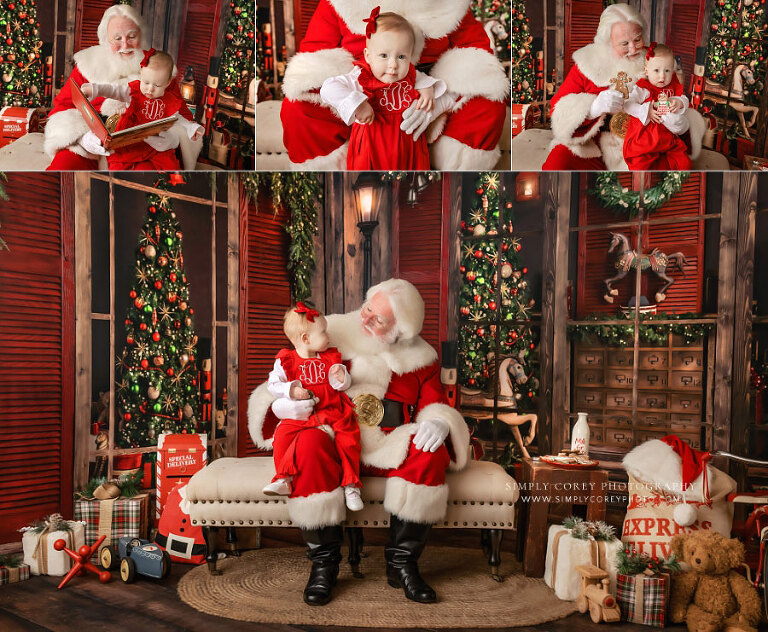 This little guy is the opposite of serious. So. Many. Laughs. … and a few shenanigans. I think it's safe to say he enjoyed his visit with Santa this year.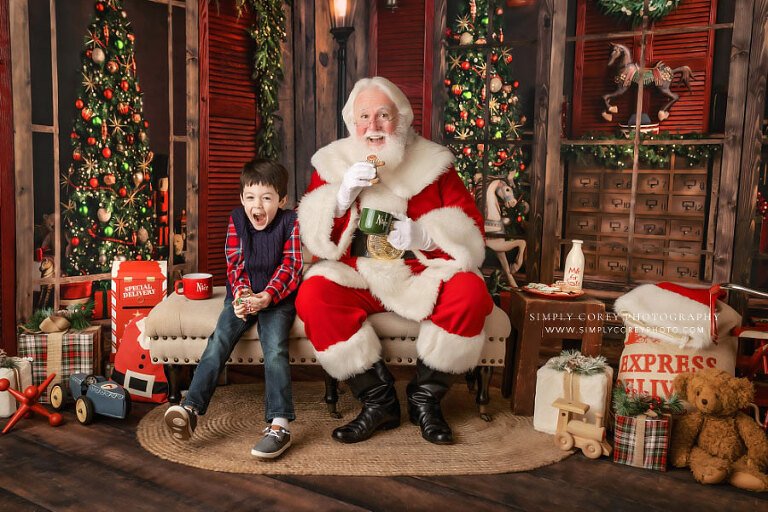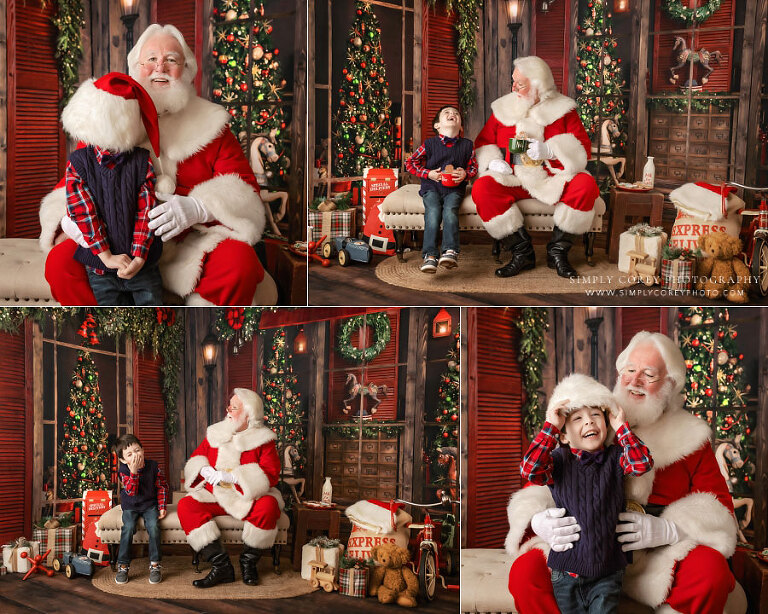 Another first Christmas! This little beauty was around 11 weeks old and I love that I was able to capture a smile while Santa held her! ♥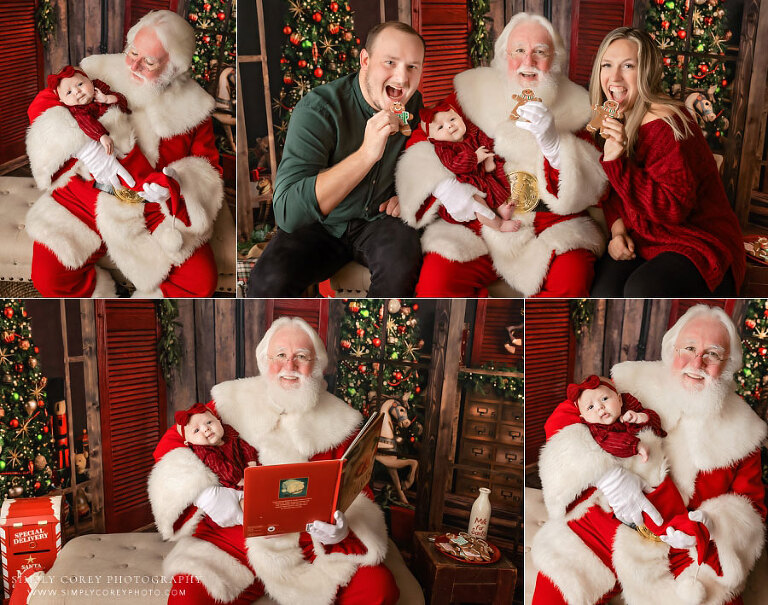 More smiles and a few more shenanigans. This little guy is so expressive and I love the fun memories with Santa he'll have from this year!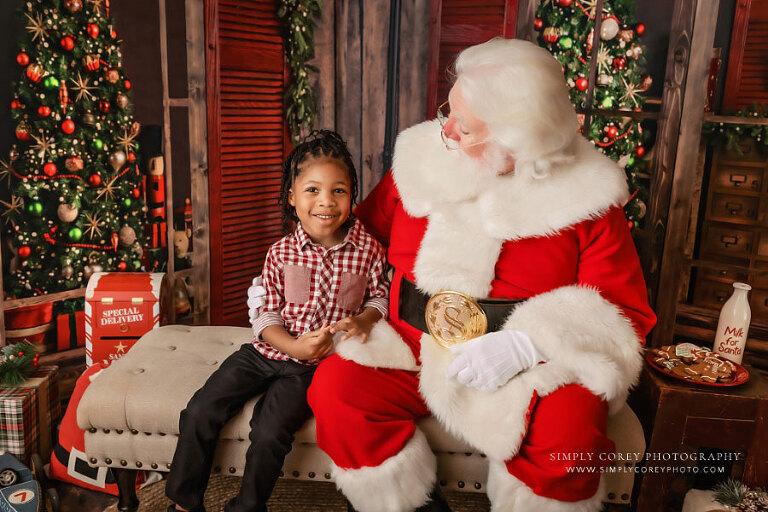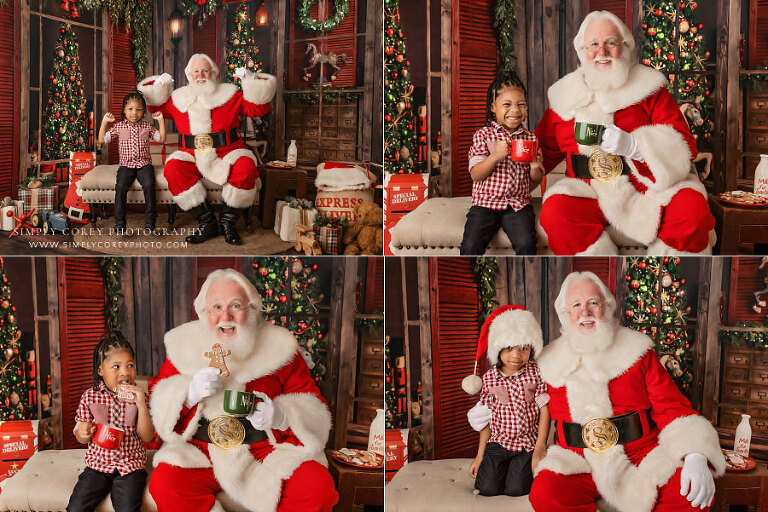 Another family that has visited Santa since big sister was a baby! I love that these sessions have become a holiday tradition for so many.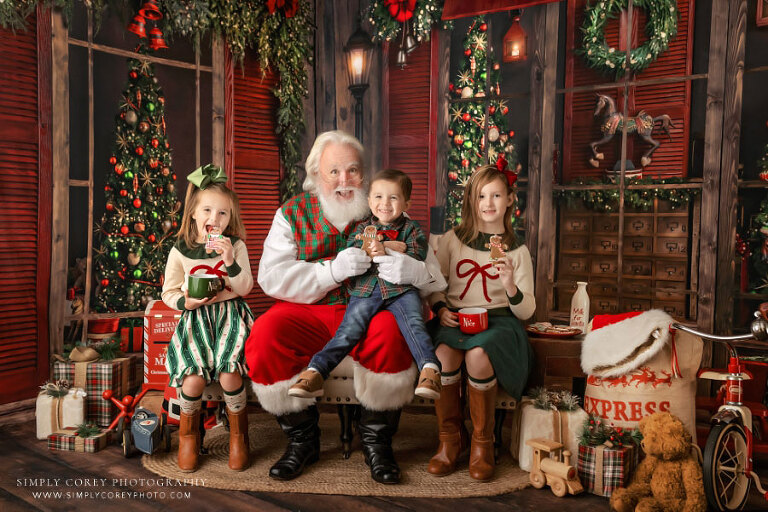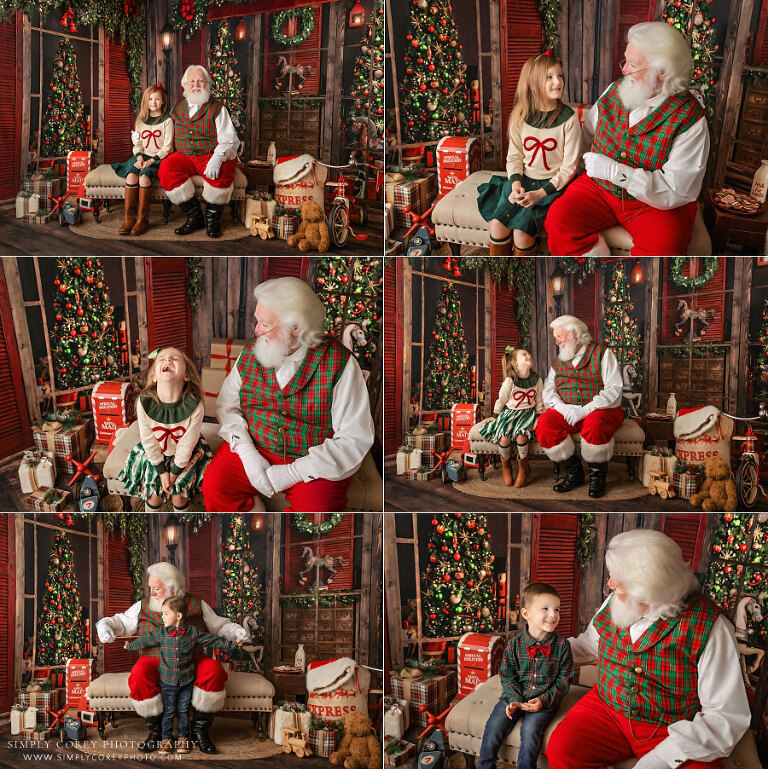 This little guy has come a long way since his first visit with Santa. Every year gets better and better. Just look at those smiles!!
These three always love seeing Santa too! Don't they look adorable in their Christmas pajamas?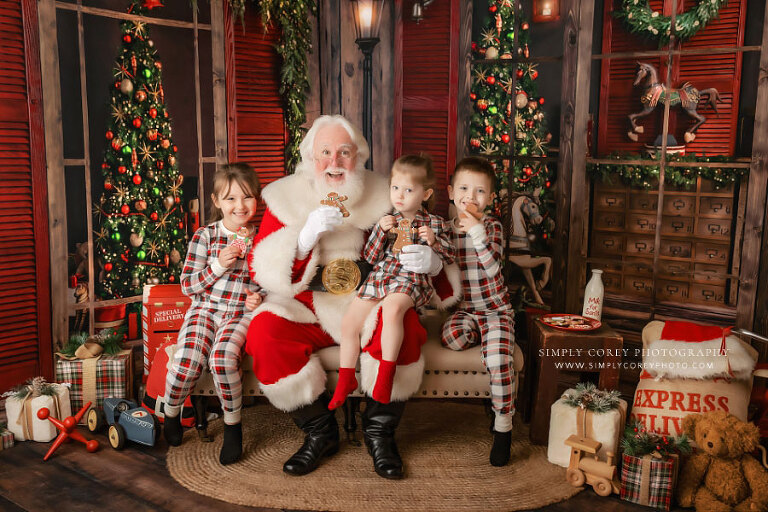 These two are always on Santa's nice list, and I love capturing their sweet moments with Santa year after year!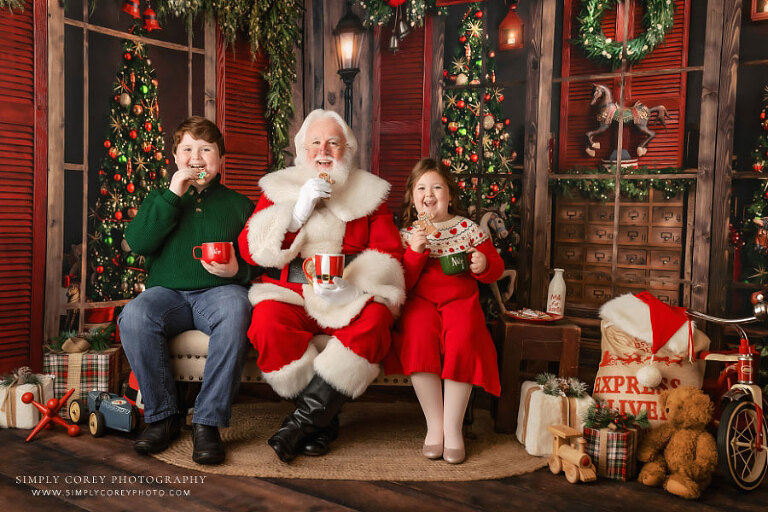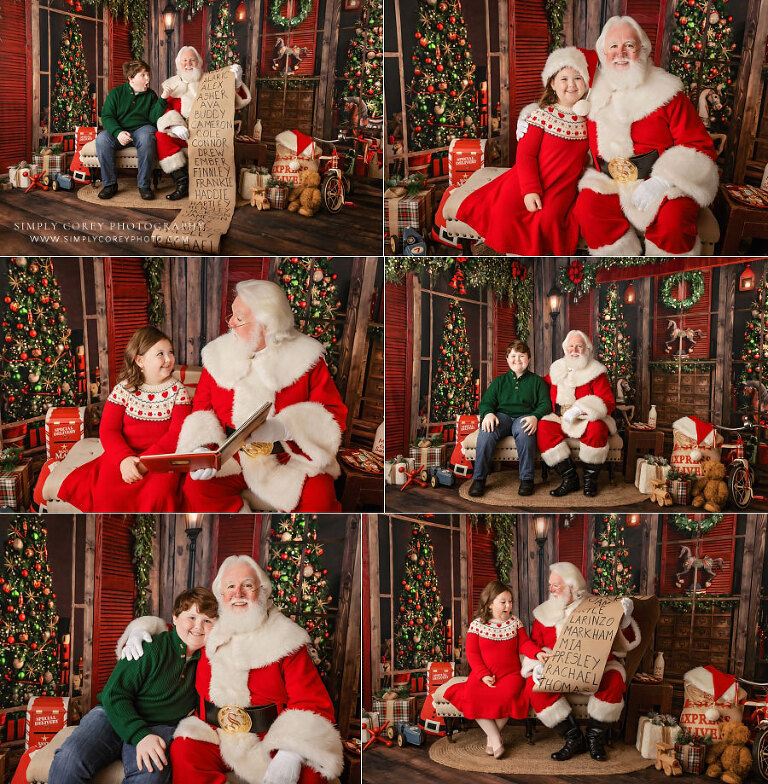 Santa has been known to call kids out if he knows they've been mischievous … but he also puts them headlocks just for fun too. Ha!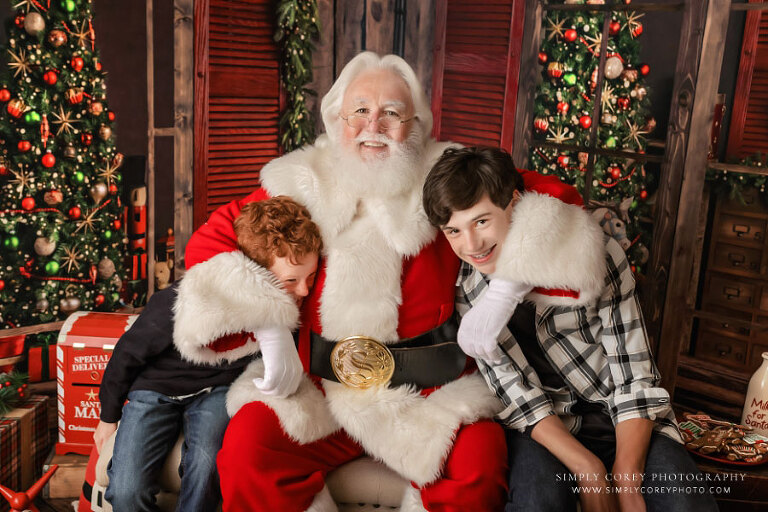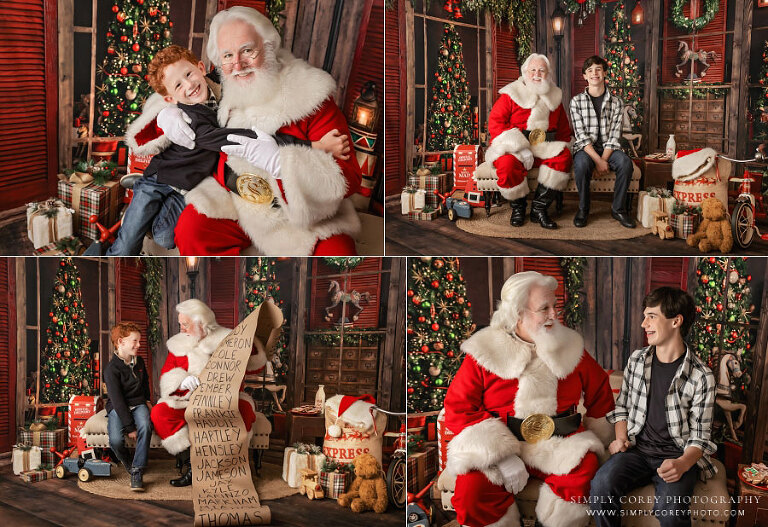 One of my favorite things about Santa, is that he is so patient and does whatever he can to make sure each child has a great visit. We have been able to get the shyest of little ones to open up and have fun! ♥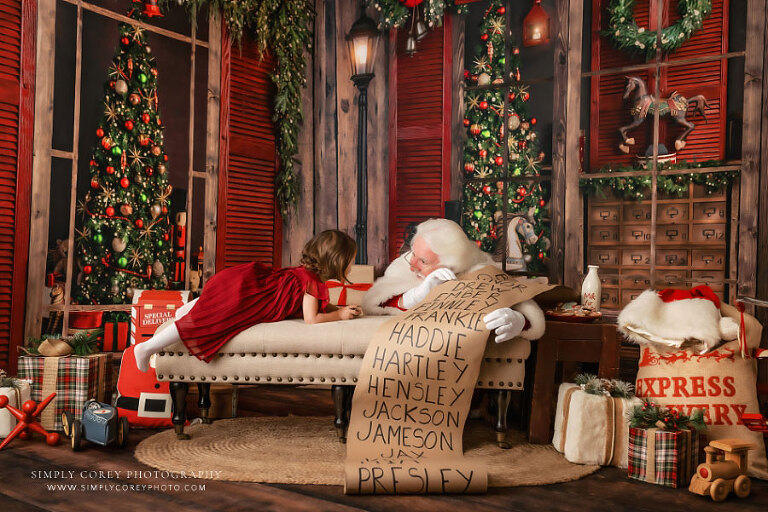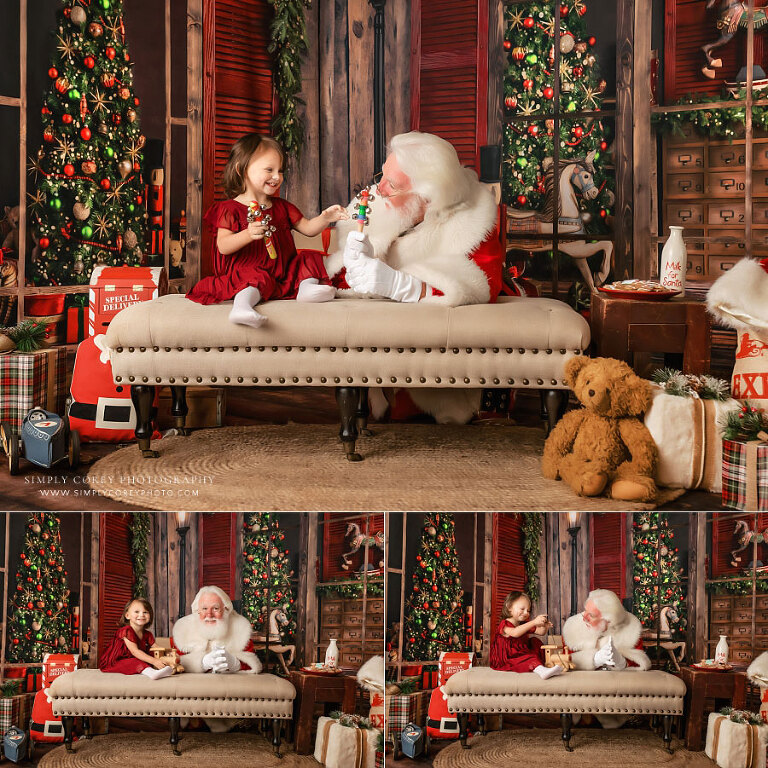 That's a wrap! I hope you all have a wonderful Christmas!
. . .
MORE ABOUT ATLANTA SANTA CLAUS MINI SESSIONS BY SIMPLY COREY PHOTOGRAPHY:
Simply Corey Photography is located west of Atlanta, near Carrollton, Douglasville, Newnan, Villa Rica, and Dallas, GA. I have been a professional photographer since 2004, and have photographed many babies, children, and families throughout greater Atlanta.
Santa Claus Mini Sessions with Simply Corey Photography are held early each year – typically the end of October or early November in Douglasville, Georgia. Dates are typically announced and booking starts in the summer months.
All other mini sessions are held exclusively at my outdoor location or in the studio on specific days throughout the year. More information and a list of current mini session events can be found here on the mini session section of the website.
Custom portrait sessions are also available for maternity, newborns, babies, kids, teens, and families. Please request detailed pricing and my availability by using the form on my contact page.
Members of my VIP Facebook Group and subscribers to my email newsletter are first to receive announcements for exclusive photography specials, mini session announcements, and other news from time to time. You are also welcome to connect with Simply Corey Photography on Facebook and Instagram!