First, his parents had an Atlanta Braves maternity session, then we incorporated baseball into his newborn session, and now this is how we celebrated Hank being six months old! I have to admit, that as soon as I bought this backdrop, Hank was the first baby I thought of.
As far as the props go, I provided a few things, but his mom brought the majority of stuff from his nursery – which happens to be Atlanta Braves and baseball! Surprised? Probably not … ha!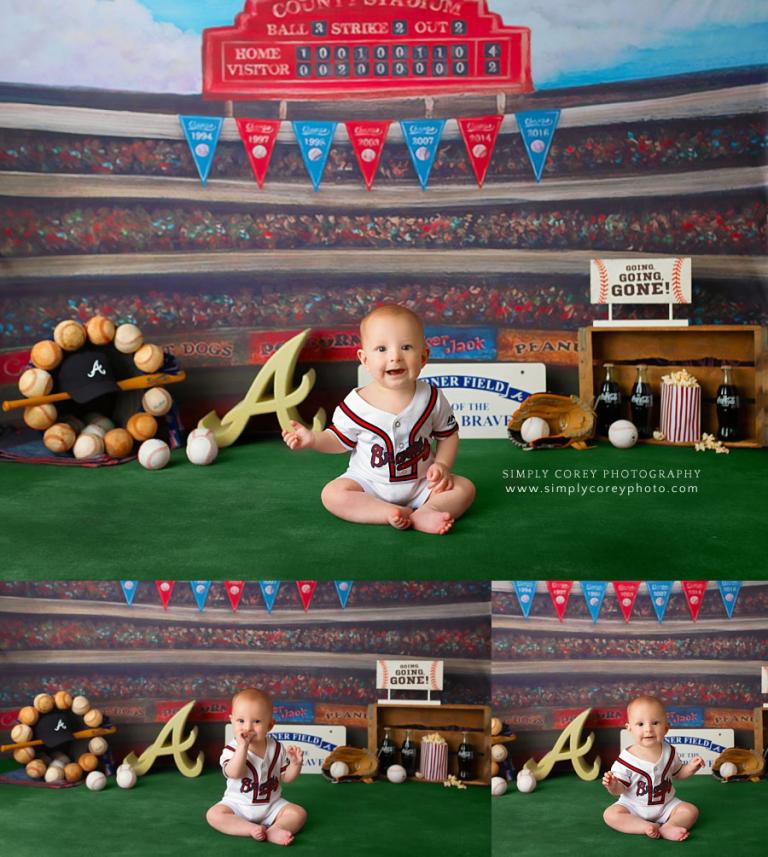 This handsome baby boy was just a couple days shy of turning seven month sold and he is filled with personality! His expressions and gummy smiles were the best!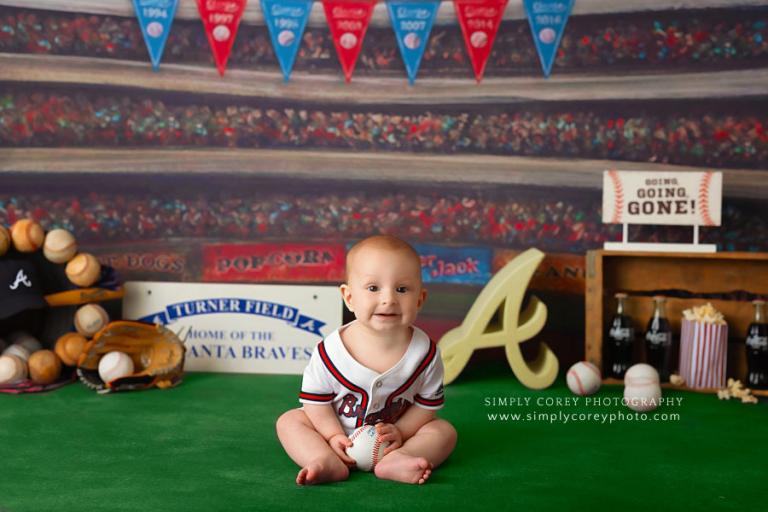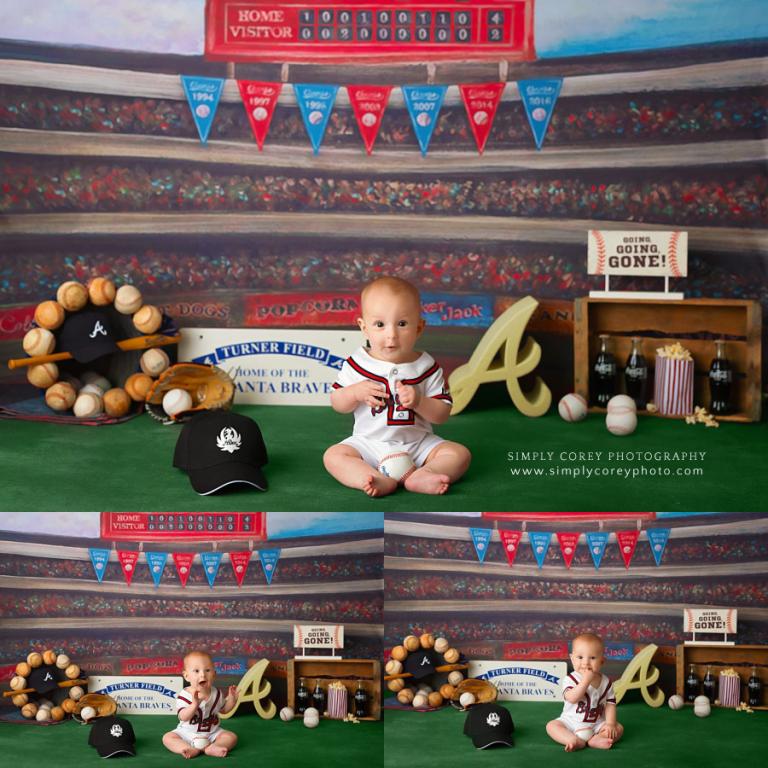 His mom had brought his Hank hat to his newborn session, and I love that we used it again for his milestone session. Just look at that cute little face peeking out! ♥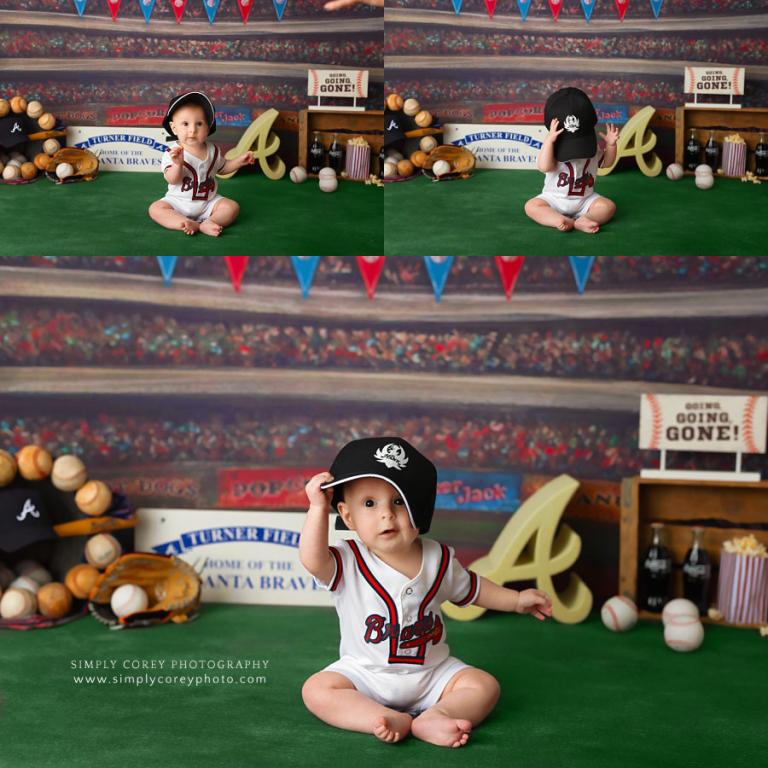 Not only did we use the hat in his previous portrait session, Hank is also wearing the same outfit he did as a newborn! His mom said it was a perk to being a little peanut. ♥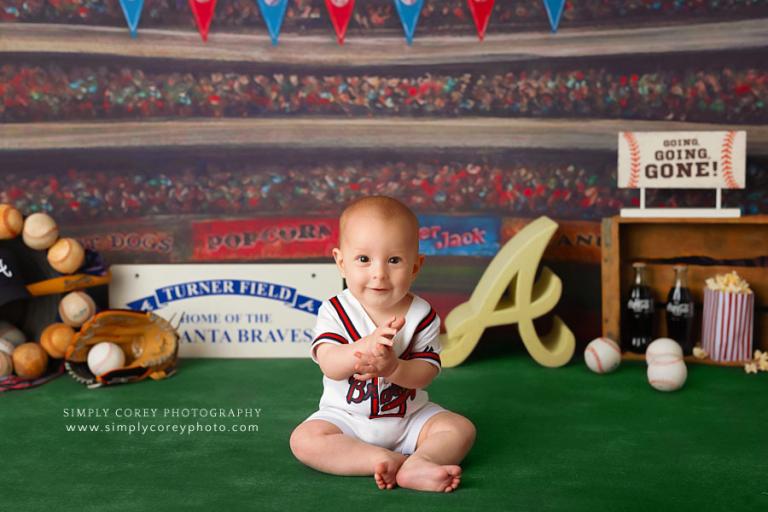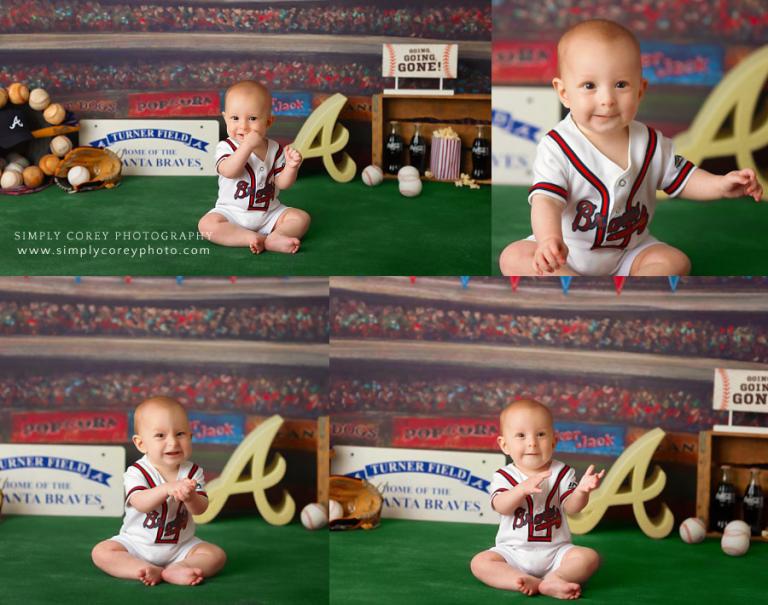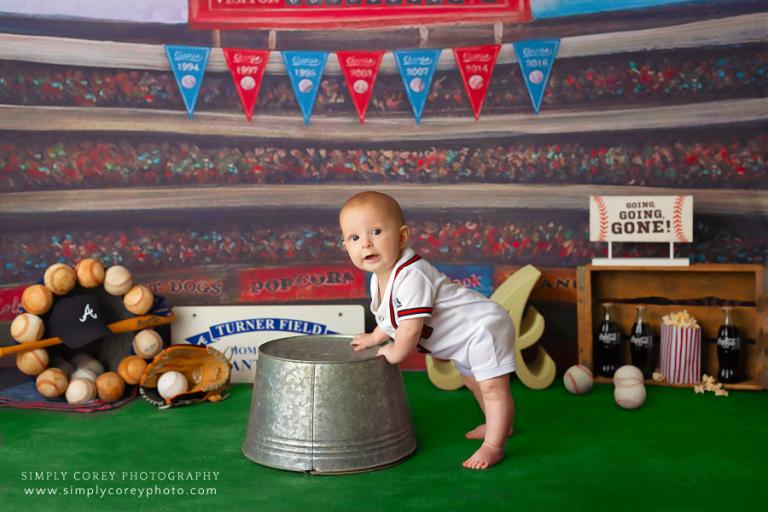 In addition to bringing all of the amazing baseball props, Mom brought her collection of Atlanta Braves bobbleheads! These collectibles are all souvenirs from different Atlanta Braves games she's attended and were perfect for the second part of his session!
And check out that face … I think he's ready for baseball season to start already!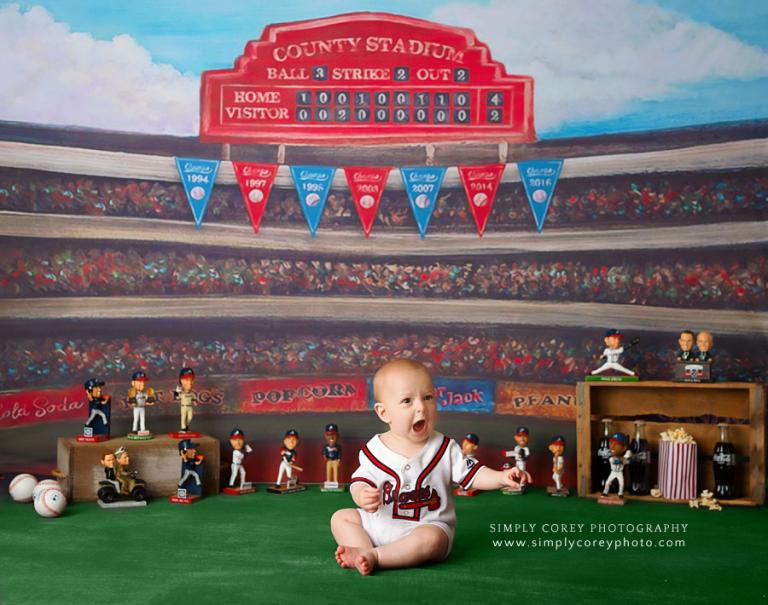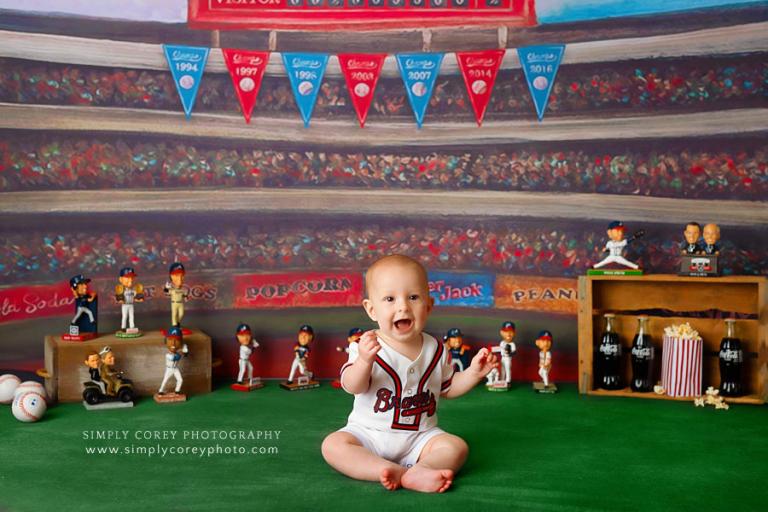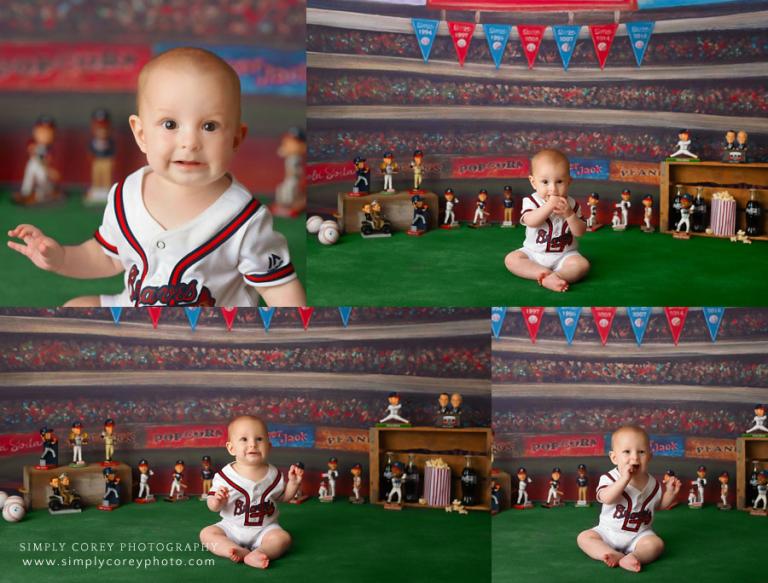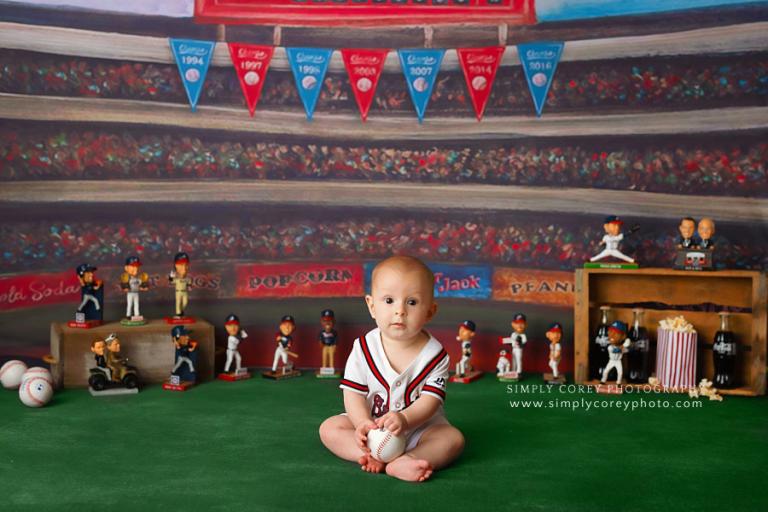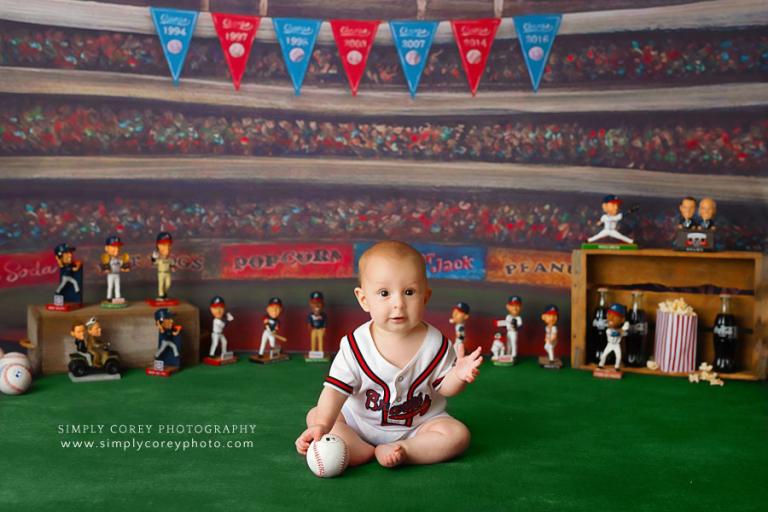 . . .
More About Carrollton Baby Photographer, Simply Corey Photography:
Simply Corey Photography is located in West Georgia, near Carrollton, Villa Rica, Douglasville, Newnan, and Bremen. I began my photography business at the end of 2004, and I have photographed many babies, children, and families throughout greater Atlanta. Baby Milestone Mini Sessions are held exclusively at the studio. Full custom sessions may be held at my private outdoor location or at the location of your choice within metro Atlanta. This can be your home, a downtown area, or anywhere else that fits your family's personality!
Babies grow so fast during their first year, and I would love to capture some of those memories for you! You may request detailed pricing and my availability for baby milestone and family portrait sessions by using the form on my contact page.
Also, members of my VIP Facebook Group and subscribers to my email newsletter receive the first announcements for exclusive photography specials, mini session announcements, and other news from time to time. Be sure to subscribe! You are also welcome to connect with Simply Corey Photography on my Facebook page and Instagram!