This beautiful family drove from Alabama for their newborn session! I'm in West Georgia, so really it was about the same as going to Atlanta … but still! Ha! I'm so glad they found me and that I was able to photograph their second baby girl!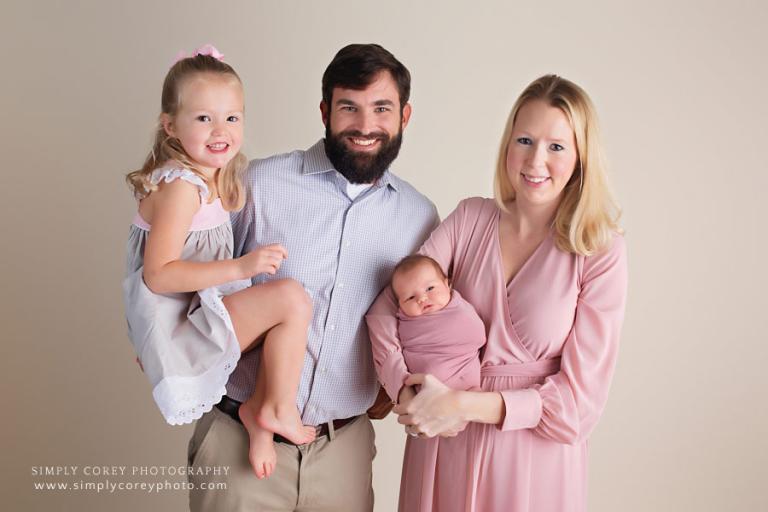 We started off with family images so big sister could get her photos done first. Baby girl was also wide awake!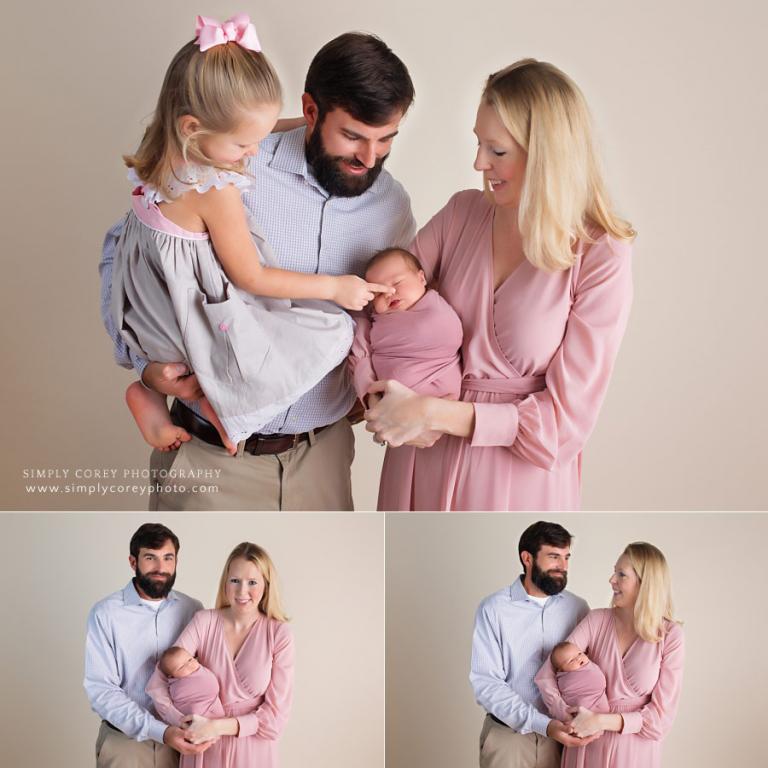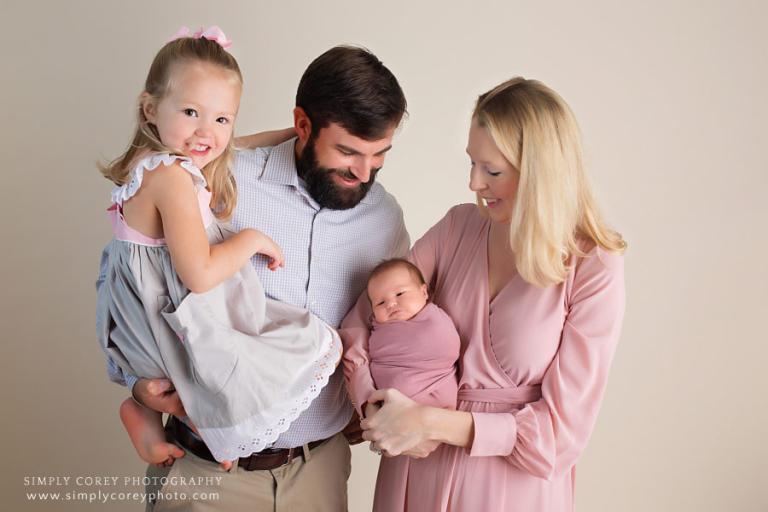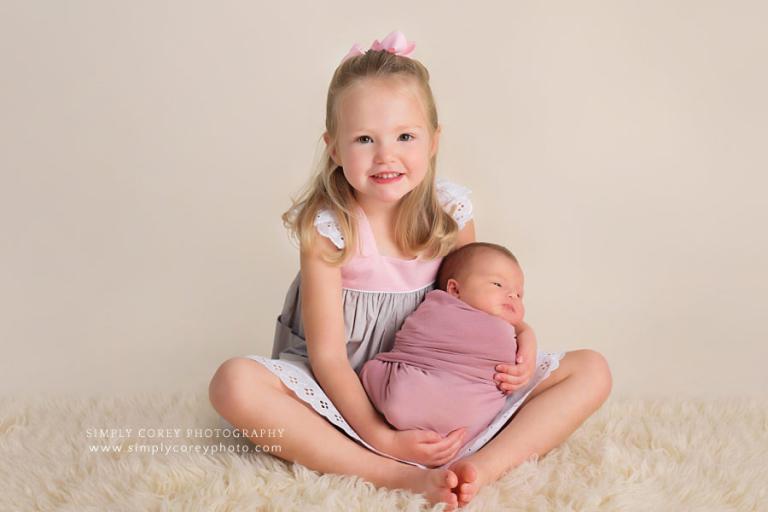 This sweet girl did so good holding her baby sister. It was obvious that she loves her new baby so much!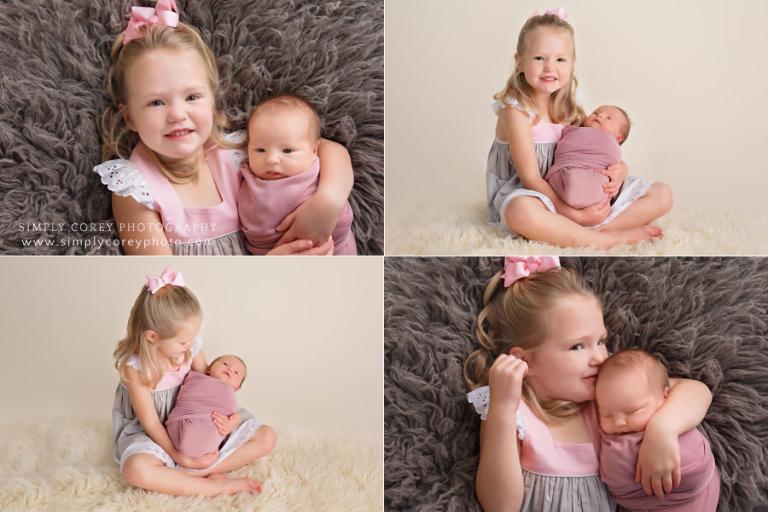 Little Miss Olivia started off awake for her solo portraits …
But it wasn't long before she was fast asleep. I was even able to change sets and the wraps she was swaddled in a few times!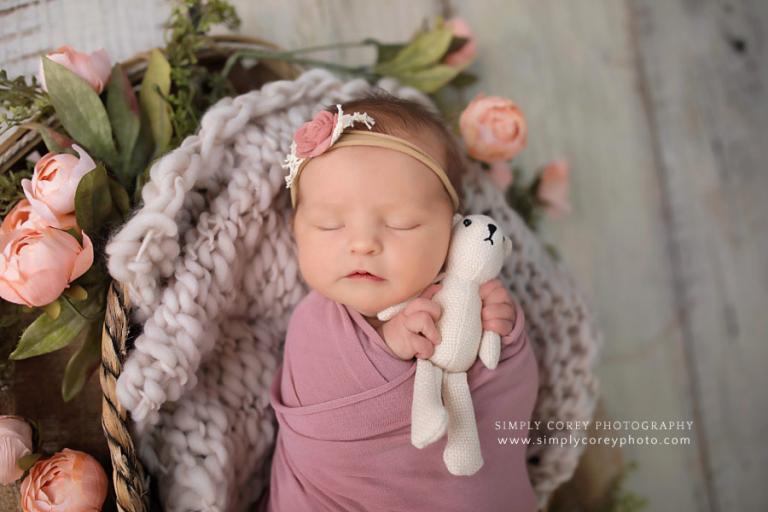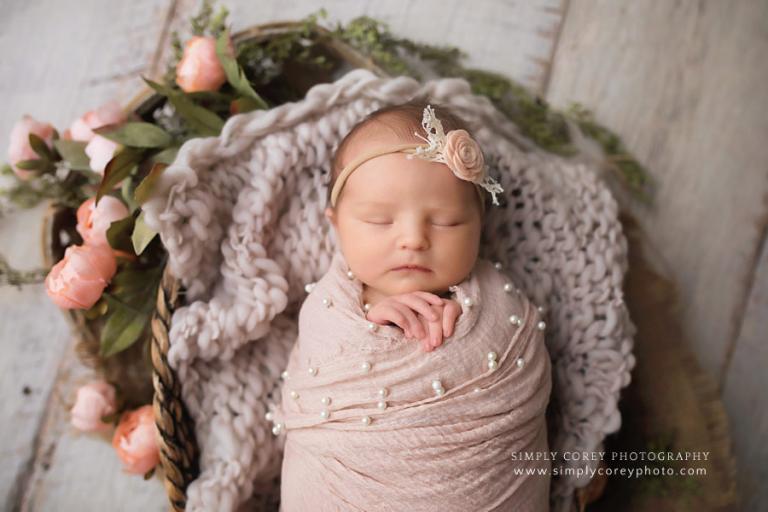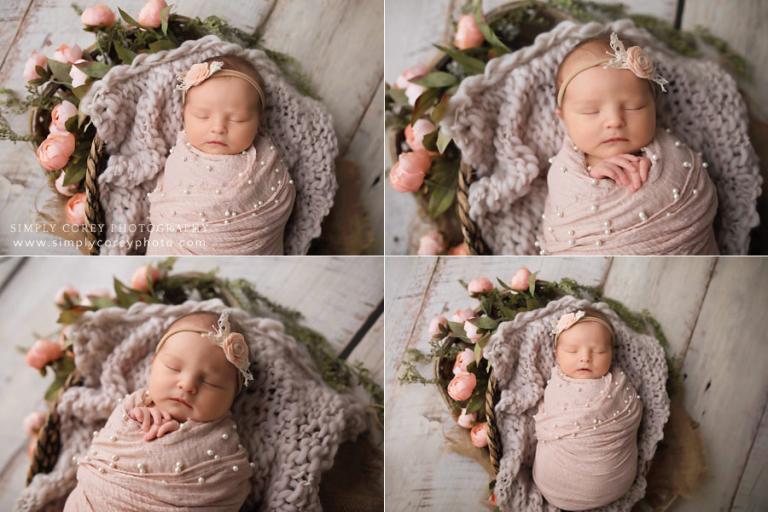 I just love photos of newborns holding little bears or stuffed animals, and I was so happy she cooperated. Isn't she sweet?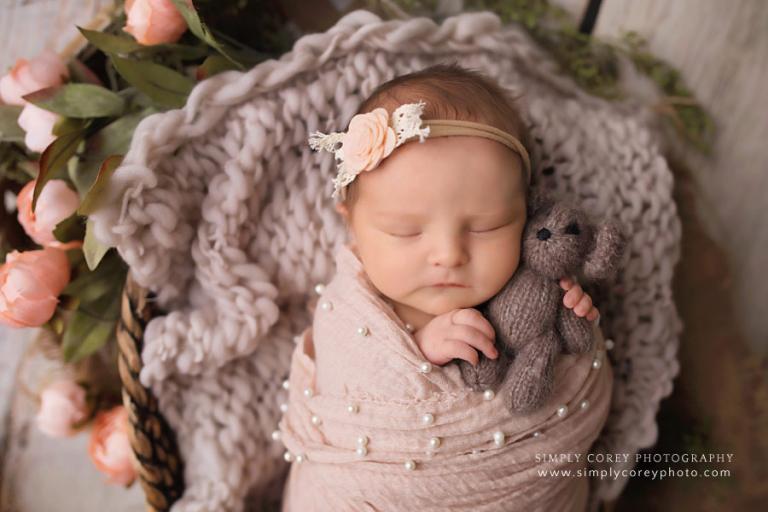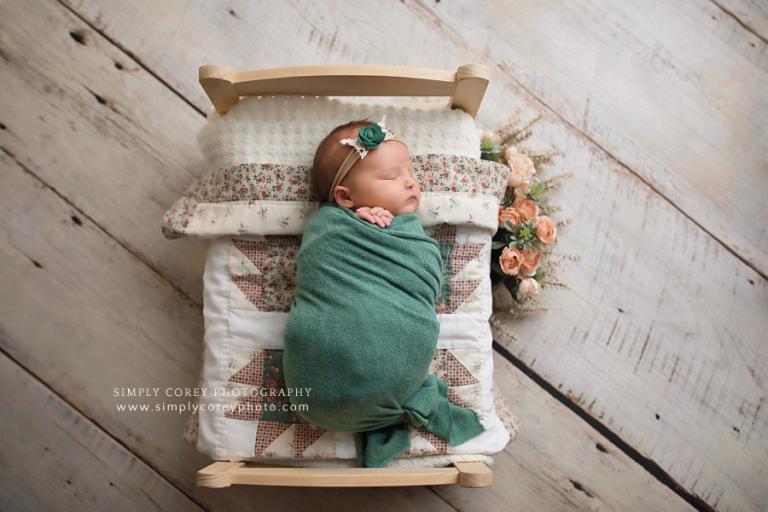 This little bed and quilt set is another one of my favorites …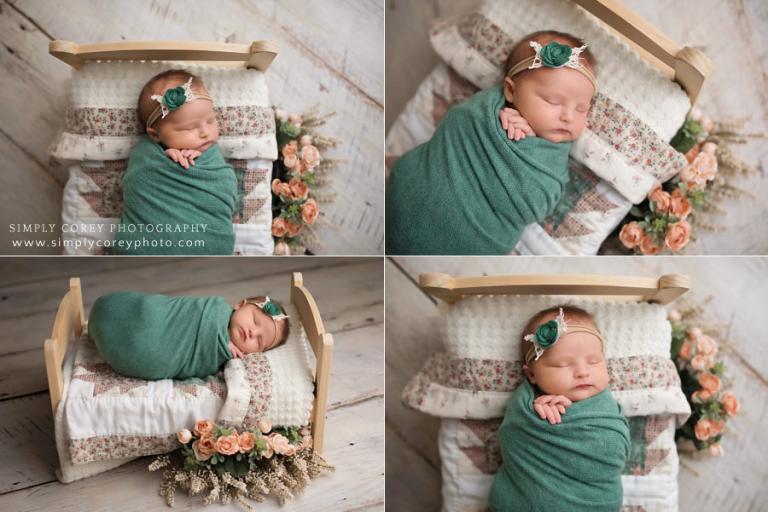 And yes, I added more bears! Ha!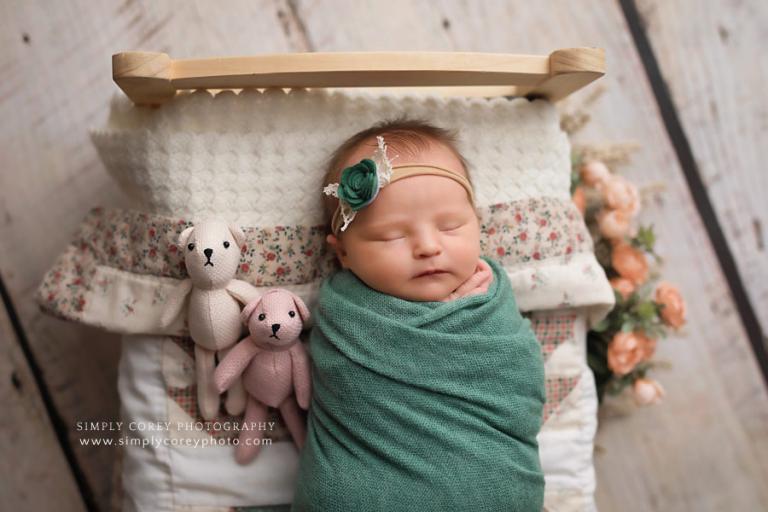 Since baby girl's session was held at the beginning of December, I put together a Christmas set for her session – and I'm so glad her mom chose to use it! Just look at this cute little reindeer! ♡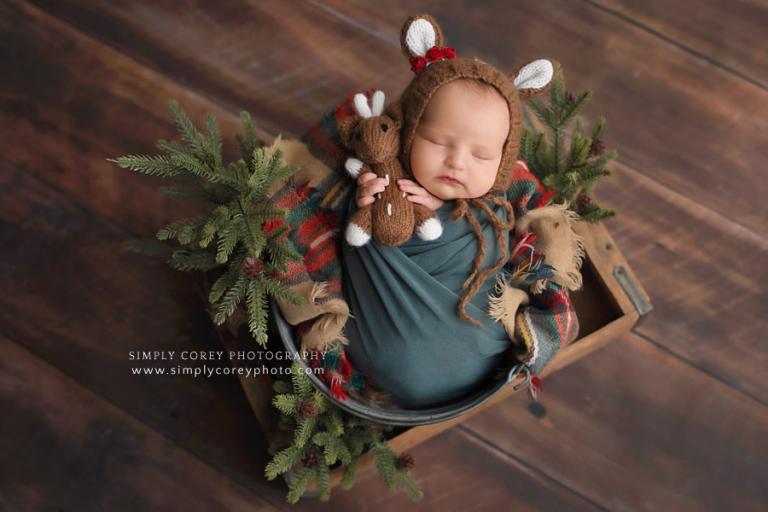 This little beauty did so well the day of her newborn session. It was hard to narrow down my favorites!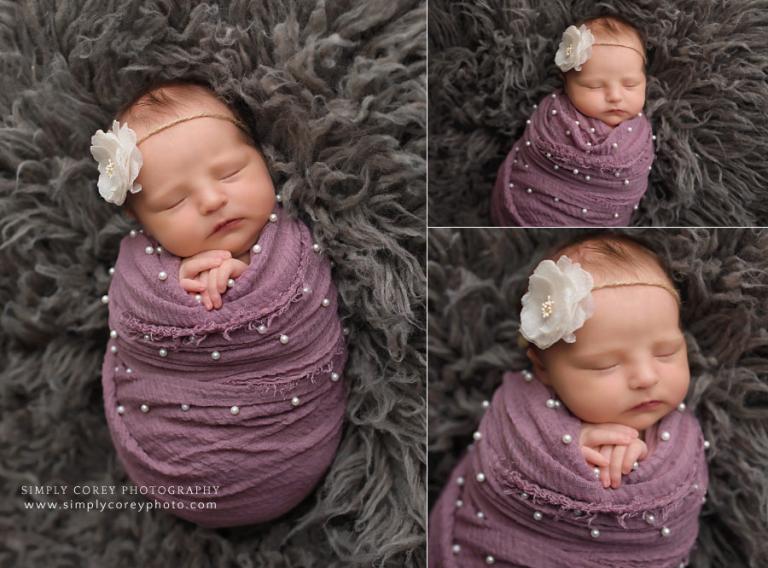 And to Liv's family: Thank you for choosing me to capture these precious memories for you! I hope to see your girls again as Olivia grows! ♡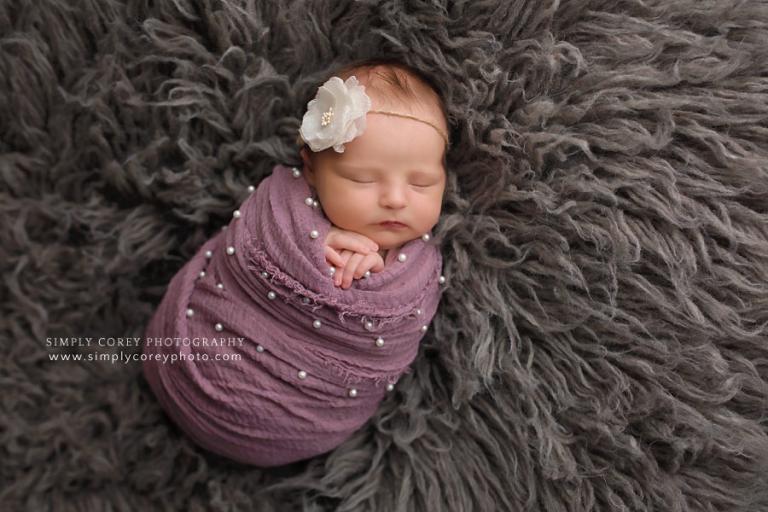 . . .
More About Carrollton, GA Newborn Photographer, Simply Corey Photography:
Simply Corey Photography is located in west of Atlanta, near Carrollton, Newnan, Villa Rica, Douglasville, and Peachtree City. I have been a professional photographer for more than 16 years, and have photographed a great number of maternity, newborn, and baby milestone sessions throughout the metro Atlanta area since.
Newborn sessions may be held in the studio or in your greater Atlanta home. They are best held when baby is between five days and three weeks old. Maternity sessions are also available and are typically held between 30 and 36 weeks. You're welcome to request detailed pricing and my availability by using the form on my contact page.
Members of my VIP Facebook Group and subscribers to my email newsletter are first to receive announcements for exclusive photography specials, mini session announcements, and other news from time to time. You are also welcome to connect with Simply Corey Photography on Facebook and Instagram!