It's hard to believe that this newborn session was almost a year ago – and I'll be doing his one year milestone session this weekend! Hopefully he gives me some great smiles like this one …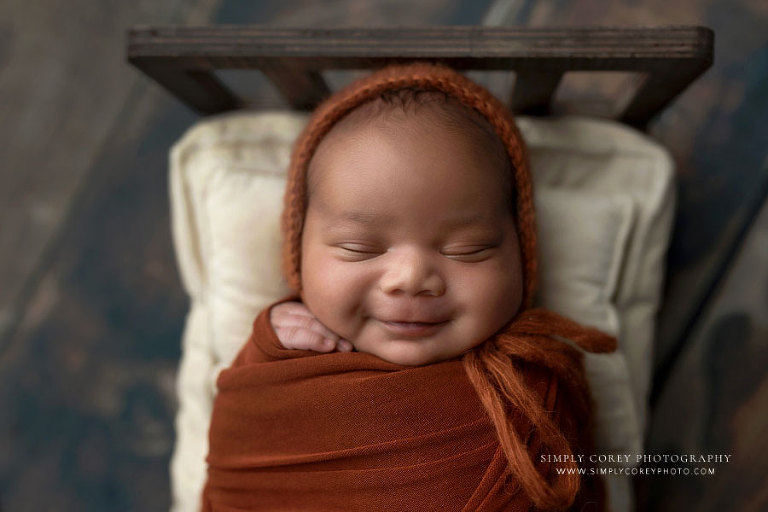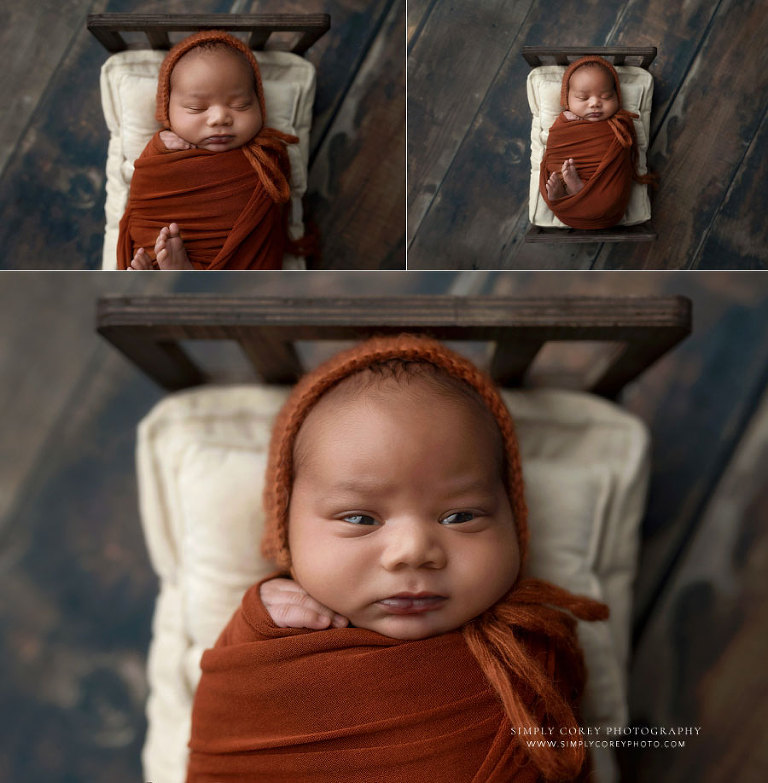 I love when I get an awake shot with great eye contact like the one above! ♡ But since newborn babies can't exactly control their eye muscles, it's usually best if they're sleeping … like so …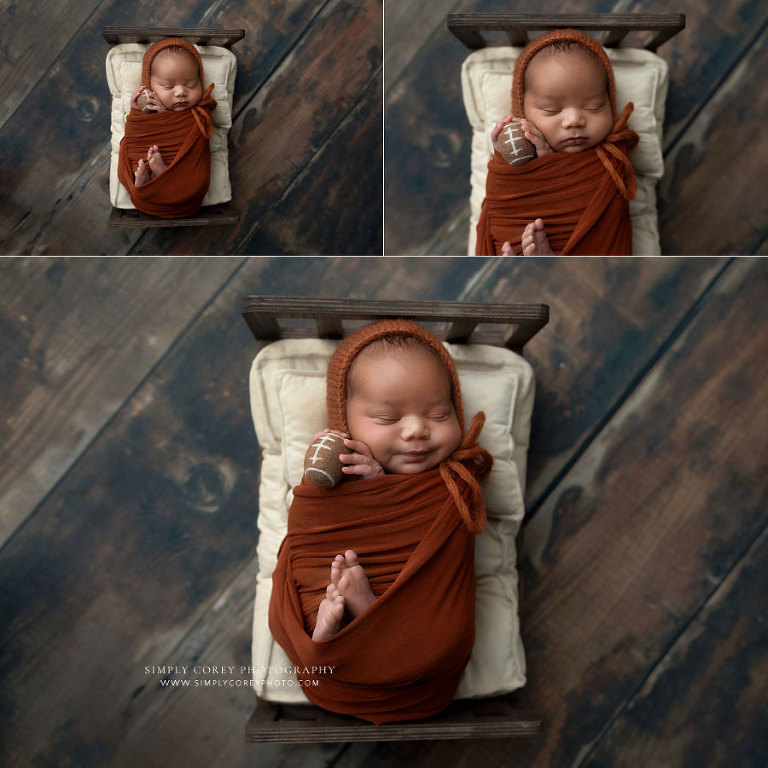 I love that baby Zy'Mere let me pose him with a little football and little teddy bears. I always think it's adorable in newborn photos!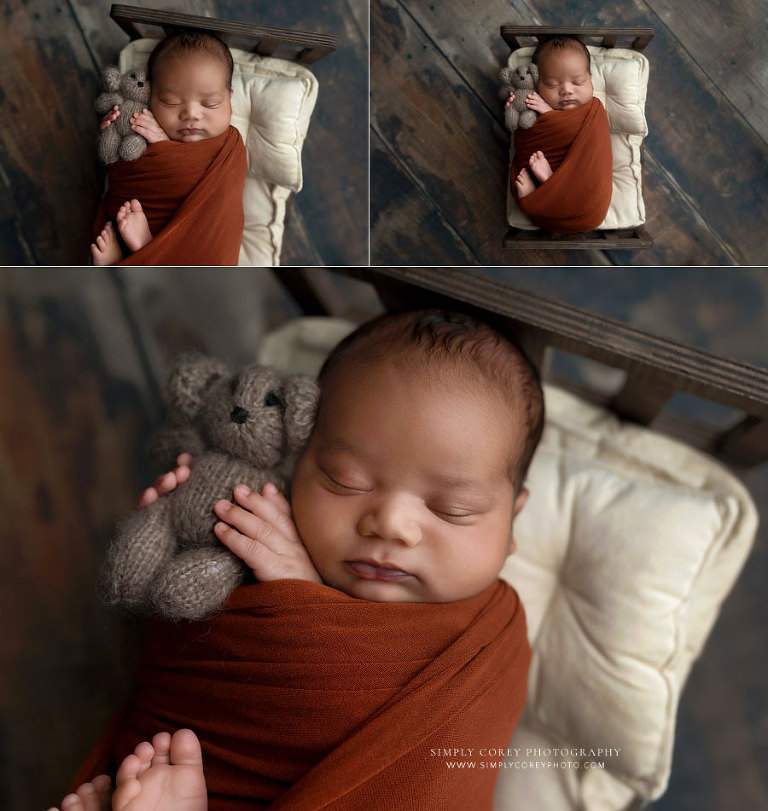 Since he was born in September, I added some pumpkins to one of his sets!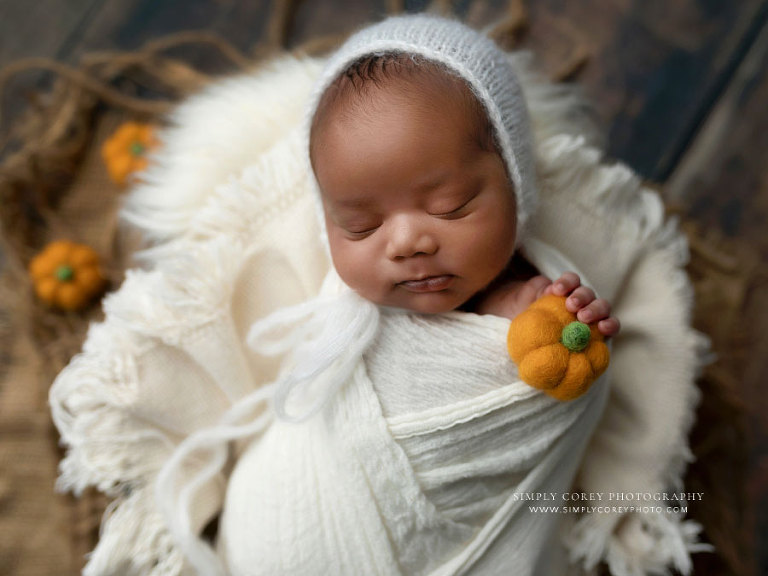 And another teddy bear … ha!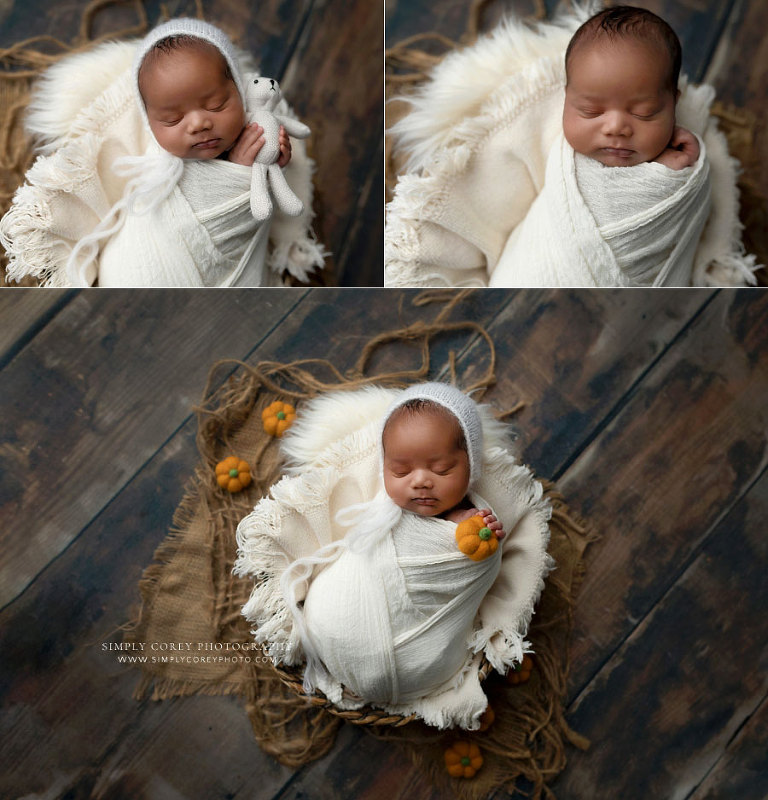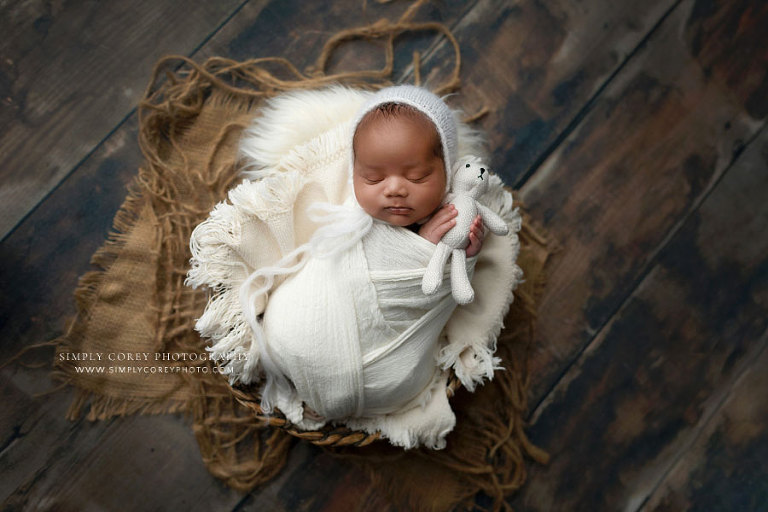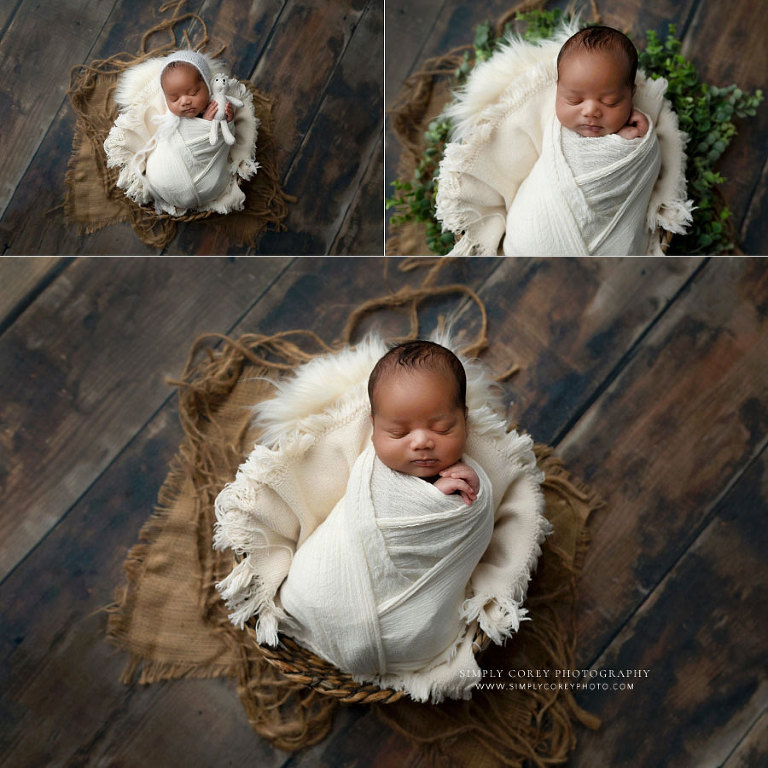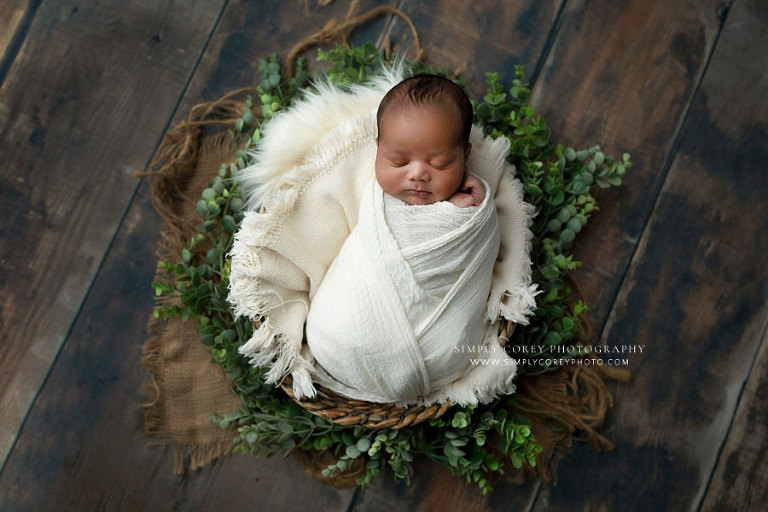 This baby boy slept like a champ and allowed me to do quite a bit in one hour for his swaddled newborn session! Next, we did a light blue set with some vintage quilt pieces …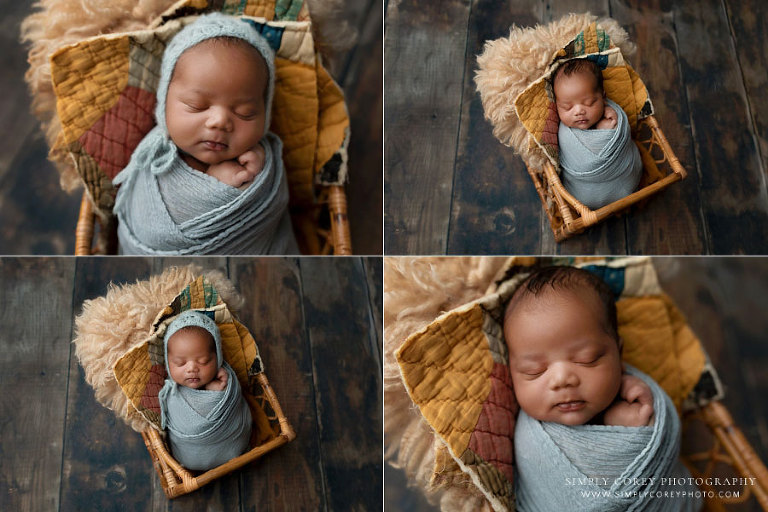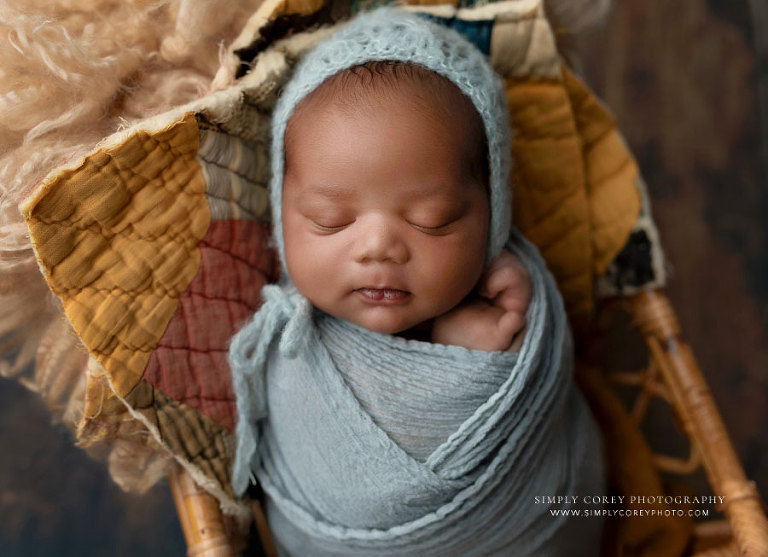 And then a sweet brown set with a sleepy cap and teddy bear …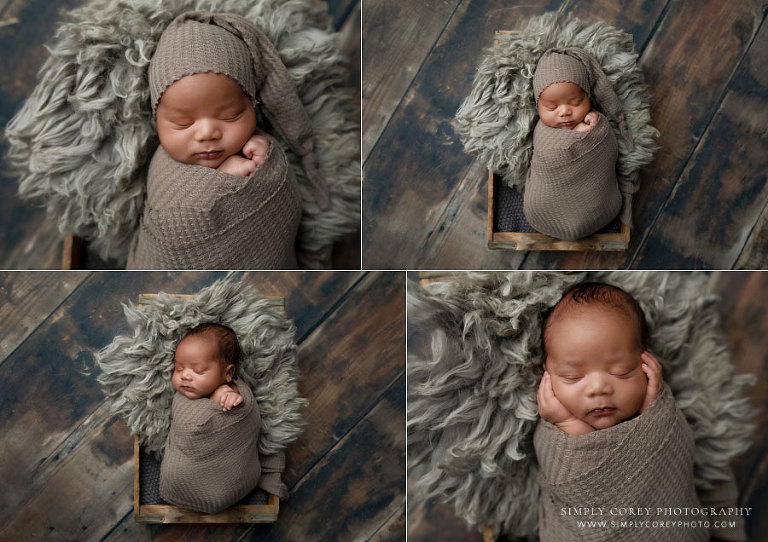 We ended his newborn session with a football and jacket that belonged to his great-great grandfather! ♡ I love when families incorporate sentimental items like these!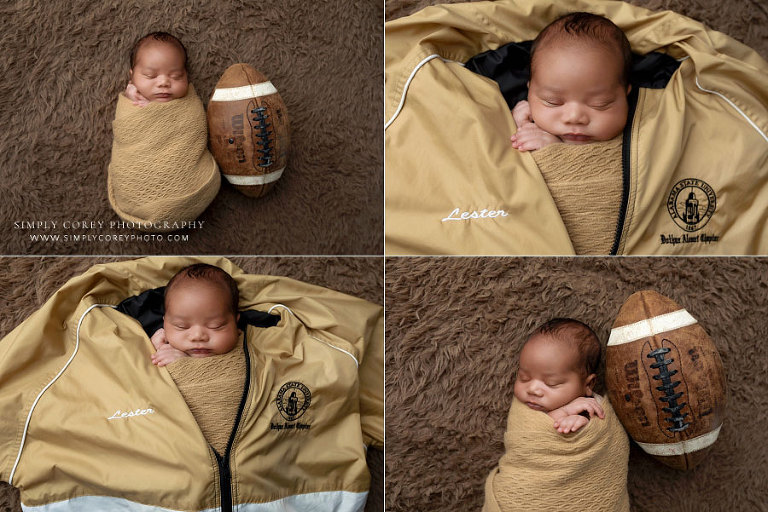 . . .
MORE ABOUT DOUGLASVILLE NEWBORN PHOTOGRAPHER, SIMPLY COREY PHOTOGRAPHY:
Simply Corey Photography is located west of Atlanta, not far from Douglasville, Villa Rica, Dallas, Newnan, and Carrollton, Georgia. I have been a professional photographer since the end of 2004, and I have had the honor of photographing a large variety of maternity, newborn, and baby milestone sessions for families throughout the greater Atlanta area for almost 18 years.
Newborn photography sessions are available in the studio or in your metro Atlanta home. These sessions are best held when your new baby is between one to two weeks old, but portrait sessions are available for older newborns too.
Maternity portrait sessions are available in the studio, at my private outdoor location, and on-location. I recommend you have your maternity session between the 30th and 36th week of your pregnancy.
A variety of baby milestone sessions are available in the studio for baby's first year. Discounts are offered when you have multiple sessions through age two!
Interested in booking a photography session? You're welcome to request detailed pricing and my availability for portrait sessions by using the form on my contact page.
Members of my VIP Facebook Group and subscribers to my email newsletter are the first to receive announcements for exclusive photography specials, mini session announcements, and other news from time to time. Follow Simply Corey Photography on Facebook and Instagram.