Miss Phoebe was born in the Tanner Medical Center in Carrollton, GA on February 12th. I had the pleasure of photographing this little beauty before she was even 24 hours old. ♥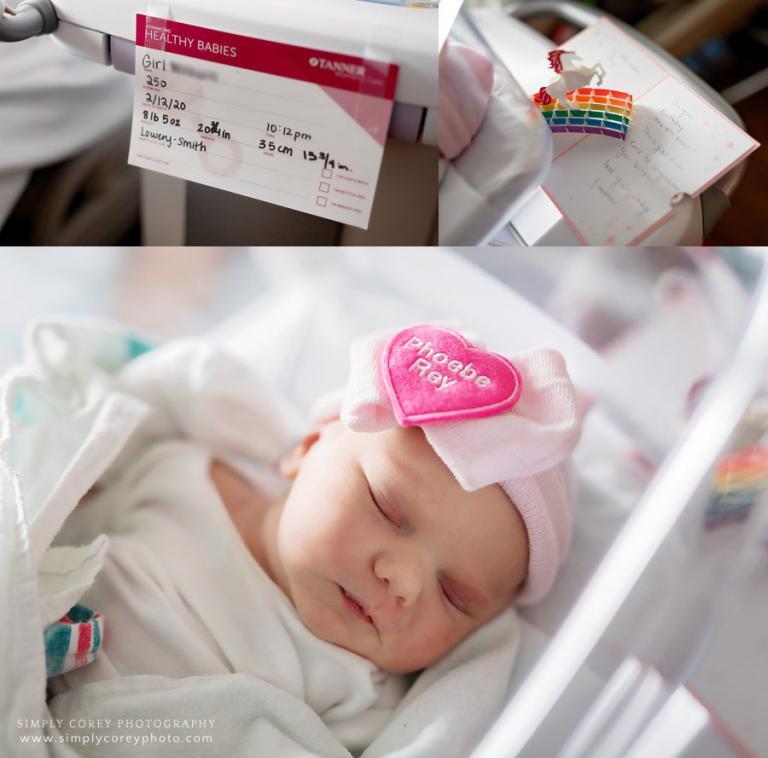 Mom and Dad had the best accessories for their Fresh 48 session – including this little personalized hat!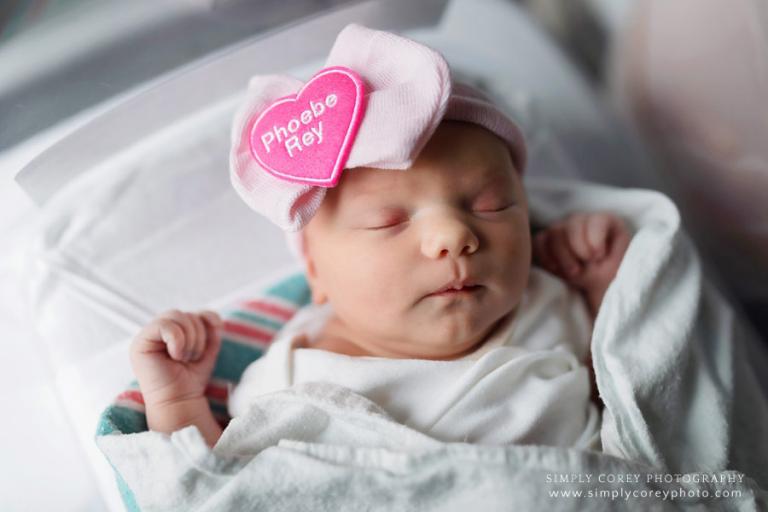 And this "Hello, My Name Is" name tag! Phoebe even gave a little smile when we put it on her …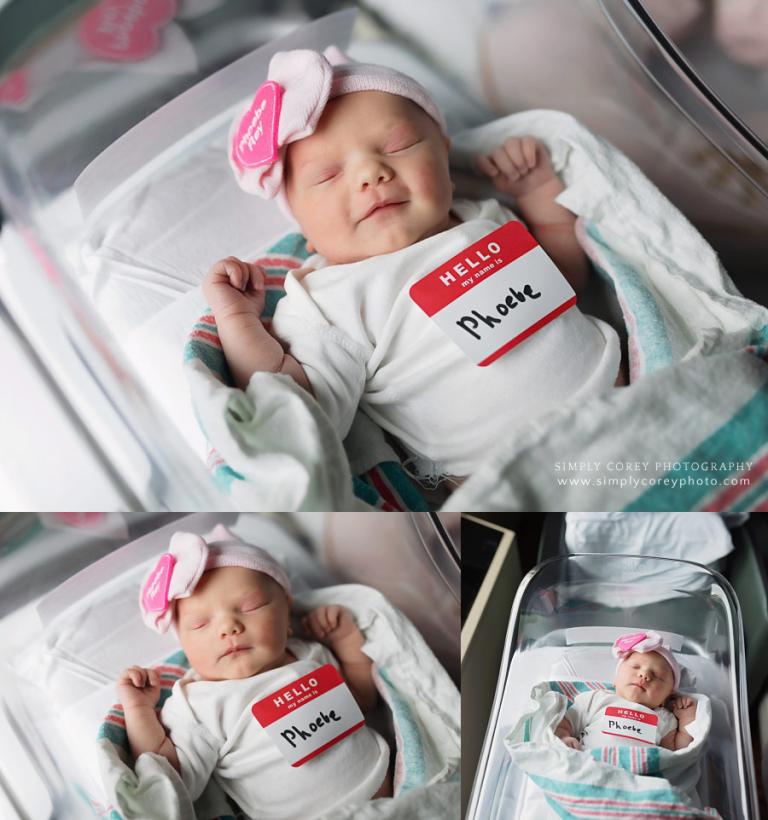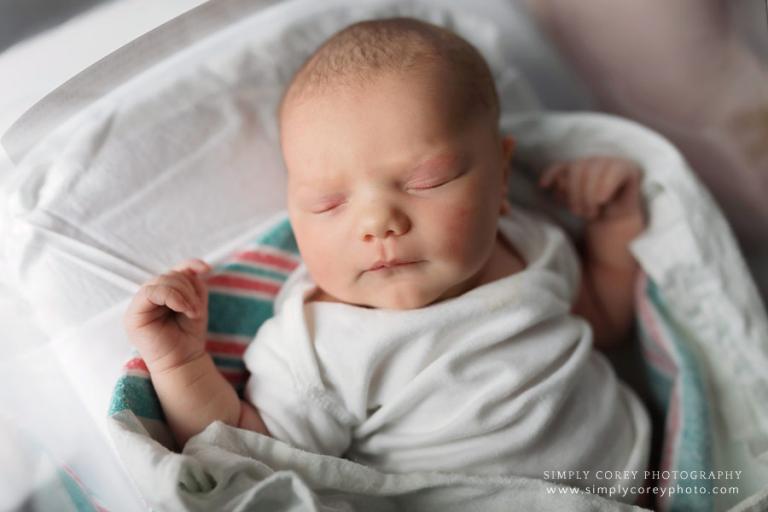 I love these photos with Mom and Dad in the background. They are so in love with their baby girl. ♥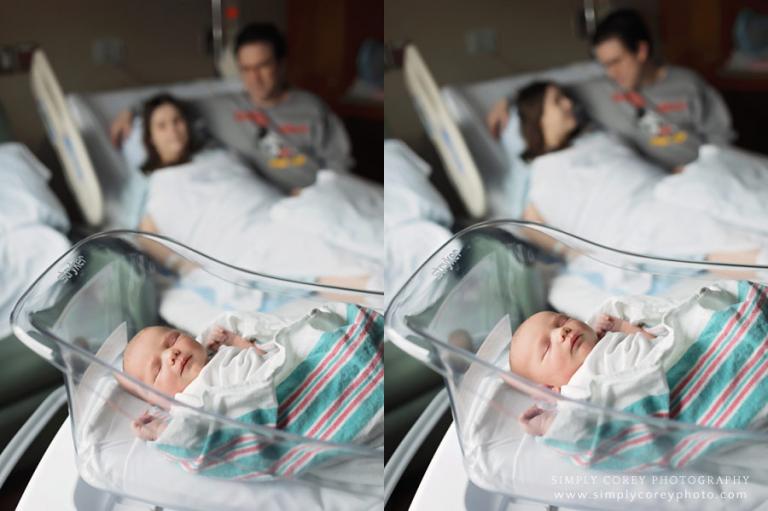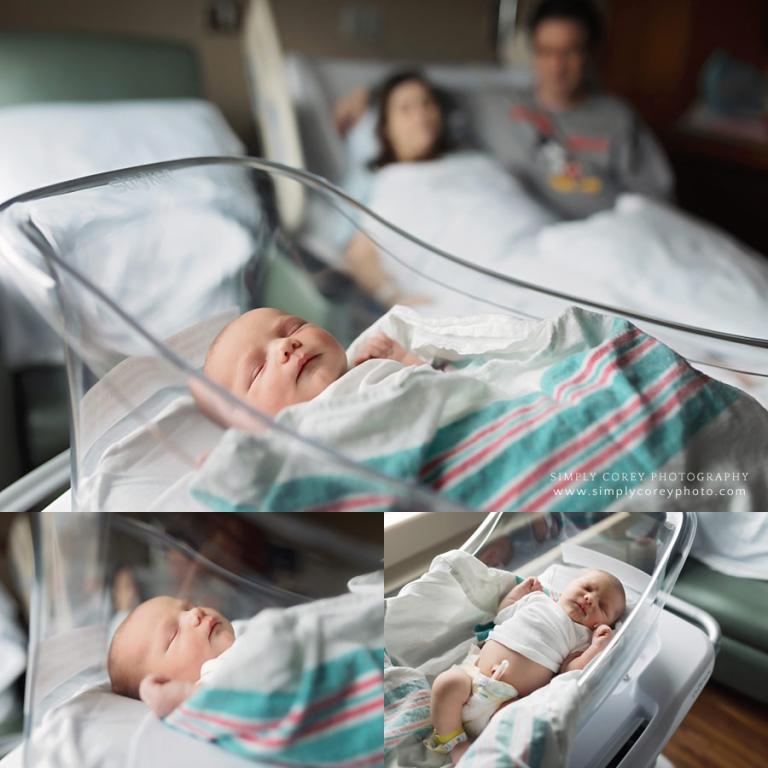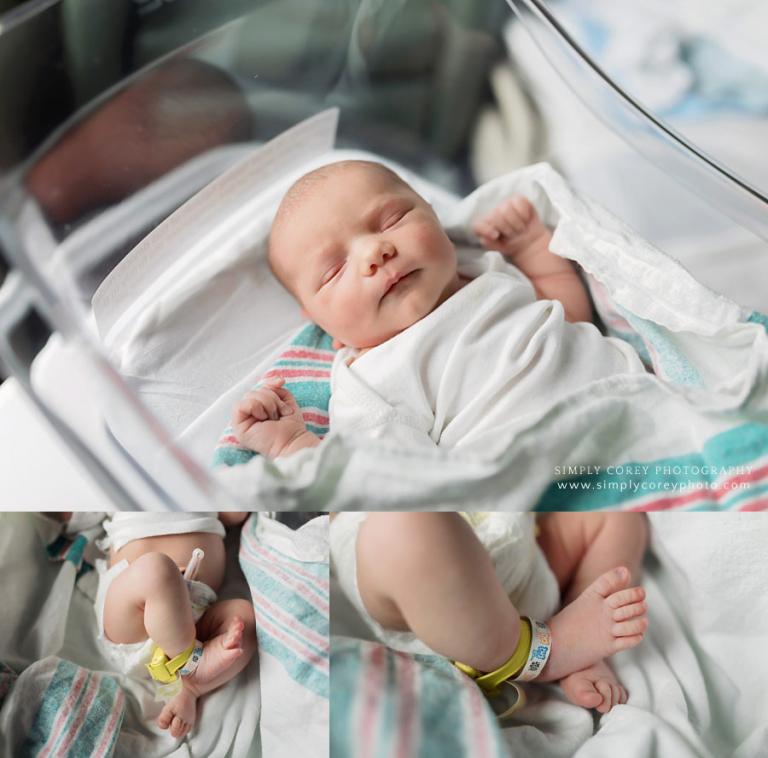 I love little baby toes! These little feet will be running before they know it!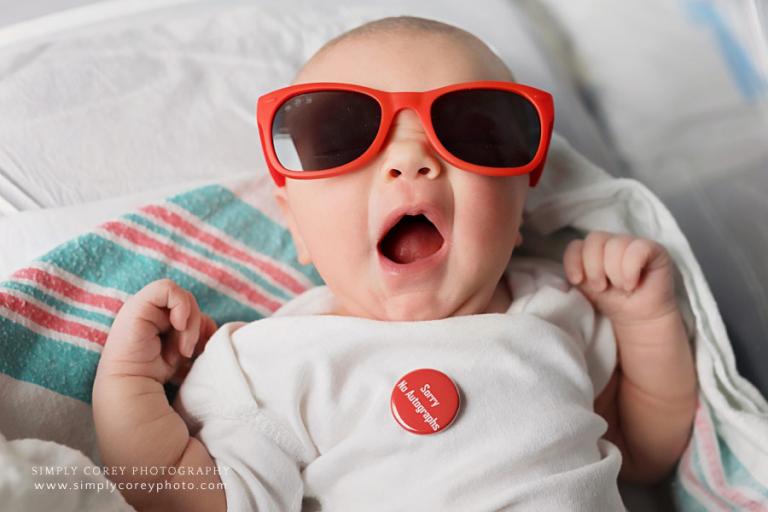 Mom has a photo of her as a baby with Mickey Mouse sunglasses and a button that says "No Autographs, Please", so they brought some little sunglasses and a similar button for their baby girl! So cute!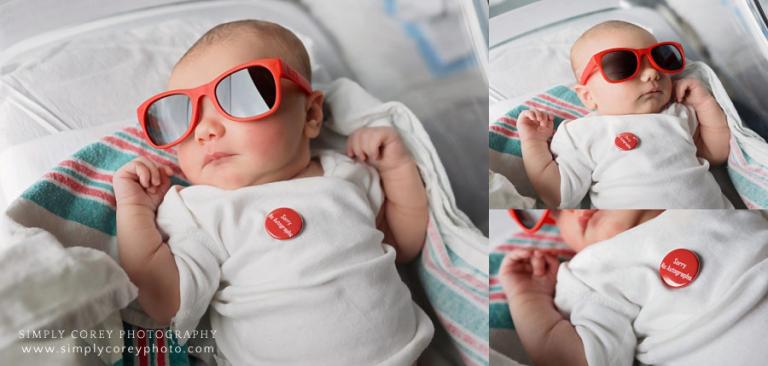 Dad did a pretty good job swaddling, and I love these photos of this new family together. ♥
Mom and Dad also brought this navy floral wrap to the hospital for her Fresh 48 session. Isn't it just perfect? And Miss Phoebe was so alert for being less than a day old! We have so many great awake photos of her showing us those beautiful eyes of hers!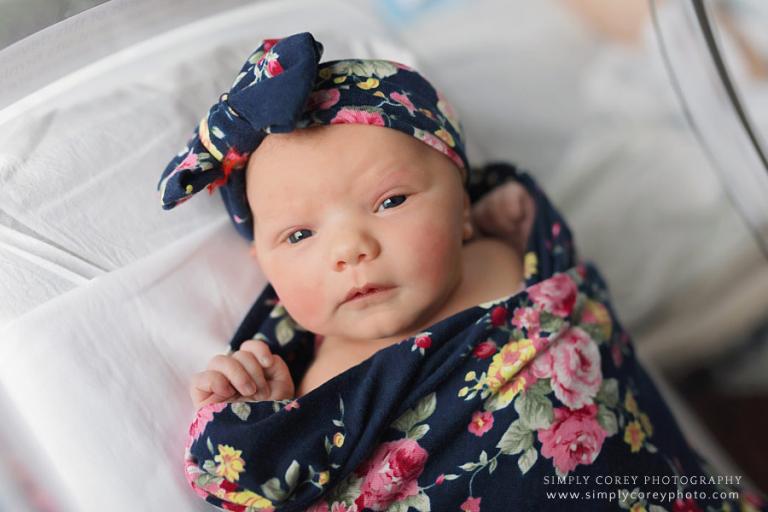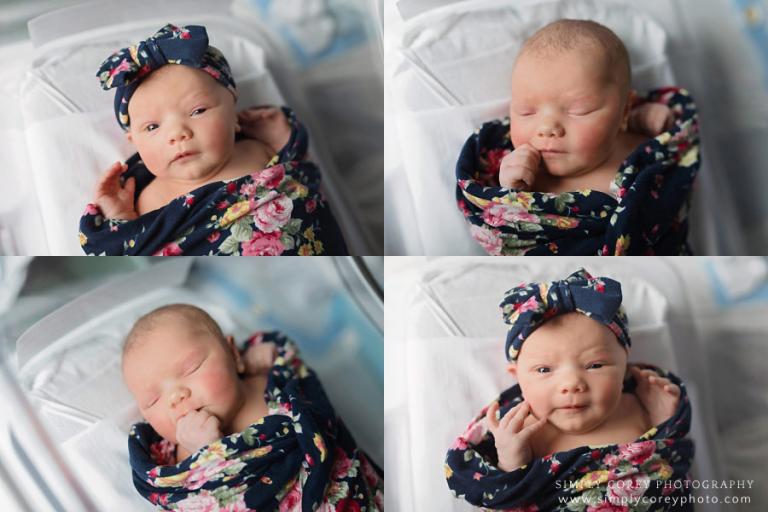 Mom was recovering from a cesarean section less than 24 hours before our session, so Dad did more of the holding and feeding while I was there.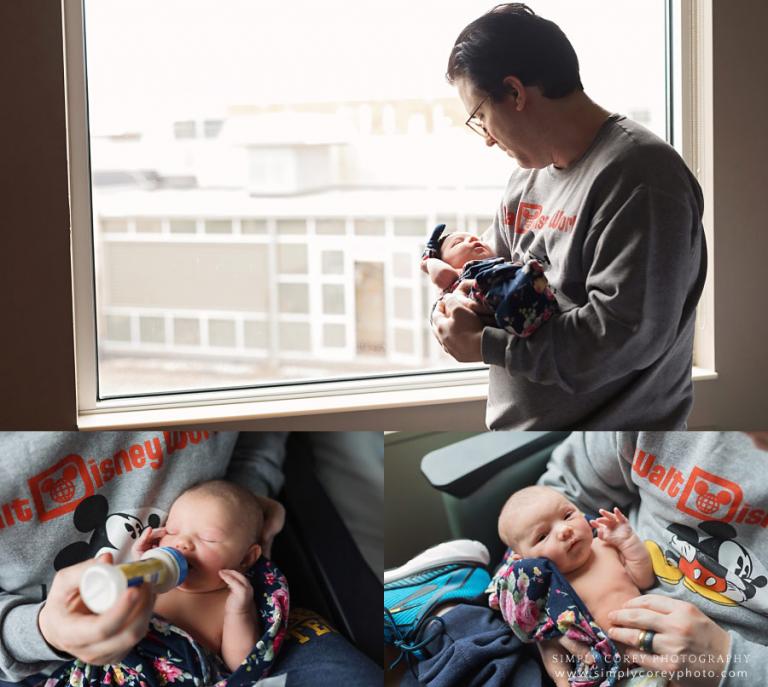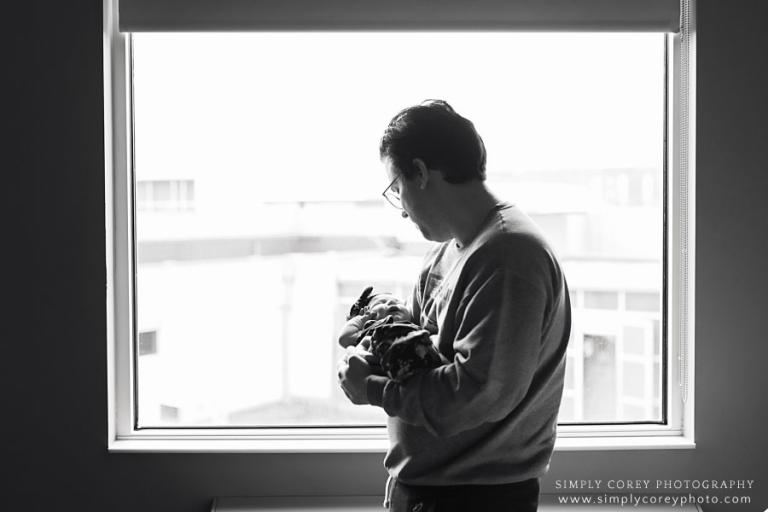 And he was so happy to introduce his parents to their new granddaughter! They were just as excited to meet her and hold her, and a few happy tears were definitely shed. ♥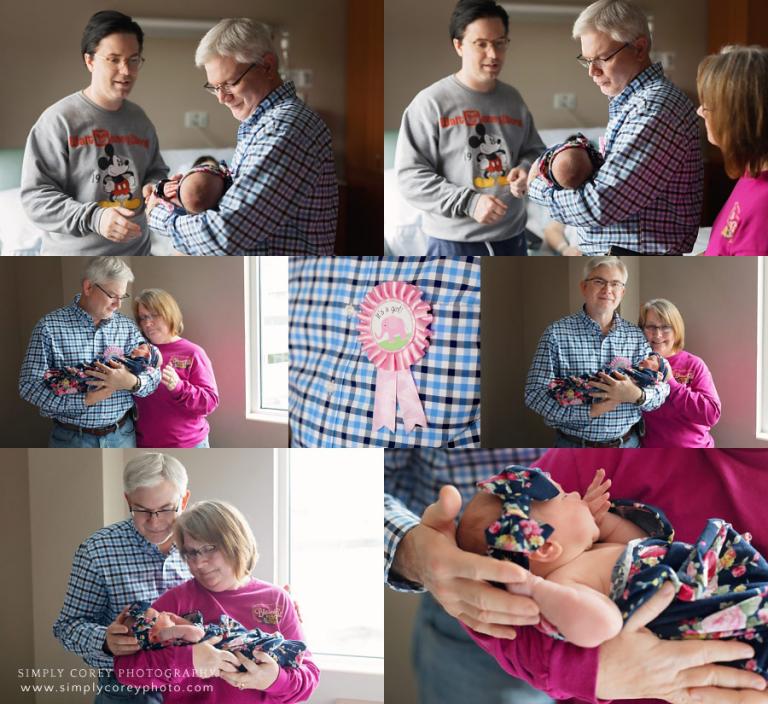 I couldn't believe how awake and content Phoebe was during our session – even after a bottle feeding! She didn't want to miss a thing!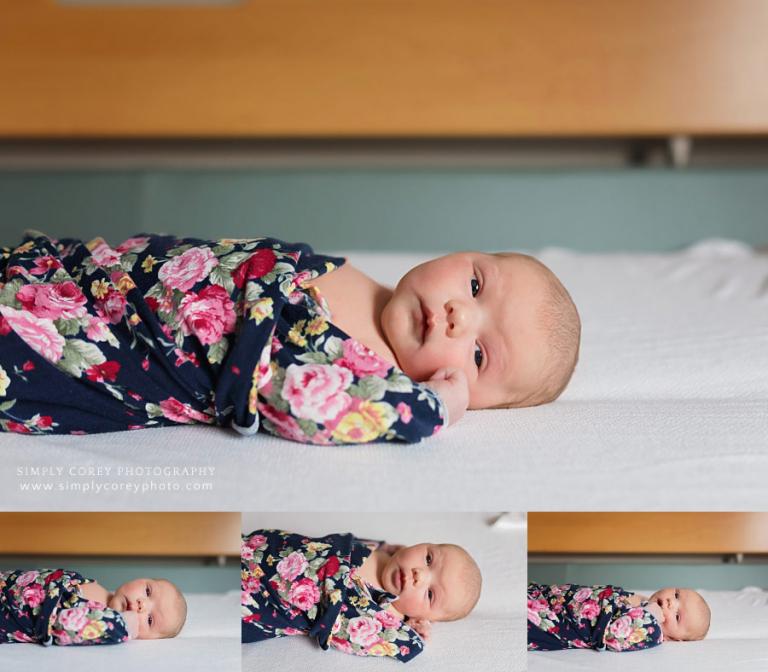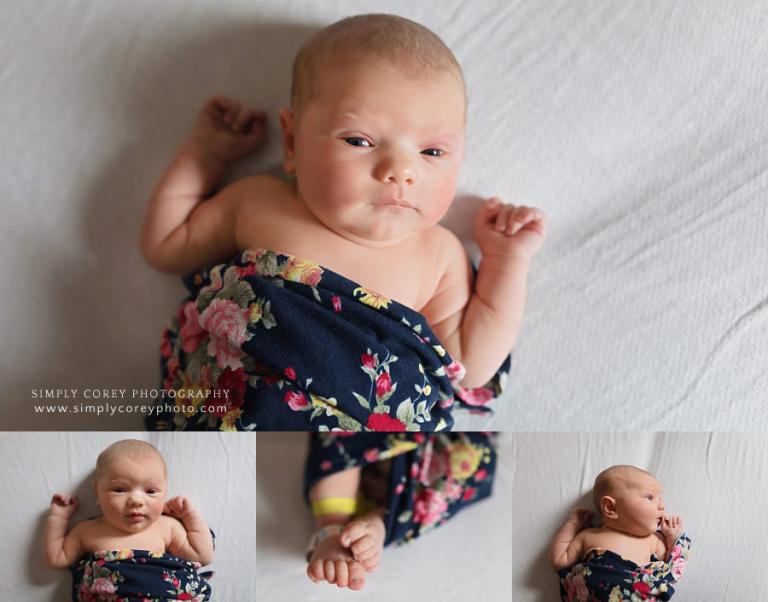 The floral wrap was perfect to use as a "backdrop" for a few photos. Miss Phoebe seemed to like the idea too and gave me a variety of adorable expressions! ♥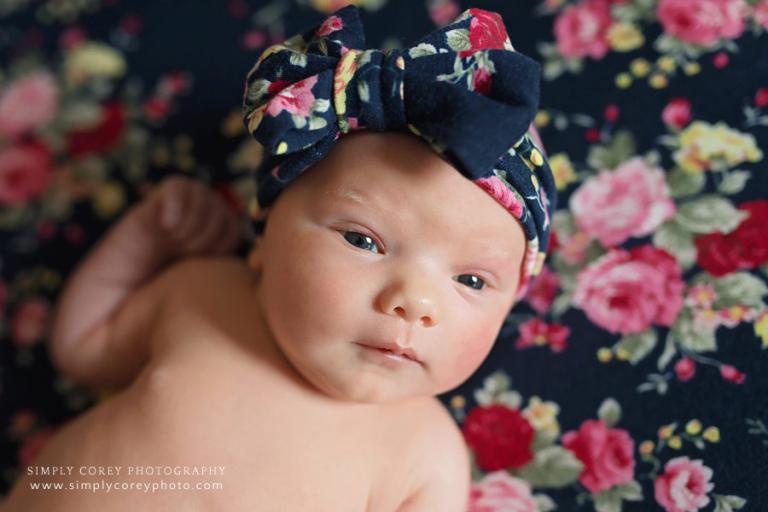 Then it was back in the bassinet! I think baby girl was finally getting sleepy.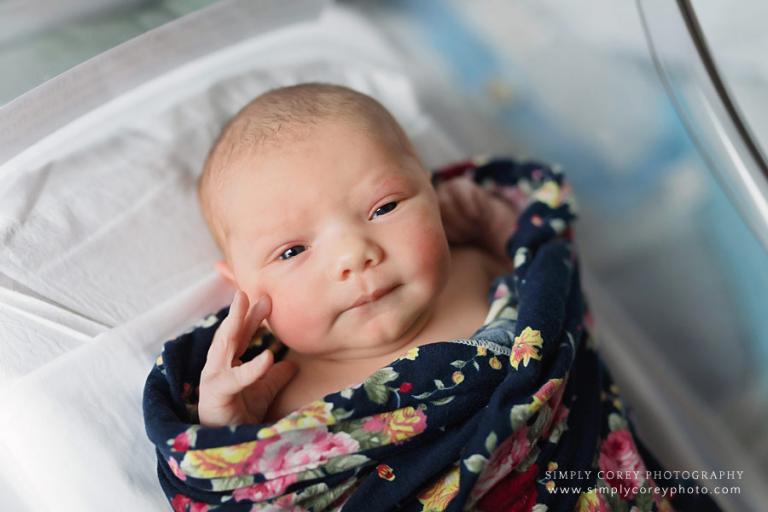 Mom is a huge fan of roses and this beautiful bouquet went perfectly with the roses on Phoebe's swaddle! And how sweet is that birthday cake?! Love it!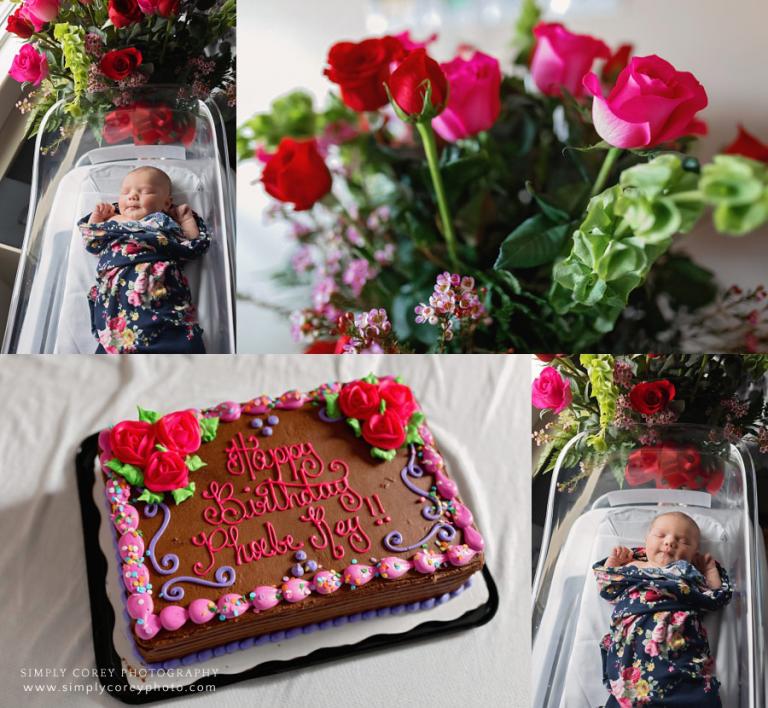 It was such a pleasure photographing Phoebe and her family in the hospital. Keep an eye out for my next blog post featuring her studio newborn session at eleven days old! ♥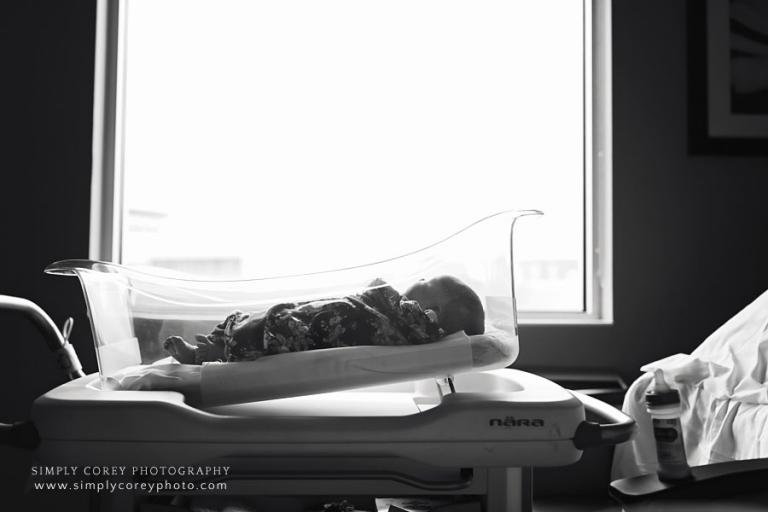 . . .
More About Atlanta Fresh 48 Photographer, Simply Corey Photography:
Simply Corey Photography is located west of Atlanta, near Carrollton, Villa Rica, Douglasville, Newnan, and Bremen. I have been a professional photographer for more than 15 years, and I have photographed many maternity, newborn, and baby milestone sessions throughout greater Atlanta since.
Fresh 48 sessions may be held in the hospital or in your home (for home births or early discharges). Newborn sessions are available in the studio or in your metro Atlanta home. Newborn sessions are best held within the first two to three weeks. Maternity sessions are also available and are best held between 32 and 37 weeks. You're welcome to request detailed pricing and my availability by using the form on my contact page.
Members of my VIP Facebook Group and subscribers to my email newsletter are first to receive announcements for exclusive photography specials, mini session announcements, and other news from time to time. You are also welcome to connect with Simply Corey Photography on Facebook and Instagram!